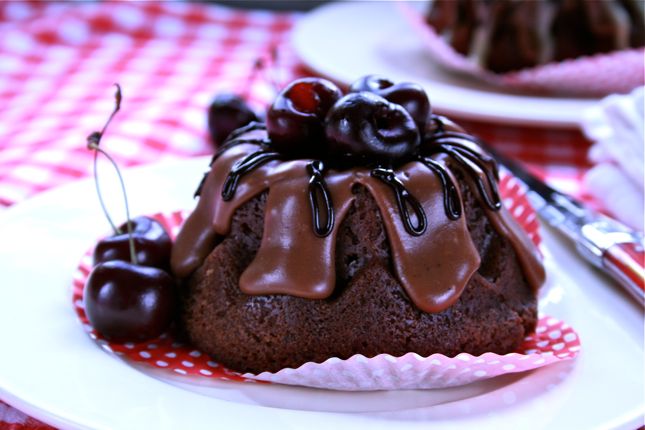 My terrifying coke addiction – the liquid, not the powdered variety – has been mentioned before and it's perhaps testament to my current non-addicted state that I managed to sit on one third of a bottle of left over Cherry Coke for nearly 3 weeks.
For our guests at New Year I made the criminally unblogged Nigella Lawson Ham in Cherry Coca-Cola to which I added my personal touch of with an Apricot and Smoked Pimenton Glaze. It was the bomb. We feasted on shredded spicy ham for days and having seen what great value it was I've vowed to cook a nice big ham once a month.
The relevance of this digression is that I had two glasses worth of the sinister dark stuff left over to tempt me. I've not "done" coke since about October and it would have been very easy to down the lot on January 1st when it was still nice and fizzy.
I'd like to say it was my resolve that stopped me from doing so but it was a) not diet b) cherry and c) We Should Cocoa announced at the beginning of the year that this month's challenge was using chocolate with leftover ingredients from Christmas. Bingo, a reason not to glug the Cherry Coke.
Furthermore, this month's Forever Nigella theme is "Seduced with Chocolate" and I've always wanted to try Ms Lawson's chocolately Coca-Cola cake from How to Be a Domestic Goddess.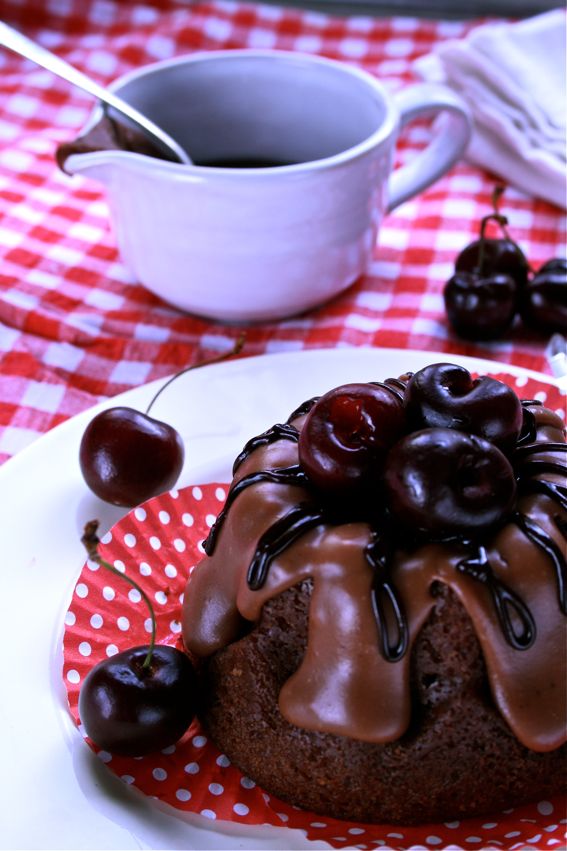 The original recipe would make enough batter to fill a 22-23 cm springform tin but with Valentine's Day on the horizon, I thought it was the right kind of cake to try out my colourful mini kugelhopf moulds for the first time meaning we get these pretty 5 inch cakes that are the perfect size for two people to share as a dessert.
If you squash 4-5 cherries into the well of the kugelhopf and leave it for a couple of hours, some of the juice comes out of them into the cake. If you wanted to go the whole hog, you might use cherries soaked in alcohol. I previously mentioned my eight year brandy soaked cherries here. They would have been ideal for this cake. Around Christmas you often see maraschino cherries soaked in alcohol although I suspect these will have been tidied away in most shops now.
I also had batter left to make some cupcakes. And a normal cake. But you can see those in a day or two.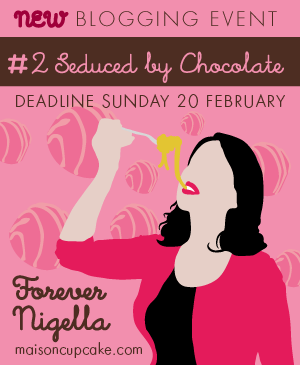 Naturally I am sending this to myself for this month's Forever Nigella #2 "Seduced by Chocolate" which is running until February 20th.
To clarify the do-publish don't-publish recipe issue for some of you, if you are changing 1 or 2 ingredients, whether this is substituting or adding extra items or if you are fundamentally changing the way the dish is presented, provided you rewrite the recipe in your own words and not Nigella's, this is permissable.
If you use a Nigella recipe as it is in her book then simply tell us which book it came from – and where available, you can link to text posted on Nigella.com or the BBC.
You will see I have reproduced the Coca Cola cake recipe below but I have changed it to Cherry Coke, added extra chocolate icing and cherries to decorate, changed what you bake it in and rewritten the directions. If in any doubt about including recipe text or not, you can email me a copy to sarahATmaisoncupcakeDOTcom and I'm happy to advise.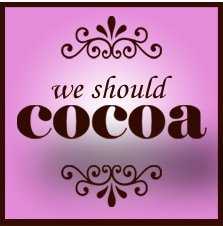 I am also sending these to Chele for this month's We Should Cocoa, the theme of which this month is chocolate and christmas leftovers. My leftover ingredient is the Cherry Coca Cola.
Cherry Coca Cola Kugelhopf
Adapted from Coca Cola Cake by Nigella Lawon, How to Be a Domestic Goddess

Ingredients:
For the cake
200g plain flour
250g golden caster sugar
1/2 tsp bicarbonate of soda
1/4 tsp salt
1 large egg
125ml buttermilk (or 30g yogurt mixed with 100ml semi skimmed milk)
1 tsp vanilla extract
125g unsalted butter
2 tablespoons cocoa powder
175ml Cherry Coca Cola

For the icing and decoration
200g icing sugar, sieved
30g butter
3 tbsp (45 ml) Cherry Coca Cola
1 tbsp cocoa powder
tube of ready made chocolate "writing" icing i.e. Dr Oetker or supermarket own brand*
some pitted cherries – 16 or more

You will also need
Baking sheet
22-23cm Springform tin, lined with parchment paper or 4 x 15cm silicone mini kugelhopf moulds (well greased for extra removeability – you don't want to damage that fabulous shape do you?)

NB Nigella mentions lining the springform tin with foil to prevent the batter leaking. I lined my tin with baking parchment and didn't have any leaks. I have also reduced the quantity of icing sugar for the icing by 25g as I didn't need all of it.

*You could use a dark chocolate ganache but this is WAY easier.

Method:

1. Preheat the oven to 180c / gas mark 4.
2. In a large bowl mix the dry ingredients: flour, sugar, bicarbonate of soda and salt.
3. In a jug beat the egg, buttermilk and vanilla extract in a measuring jug.
4. In a heavy based saucepan, melt the butter, cocoa powder and Cherry Coca Cola and heat gently.
5. Pour the butter and cola mixture onto the dry ingredients and stir with a wooden spoon then finally add the egg and buttermilk mixture and beat well until blended. It will look like soup at this stage but don't panic.
6. Pour into the baking tins or moulds. I found this easier if I decanted the batter to a jug to pour or used a ladle to transfer from the mixing bowl.
7. Place tins/moulds on baking sheet and bake in the oven for 40 minutes if you're doing one big cake and 20-25 minutes if you're doing four smaller ones. A wooden cocktail stick should just come out clean.
8. Leave to cool for 15 minutes in the tin/moulds before turning out.
9. Meanwhile make the icing. In a heavy based saucepan, melt the butter, Cherry Coca Cola and cocoa powder until liquid. Do not overheat as it burns easily. Remove from heat and spoon in the icing sugar a little at a time. Beat well until you have a runny glace style icing.
10. Spoon the icing over the cake (or cakes). If you are using mini kugelhopf moulds then attempt to drizzle artfully down the sides and whilst also coating, but not entirely filling the centre bit. Allow to set for a couple of minutes then zig zag your little tube of chocolate writing icing backwards and forwards from the centre to the outside of the kugelhopf going all the way round. Don't worry about how tidy it is, you'll probably get better as you go round.
11. Tumble over the pitted cherries and you're good to go! Four cherries will be about right for a mini kugelhopf.