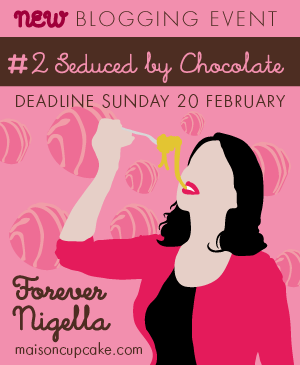 When I was planning a blog event I thought the round up post might end up being heavily padded with my own entries to disguise that not many people had taken part.
How wrong I was.
I have been bowled over by the number of people who have taken part in the first Forever Nigella.
FORTY FIVE entries no less.
I'm absolutely amazed, in fact I have promised Scrumptious Sally to say "never has my flabber been so gasted"!
Thank you so much everybody, I hope this will be the start of a well loved and well attended event.
As I write I am putting the finishing touches to the round up for Lorraine at Not Quite Nigella to declare a winner. The round up will be published shortly alongside the winner of the draw from all blogs who displayed the Forever Nigella button during the month to publicise the event.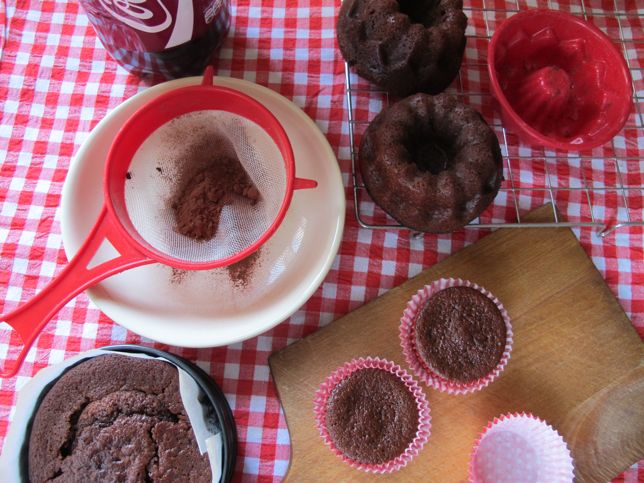 Whilst waiting for this, there's no reason why we can't all get started with Forever Nigella #2, the theme of which is "Seduced by Chocolate". As you can see above, I am busy with my rendition of Coca-Cola cake which you will see in it's full glory soon.
In the run up to Valentine's Day you can take your pick of Nigella's chocolate desserts plus any savoury dishes you can find or adapt – there is definitely a chilli recipe with cocoa somewhere and who knows what else.
Chocolate or cocoa doesn't need to be the main ingredient, so long as it's in there somewhere. Woo us with chocolate, tickle us with cocoa, grab us by the Curly Wurlies – has Nigella published a recipe using Curly Wurly? If not then she should!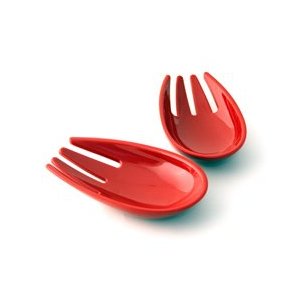 Prize!
Whoever exudes the most Nigella-ness this month will be able to lovingly caress their salad (or anything or anyone they choose) with these shiny red melamine serving hands. This prize is very definitely open to international readers – I am deliberately choosing small items that can be posted overseas.
This month's judge will be Dom from the mighty Chocablog, the chocolate blog. What he doesn't know about chocolate isn't worth knowing.
Do your best to uncover Nigella's lesser known chocolate recipes and that way we can get a round up showing a good range of dishes!
A reminder of the rules:

Forever Nigella #2 "Seduced by Chocolate"

Challenge: To seduce us all with chocolate using any Nigella recipe or adaptation (see notes below). Wearing of black satin dressing gowns to cook in the dark by fairy lights is actively encouraged.

Deadline: Sunday 20 February, midnight wherever you are.

Round up: A few days later. Maybe a week. It depends how many of you enter. The next challenge will be publicised as soon as this one ends and most likely before the chocolate round up.

There are:

No rules about how often you must take part

No rules about stuff being secret until certain dates (although you are encouraged to tease us on Twitter about what you are making)

No rules that everyone cook exactly the same thing

No rules about not being able to submit to any other blog contests – in fact I actively encourage you to do this. Just make sure it doesn't contravene any rules the other guys may have.

But there are 3 rules:

1. We want everyone to keep buying lots and lots of Nigella books so that she keeps writing them so you must NOT reproduce recipes verbatim as shown in Nigella's publications. If you are sticking exactly to the original recipe, just tell us which book it was from and if available, provide a link to it on Nigella.com which publishes a lot (but not all) of her recipes. (You may also find some recipes on sites for some TV stations and newspapers).

Alternatively, you may blog an adapted Nigella recipe so long as you have changed at least two ingredients and write the directions in your own words. Tell us what you changed and why.

2. Publish your Forever Nigella blog post (in English) by the closing date including the latest Forever Nigella graphic and giving a link to this post and/or that month's announcement post. Your entry must have been published since the announcement post. You may only re-blog something from your archives if you republish it with the badge and links to this post before the deadline.

3. Email the details to me at sarahATmaisoncupcakeDOTcom, we need your name, your blog name, a link to your post and a photo no more than 300 pixels wide. No billboard sized images please.

That's it!

Don't forget to tweet your post with the hashtag #forevernigella – I will retweet whichever ones I see.
Badges for your posts can be grabbed from above or on the Forever Nigella page. I had hoped to have some techy html code for you but time has run away with me – hopefully we will have this next time.
Lastly, some of you have already asked about hosting. After I've hosted the first 2-3 rounds myself I will hand over the baton. I've also updated the Forever Nigella page to be a reference place to the rules and ultimately links to previous round ups and hosts.
Enjoy being seduced by chocolate and I look forward to seeing all of your entries!