Latest information about Forever Nigella is now shown at:

https://maisoncupcake.com/forever-nigella-faq/
This month's theme is, surprise surprise, Christmas. Yes I know we've done Nigella Christmas twice before but it's now traditional LOL.
Forever Nigella is the only regular blogging event to share your culinary moments dabbling with the domestic goddess.
After a couple of months with open entries we're going back to having a monthly theme and there's a great new line up of fabulous hosts!
Each event runs from the 1st to a named date near the end of the month with the current badge displayed here alongside a link to the latest announcement post.

Events will be announced on host's blogs on the first of the month and round ups posted on their sites on the 1st of the next month.

The round up will link through to the new host so you can click through and see what the new theme is straight away.
Forthcoming hosts 2013
January – Sally at Recipe Junkie
February – Urvashi at The Botanical Baker
March – Jen at Blue Kitchen Bakes
April –  Elizabeth at  A Girl in Her Kitchen
May – Mimi at Chef Mimi
If you would like to host a future round of Forever Nigella email me at sarah AT maisoncupcake DOT com.  (If you've previously expressed an interest and not listed above I'm due to contact you soon to set up dates for the rest of 2012 but new people are welcome to volunteer.)
Forever Nigella Rules

Blog checking lines:
Forever Nigella #[number] is being hosted by [name] of [blog]. This month's challenge is to prepare and blog any Nigella Lawson recipe [describe theme]. Forever Nigella is organised by Sarah at Maison Cupcake.

1. Blog your entry by the date shown displaying:
a) the current Forever Nigella badge
b) a link to this announcement post
c) a link to the Forever Nigella page at Maison Cupcake: https://maisoncupcake.com/forever-nigella

n.b. posts must have been published since the announcement post. Archived posts need to be re-published afresh if you wish to submit.

2. Remember copyright.
You must NOT reproduce Nigella's recipes verbatim. Tell us which book it is from and/or link to it online. If you've adapted the recipe in some way i.e. changed at least two ingredients or amended the method then it's ok to publish the a recipe in your post but you MUST write directions in your own words.

3. Submit your post
Use the linky tool or email the host cc'ed to sarah AT maisoncupcake DOT com.
The Forever Nigella page shows a list of online Nigella resources, future hosts and links to past themes and round ups.
Tweet your post: #forevernigella 
If you don't have any Nigella books check out these resources online:
Nigella's official site: http://www.nigella.com/
BBC Food: http://www.bbc.co.uk/food/chefs/nigella_lawson
Channel 4 Food: http://www.channel4.com/4food/recipes/popular-chefs/nigella-lawson-recipes
UKTV Good Food Channel: http://uktv.co.uk/food/chef/aid/530864/
Food Network: http://www.foodnetwork.com/nigella-lawson/index.html
Daily Mail: http://www.dailymail.co.uk/home/search.html?s=y&authornamef=Nigella+Lawson
Previously on Forever Nigella…
#25: Elizabeth A Girl in Her Kitchen – Colourful
#24: Jen at Blue Kitchen Bakes – Easter
#23: Urvashi at Botanical Baker – Nostalgia
#22: Sally Recipe Junkie Food to Cherish Loved Ones  – round up to follow
#21: Laura Laura Loves Cakes Christmas
Forever Nigella #20: um 20? what happened to 20? We took a break and my husband seems to have got confused numbering the next badge. *shrugs*
Forever Nigella #19: Nazima at Working London Mummy
Forever Nigella #18: Karen at Lavender and Lovage
Forever Nigella #17: Amy at Cooking, Cakes & Children (awaiting round up)
Forever Nigella #16: Fleur at Homemade by Fleur  June 2012
Forever Nigella #15: Nelly at Nelly's Cupcakes (awaiting round up)
Forever Nigella #14: Lucy at Vanilla Frost April 2012
Forever Nigella #13: oops! There isn't an unlucky 13!
Forever Nigella #12: February 2012
Forever Nigella #11: January 2012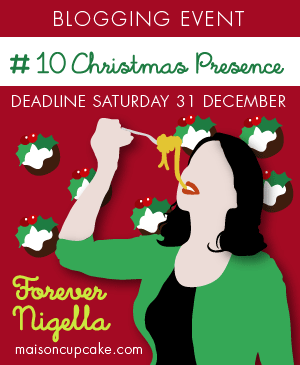 #10 Christmas Presence hosted by Sarah at Maison Cupcake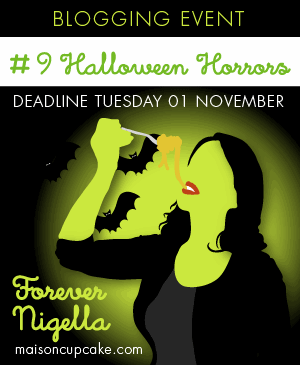 #9 Halloween Horrors hosted by Sarah at Maison Cupcake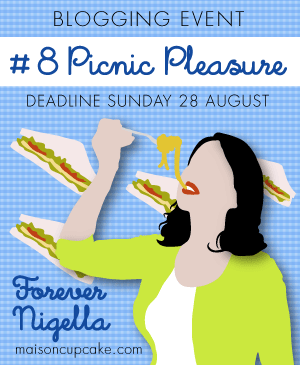 #8 Picnic Pleasures hosted by Helen at Fuss Free Flavours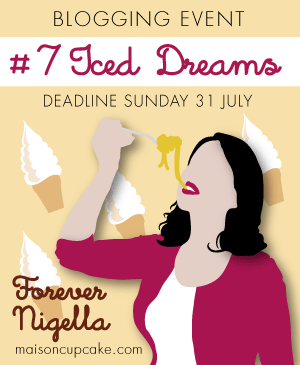 #7 Iced Dreams hosted by Arthi at Soul Curry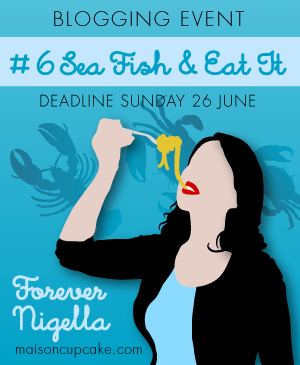 #6 Sea Fish and Eat It hosted by Kat at Housewife Confidential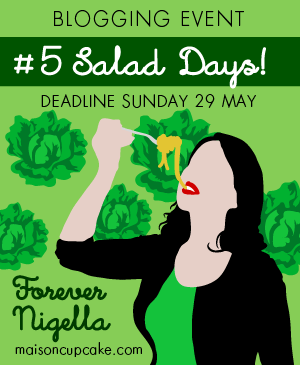 #5 Salad Days hosted by Dom at Belleau Kitchen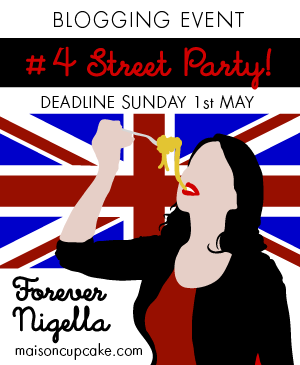 #4 Street Party hosted by Mardi at Eat Live Travel Write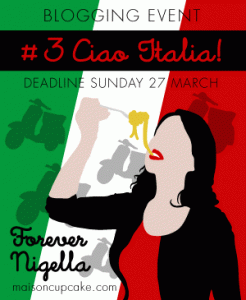 #3 Ciao Italia hosted by Maison Cupcake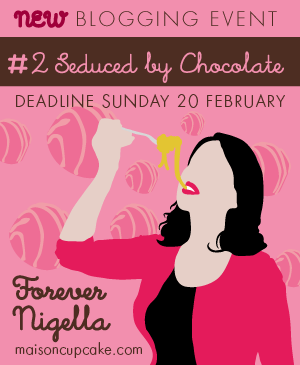 #2 Seduced by Chocolate hosted by Maison Cupcake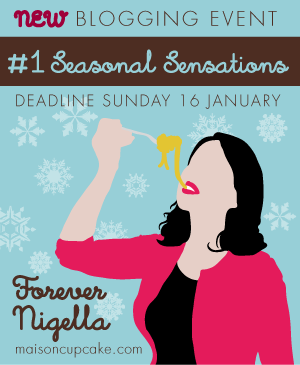 #1 Seasonal Sensations hosted by Maison Cupcake