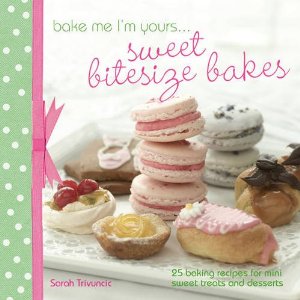 My new book Bake Me I'm Yours… Sweet Bitesize Bakes is due to be published by David & Charles in June 2012. Available now to pre-order.
The past week has kept me busy with final edits to the book, Bake Me I'm Yours Sweet Bitesize Bakes. It's fitting that the week I finished work on it was also when the cover popped up on Amazon. It was the first time I'd seen this version of the cover with spotty green spine and pink ribbon. The exact wording and design you see may get changed a bit but this should be the cover photo. The first I knew about it was my mother emailing me. It does amuse me that my mum is searching for my book on Amazon even though it's not published by David & Charles until June!
My mum ordered her copy the second it was displayed on Amazon however I was touched by all the tweets this week with people saying they were looking forward to buying it! I'd kind of forgotten people might actually buy it – I'm a can't see the wood for the trees kind of girl evidently. If you're the buy-ahead sort, you can pre-order already and Amazon will post it to you on publication.
So with all that and me having my head buried in A3 print outs of the book to edit, followed by some other paid work behind the scenes, the days ticked past and February pounced upon me.
I know I said I was going to be very prompt and get my Forever Nigella posts up on 1st of the month and 3.5 weeks later I fail to achieve this. But you see a few things have been going on…
But I will be posting something yummy and Nigella like for Forever Nigella very soon. In the meantime, for those of you who want to get cracking with posting February Forever Nigella entries (I have already seen one from Feeding Boys!) I am posting the linky below even though I've not yet managed to visit all the January ones yet to pick the winner of the Australian Women's Weekly Cupcake and Muffin book. Bear with me and it will all get done early next week.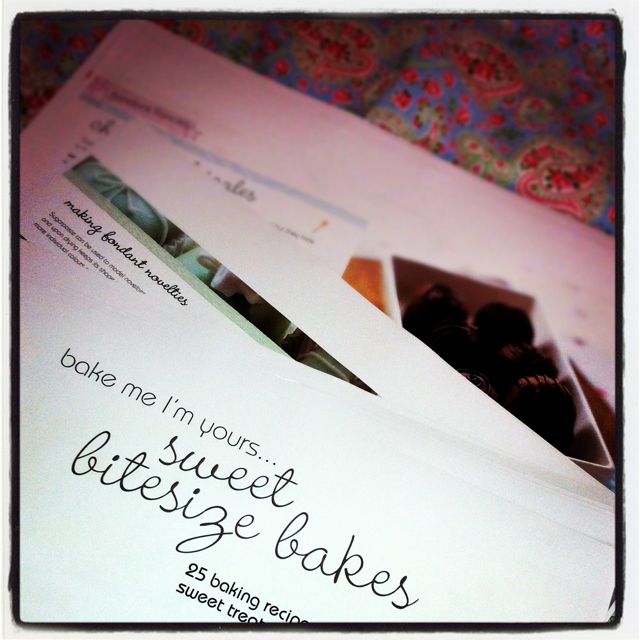 Whilst I've been a bit erratic (uh-hum slight understatement) on the recipe front lately, I have set up three new whizzy places where you can find out what I'm up to.
The first is Instagram where I have been posting pictures for a few months, you can find me there as sarahmaisoncupcake so do come follow if you have an iPhone or feel free to browse my IGs over at Webstagram the web based client for Instagram.
Pinterest has also grabbed my interest, I was a bit slow to pin stuff at first but have got into it now. Pinterest amazed me with scores of people coming to follow me who knew me from Twitter etc, I only hope they've not all unfollowed me as I wasn't pinning anything for ages but I've kind of got the hang of it now. You can visit my Pinterest boards at http://pinterest.com/maisoncupcake/ – do let me know if you would like an invite.
Finally, my other new toy (apart from the Monopoly app on iPad2) is Tumblr. Yes I'm probably 20 years to old to get into Tumblr but I am finding it very useful to post quick bits and pieces to various places with the added benefit of them being displayed in my blog side bar. Keep up with my brief Tumbles either in the side bar or direct at Maison Cupcake Tumblr.
I. Will. Cook. Things. Again. Soon. I. Promise.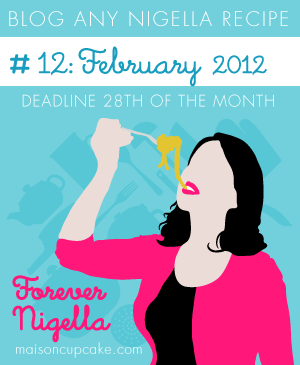 Check out the rules of Forever Nigella.