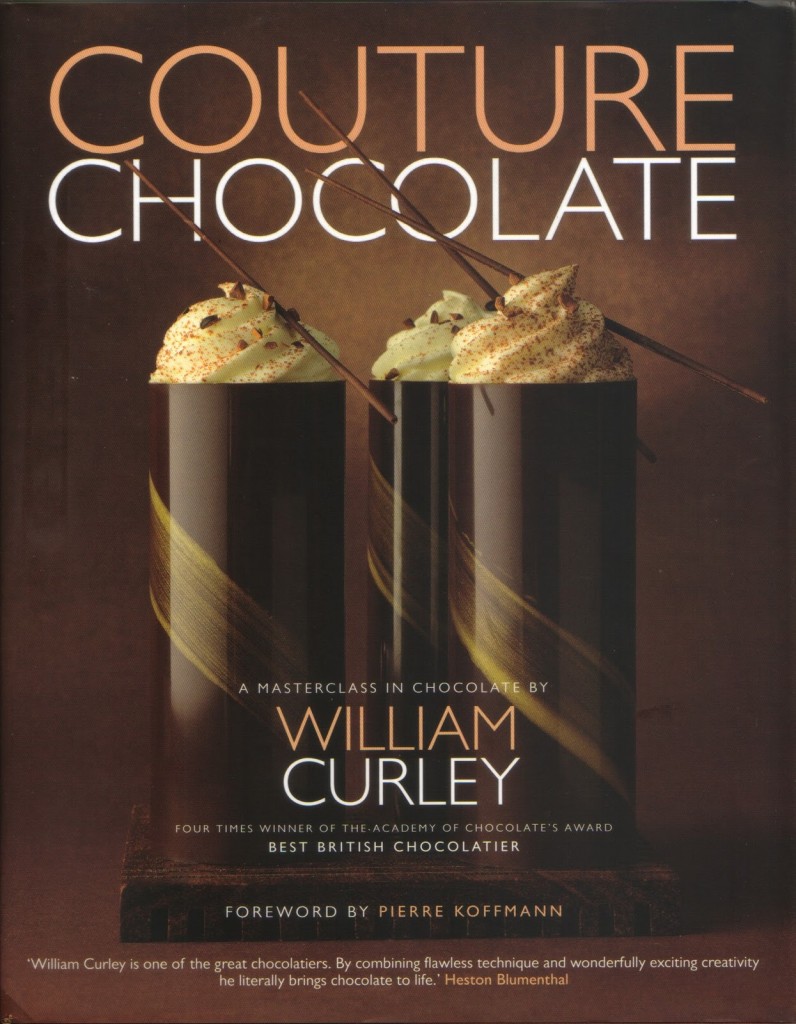 Rare is the treat a book that will not only impress your friends on your coffee table but teach you something valuable as well.
Couture Chocolate gives detailed information how to undertake chocolate making skills at very highest level but remains a readable joy to flick through and drool over.
You may remember I reviewed this book shortly before Christmas:
William Curley is one of the country's top chocolatiers, having worked at numerous Michelin-starred restaurants with a number of the most respected chefs and pâtissiers in the business. Couture Chocolate is an astonishing homage to chocolate patisserie. Beyond being any other chocolate cookery book, it demonstrates in pictures highly skilled techniques that go into creating the most elaborate chocolates and desserts. For most people this is very advanced and would see little further action than oo-ing and arr-ing on the coffee table, however if you were someone wanting to set up their own chocolate business this publication would be an inspiring and beautiful textbook.
I am delighted to have three copies for Maison Cupcake readers to win by following the instructions below.
Couture Chocolate: A Masterclass in Chocolate by William Curley is published by Jacqui Small in hardback RRP £30.00. (Although currently at the bargain price of £19 on Amazon.)
Giveaway #36: Win "Couture Chocolate" by William Curley (three copies)

HOW TO ENTER

Complete the Rafflecopter form below to confirm your entries made via blog comments, Twitter, Facebook etc.
This giveaway is set to run until February 28th 2012.
Do read the rules below. If you comment with nonsense like "Oh what a fabulous prize" you aren't fulfilling the entry criteria and thus wasting your time. Oh yes and I can tell whether you've really tweeted or Facebooked when you say you have so please don't waste your time thinking I can't verify entries.
Winners are announced on the Rafflecopter form after claiming prizes.

No form showing? Hit refresh and it should appear
Complete the form – or your entries will not go into the draw
Mandatory entries to be completed first; i.e. leave a blog comment
Want more chances to win? Come back daily to confirm bonus entries via Twitter
Viewing this by email? You need to click through to enter.

Good luck!

RULES:

1. Open to UK residents over the age of 18.

2. The prize is one of three copies of Couture Chocolate by William Curley published by Jacqui Small.

3. Instructions form part of the terms and conditions.

4. No fibs: each winner's tweet entries and subscriptions etc are cross checked, cheats will have ALL entries disqualified.

5. This giveaway is hosted on behalf of prize sponsor Jacqui Small publishers who will deliver the prize(s) following confirmation of winners' contact details.

6. The prize sponsor's decision is final and binding on entrants; no further correspondence will be entered into.

7. There is no cash or alternative to the prize stated.

8. The prize is selected in good faith, however the prize sponsor may substitute with one similar value/type if original one is unavailable.

9.Winners are picked by Rafflecopter using random.org and the site owner contacts them by the email.

10. Failure to claim prizes within 7 days will result in a replacement winner being chosen.

Until February 9th:

Hotel Chocolat Beauty Box RRP £50!

Until February 28th:

Two copies of Weight Watchers The Complete Kitchen!

Three copies of William Curley's Couture Chocolate!

£50 Groupon Voucher!