Today's gluten free chocolate cake recipe is from The Little Book of Chocolat by Joanne Harris and Fran Warde.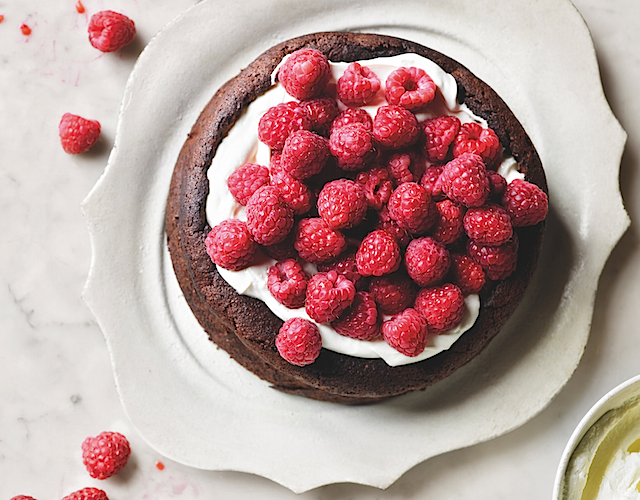 As you may know I love all things French and Joanne Harris's first novel Chocolat was right up my street.
Better still when Chocolat was made into a movie with one of my favourite actresses. I adore Juliette Binoche – having also loved her performances in Les Amants du Pont Neuf, The English Patient and Breaking and Entering.
The plot of Chocolat if you do not recall, surrounds a single mother, Vianne Rocher who – the harlot! – opens a chocolate shop in a French village during the self sacrificing and decidedly non-chocolate-indulging season of Lent. Of course the villagers outwardly think she's a terrible person for tempting them during the season of abstinence but one by one they all get caught sneaking in for some chocolate temptation. One of my favourite scenes in Chocolat is when Juliette Binoche informs one of the most fuddy duddy women from the village that some chocolates are called "nipples of Venus". Well! That's just too outrageous for words for the repressed madame to handle.
Not made into films but equally entertaining to read are Five Quarters of the Orange, set during the German occupation of wartime France and Blackberry Wine a story of a man who hallucinations of the past whilst drinking his way through 40 year old fruit liqueurs passed down to him by a deceased relative. I have a jar of black currants that I bottled in vodka in 1999 so I only have to hold on to these for another 25 years so I can try it out for myself! Joanne does excel in portraying villages of hostile residents – Coastliners is about two rival villages on an island similar to Ile de Re in France.
Beyond her delectable novels, Joanne has previously published – alongside Fran Warde – some cookery books. I am the proud owner of The French Kitchen and The French Market so I was delighted to hear that the duo had now concocted The Little Book of Chocolat .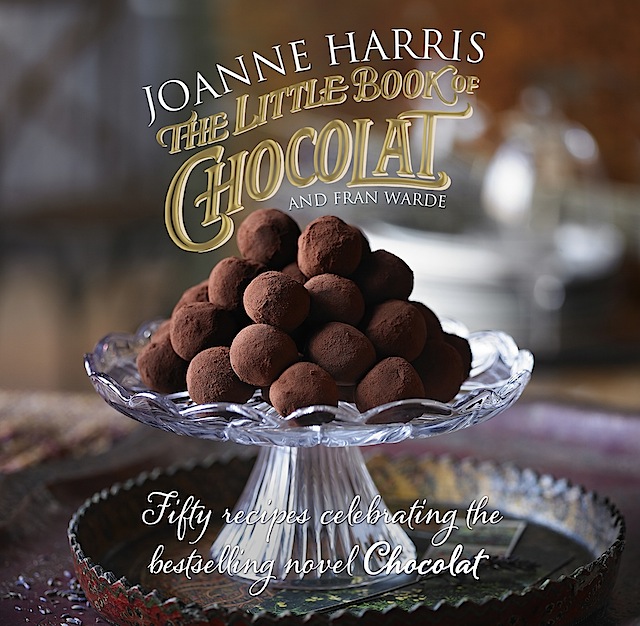 The Little Book of Chocolat features 50 chocolate recipes and is dedicated "to chocoholics around the world". Kicking off with a tribute to the Aztecs, "Quetzalcoatl's Chocolate Cake" to penance prompting "Sisters of Mercy profiteroles", this veritable bible of chocolate recipes is the perfect sneaky treat to reward yourself or gift to a friend this Eastertide.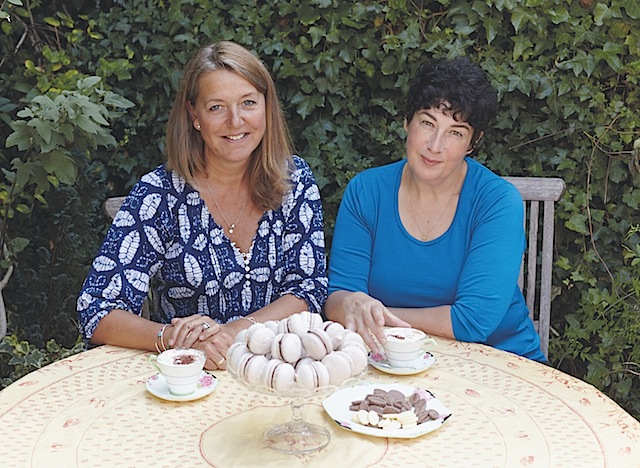 Top five recipes I'd like to try are:
Maple and walnut chocolate ice cream
Pets d'Ange (cloud meringues)
Celeste Praline Cheesecake
"Juliette Brioche" – a nickname given to Juliette Binoche whilst filming Chocolat!
and of course the Josephine's Flourless Chocolate Cake featured below.
If you'd like to win a copy of The Little Book of Chocolat, I have 3 copies to give away after the recipe.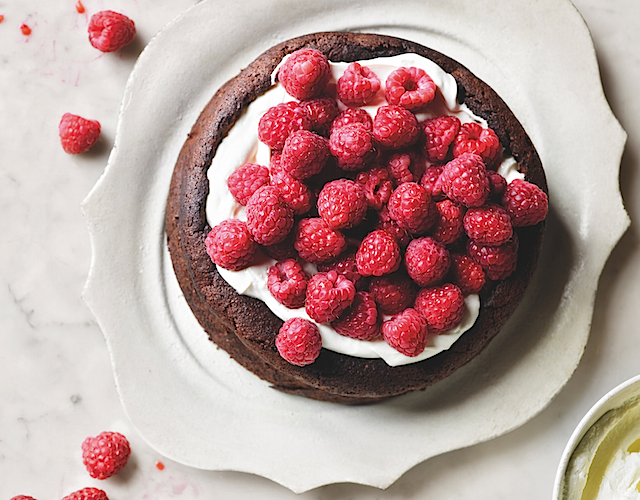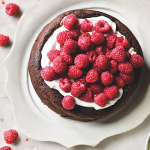 Print Recipe
Gluten Free Chocolate Cake
Gluten free chocolate cake recipe "Josephine's Flourless Chocolate Cake" Takes 2 hours / serves 8 This flourless chocolate cake is rich, dark and guaranteed to deliver just the right kind of punch. I like it the way it is, straight out of the oven, but the crème fraîche and raspberry topping give it a grown-up, elegant balance of flavours
Ingredients
butter for greasing tin

300

g

dark chocolate

broken into

small

even-sized pieces

200

g

butter

6

eggs

separated

200

g

unrefined caster sugar

1

tsp

vanilla extract

<em>Topping</em>

200

ml

creme fraiche

225

g

fresh raspberries
Instructions
Heat the oven to 180°C/gas mark 4. Butter a 20cm loose-bottomed non-stick cake tin and line with baking parchment.

Melt the chocolate and butter in a bain-marie. Whisk the egg whites until they are firm and stand in peaks, and then, in a separate bowl, whisk the yolks and sugar until light and creamy. Add the melted chocolate and vanilla extract and blend. Add this to the egg whites and whisk until evenly mixed.

Pour into the prepared cake tin and place in the middle of the oven for 45 minutes. Remove from the oven, cool for 5 minutes, then carefully remove the cake from the tin. (The cake may collapse and crack at this stage, but this is normal – and besides, you're going to top it with raspberries and cream.) Leave to cool completely, then casually spread the top with crème fraîche and finish with a cluster of fresh raspberries.
Reproduced with permission from The Little Book of Chocolat: Fifty recipes celebrating the bestselling novel Chocolat by Joanne Harris and Fran Warde published by Doubleday at rrp £12.99. Photographer: copyright Philip Webb (recipe) and Johnny Ring (pic of Joanne & Fran)
Giveaway: 1 of 3 copies of The Little Book of Chocolat by Joanne Harris and Fran Warde

How to Enter

Complete the Rafflecopter form below to confirm entries made via blog comments, Twitter, Pinterest, Facebook etc.
Closing date: 15 May 2014.
Read the "Terms and Conditions" link at bottom of Rafflecopter form.
Winners are contacted by email and announced on the Rafflecopter form below once they claim their prize.

Tips for entrants 


No form showing? Hit refresh and it should appear (your computer needs to be running Javascript)
New to Rafflecopter? Watch this short video How Rafflecopter works
Complete the Rafflecopter form – otherwise your entries cannot go into the draw.
Entries are verified and all cheats' entries disqualified.
Complete mandatory entries first – usually to answer a question by leaving a blog comment below the post. Comments from new visitors are approved manually so your comment may not be visible immediately. Return to the Rafflecopter form to confirm you've left a comment and this will unlock other entry options even if your comment is still awaiting approval.

For how to find the URL of your tweet read this helpful post here.
Want more chances to win? Bookmark https://maisoncupcake.com/giveaways and come back daily to register bonus entries!
Viewing this giveaway via email newsletter? Click through to to site to enter.

Good luck!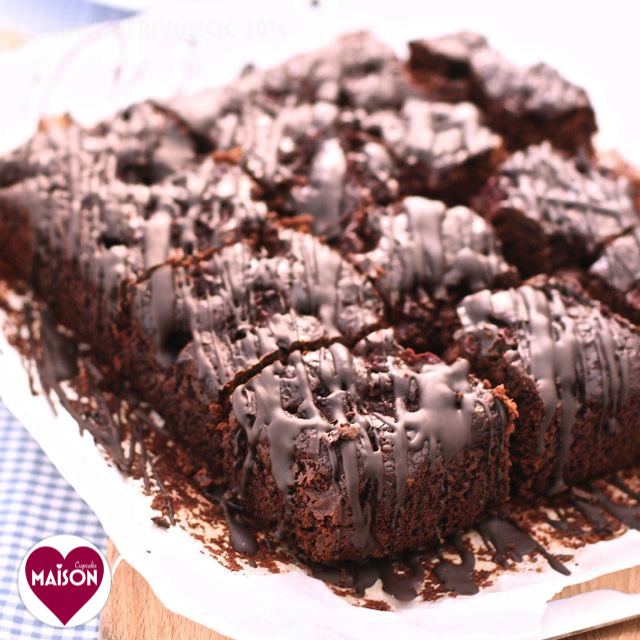 If you like Josephines flourless cake, you might also like my five minute no butter chocolate cake recipe made with yogurt!
Which chocolate recipe would you like to see Joanne Harris feature in a story?