If you think this chocolate cherry cake looks too naughty to eat, perhaps I can twist your arm by telling you it contains no butter?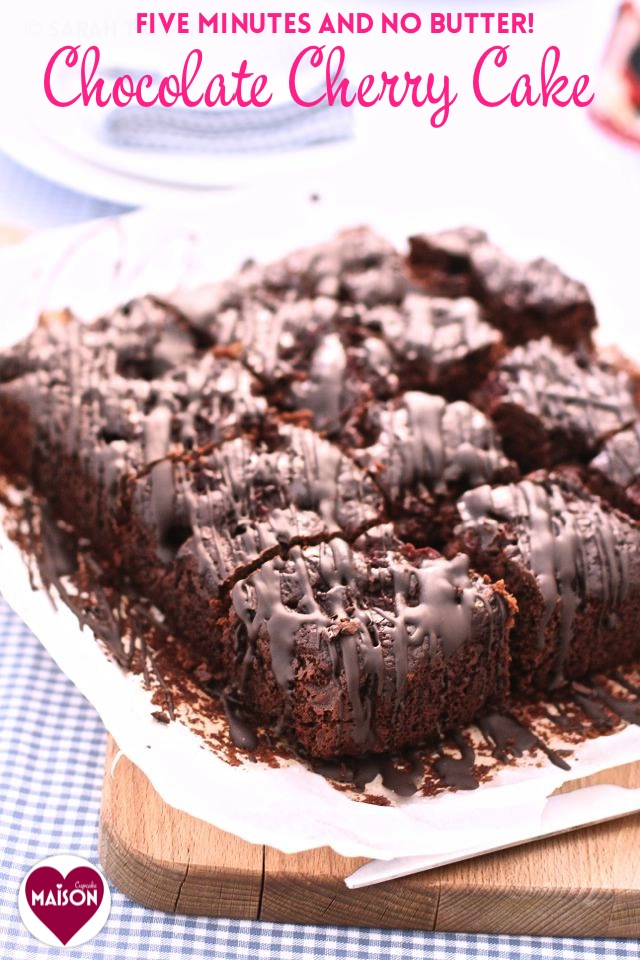 Better than that, you only need five minutes' hands on work to knock this cake together, no prolonged mixing, no mountains of washing up. It really is too good to be true.
This chocolate cherry yogurt cake is my contribution to Help for Heroes' Colossal Cake Sale organised in conjunction with Whitworth's Sugar.
I don't tend to think of myself as being from a military family. However arguably I owe my existence to the second world war since my grandfather met my grandmother whilst stationed in Germany post 1945 and indeed my mum was born whilst they were still living in the German military barracks.
Although my grandfather has told me a great deal about his time in the army – he reached the rank of Captain – it wasn't until I recently watched "Band of Brothers" on DVD that I felt I'd had any insight to what this might have been like.
So I was only too happy to bake a cake promoting Whitworths' Sugar's involvement in the Colossal Cake Sale in conjunction with Help for Heroes.
Register your cake sale by 5th May and you will receive a free fundraising pack to help you make your cake sale a success. With school summer fete season in full swing this term, it's the ideal time to hold your Colossal Cake Sale.
#ColossalCakeSale #Bake4Heroes
Then don't forget to share and keep up with news of your cake sale on social media using hashtags #Bake4Heroes and #ColossalCakeSale. You can follow Whitworths on Twitter at @whitworthssugar , the Colossal Cake Sale itself @cakes4heroes and their main charity Help For Heroes at @helpforheroes .
Asda are selling "Help for Heroes" branded Whitworths Sugar packs and are also where I bought my disposable foil tray bake tins to make this cake! Asda wlll also be holding a Help for Heroes National Collection Weekend on 5-6 July 2014 to make it easy for you to donate your bake sale takings.
My top ten bake sale tips:

Traybakes are phenomenally convenient to transport to bake sales;

Traybakes made in disposable foil trays mean you don't have to worry about getting containers back

Simple decoration is best; either shop bought sprinkles or drizzled icings and chocolate – this isn't the place for sugar paste roses!

Using baking margarine rather than butter keeps costs down; but do try to use free range eggs – admittedly organic is probably not feasible

Muffin style cake mixes with yogurt and oil are quicker to mix than creaming fat and sugar

Traditional flavours such as carrot cakes and lemon drizzle are generally what sell most. To quote Nigella, brown things, unless they're chocolate do not sell so well so cover darker cakes with coloured icings

Vanilla appears to be the most enduring cupcake flavour… you can experiment all you like but people LOVE vanilla. Kids adore cupcakes and these come in handy paper wrappers!

Work out how many portions you have compared to the cost of ingredients – you don't to run at a loss

Beware of under charging – so many cake sales seem to adopt pricing policies circa 1987 when they could make more profit for good causes

The ingredients in a standard cupcake covered with a swirl of buttercream will be at least 30p if you use real butter and any bought decorations/cases add to the cost so don't forget to include these in your calculations.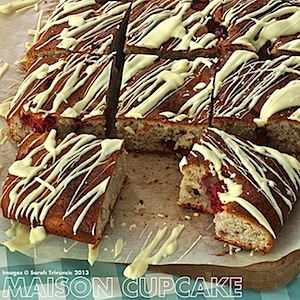 Think of this chocolate cherry cake as the darker twin of my earlier raspberry and white chocolate yogurt cake; the ratios of ingredients are virtually the same with my substituting almonds with cocoa powder, raspberries with cherries etc.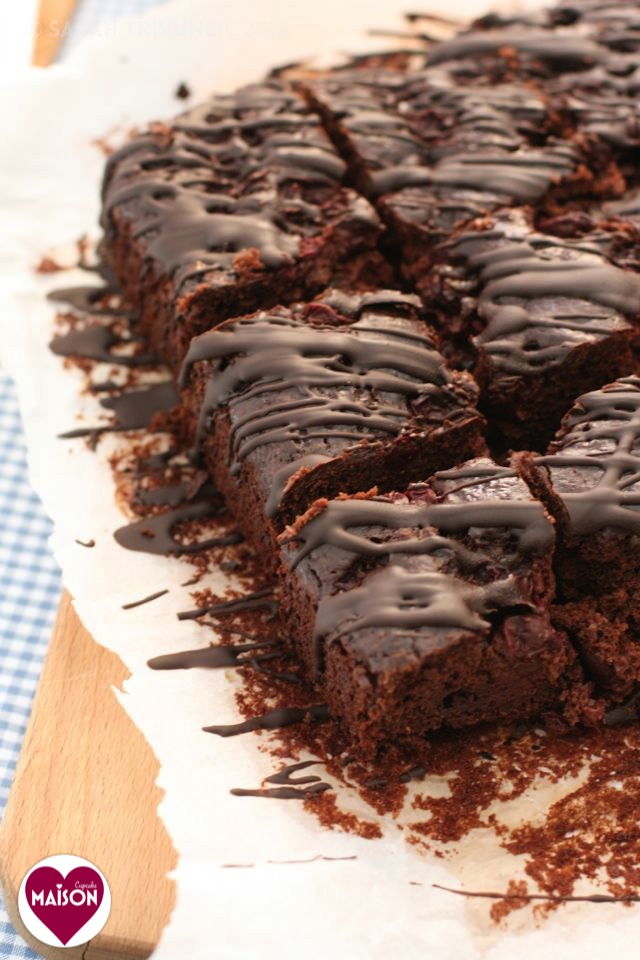 I cheekily call this "five minute" chocolate cake because it really only takes five minutes to mix the ingredients in one bowl.
Admittedly it doesn't bake inside five minutes (although I've never tried a microwave version!) but there's only five minutes hands on time and very very little washing up. Which is why I think this is the perfect bake sale bake. Because let's admit, we're always doing these things at the last moment!
35-40 minutes in the oven should be about right – this cake is satisfyingly damp but not brownie like so don't over do it.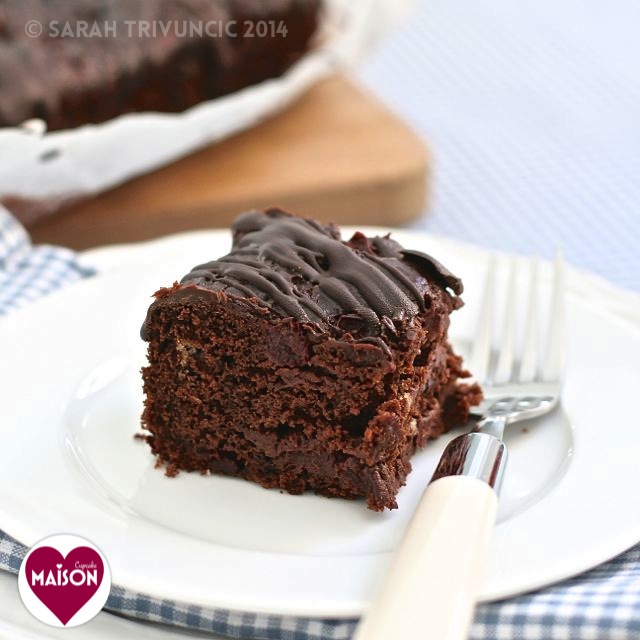 Five Minute No Butter Chocolate Cherry Cake

Makes 15 squares

Ingredients
250g plain yogurt
2 large eggs
250g caster sugar
90ml sunflower oil
225g plain flour
3 tsp baking powder
75g cocoa powder
100g pitted cherries – fresh or drained from a can
75g dark chocolate broken into squares

You will need a 24cm metal rectangular baking tin and parchment baking paper.

Directions:

1. Preheat the oven to 180c / Gas 4. Cut the parchment paper to fit the baking tin leaving the sides around 5-6cm high.

2. In a medium size mixing bowl lightly whisk together the yogurt, eggs, caster sugar and oil.

3. Sieve in the flour, baking powder and cocoa powder and fold in until just mixed. Fold in 2/3 of the cherries.

4. Pour the mixture into the lined baking tin and coax towards the edges with a spatula. Scatter the remaining cherries over the top.

5. Bake for around 40 minutes until the top is golden and a cocktail stick or wooden skewer inserted into the cake comes out clean. Remove from the oven and allow to cool in the tin for a few minutes before lifting by the paper and placing on a wire cooling rack to cool completely.

6. Using a double boiler or a heatproof bowl over a saucepan filled with 3-4cm water, melt the dark chocolate gently. When molten use a fork to drizzle dark chocolate in diagonal stripes across the surface of the cake. Allow the chocolate to cool and harden again. Cut into squares to serve.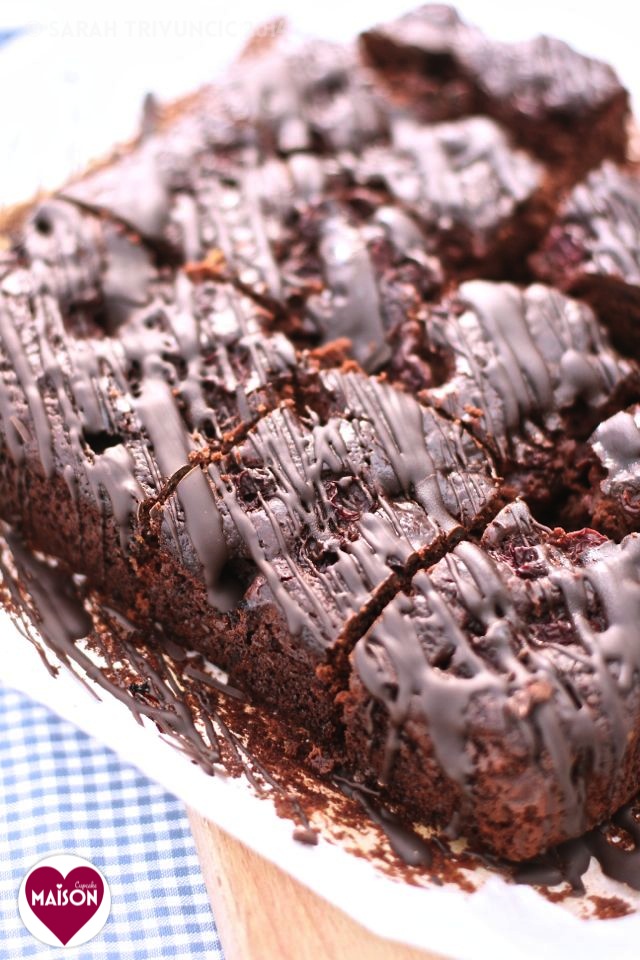 So don't forget – register your Colossal Cake Sale by 5th May 2014 to help raise funds for wounded, sick and injured Service personnel, veterans and their families.
This post and supporting Twitter campaign were commissioned by Whitworth's Sugar.