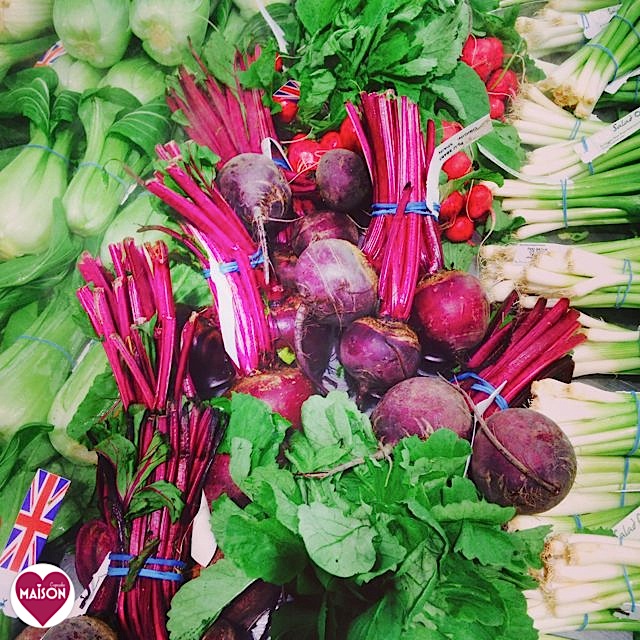 A price war is looming… my theory is supermarkets want to maximise who shops where in the run up to trolley toppling splurges during the World Cup in June.
Morrisons have just launched their "I'm cheaper" campaign to lure us through their revolving doors in greater numbers.
With a near empty fridge and an invitation from Britmums to take part in their #MorrisonsMum campaign, I seized the chance to tot up at the till myself whether the bargains were real.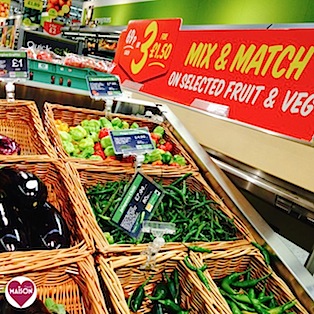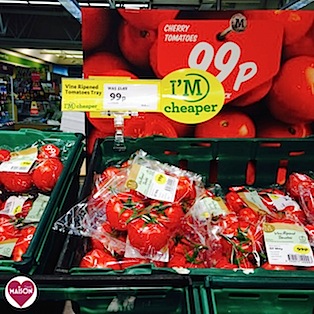 Morrisons, much as I admire their stock, is not my regular supermarket. If it were closer it would be but apathy, one way systems and traffic tend to drive me elsewhere 90% of the time. This is a pity, since when I visit Morrisons I am invariably impressed with the produce on offer and the smaller bite taken out of my purse on leaving.
Market Street is where a visit to Morrison's starts – I like the emphasise on fresh food when you arrive but do wish the meat wasn't displayed in the opposite corner of the store.
Morrison's has installed new whizzy misting devices to freshen salad leaves and vegetables, similar to those used in hotter parts of France. These add a certain theatre on entering the fresh produce area not to mention a strength of colour to food displayed there.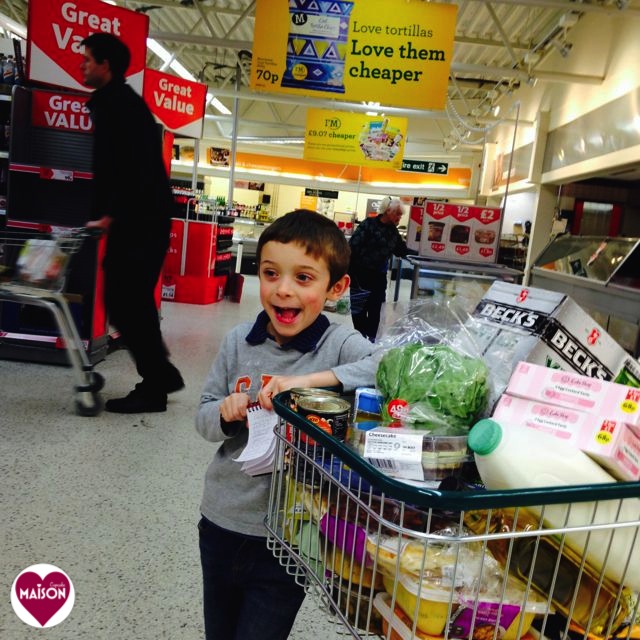 At the time of our visit, we'd not shopped for two weeks hence I bought more than usual. Probably now I won't need to go again for two more weeks!
Our £120 trolley easily included enough ingredients to make and assemble:
Full bank holiday barbecue menu (see board below)
Indian "takeaway" for Saturday night
10 weekday lunches for me working at home
12 evening meals for 3
16 portions of desserts including a cheesecake, shop bought custard tarts and homemade fruit tart
Fruit for daily school snacks
Husband's sandwich fillings for 2 weeks (ham, eggs, home made fish pate)
Supply of beer and Diet Coke
2 large bottles of Innocent orange juice
4 pints milk
Notable bargains included:
8 x cans Diet Coke £2.64 instead of being nearer to £4
1 litre Morrisons Olive Oil £2.19
Own brand sauces 55p
Cooked ham joint £5
Rowse honey £2
British Asparagus £2 per bunch
Kettle Chips 99p (cheaper than own brand equivalents)
Sourdough bloomer £1
500ml Onken yoghurt £1
4 x avocados 99p
What we didn't include in our shop was stuff like cereals, cleaning products and toiletries. Because I buy those in bulk and didn't need any at the moment.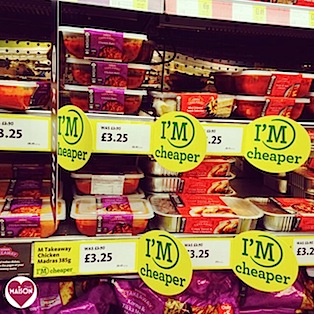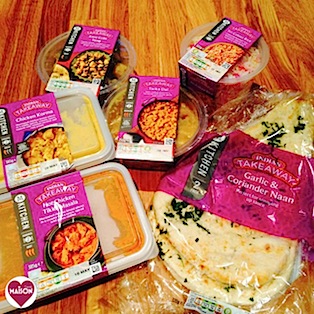 We were especially impressed with our Indian "takeaway" selection which we liked even more than our dearly loved equivalent from Waitrose.
Whilst we spent more on the Morrison's Indian Takeaway selection – around £14 compared to the regular £10 deal from Waitrose – there was more food because we'd also picked up naan breads and chicken tikka on skewers. I ate the leftover naan bread with daal for lunch on Tuesday so again the food went a little further than usual.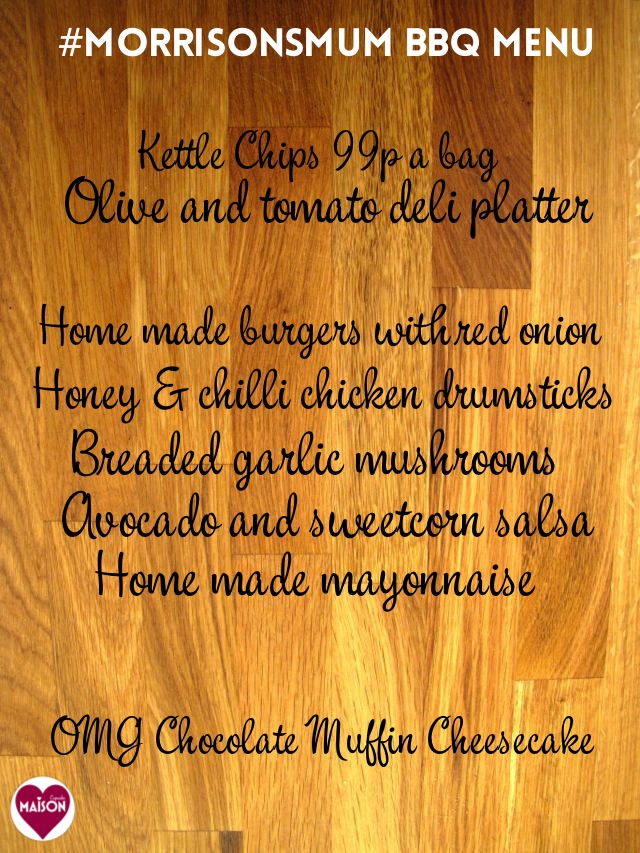 On Sunday we prepared our first barbecue of the year – I'm not publishing pictures of everything here since some recipes may feature on other sites in the near future but above you can see our menu.
We were just 3 people so what we'd barbecued was actually enough for supper too. My husband likes to make the most of the hot coals and tries to barbecue everything in sight.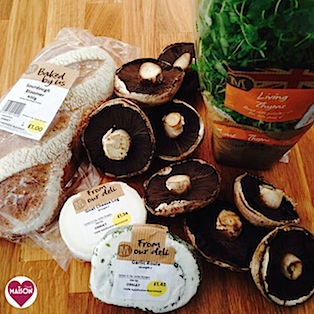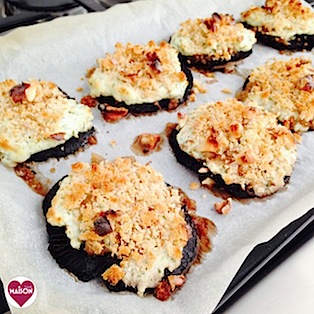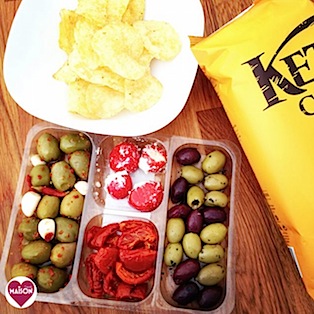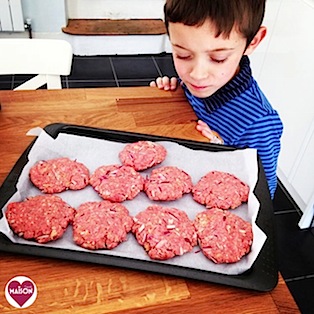 The breaded mushrooms were in fact inspired by an off the shelf equivalent in Morrison's but I decided to do my own version at home.
My son loved this olive platter which we continued to snack on over the next few days. We made our own burgers from scratch using Morrisons' reduced fat beef mince (12% one) – there were cheaper minces on sale but this type at £6 for two large packs was still good value.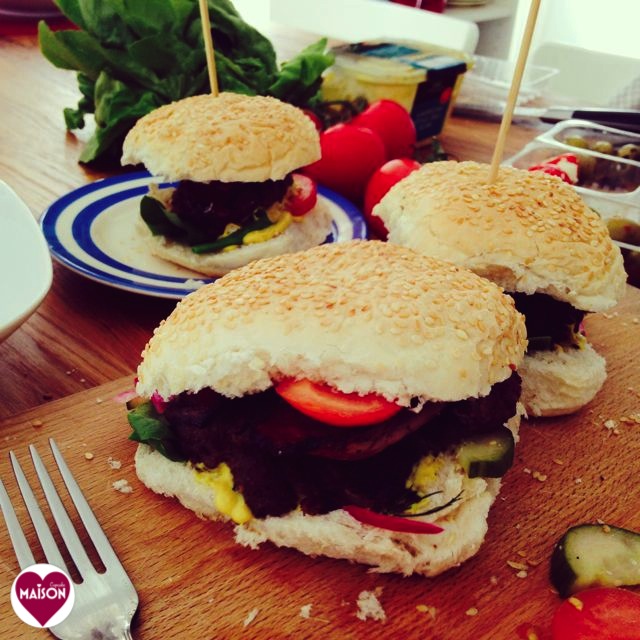 We have enjoyed some extremely tasty food since the barbecue – check out for instance my chargrilled asparagus salad published on BabyCentre today and watch out for some pleasingly salty basa fillets fried in butter with dry cure molasses bacon to follow shortly.
To top off our bank holiday barbecue we each squeezed in a slice of Morrisons' chocolate muffin cheesecake. This picture below has been very popular on my Instagram and I can understand why!
Walthamstow is due to get branch of Morrison's soon although the one way system and road layout will probably still make Chingford the quickest branch to reach from me.
The time taken to drive somewhere is huge influence on where I shop; generally I go to South Woodford or Highams Park rather than Walthamstow because I can get there quicker. I've never been a fan of deliveries – too many weird substitutions and doesn't really save time – so how easily I can get to the store, how clean and well lit the store is, what the cafe and toilets are like are just as much factors for me as cost.
I think the most satisfactory way to shop is to rotate your visits getting what the best each chain has to offer. In Morrisons' case, that's a surprising variety of fresh produce, a broad selection of meat and fish and a store presentation that offers good deals without seeming to manipulate you into buying junk. I will make sure of being a #MorrisonsMum again soon!
Do you shop regularly at Morrison's ? Would their "I'm Cheaper" price campaign tempt you back? What's most important to you when choosing where to shop?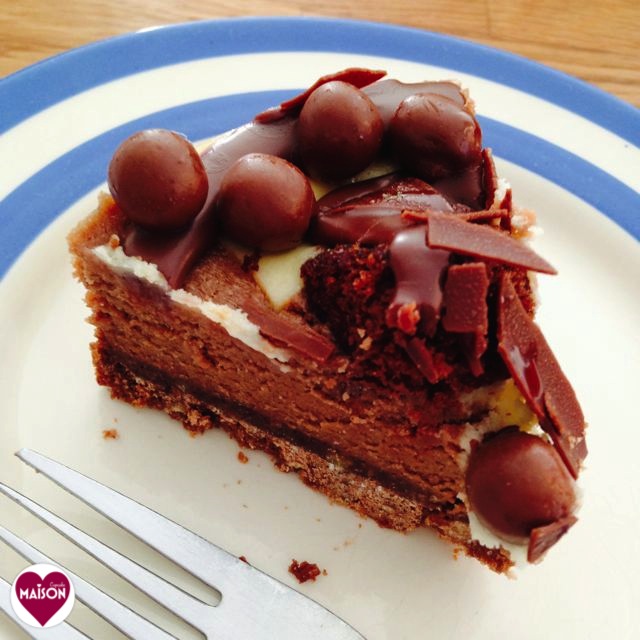 With thanks to Britmums and Morrisons for supplying voucher towards this shopping trip. You can catch up with other #MorrisonsMum posts on the Britmums blog.