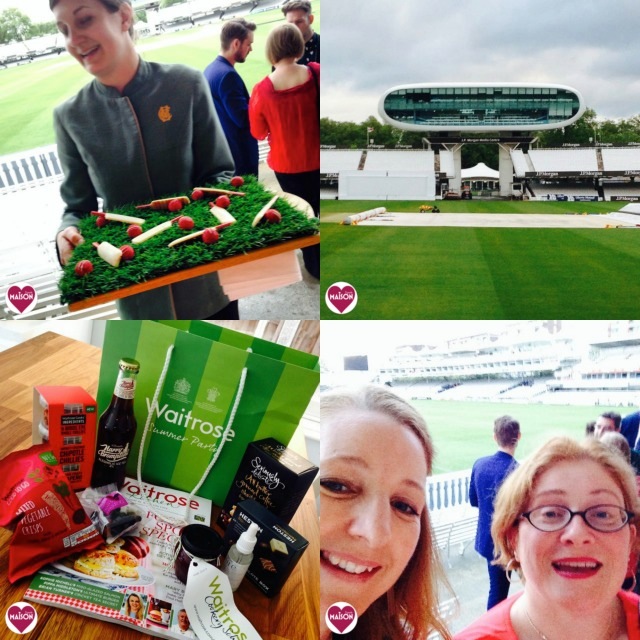 It takes a lot to drag me out but the Waitrose Summer Party is one event that's firmly marked on my calendar with the Sharpie.
This year's star spangled cocktail party took place at Lord's Cricket Ground celebrating Waitrose's recent sponsorship of the England Cricket Teams.
I am – embarrassingly perhaps – becoming a veteran of Waitrose Summer Parties (possibly they'll not invite me again now I've said that). Moments I have loved from previous Waitrose Summer Parties have included:
An awesome private gig with Paloma Faith in the Natural History Museum
Strange old guy in suit crashing the stage during said private gig with Paloma Faith
Being stood behind Rachel Johnson during a tour of Kensington Palace and thinking OMG she's tiny
Spotting Mary Berry from behind from a distance and thinking OMG she's tiny too
Heston "selling" ice creams from a little wooden ice cream cart at the V&A
Photobombing Pippa Middleton and Heston's press call last year
Now hindsight will prove whether this year's event had any such memorable celebrity nuggets but certainly this year's canapes were our favourites. Waitrose pastry chef Will Torrent whipped up cricket themed treats including these dinky white chocolate bats with raspberry truffle cricket balls (above left).
Fellow food blogging stalwarts of the Waitrose Summer in attendance were Fuss Free Helen, Big Spud Gary, Mimi, Kavey and as seen with me above – Katie from Feeding Boys. Going home we each received a selection of Waitrose's star products including Heston chocolates, dried cherries, vegetable crisps and some alcoholic tea. Perfect sustenance for the tube journey home!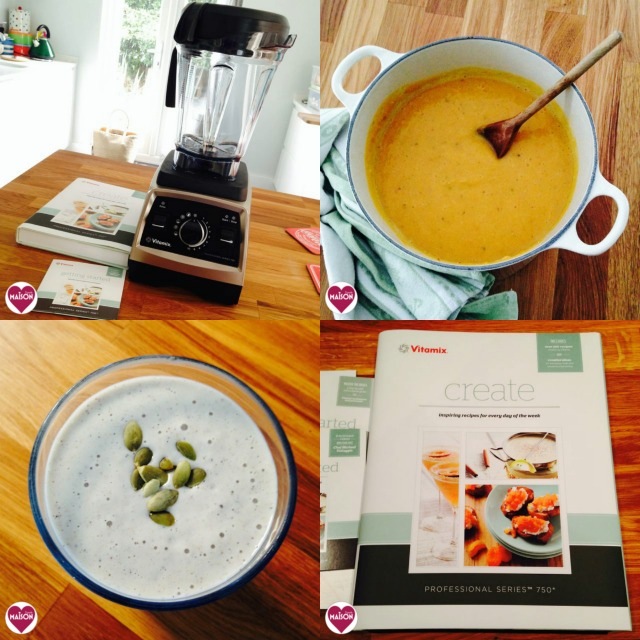 My other reason for excitement this month is that I now have a *drum roll* VITAMIX.
I have hankered after a Vitamix since seeing one demoed at a Lakeland Christmas press show a few years ago so both myself and Ted are cock-a-hoop to finally be whipping up soups and smoothies at lightning speed.
I will be featuring (many!!) Vitamix recipes in the near future but for the time being let me tell you it's transformed my breakfast times and the hardback cookery book that comes with it is packed with ideas to keep me busy.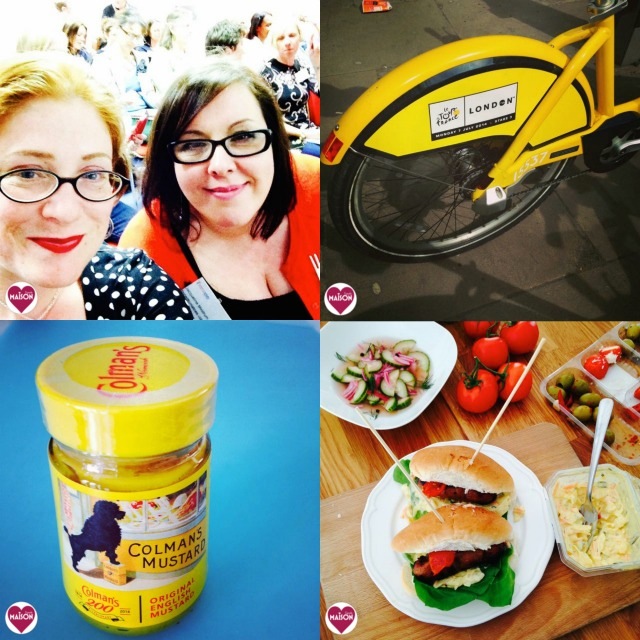 In other news I finally met Jacc from Tinned Tomatoes when we both spoke at Blog Camp in Birmingham. If you missed me there you'll have another chance to hear me speak at Britmums in June.
The Tour de France is coming to Walthamstow in July… it will be speeding within metres of my house!
Colmans are selling these limited edition English mustards with cool poodle labels. I love retro packaging so snapped one up in my local Tesco.
It has been wet this week but we still enjoyed a taste of #AsdaSummer – these hefty hotdogs were filled with their juice barbecue flavour pork sausages and American coleslaw. We also tried spicy Cajun sausages and Mexican coleslaw but found these somewhat too hot for children.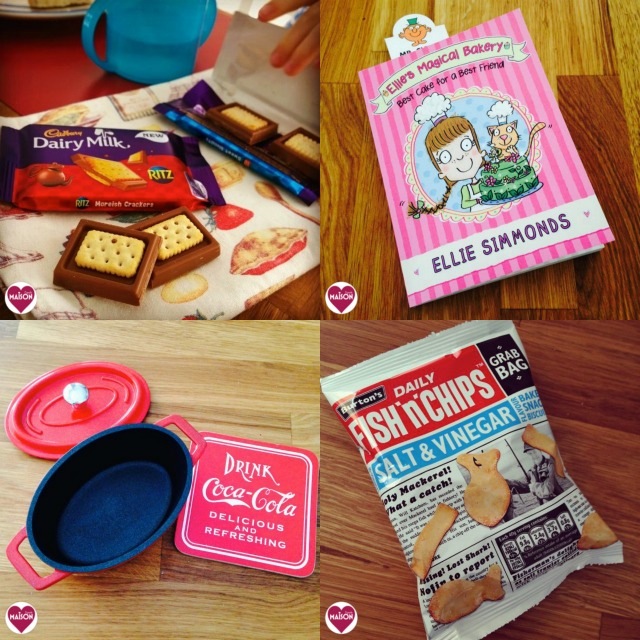 Other things we've tried this month are:
Cadbury's Dairy Milk with Ritz and LU. The Ritz was my favourite, pleasingly salty sweet but the biscuits fall off inside the packet. I can live with that though.
Paralympian Ellie Simmonds has published a book called "Ellie's Magical Bakery" – it's kind of Harry Potter meets Great British Bake Off about a little girl called Ellie who lives with evil aunt and uncle but finds a magic cookery book. My six year old, despite the girly pink cover (why?? publishers why??) has been agog every evening this week with me reading two chapters per night. It's a new series so assuming the other covers aren't so PINK, Ted will be looking forward to more stories like this.
This dinky little cocotte by Grunwerg made its way into my kitchen this month – it fits in fabulously with my new colour scheme and is perfect size for an individual portion of baked something or other with added benefit of a non-stick interior. I have pictured it next to the coaster to show the size.
Burton's Fish'n'Chips are still a thing. I was shopping in Staples of all places (my son has a stationery fixation) and saw this familiar packet at the till. Mummy used to eat these in the playground I told him. I didn't know they still existed and am now on a hunt for Frazzles, Space Invaders and Hedgehog Crisps.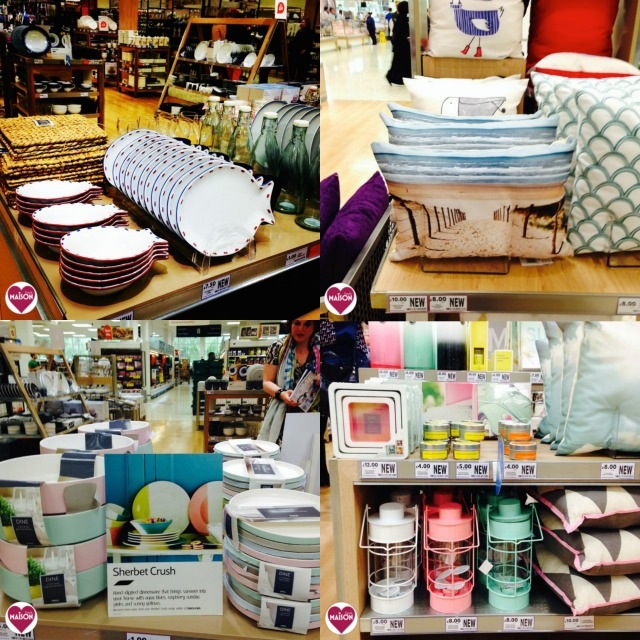 Finally, I also attended a launch for the new homeware collection from Tesco.
This took place at Tesco Extra in Watford – which I must add is a much more beautiful experience than Tesco Extra in Edmonton and I yearn for my local big branch to get a similar revamp soon PLEASE. Concessions instore include a Giraffe restaurant, Harris & Hoole coffee shop, Euphorium bakery, The Bakery Project (which my nearer Hackney Extra apparently also has) and a huge selection of the new homewares.
My top "looks" were Seaside which evoked holidays in Brittany and pastel popping Sherbet Crush. Items include cushions digitally printed in the UK (above right) and hand dipped Portuguese crockery (below left). Prices are low on a par with IKEA. Another standout selection was the display of retro clocks shown below.
If you don't have an Extra close to home, items can be ordered via Tesco's click and collect service available at most (non "express" style) stores.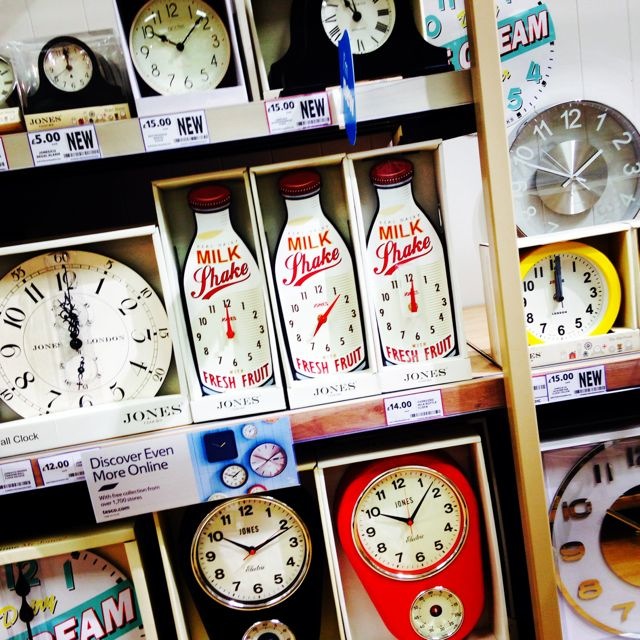 With thanks to Vitamix, Asda, Waitrose, Tesco, Cadbury's Grunwerg, Random House for sample products.