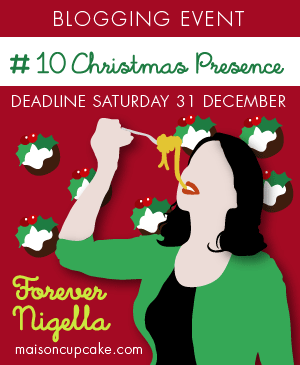 I have been slack I know, whilst I've been slogging over my manuscript and appearing to ignore people most of you have probably forgotten about Forever Nigella so beloved in her hey day of 40-50 entries per month.
I have neglected dear Nigella for too long and therefore, this will be the last Forever Nigella as we know it. *Violins*. Boo hoo.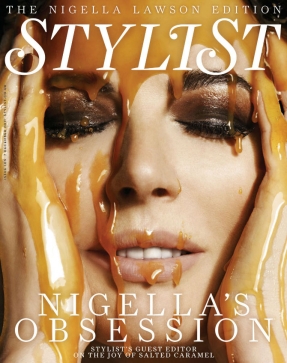 Possibly I could post a picture of myself smothered in salt caramel to get your attention. But I fear it may not get the same reaction as the shot above. (Is it me? Or does she look like she's plastered with Castrol GTX? You remember that ad don't you? No? Too young? OK let's move on…)
Panic not, Forever Nigella will be back but I am making a few tweaks to the format to make it easier for me to manage without the assistance of long suffering husband who has been creating the beautiful buttons every time I beat him with a stick.
So this yuletide, all I ask of you is to post any Nigella recipe you are blogging this Christmas (no verbatim recipe text please, see rules below). Hands stuffed up turkeys, fingers plucking puddini bon bons from trays, your semi freddos being licked, whatever. From January 1st we will have regular new strictly monthly Forever Nigella arrangements. But I'm not telling you what those are yet.
A prize, oh yes indeedy we have an international prize

To make things a little more fun this month I am returning to a practice of the early Forever Nigellas and have secured a jolly prize for you! From the lovely Salter housewares people who are so famous for making scales.

Someone submitting their festive Nigella feast will be able to win a set of these slinky sexy digital Salter slim digital scales.

Anywhere in the world. That's right. This prize is available internationally.

They come in all kinds of colours, I own a lime green set for my kermit infested kitchen, I'm not sure what colour the winner will get, possibly you'll get to choose – what a nice surprise.

Aren't Salter lovely. I say thank you to them right here.
The bad news is you only have two weeks. But heck, I can't exactly move Christmas can I.
As we speak I am doing something incredibly Nigella like in my kitchen but I can't possibly tell you what it is. Yet. Maybe I should video it.
Whatever you're doing that's Nigella like in your own kitchen please share with the new fangled (well ok old fangled, everyone's been using them but I've only just started) Linky Tool and let's get all goddess like for Christmas.
A reminder of the rules:

Forever Nigella #10 "Christmas Presence"

Challenge: To prepare and blog any Nigella recipe during the Christmas period. Ideally it will be Christmassy but I'm not fussy.
Deadline: December 31st 2011 at midnight wherever you are.
Winner announcement: Within a week, to be added to the Forever Nigella page.

There are:
No rules about how often you must take part
No rules about stuff being secret until certain dates
No rules that everyone cook exactly the same thing
No rules about not being able to submit to any other blog events – just check it doesn't contravene the other guys' rules

But there are 3 rules:
1. Blog your entry by the deadline including:
a) the current Forever Nigella badge
b) a link to the current host (ME)
c) a link to the official Forever Nigella page at Maison Cupcake: https://maisoncupcake.com/forever-nigella

2. So not to breach Nigella's copyright you must NOT reproduce recipes verbatim as shown in her books. If using an original Nigella recipe, tell us which book it is from and/or where we find it online (see most likely sites below). If you've adapted the recipe in some way i.e. changed at least two ingredients or amended the method then it's ok to publish the a recipe in your post but you MUST write the directions in your own words.

3. Tell us about your post by adding it to the Linky Tool below! I have made this into a Blog Hop so feel free to post the script at the bottom of your post to encourage your readers to visit the other entries. If you can't see the linky below it's because I've never done one before and I've stuffed it up. Nag me and I'll sort it out.

Don't forget to tweet your post with the hashtag #forevernigella – I will retweet all those I see!

Enjoy your Nigella Christmas presence!
N.B. Your entry must have been published since the announcement post. You may only submit something from your archives if you republish it as a new post.