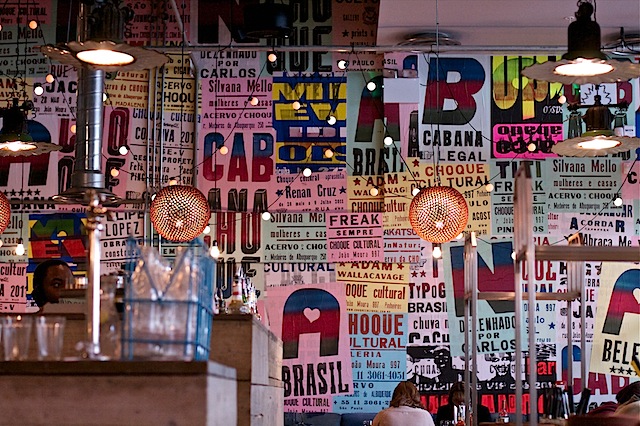 Ever since we met, my husband has waxed lyrical about his personal Shangri-la, a restaurant with STOP and GO signs on the tables indicate to the waiter you would like meat, meat and yet more meat to be served.
That was Brazil twenty years ago but now the concept has reached London. Cabana is a Brazilian style barbecue restaurant with branches at Covent Garden and Westfield Stratford.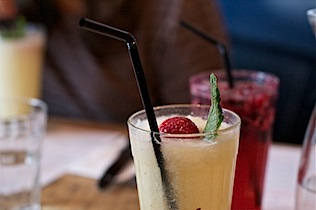 Cocktails are recommended to start; versions with or without alcohol. This is Cool Colada; fresh pineapple blended with coconut cream, coconut water and citrus. It's not the most photogenic drink but was enjoyable even without the optional spiking of cachaca.
We chose appetisers from the "Street Food" menu followed by barbecued meats and a side order each.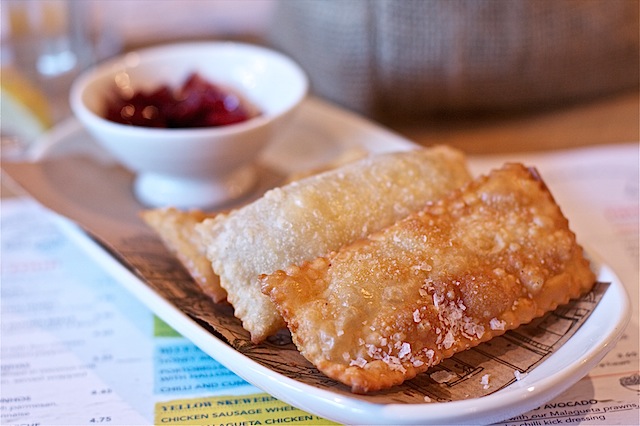 "Crispy Pastels" were three tasty deep fried pastry pockets served with organic smoked peppers. Sadly the promise of being "stuffed with four cheeses" was broken, the insides of one was hollow and smeared with droplets of cheese on the sides as opposed to stuffed and the other two were not exactly bursting.
Nevertheless they were more-ish and one of our favourite starters. Imagine how great they'd be with more cheese!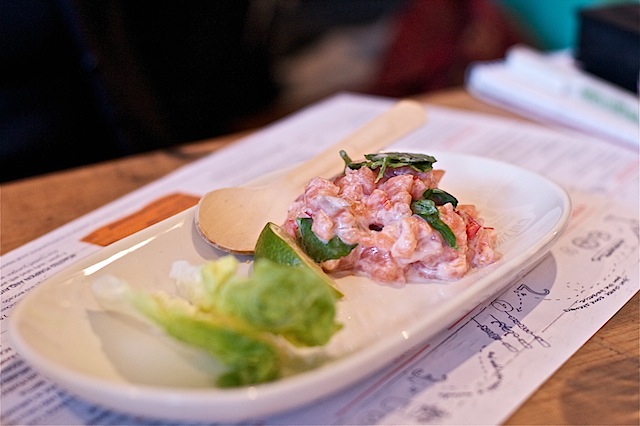 Two of my dining companions had chopped salmon ceviche. To see what everyone else thought of their dishes visit my friends' reviews at Greedy Gourmet, Cook Sister, Pebble Soup and Coffee & Vanilla.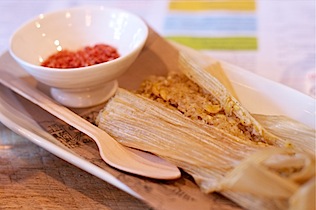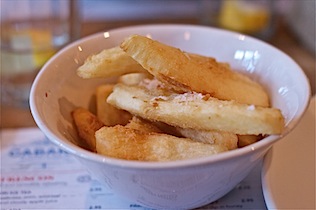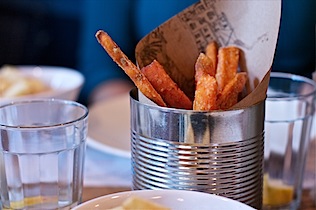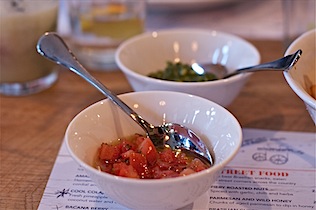 Above from top left; sweetcorn pamonhas – grated sweetcorn steamed in coconut milk with a hint of cinnamon served wrapped in a corn husk – an intriguing dish but sweet enough to have as a dessert. Above top right: Cassava chips promised much on sight but the texture wasn't to my taste. They look like big fat chips but cassava is a much drier texture akin to chestnut – making them hard work to eat.
Far better were the sweet potato fries (above, bottom left) which were dangerously good; relishes and pesto came in little dishes (above bottom right).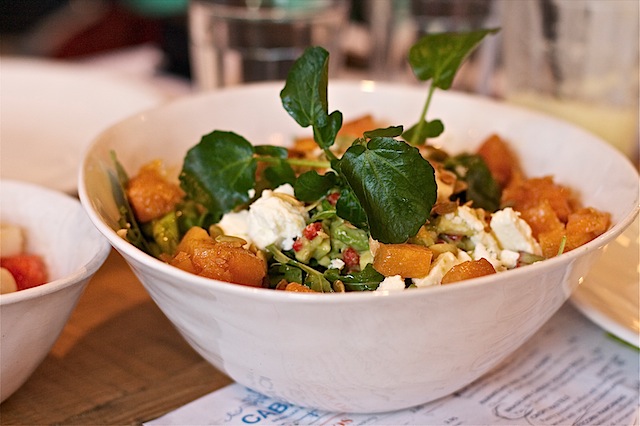 Roasted pumpkin and avocado salad made a satisfying accompaniment, generous quantities of pumpkin and feta cheese. (Other chains with your squash starved stingy equivalents please take note).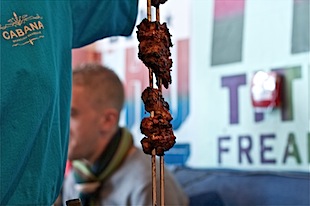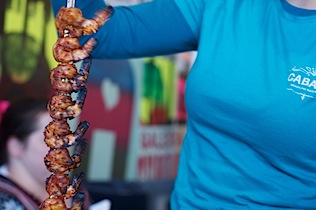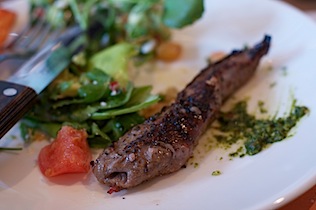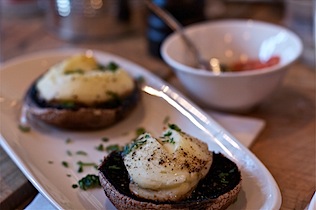 And on with the skewers! With a theatrical arrival came chilli and cumin lamb (above bottom left), spicy malagueta tiger prawns (spicy indeed) and honey & date chicken on colour coded skewers. Portobello mushrooms with halloumi or corn on the cob are options for non carnivores.
Your skewer choices are served at the table and a card stamped with how many you've had from which colour skewers. You have a STOP and GO beer mat to flip over depending how hungry or full you are.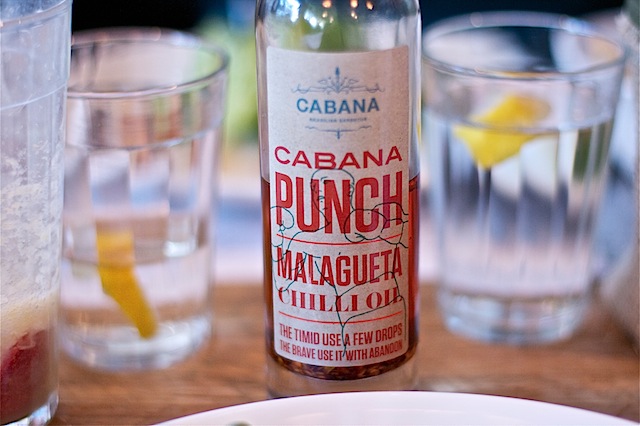 The branding of Cabana is similar in tone to Wahaca (ironically next door at Stratford); it's a chain restaurant with a theme, scaffolding and bill posters over the walls aim to create an atmosphere of a back street earthy eatery; even the toilets are done out to feel like they're a corrugated iron shack. It all feels fun but to someone such as my husband who has been to Brazil, it's clearly a sanitised version of the real thing.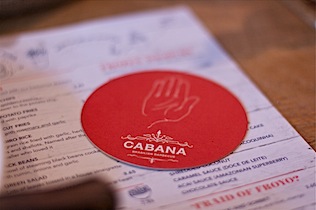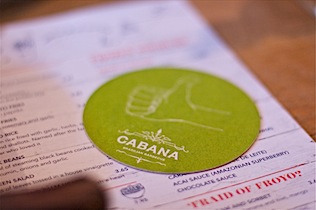 As an addition to the pizza pasta dominated UK chain restaurant scene, Cabana, like Wahaca is a joyful change. I'd gladly visit again although I suspect you need to try a few dishes about to see which ones work for you – the tender juicy barbecued meats were all a strength of Cabana, the sides and street food choices were more hit and miss.
Do, do, do save room for dessert.
When I saw various permutations of "fro yo" listed on the dessert followed by two frozen yogurt alternatives (one of which was ice cream… isn't this like saying, hey you don't like nectarines but what about peaches instead?) my expectations were not high.
However, the frozen yogurts available in natural, peanut butter or caramel flavours with a dozen types of topping to pick from were awesome. I hope in the summer they do a Jamie's Italian and start selling frozen yogurt outside the restaurant. I'd go back for the PB fro yo alone.
With thanks to Cabana.