These Christmas wreath decorated chocolate cookies are equally suitable as gifts or to hang as Christmas tree cookies.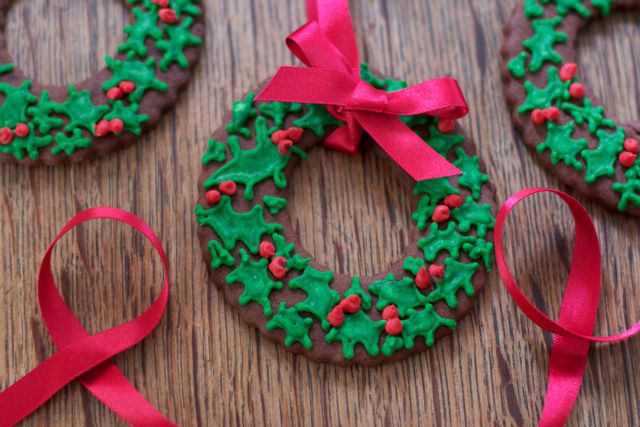 Now and again I don't get to publish something when it's seasonal but it deserves an airing the next year. I kicked myself not getting these Christmas tree cookies up in time last year so now I'm determined they see the light of day.
At the time, I'd been inspired by some ring shaped Christmas wreath cookies shown in Decorated Gingerbread by Annie Rigg published by Ryland Peters & Small. However the ones in the book were slightly more fiddly than mine and I prefer the two colour effect I achieved myself. (Well I would, wouldn't I).
After finishing a run of more complicated iced cookies in various colour ways for the book it was something of a relief to sit and pipe holly leaves on these Christmas tree cookies and only needing 2 colours in 3 piping bags to get the job done. Some of the book photo shoots had needed as many as 28 types of icing. Phew!
With a red ribbon to hang these Christmas tree cookies on your tree, I'm sure you'll agree simple is best.
You might equally make these with gingerbread however I have a preference for chocolate cookie dough because it shows bright colours up beautifully.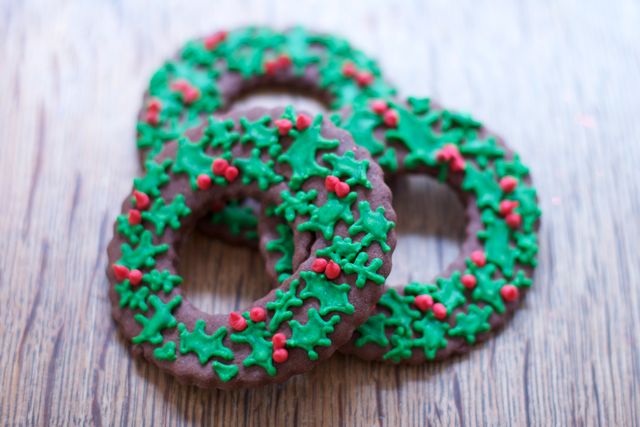 It's ok to work cookie by cookie or ice the whole batch at once which ever suits you. You'll get a slightly different effect with borders more pronounced if you let the border icing dry before flooding. Definitely make sure the green icing is dry before you add the red berries.
The chocolate cookies do go softer being left out of a tin but it's fair to say they'll still be edible throughout the Christmas season so you can leave your Christmas tree cookies hanging up on the tree beyond New Year.
Can you believe I even recorded footage of me icing these? I haven't bothered editing it until today as I fear my long suffering dad was not the best camera man. I have edited out the bits of me telling him off and cobbled together an edit for you to see now. Forgive the wobbly bits, it was recorded by a baby boomer who had never held an iPhone before!
Have you been decorating your own Christmas tree cookies this year? If so I have a special project for you to join in with tomorrow. Don't forget to come back and see what it is.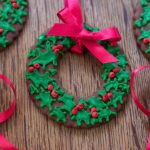 Print Recipe
Christmas tree cookies sugarcraft project
You will also need: round cookie cutters in different sizes – I used 7cm and 3cm baking sheet lined with baking parchment paper 3 piping bags, 2 with no2 Tala tips (fine writer), 1 with no3 Tala tips (slightly larger writer) cocktail stick Ribbon to hang cookies on the tree <em>Makes around 20 Christmas wreath cookies.</em>
Ingredients
One batch cookie dough <ahref="http://blog.maisoncupcake.com/chocolate-cookie-dough-recipe-chocolate-cookies"

see my chocolate cookie dough </a>

extra flour for rolling

use cocoa for chocolate cookie dough

1/3

batch royal icing

Red paste food colouring

Green paste food colouring

extra icing sugar for adjusting icing consistency

lemon juice for adjusting icing consistency
Instructions
Preheat the oven to 180c / Gas mark 4.

Roll out the dough to 5mm thick, dusting the surface with a little extra flour if necessary. Cut out the larger circles then make holes in them with the smaller size cutter.

Transfer to a lined baking sheet and bake for around 10 minutes. Allow to cool slightly before transferring to a wire rack then leave to cool completely.

Meanwhile split your royal icing into coloured batches. You need 80% green icing and 20% red. (To be honest you need less red than this but I'm sure you can find something else festive to do with it). Use the paste colours to tint your royal icing.

Split the green icing in half into two containers. One batch should be flood consistency, the other soft peak or 'writing' consistency.

The red icing needs to be soft peak or 'writing' consistency.

Fill a disposable bag fitted with no2 size Tala tip with green soft peak icing. Randomly pipe little holly shapes onto the cooled chocolate cookies. Cover the surface of the cookie with the holly shapes arranging them in sprigs of 2 or 3 leaves.

Fill a disposable bag fitted with no3 size Tala tip with green flood icing. Fill each holly leaf with the flood icing and allow to dry.

When the green icing is dry, fill a disposable bag fitted with no2 size Tala tip with red soft peak icing and pipe berries onto the holly leaves. Allow to dry completely.

Using short lengths of ribbon, tie loops to hang your cookies on the Christmas tree.
Notes
The chocolate cookies do go softer being left out of a tin but it's fair to say they'll still be edible throughout the Christmas season so you can leave them hanging up beyond New Year.