Cupcake Crumbs is my end of the month round up of bits and pieces that haven't made it into posts of their own. But they're no less delicious for it.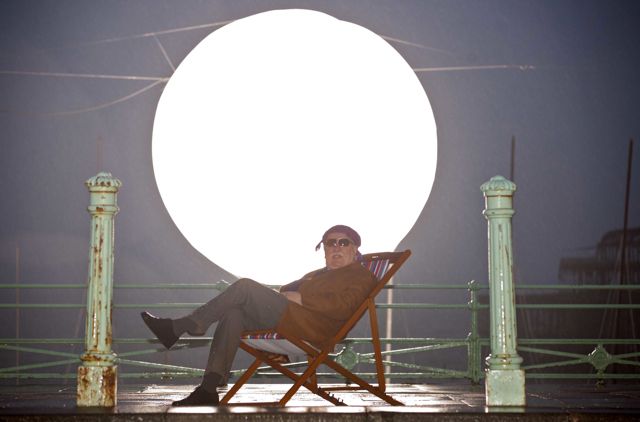 You frequently hear food bloggers, myself included, despairing of the terrible light for food photographs at this time of year.
If only I had a giant five metre wide helium balloon giving out two million lumens (that's a geeky sunlight measurement apparently) of Ghanaian strength "sun".
Legendary weather forecaster Michael Fish donned his sunglasses (in the pouring rain by the looks of things) in order to promote a Cadbury's Fairtrade Fortnight initiative which will see 20% of profits on Fairtrade certified Cadbury Dairy Milk products sold during this year's Fairtrade Fortnight (28th February – 13th March) will go towards funding solar power projects in Ghanaian cocoa producing communities.
Going off on a slight tangent that UK readers aged over 30 will understand – Rumours of a Hurricane by Tim Lott is a damn good read.
Divine Chocolate, the chocolate company owned by cocoa farmers is marking Fairtrade Fortnight by giving the public an opportunity to meet Divine cocoa farmers face-to-face. Also combining this with the centenary of International Women's Day which falls during the Fortnight on Tuesday 8 March, two prominent female members of Kuapa Kokoo, the Ghanaian farmers' cooperative that co-owns Divine, are coming to tour the UK and share their views on Fairtrade, the crucial role that women now play in the Kuapa organisation, and on what owning a chocolate company really means.
On the Fairtrade Fortnight tour, Harriet Boatemaa and Fatima Ali will be talking to school children, shoppers, church groups, local businesses and government officials around the UK, allowing them the opportunity to hear firsthand how a fairer trading relationship is helping to change lives in Ghana, and how Divine's pioneering business model means an even better deal for farmers and their families. In turn it gives the farmers an insight into our love of chocolate, and how many people here in Britain want to make trade fair. For more details about the events visit Divine's website here.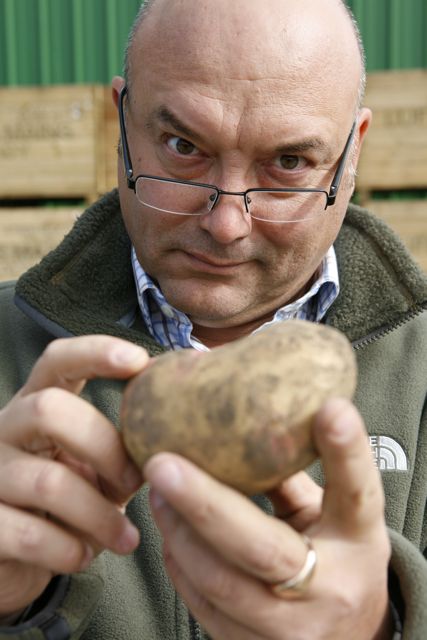 The Great British Food Revival
A brand new five-part BBC series The Great British Food Revival hits our screens from Wednesday 9th March at 8:00pm.
Each show will see a TV chef championing an item of great British produce which is under threat and in serious need of putting back on the food map.
James Martin shows his support for heritage apples, Michel Roux Junior puts a case for the revival of real bread and Greg Wallace, by the looks of things, will be saying growing potatoes doesn't get tougher than this.
The Hairy Bikers get behind the revival of the cauliflower while Clarissa Dickson Wright puts forward her argument for rare breed pork.
Others involved in the campaign include Angela Hartnett, Ainsley Harriott, Matt Tebbutt, Glynn Purnell and Gary Rhodes.

Royal Wedding frenzy…is yet to reach its inevitable fever pitch, although The Ideal Home Show (Earl's Court 11-27th March) is doing its best to whip up some hype. Create a royal themed wedding cake and assuming it survives on public transport you could not only walk into the Ideal Home Show for half price but might also win the meaningful title of 'Ideal Home Cake Decorator of the Year' and top prize of afternoon tea for two at London's The Kensington hotel. The cake competition takes place on 16th March. Notably top prize for the Ideal Mum of the year is a night's stay for two in The Hilton Hotel, Kensington so you get a better prize for this without the hassle of making and transporting a cake.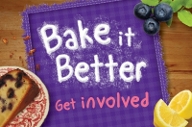 Bake It Better for Great Ormond Street Hospital
Throughout March, Great Ormond Street Hospital Children's Charity is urging supporters to Bake it Better by baking, selling and enjoying cupcakes to support the annual Kiss it Better appeal and raise funds for research into the causes and treatment of childhood cancer. To find out more about the Kiss it Better appeal and to register for our Bake it Better celebrity recipes and fundraising pack, please visit: www.gosh.org/kissitbetter or call 0207 239 3000.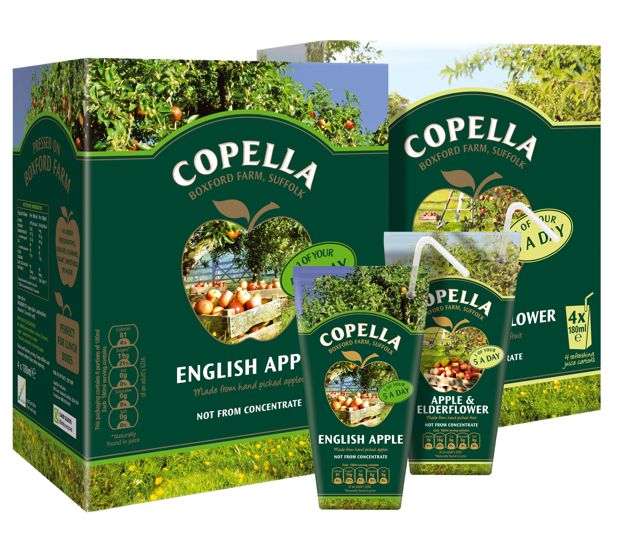 Family Friendly Juice Cartons
Picnic season is still a little way off but Copella have launched these boxes of 4 x 180ml not from concentrate juices that are compact enough for children's lunchboxes and sent me a pack to try. They're a tapered wedge shape similar to Innocent Smoothie cartons and the apple and elderflower flavour was a big hit with Ted who guzzled it all in one go. Still, 180ml isn't very much juice really so at RRP £2.49 for a pack of four they're not cheap but you are paying for a natural juice pressed in Suffolk.
Cadburys Spots v Stripes
Last week I attended the slightly surreal event shown in this video above. Cadbury Spots v Stripes is a 2 year long initiative running alongside Cadbury's 2012 Olympic sponsorship – although they're only allowed to refer to themselves as "treat providers" because we can't have people thinking chocolate and sport are remotely compatible can we? The idea is to get the nation playing games in advance of the Olympics in 2012. You can pick your side on Facebook – Spots or Stripes – and get competitive. Whether you're a spot or a stripe is fairly meaningless. You can tell I really don't "do" sport can't you? However, once you've liked either side – Stripes being a pathetic 30,000 likes behind when I last checked – you can currently take part in some online competitions such as fastest typing (wahay, I'm 12th fastest apparently), fastest mouse scrolling or fastest mouse clicking. I'm saving my energy for fastest shopping – someone give me a trolley dash to take in please.
We spent the evening throwing teabags into mugs from a great distance, stacking 2p pieces at high speed and racing to stuff a duvet into its cover in front of the watchful eyes of Guinness Book of Records trained representatives. The good news is that my partner and I smashed the duvet stuffing record of the previous participants by 20 seconds. The bad news is that HE didn't stuff his corner properly and we were disqualified. Oh well, I'll get over it.
iPhone Apps of the month now…
I didn't set out with the intention these would all have "good food" in the title, it's just a coincidence.
The Good Food Finder (free, above left) is a location based initiative by Lurpak, previously only available online but now a free iPhone app. It was created to encourage both customers and sellers to recommend their local food finds, inspiring more people to care about good food. The app features everything from butchers to delis and greengrocers from around the country, all recommended by local customers or the stockists themselves. My favourite local butcher the East London Sausage Company (shown in screenshot above) is featured as is my less personally frequented Walthamstow Street Market. It tells you how far away places are and gives Google directions to them. Apparently I'm only 18 minutes with traffic away from The Ginger Pig in Hackney. It's a real pity there aren't real photos of the places listed, the stock photos of meat, fish and vegetables etc feel a bit boring but for a free app it's worth a play with. You can submit your own reviews via your iPhone or online.
The Good Food Guide 2011 iPhone app (4.99, above centre) gives up to date detailed reviews of top UK restaurants with contact details and click throughs to their websites. You can also submit your own feedback which will inform the next edition of the guide. Although you can sort functionality such as cost, distance, cuisine etc, I found searching a bit fiddly and frequently had to back track and re-enter what I was looking for. At 4.99 it's a lot cheaper than the book but still quite a lot for an app unless you eat in these types of places all the time. Incidentally, I ate in Bond's (shown in screenshot above) this week and it was excellent. A review will follow.
Finally the Good Food Healthy Recipes app for iPhone (1.79) features 120 healthy recipes and is part of serious of other Good Food iPhone recipes apps at the same price. Compared to the Nigella or Jamie apps which are more expensive, these Good Food apps are really good value. Admittedly I don't tend to actually cook from any of these but I judge this kind of app by whether it provides you with suitable entertainment when trapped underground on the tube with no signal to tweet or reply to emails. There are videos on preparing whole fish and freezing fruit and vegetables and also ingredients pages giving information about seasonality and how to prepare various healthy foods.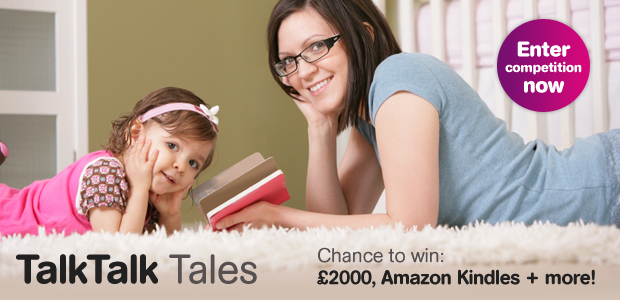 Bedtime Banter with Bernard Cribbins
I was heartened this week to discover that despite allowing my child to eat crisps, drink pop and use the computer far too much that I'm not quite the terrible parent I assumed I was.
Not only do one in three children go to school without breakfast but 48% of UK parents don't read bedtime stories to their kids and 57% of parents think that this practice is in danger of dying out.
Ted always eats breakfast (even if it is chocolate Weetabix) and always gets at least two bedtime stories – sometimes as many as FIVE. So I can't be doing too bad.
To highlight the plight of children not having stories read to them, Talk Talk phone people have taken it upon themselves to find Britain's Best Amateur Story Teller. If you can bear to take part, you get a choice of passages to read down the phone or upload on the computer. Hilariously you can also listen to other people's entries.
The competition is open to anyone over twelve years of age* and the overall winner, as chosen by the veteran storyteller Bernard Cribbins, will receive a cash prize of £2,000. I was offered images of Bernard Cribbins to go with this story but considering I already have Michael Fish at the top of this post, I was concerned doing so might over excite certain readers.
*maybe this is why the stats for parents reading stories are so low? Parents are contracting out reading stories to their older children – a damned fine time management strategy if you ask me but I only have one child and will never be able to employ this.
On that note, I shall bid you goodbye!