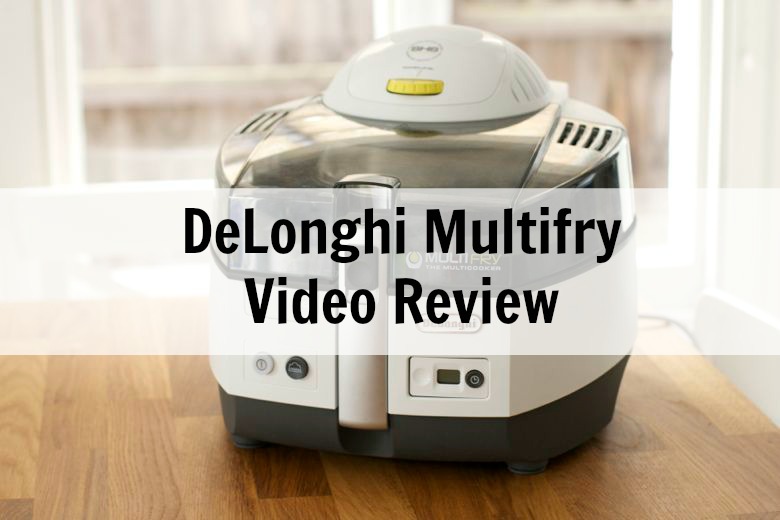 Over the summer we've been eating our fill of sweet potato chips in this Delonghi Multifry FH1336 multicooker machine.
Like many other multicookers it features a hot plate (in this case two) and non stick pan with a paddle to stir the food. It promises to cook a broad spectrum of foods beyond the obvious chips such as risotto, stews (and without the paddle) cakes, pizza and frying fillets of meat or fish.
This model at RRP £200 is at the upper end of the market (although at the time of publication I note Argos are selling them for £129).
Our sweet potato chips turned out very badly first time (bottom left) using the suggested level 4 highest heat and 30 minute cooking time. The main picture shows them cooked as wedges on a level 3 lower heat for 40 minutes.
We produced a perfectly serviceable pizza in the Multifry but it took longer than the oven and longer still for a family because you can only cook one at once.
Risotto on the other hand (not photographed) was brilliant because you could make a huge batch without having to stand at the hob stirring it.
Food coming out of this machine wasn't especially photogenic and it can be trial and error to get good results.
I have recorded this video summing up this machine. My conclusions are mixed; I love that it's hands free letting you do other things but the high volume during operation is a pity. Hence I tend to use it before anyone comes home and cannot play music or stream TV at the same time.
Watch this video for a summary of my experience using it or check out my pros and cons of the Delonghi Multify below:
Pros of Delonghi Multifry
Extremely easy to operate, basically hit two buttons and go.
Easy to clean albeit by hand rather than dishwasher
Uses less oil than deep fat frying and thus healthier
Can lift lid to check on food during cooking
Food stirs itself with the paddle (if using)
Easy way to make homemade chips
Surprisingly lightweight machine but not flimsy
Versatile range of things you can cook in it
Brilliant for cooking risotto for six people without having to stir yourself
Cons of Delonghi Multifry
Quite noisy. You'd not want to sit chatting to anyone in same room.
Considerable financial investment at RRP £200 (although some stores have them at £129)
Large footprint on worktop – as much as a full size breadmaker or small microwave
The pan is too big to go in a dishwasher (unless you wash everything else by hand)
Very short power cable
No visual indicator whether lower plate is still on. Would be easy to forget and burn something next time.
Timer button is very small and has to be pressed repeatedly i.e. 30 times to set 30 minutes.
Machine doesn't turn itself off at end of cooking.
It's no quicker than other methods and often slower.
Notes on the Delonghi Multifry recipe app
Pictures of recipes are missing or sometimes even incorrect
Photos are not representative of what food looks like when cooked in the machine
Most recipes are for 8 people which is too many for average family
Recipes are badly written
The app is difficult to navigate and forgets what you were looking at last time meaning more tricky navigation.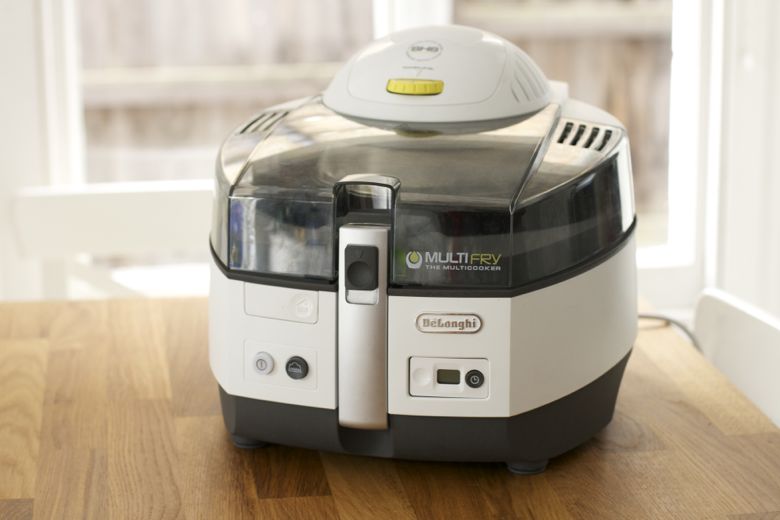 Verdict
The Delonghi Multifry is capable of cooking a broad range of items nevertheless chipped vegetables and risotto remain the most successful. The recipe app is all style over substance and a small booklet of well tested (even unillustrated) recipes would be more practical.  The flexiblity of this machine makes is suitable for someone in student halls or a studio flat but arguably you'd not want to be stuck in a small space whilst it's on. Conversely, a large family with a big kitchen would benefit from the large portions it can deliver with little effort. An average family with an average kitchen might struggle to justify the space it takes up – especially considering  an average oven and hob could cook the same stuff in less time.
With thanks to Delonghi who provided a machine for me to roadtest.