Moo Grill is an Argentinian style steak house on the edge of the City of London. We were invited to their new branch in Petticoat Lane market.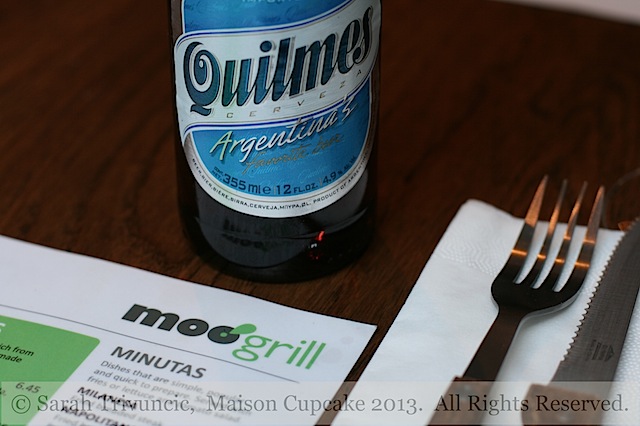 Upfront I should admit my knowledge of things Argentine is mostly restricted to the plotline of Evita. A lot of British people used to live in Argentina although I did not realise why until the latest episode of Dan Snow's Locomotion on BBC2 this week.
Railway mania drove the British to Argentina, its flat pampas plains were ideal for ploughing British built train across. Abundant supplies of beef could now be refrigerated and shipped back to feed the Victorian population explosion back home. There were more cows than people in Argentina and their grass fed cattle have continued to produce beef that has been the envy of the world.
Thus as you'd expect, steak is definitely on the menu at Moo Grill and I was keen to see what else Argentine cuisine had to offer.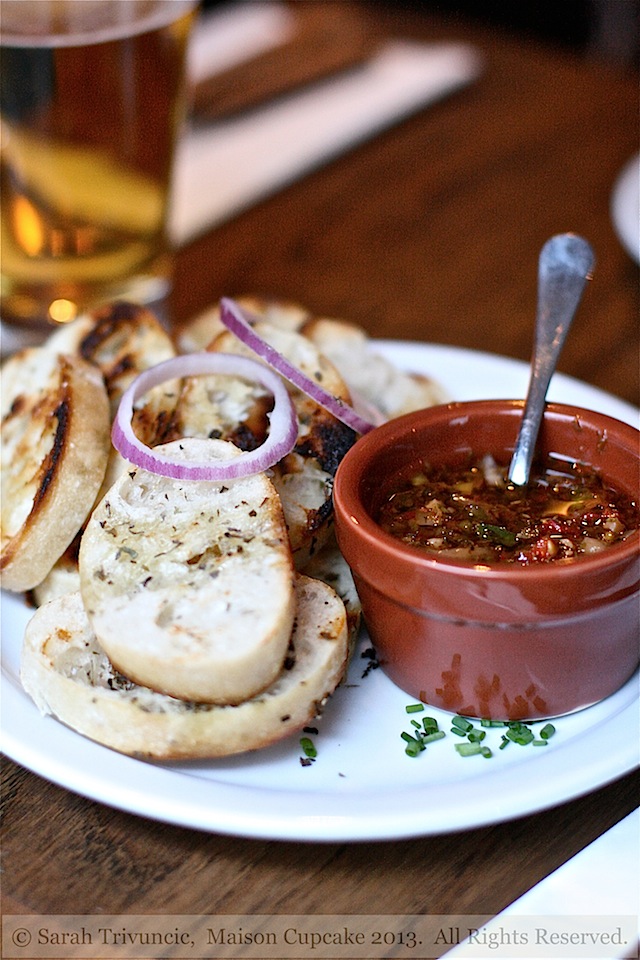 Armed with Argentine Quilmes beer and a peachy sparkling Argentine Chardonnay, our hunger was kept at bay by pane & chimi (£2.80) toasted bruschetta style discs of bread with "chimichurri" sauce of garlic, peppers, herbs, oil and vinegar. Another similar but less piquant sauce at the table was criolla (£1.80) of tomatoes, onions, red peppers and spring onions again with oil and vinegar. Our host explained that these sauces were typically Argentine and everyone back home would have their own individual recipes for them. They're quite similar to each other although the garlicky one was more interesting.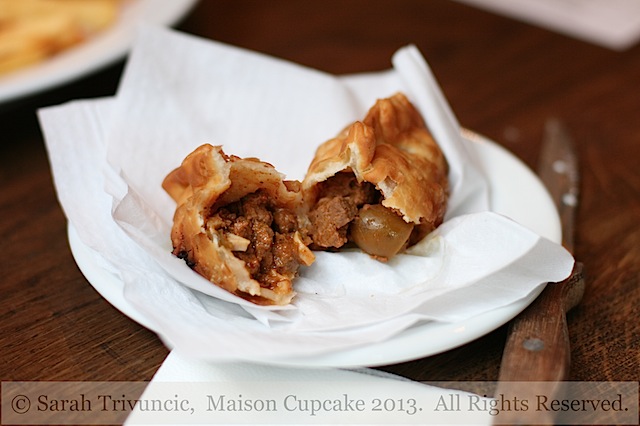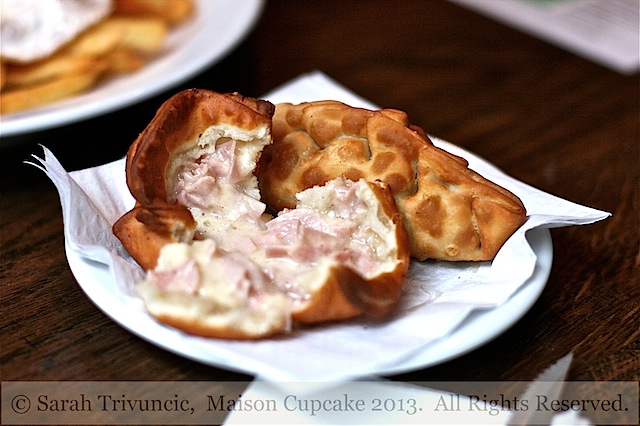 Empanadas, traditional Argentine filled pastries were something I had previously heard of but never eaten authentic ones. Empanadas Jamon y Queso (£1.95 each) were a tad disappointing with slivered squares of wafer thin ham – I'd have rather seen chunkier pieces of meat in there but the pastry is light and golden.
Much more impressive were empanadas carne (£2.05 each) had big chunks of spicy beef and whole olives. If I worked locally I'd happily pop in to buy several of these to take home. There is also a vegetarian version empanadas humita filled with sweetcorn and spring onion although we didn't try this.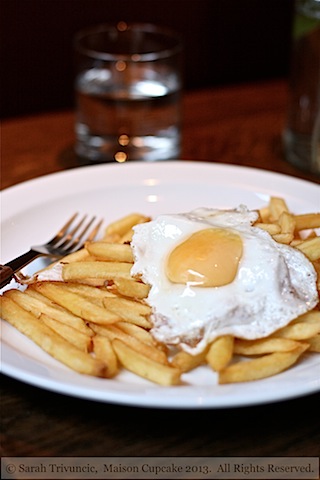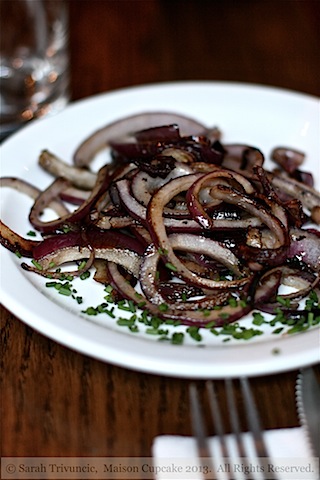 With Ted in tow, we were confident he'd enjoy the empanadas but also ordered him papas fritas (£1.80) and huevo frito (£0.95) – that's egg and chips to you and me – and shared our visually pleasing side order cebollas asadas (£1.25) grilled red onion rings with chopped chives.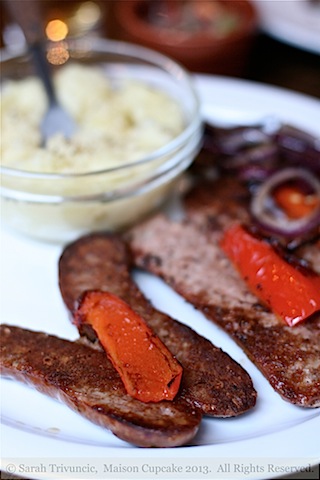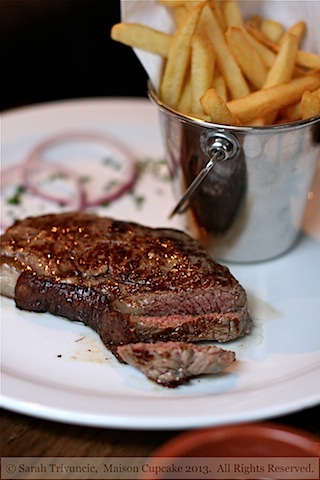 For mains, my Argentine sausage Chorizo Criollo (£7.95) was more like a spicier version of traditional English sausage than its namesake Spanish chorizo. They were served split down the middle with grilled red peppers and more red onion rings. You can choose mash, chips or salad to accompany the sausages (included in the price). The mash was quite plain with just cracked black pepper on top – fine but possibly a disappointment if you'd expected lashing of butter.
My husband ordered 150g of medium rare Bife Angosto (£7.00 per 100g) – sirloin steak although I'd say it came more medium to well done, vaguely still pink in the middle. Nevertheless he was quite happy with its tenderness. So I'd recommend being very specific how rare you want your steak if you prefer it bloody.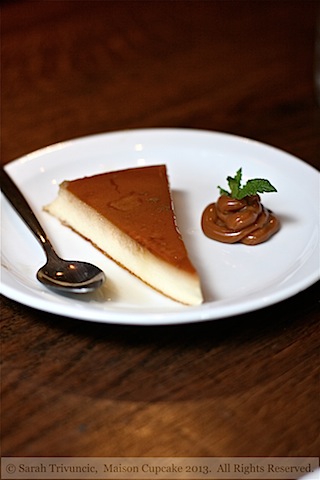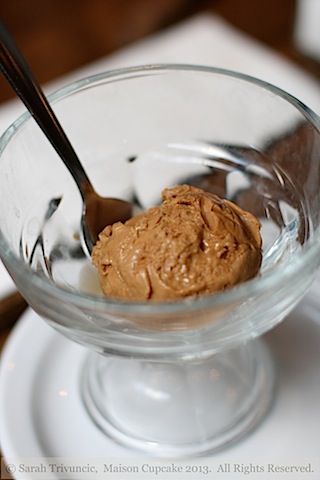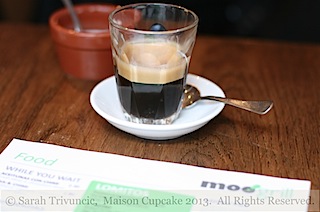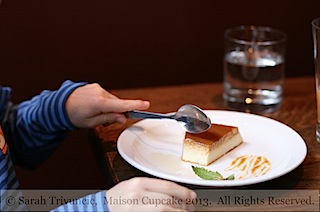 Dessert offerings include flan casero (£2.95) home made creme caramel that arrives with a dollop of dulce de leche and sprig of mint. It's a good firm creme caramel served by the slice rather than the watery dip a spoon in affair you buy in the shops.
Ice cream is sold by the scoop (£1.95) which I think is a very good thing – quite often I want just a taste of something rather than getting £5 worth of two or three huge scoops elsewhere. Naturally I picked the classic Argentine flavour dulce de leche and although this wasn't home made (I asked) it was very good.
From the prices on the menu, I had anticipated Moo Grill would be more of a cafe than a restaurant. The prices are extremely reasonable and it makes a change to go somewhere that you don't feel like they're making up all their profit margins on over priced side dishes. Certainly it's far cheaper than the rapidly expanding Argentine chain Gaucho.
These may be cafe prices but the interior is more like a bar. We were sat on banquette seating over looking Sunday's knock down clothing stalls in Petticoat Lane market. There is seating for around 70 people in this new branch (the smaller original Moo is just around the corner in Cobb Street) and although it's very quite on Sunday, the week days I'm told are very busy with clientele pouring in from the City.
If you either work in the area, or are visiting Spitalfields at weekends, Moo is worth a visit. Despite the unfamiliar names for dishes on the menu, the food here is very family friendly and at weekends there would be plenty of space for family groups.
Moo Grill
40-42 Middlesex Street
London E1 7EX
Tel: 020 7650 7948
We were guests of Moo Grill.