"Dinner with Crayons" is my occasional series of weekend kid friendly restaurant and cafe posts.  My 3 year old accompanies me to the main UK chains, some independent places and who knows, somewhere more glamorous if we don't get kicked out.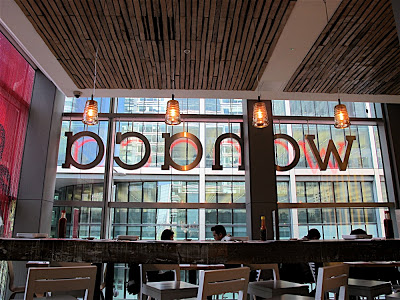 Second time around taking Ted to Mexican chain
Wahaca
at Canary Wharf. Previously we had enticed him from his latest craze, Zing Zillas' Fruit Squashing Game, with the promise of riding on
DLR
trains. Imagine the disappointment when instead we took him to Wahaca.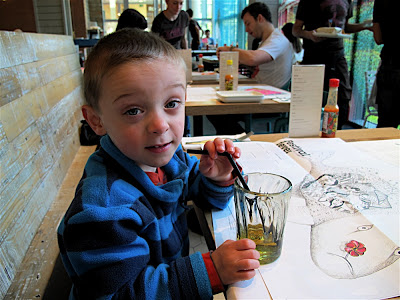 Dragged away, we took a jolly ride to Lewisham and back. Thankfully today Ted was hungry.
Wahaca was opened by Thomasina Miers, former Masterchef winner and writer of
Mexican Food Made Simple
. There are 2 other branches in Covent Garden and Westfield White City. The Canary Wharf branch boasts a roof top terrace and forms part of the Park Pavilion opened in late 2009. The glossy city surroundings made me nervous. Blue glass office blocks and two foot Krakatoas don't mix. Swanky looking
Roka
dazzled next door. An air of calm waited to be shattered.
Was this the kind of joint that had high chairs?  I need not have worried.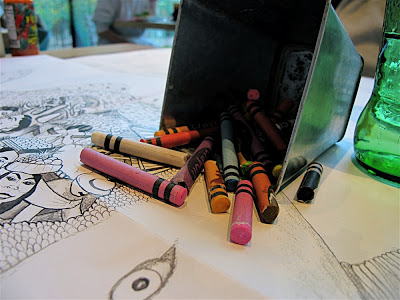 Proper crayons were a good start. A tin pot, rather than packs of pencils that merely scratch paper. Wahaca's fold out newsletter featured black and white illustrations waiting to be adorned in wax. Colouring books don't come much more funky than this.
A wall of high chairs is tucked out of sight from the doorway. Ted no longer needs one but they had around a dozen.
Further proof of Wahaca's child friendliness was the breast feeding festival in progress. Sixteen new mums and dads with stylish buggies and carefully positioned muslin cloths over small babies' heads. They're more upfront, pardon the expression, about breast feeding in Walthamstow so this modesty amused me.
So there you have it. Wahaca at shiny Canary Wharf was as far away as I'd imagined a child friendly eating destination. Yet they're fully equipped and happy for you to bring your own food so to speak.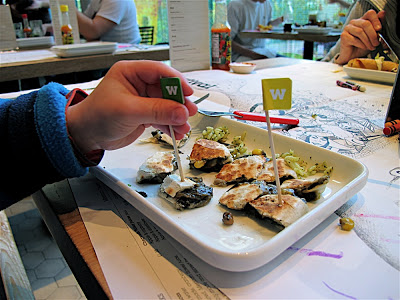 What about nourishment for those on solids but delicate tummies?  I present to you the Quesadilla Huitlacoche, £3.59, a toasted tortilla filled with Mexican corn mushroom, British field mushrooms and lots of melted cheese. In plain English, it's a non spicy cheese toastie. Ted tucked in and played with the cute W flags on sticks.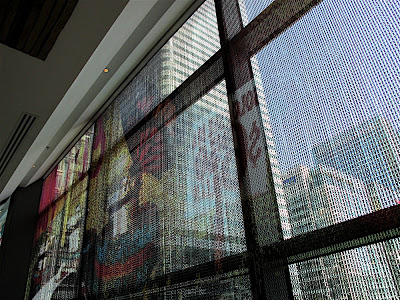 The only flash point was a ceiling height chain curtain. Ted briefly wanted to entangle himself. Fortunately we lured him away.
My husband and I ordered the "Wahaca Selection", £19.95 for five dishes, an excellent introduction for newcomers.  Since I'm writing this some weeks later, rather than risk labelling something incorrectly, I have given a list of the dishes underneath.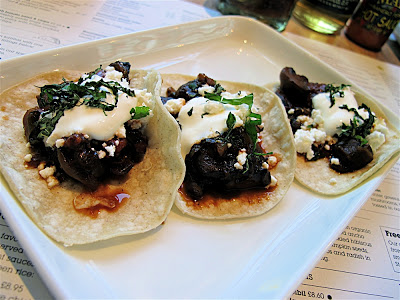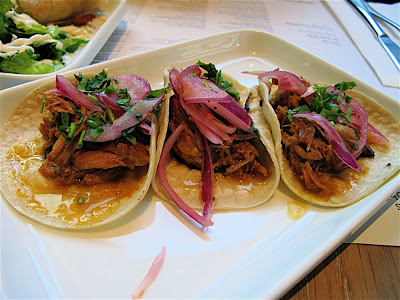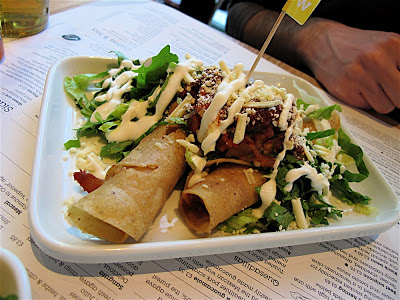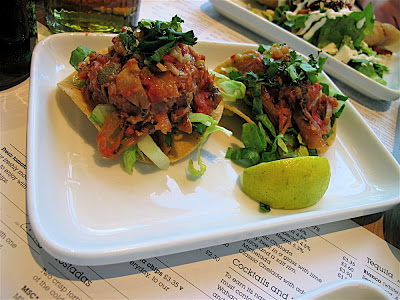 Intended for two people, the selection comprises:
3 Pork Pibil Tacos
3 Seasonal Vegetable Tacos
2 Huitlacoche Quesadillas
2 Herring Tostadas
2 Chicken Taquitos
Green rice with black beans
There is some seasonal variation on the Wahaca menu so dishes may differ slightly.  All dishes were tasty and fresh. Flavours are clean and sharp, there is no greasiness or heaviness to this food.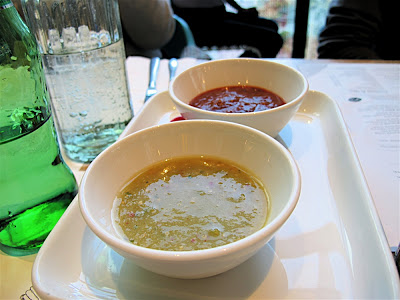 You are also served two types of hot dipping sauce. Keep them away from tiny tongues.  My husband drank a Mexican beer, Ted had fruit juice with a straw.
We thoroughly enjoyed the Wahaca selection, it was a good introduction for my husband who had never eaten there before. The menu is mostly made up of tapas sized portions of various quesadillas, tacos and less familiar Mexican specialities such as tostadas (a mini salad on a small tortilla) and taquitos (deep fried filled tortillas with cream).
For dessert, Ted had some vanilla ice cream with pumpkin seeds (scraped off).  I had spicy chocolate ice cream.  The latter has an intense chilli hit – not suitable for young children and personally I would prefer it without the spice.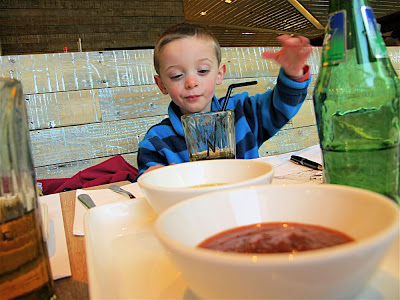 Wahaca makes a refreshing change to the glut of Italian and noodle chains. Their service is prompt, orders are placed via computer and on one visit, Ted's food arrived before the waitress had finished taking the rest of our order. That's fast!
Cost for grown ups: around £15 per head plus service
Cost of Ted's meal: around £9 including a soft drink (my husband ate half of his dessert)
Free parking is available for 3 hours at weekends in Canary Wharf's shopping centre. You must spend over £10 in one of the site's shops or restaurants and ask for a parking token. A tip – if you forget to ask the restaurant for your parking token, the Waitrose customer service desk downstairs is very understanding! Find further information for families at www.mycanarywharf.com
If making a day of it, you can park for around 5-6 hours for £3.50. The shopping centre is blissfully quiet at weekends (although Waitrose sadly isn't) and you can also take a short walk to the Museum of London in Docklands or pick up a Thames Clipper to Greenwich. Or get dragged, like us, onto a DLR train to Lewisham. All equally good fun.