This giveaway is now closed. The winner was Robyn Clarke, Cheshire.
Today's final giveaway is for a set of Jamie Oliver hanging utensils with rail RRP £50. Find out how to enter at the bottom of this post.
We are a tad late today. 11 giveaway posts in as many days has been precisely the marathon you might expect so last night, instead of plugging away on this final post I deviated to chit chatting on Skype with Greedy Gourmet into the small hours before falling into bed.
But I'm back to give you the final instalment before I wind down for the holidays… today I will be making cutting remarks (ba-boom) about items of Jamie Oliver's kitchen kit.
Talking about knives a couple of weeks ago, a friend assumed that I would have some amazing Sabatier numbers on a metallic strip that made a satisfying noise as I swished them off the wall to break world records for thinnest cucumber slices and bone my own chickens.
Far less impressive was the truth:
1. Oxo utility knife circa 1997 with broken tip from trying to open oysters.
2. Very blunt long knife that is neither carving knife nor bread knife. Also with broken tip.
3. Bread knife from Asda, still in cardboard and plastic sleeve displaying price £2.97
4. Two rubber handled Ikea knives, one with a crinkle at the tip.
5. Oyster knife – bought after the previous incident, as yet unused.
It's a sorry collection and reading this review you need to understand that I am comparing The Jamie Oliver Knife Block Set RRP £120 with absolute tat. Rather like my limited wine knowledge, my opinion on knives is barely more than "I chopped stuff and my hands are still there." If you want an analysis of their "structural strength and balance" then head over to Them Apples' excellent review here.
Anyway, that's me hanging my head in shame for a moment, so what did I actually think?
They are excellent knives, they make me realise what utter rubbish I've been putting up with for so long, similar to the feeling when I replaced our 14″ portable telly with coat hanger aerial with a big flat screen and a Virgin+ box. Slicing and chopping are now pleasurable, if somewhat dangerous activities. They look beautiful, the handles are nice and chunky, they feel satisfyingly weighty in your hand and I love that they have "paring", "utility", "chef" etc embossed on the edge of the handle.
In theory you see this when they're displayed in their wooden block. Personally at 5'2″ I'm a little too short to benefit from this and as the knives sit almost vertically in their block, rather than at a sloped angle, I can't remove them easily and I've opted instead to keep them in sleeves in the (child proofed) drawer.
The chef's knife glided through this pork fillet which I sliced vertically to flatten it out for stuffing with garlic and rosemary. The utility knife sank into an onion. The bread knife zipped through a crusty loaf. It's like when I gave my father back his 1984 VW Golf and replaced it with a brand new mark 4 model. There's no going back.
The Jamie 3 way peeler RRP £12 is the y-shape sort, I have never got on with these preferring the traditional kind. My current one is an Oxo peeler (also from 1997) and it's looking quite scruffy so I was glad of replacement. The 3 way peeler comes with plastic guards covering each blade, initially I thought these were just for packaging but having tried to replace the blades on the handle to test them out, I think you'd be prudent to keep them on permanently. You get a traditional blade, a soft fruit blade and a julienne peeler. The traditional blade is very effective although I didn't feel as confident holding it as my normal one and was terrified of cutting myself. My existing peeler seems to cope perfectly well with peeling soft fruit so I'm not sure of the point of that other blade and if I wanted julienne strips in any great quantity I would use the Magimix. The mechanism for storing the 3 blades together on one holder feels very cheap and clumsy to me. It's the weakest item in the range and I am still using my 1997 Oxo peeler as a result.
The coarse grater RRP £18 also comes with a guard and like everything else is sharper and steelier than Margaret Mountford's stare. It takes up less space than a box grater although the latter has the advantage of grating in a various sizes or slicing.
Chopping my own garlic and chilli is something I'm very lazy about and rely on those ready pulverised jars. I use the excuse that I might want to put contact lenses in soon but this is rarely the case. The Jamie Garlic Slice'n'Press has a nice weighty feel and is jolly clever in that it will do thin slices for you aswell as just crushed garlic.
However, instead of Jamie's Garlic Slice'n' Press I strongly recommend the Garlic Zoom RRP £8 which I received after the Waitrose Cookery School evening (shown above). This terrifying blade that looks like something out of a Playmobil James Bond villain set whizzes round at high speed in the cavity as you roll it backwards and forwards. It will chop 2-3 fat cloves of garlic in one go, when you lift the lid the blade is easily and safely picked out by holding the green cogs, it rinses out easily in hot water without you needing to get one of those tiny little brushes to poke in any crevices. It's my favourite gadget of the year.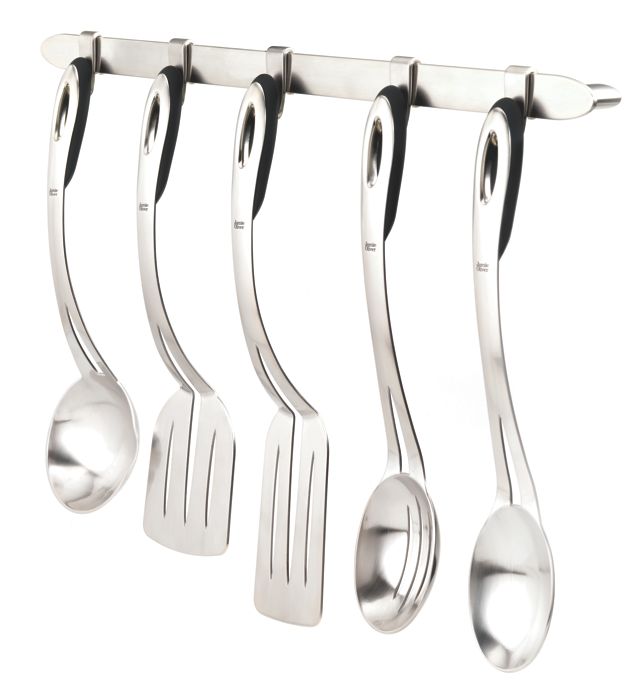 Finally in the range, I tried out the hanging kitchen utensils RRP £10 each. These are made of brushed stainless steel with easy grip rubber handles; ladle with pouring lip, meat turner, fish slice, slotted spoon and serving spoon. Again they're solid and surprisingly weighty. You do best to store these on the rail from the range as they are curved at varying angles and would waste space in a drawer.
Now in my final (phew!) of the 12 Days of Christmas Giveaways, I have a set of these hanging utensils to give away…
Jamie Oliver Hanging Kitchen Utensils and Rail RRP £50 Giveaway

There is one mandatory way to enter and several ways to get bonus entries.

This giveaway is open to readers with UK mailing addresses. Readers from overseas are welcome to enter provided they can give the UK mailing address of a friend to receive the gift on their behalf with any onward delivery being at their own cost.

The winner will be chosen using an online randomiser and announced in a subsequent post on this blog – the winners of several of the 12 giveaways will be will announced together across 2-3 posts according to their closing dates.

To win:

1. Mandatory. Leave a comment below telling me which kitchen gadget you find essential at Christmas

2. Second chance to win, tweet a link to this giveaway as follows: "Win Jamie Oliver kit RRP £50 @maisoncupcake" WITH A LINK TO THIS POST as it may no longer be the home page item if you enter later this week. Then leave a second comment saying you've done so telling me your Twitter ID.

3. For a third chance to win, visit and "Like" the Maison Cupcake Facebook page then leave a comment below saying you have done so.

You must leave a further separate comment for each bonus entry otherwise they cannot be selected in the draw.

Closing date: midnight GMT on Wednesday 22nd December 2010.

The winner will be notified by email. If the winner does not reply within 48 hours, a new winner will be drawn.

Good luck everyone!
Still up for grabs during the Maison Cupcake 12 Days of Christmas Giveaways:
Nigella Living Collection Measuring Cups Closes Jan 16 (bloggers' competition, international)
Interflora Christmas Hamper RRP £100 Closes Dec 19
Mum et Moi Silicone Cake Mould Closes Dec 18
Eric Lanlard Home Bake book TWO COPIES Closes Dec 19
Check out Maison Cupcake Giveaways page to see a full list of the 12 Days of Giveaways and the winners announced so far.