Welcome back to this week's Maison Cupcake Bumper Books Christmas Gift Guide served in SIX digestible parts.
No fluffy cupcakes today, today it's proper serious bread and pastry in the spotlight.
Most of these titles below came out, or where re-issued during 2011, some I own, some I've gazed at in bookstores, all would make an ideal gift for someone.
Today I'm featuring rustic baking and also giving you a chance to win a copy of Pieminister.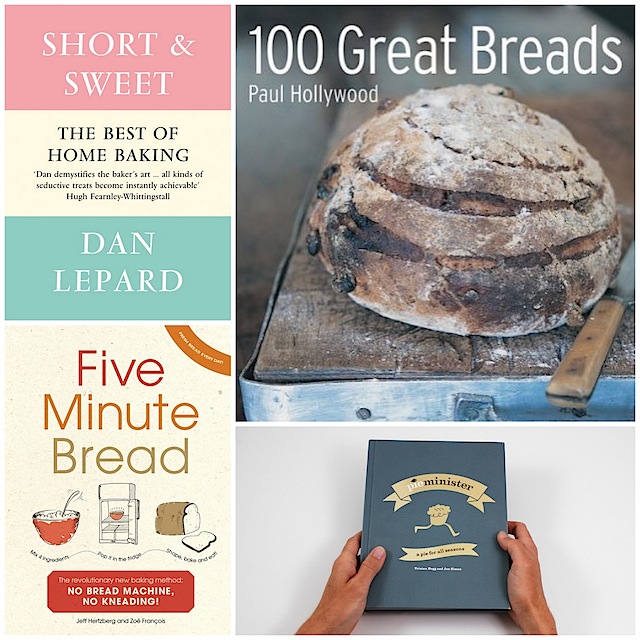 Clockwise from top left:
For the dedicated baker
Dan Lepard's new epic volume has a contradictory title, Short and Sweet being what I imagined was a reference to how he likes his pastry rather than the length of the book. In fact, the book was not originally intended to be this length, a pocket size reference book in the vein of Schott's Miscellany was planned but things took another turn. Four years in the making, 500+ whopping pages and a surprising number of pictures (that Dan also took himself – he was previously a photographer), this really is a telephone directory of baking advice.
With prose in similar style to Nigel Slater, I was initially overwhelmed by the sheer enormity of this book, Dan gives detailed advice peppered with historical information and stuff like where the word "streusel" comes from. The sheer scale of what is in here makes it hard to say which recipes tempt me the most; on my to-do list are tapenade dinner rolls, cheese and black pepper buttons and Creme Fraiche Treacle Caramels. There are also some fun items like Weetabix muffins and Rocky Road Rock Cakes. Possibly if you study this book and do a "Julie and Julia" with it, there would be very little about baking you would not have learned. This book fulfils two criteria I like to find in my favourite cookery books; do I want to sit in bed reading it night after night and do I expect to use it in the kitchen for year after year? (yes and yes). Short and Sweet is published by Fourth Estate in hardback RRP £25.
For beyond the bread machine
Paul Hollywood's 100 Great Breads has slipped onto our shelves quietly beneath the white noise created by The Great British Bake Off book and The Boy Who Bakes. Given Mr Hollywood's high profile and ahem, appeal to ladies of a certain age, it's astonishing the publisher put shock horror a loaf of bread on the cover rather than the silver fox himself (whom we see a bit, but not enough and often in black and white). I have made some wholesome and healthy apricot rye bread from the book which went down a treat with some Wensleydale cheese. 100 Great Breads is published by Cassel Illustrated in hardback RRP £12.99.
For whoever wants to eat all the pies
Pieminister are by now a familiar brand on supermarket shelves; who can forget the Will & Kate Royal Wedding Pie earlier this year? This book works through every pie filling imaginable season by season; how to make all types of pastry, using up left over bits and avoiding soggy bottoms. My favourite section is the autumn one featuring curry pies to tie in with Diwalhi and the recipe for rabbit, pork and black pudding roll. Pieminister: A Pie for all Seasons is published by Bantam Press RRP £17.99 in hardback.
For the time-short bread baker who doesn't want to use a machine
Jeff Hertzberg and Zoe Francois' Five Minute Bread was all the rage amongst US foodie tweeters a couple of years ago and now we have our own edition in the UK. No bread machine, no kneading required. Apparently you make one massive batch of dough which gets more sourdough-like as the days pass and you can enjoy freshly baked rolls day after day using the same dough. My disappointment with this book is the lack of pictures, particularly as I'm fairly sure the US version had photos. A diverse range of breads including ciabatta, focaccia and baguettes all get the "five minute" treatment so if you know someone with enough space in their fridge to accommodate ten days' worth of dough, this is just what they knead. Five Minute Bread: The revolutionary new baking method: no bread machine, no kneading! is published by Ebury Press in hardback RRP £14.99.
With thanks to Fourth Estate, Octopus, Bantam Press and Ebury Press for the review copies.
Come back next when Part Six of the Maison Cupcake Bumper Books Christmas Gift Guide will feature my personal choice of the best looking cookery books of the year and a chance to win an Interflora £60 Christmas Hamper.
Back to Part Four: For Foodie Families
Giveaway #30: Pieminister (two copies to be won)

HOW TO ENTER

Complete the Rafflecopter form below to confirm your entries made via blog comments, Twitter, Facebook etc.
This giveaway is set to run until Sunday 11th December 2011.
Do read the rules below.
Winners are announced on the Rafflecopter form after claiming prizes.

No form showing? Hit refresh and it should appear
Complete the form – or your entries will not go into the draw
Mandatory entries to be completed first; i.e. leave a blog comment
Want more chances to win? Come back daily to confirm bonus entries via Twitter
Viewing this by email? You need to click through to enter.

Good luck!

Prize sponsored by Pieminister




RULES:

1. Open to UK residents over the age of 18.

2. There are two prizes each of one copy of Pieminister by Tristan Hogg and Jon Simon.

3. Instructions form part of the terms and conditions.

4. No fibs: each winner's tweet entries and subscriptions etc are cross checked, cheats will have ALL entries disqualified.

5. This giveaway is hosted on behalf of prize sponsor Bantam Press who will deliver the prize(s) following confirmation of winners' contact details.

6. The prize sponsor's decision is final and binding on entrants; no further correspondence will be entered into.

7. There is no cash or alternative to the prize stated.

8. The prize is selected in good faith, however the prize sponsor may substitute with one similar value/type if original one is unavailable.

9.Winners are picked by Rafflecopter using random.org and the site owner contacts them by the email.

10. Failure to claim prizes within 7 days will result in a replacement winner being chosen.

For another chance to win this book visit Fuss Free Flavours.

Come back next time when I'll be giving away this scrumptious Interflora Christmas hamper worth £60.