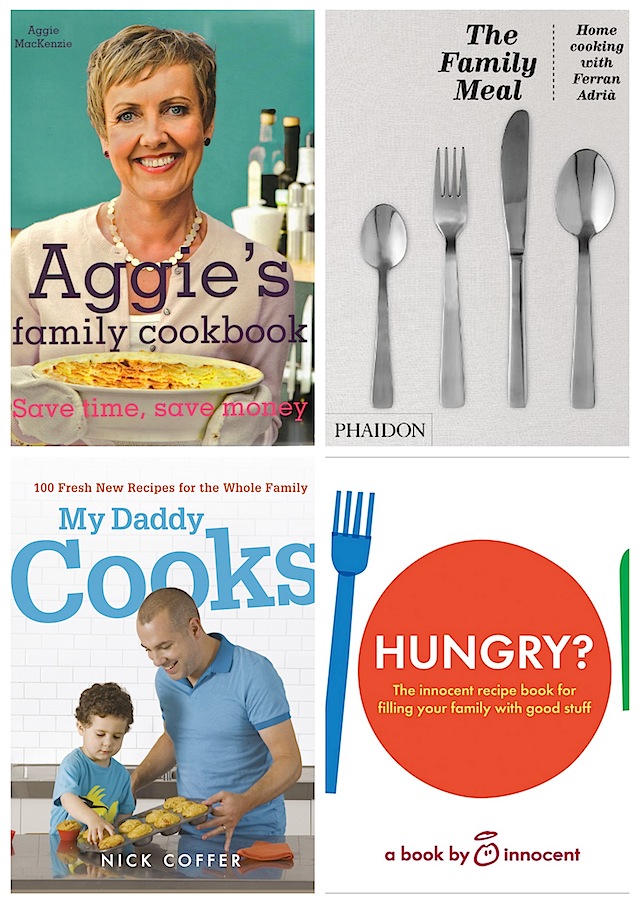 Part 4 of the Maison Cupcake Bumper Christmas Books Gift Guide continues and you also have the chance to win a hamper of Linda McCartney vegetarian foods.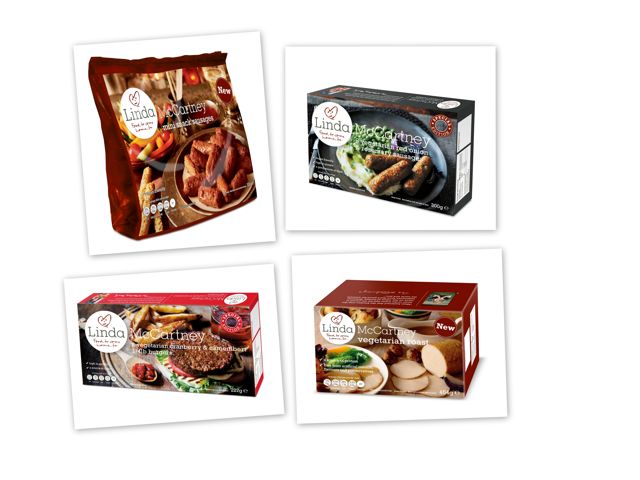 But back to the books for now; today I'm featuring family friendly food.
Clockwise from top left:
For someone wanting to cook from scratch every day
Another favourite of the year is the robust Aggie's Family Cookbook from the lovely Aggie Mackenzie, better known as the friendlier of the two ladies who used to invade people's houses and tell them how filthy dirty they were (people would pay good money for this elsewhere I'm told). Hugely practical, this book has realistic weekly meal plans to help you save money and feed the family nutritious meals every night. My favourite chapter is "Food for the kids' mates" which includes a recipe called "Clissold Chicken" named after her local park. My other favourites are quick braised oxtail, vegetable empanadas, puff pastry pissaladiere and the entire "bits and pieces" chapter which is full of useful standard recipes everyone should memorise. Orla Kiely style tablecloths feature throughout and incase you think you're going to get off the hook with donning rubber gloves afterwards, there's a section "How to clean your kitchen" because, well some people are filthy dirty you know. Possibly the only cookbook in this list to include a ticking off for allowing cats on worktops. Aggie's Family Cookbook is published in hardback by Pavilion RRP £20.
For the "pretentious? moi?" parent
Something I'm regularly tempted to tweet but sit on my hands instead is, "El Bulli to close… again… who cares?" Maybe I actually did tweet it once and that's why noone has seen fit to send me a review copy of The Family Meal: Home cooking with Ferran Adria which is apparently a family friendly cookery book from the chef Spain's ridiculously elitist and now defunct, restaurant. I picked up a copy in a shop to flick through and stumbled across the page for spag bol. The presentation is halfway between a Dorling Kindersley publication and a medical text book. Not my bag but if you have any wannabe uber-chefs with kids on your "to buy for" list then this would suit them beautifully. The Family Meal: Home Cooking with Ferran Adria is published in hardback by Phaidon RRP £19.95.
For the Cath Kidston bag wielding parent
No longer content with flogging us smoothies and thai curries in the chiller cabinet, the folks at Innocent HQ aka "Fruit Towers" now bring us their Hungry? manifesto to feed your family healthy food. Democratically badged as being by the brand rather than individual, this book is halfway between Annabel Karmel and Jamie Oliver. I reviewed it previously here. Hungry? The Innocent recipe book for filling your family with good stuff is published in hardback by Fourth Estate RRP £20.
For your husband, to take a hint
Nick Coffer's My Daddy Cooks is based on his successful video blog of the same name. It's a more masculine version of Aggie's Family Cookbook only without the cat advice and hospital corners. Recipes are tried and tested in Nick's tiny home kitchen and straight forward enough to survive interference from the most determined of toddlers. One chapter is called "Throw it all in (literally!). Classics such as spaghetti bolognese and toad in the hole mingle with more adventurous tandoori salmon and oven baked seafood paella; I'm especially keen to follow Nick's lead and use Guinness in my next beef stew. The mexican lasagne recipe using tortilla bread instead of pasta sheets is the dish every one has been talking about. I previously reviewed this book here. My Daddy Cooks is published by Hodder & Stoughton in hardback RRP £20.
With thanks to Pavilion, Nick Coffer and Innocent for the review copies.
Come back next time when Part Five of the Maison Cupcake Bumper Books Christmas Gift Guide features rustic baking.
Back to Part Three: For teens and twenty somethings
Giveaway #29: Win a Linda McCartney Vegetarian Family Christmas Feast

Whether you are vegetarian full time or take part in Meat Free Monday, these Linda McCartney goodies can be enjoyed by all the family. It's been a while since I used this range so I was very interested to see how the different items have been souped up for the festive season. There's no need for veggies to feel they've been given second best with options like cranberry and camembert burgers or rosemary and red onion sausages.

Maison Cupcake has a hamper of Linda McCartney products for one lucky reader to win.

WHAT YOU GET

2 x Vegetarian Roast
2 x Cranberry & Camembert Burgers
2 x Rosemary & Red Onion Sausages
2 x Mini Snack Vegetarian Sausages
Selection of seasonal vegetables
Bottle of sherry
A game for the kids
A carrot for Rudolph

Prize sponsored by Linda McCartney Foods

HOW TO ENTER

Complete the Rafflecopter form below to confirm your entries made via blog comments, Twitter, Facebook etc.
This giveaway is set to run until December 11th.
Do read the rules below.
Winners are announced on the Rafflecopter form after claiming prizes.

No form showing? Hit refresh and it should appear
Complete the form – or your entries will not go into the draw
Mandatory entries to be completed first; i.e. leave a blog comment
Want more chances to win? Come back daily to confirm bonus entries via Twitter
Viewing this by email? You need to click through to enter.

Good luck!




RULES:

1. Open to UK residents over the age of 18.

2. The prize is a selection of Linda McCartney products together with the items stated above.

3. Instructions form part of the terms and conditions.

4. No fibs: each winner's tweet entries and subscriptions etc are cross checked, cheats will have ALL entries disqualified.

5. This giveaway is hosted on behalf of prize sponsor Linda McCartney who will deliver the prize(s) following confirmation of winners' contact details.

6. The prize sponsor's decision is final and binding on entrants; no further correspondence will be entered into.

7. There is no cash or alternative to the prize stated.

8. The prize is selected in good faith, however the prize sponsor may substitute with one similar value/type if original one is unavailable.

9.Winners are picked by Rafflecopter using random.org and the site owner contacts them by the email.

10. Failure to claim prizes within 7 days will result in a replacement winner being chosen.

For yet another opportunity to win Linda McCartney goodies visit Fuss Free Living