Welcome back to the Maison Cupcake Bumper Books Christmas Gift Guide served in SIX digestible parts.
Most of these titles below came out, or where re-issued during 2011, some I own, some I've gazed at in bookstores, all would make an ideal gift for someone.
Today I'm featuring books for teens and twenty somethings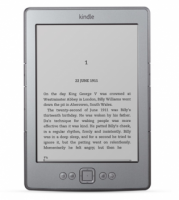 Below you can also win an Amazon Kindle reader with Simply Tap.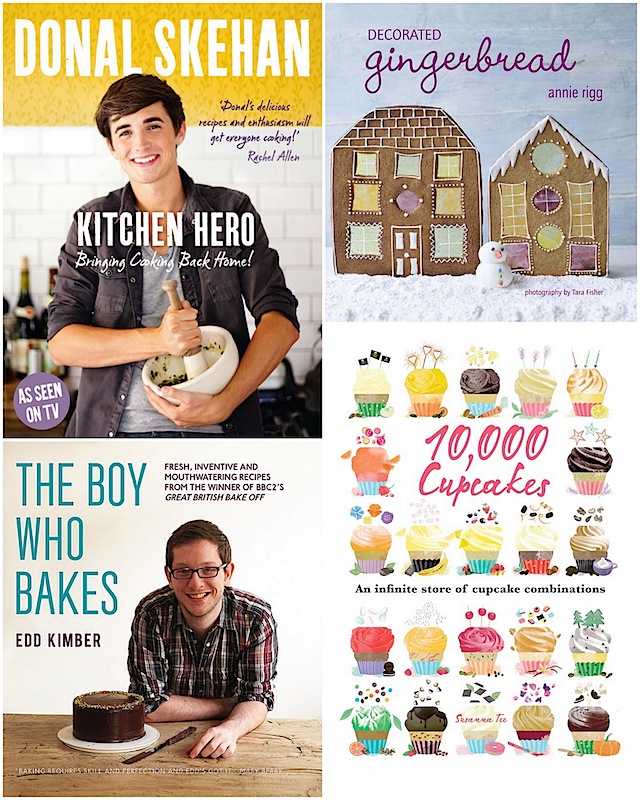 Books for teens and twenty somethings
Clockwise from top left:
For the hip young cook
Donal Skehan is rapidly becoming Ireland's twinkly eyed answer to Jamie Oliver (who in turn is becoming the UK's answer to Martha Stewart). In his early twenties, Kitchen Hero is already his second book. Although recipes like smoky fish pie and cheesy cauliflower bake aren't by any means unique, there's great attention to detail producing a very slick attractive book indeed. No wonder Rachel Allen is quoted on the cover saying how much she loves him. We don't get Donal's Kitchen Hero TV show in the UK but if it exudes the energy that pours out of his website and book, we're missing a treat. Watch this space for someone destined to start an empire of restaurants and mail order businesses if he follows in the steps of the big JO. I bought this book on the back of the artwork and food styling alone but the dishes inside are realistic and tempting enough to make me want to cook all of them tomorrow.
Kitchen Hero by Donal Skehan is published by Collins in hardback RRP £20.
For the cute little biscuit freak
Move over cupcakes and macarons, iced biscuits are where it's at now. (I would say this, since I am relatively successful at icing my biscuits). Seriously though, although the US baking blogs are awash with decorated cookies, beyond the Biscuiteers and Peggy Porschen, there's so far little exposure to the iced biscuit in the UK and even the Fiona Cairns' manufactured efforts sold in Waitrose disappoint. So I was delighted to discover Annie Rigg's Decorated Gingerbread. It has a festive feel but isn't limited to Christmas tree decorations moving throughout the seasons and occasions for inspiration. Flocks of sheep and autumnn leaves are my favourite designs.
Decorated Gingerbread by Annie Rigg is published in hardback by Ryland Peters & Small RRP £9.99.
For the little girl who likes cupcakes
I mentioned this book a few posts ago hence my virtually repeating what I've already said. Yep you caught me, I was trying to make a up a square of four books that kind of linked together. I feared a telephone directory may arrive but in fact 10,000 Cupcakes by Susanna Tee is a dinky spiral bound book with all pages cut into three sections so you can mix and match your sprinkles, your frosting and your sponge bases. It's like one of those books where you alternate a person's head with a cow's body and some chicken's feet. Hours of fun if you're a teenager keen to do some baking but your mother won't let you in the kitchen.
10,000 Cupcakes by Susanna Tee is published by Ivy Press in hardback RRP £9.99.
For the urban twenty something
Over in the UK, former Great British Bake Off champ Edd Kimber's The Boy Who Bakes needs little introduction after bouncing into the book charts during the phenomenally successful second series of the show that brought him into the public eye. This book is bound to appeal to younger bakers keen to cut their teeth on something more their decade than "How to Be a Domestic Goddess". Recipes are are a mix of traditional and creative with US and European influences; highlights being raspberry ripple cake and speculoos blondies. A book to get the younger generation hooked on baking. Gosh I sound like my grandmother.
The Boy Who Bakes is published by Kyle Books in hardback RRP £16.99.

With thanks to Ryland Peters & Small and Ivy Press for the review copies.
Back to Part Two: For cake and confectionery lovers… and a Morphy Richards Breadmaker givewaway
Giveaway #28: Win an Amazon Kindle from Simply Tap

Simply Tap – Shopping in an Instant Competition

SimplyTap would like to offer all of the lovely readers of Maison Cupcake the chance to win a new Amazon Kindle. It's lighter, smaller and faster and has built in WiFi so you can download books wherever you are.

Simply Tap is the new, instant mobile checkout that allows you to buy in seconds when you see something you like in magazines, out and about, on-line and in store.

Download the app for your smartphone, register your details once, tap in the unique Simply Tap code to buy, and your delivery will be on its way. You'll find tap codes in magazines, on posters or on the websites of Simply Tap retailers like Carphone Warehouse, Thorntons, and Pretty Green.

Essentially, you see what you want, simply enter the Tap Code into the app, and you've paid in an instant. You can find out more information here: http://www.facebook.com/SimplyTap

Simply Tap has some amazing offers during their launch which you can check out here http://on.fb.me/vyWxxw .

Download the app by searching in your App Store for "Simply Tap" or by clicking here on your phone: http://bit.ly/TapBlog

Keep up with Simply Tap on Twitter and Facebook or their blog.

Prize sponsored by Simply Tap

HOW TO ENTER

Complete the Rafflecopter form below to confirm your entries made via blog comments, Twitter, Facebook etc.
This giveaway is set to run until Saturday December 10th 2011.
Do read the rules below.
Winners are announced on the Rafflecopter form after claiming prizes.

No form showing? Hit refresh and it should appear
Complete the form – or your entries will not go into the draw
Mandatory entries to be completed first; i.e. leave a blog comment
Want more chances to win? Come back daily to confirm bonus entries via Twitter
Viewing this by email? You need to click through to enter.

Good luck!

With thanks to Simply Tap

RULES:

1. Open to UK residents over the age of 18.

2. The prize is an Amazon Kindle reader

3. Instructions form part of the terms and conditions.

4. No fibs: each winner's tweet entries and subscriptions etc are cross checked, cheats will have ALL entries disqualified.

5. This giveaway is hosted on behalf of prize sponsor Simply Tap who will deliver the prize(s) following confirmation of winners' contact details.

6. The prize sponsor's decision is final and binding on entrants; no further correspondence will be entered into.

7. There is no cash or alternative to the prize stated.

8. The prize is selected in good faith, however the prize sponsor may substitute with one similar value/type if original one is unavailable.

9.Winners are picked by Rafflecopter using random.org and the site owner contacts them by the email.

10. Failure to claim prizes within 7 days will result in a replacement winner being chosen.

Come back next time

Part Three of the Maison Cupcake Bumper Books Christmas Gift Guide will feature books for family cooking and a Linda McCartney giveaway.