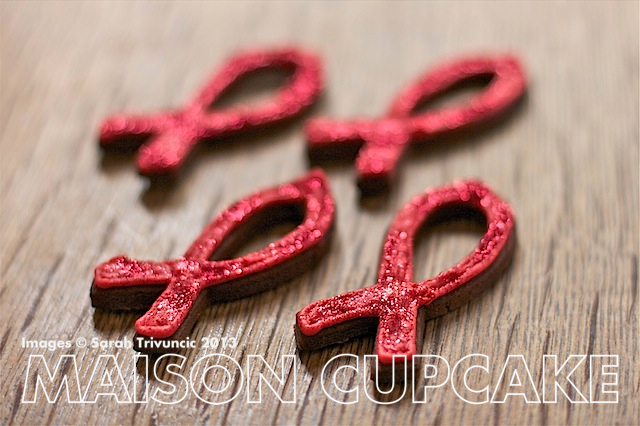 December 1st is World AIDS Day and the UK's leading HIV charity dedicated to transforming society's response to HIV, the National AIDS Trust asked me to spread the message amongst keen home bakers about their fundraiser, Bake Aware.
I put together these sparkly red ribbon cookies… they remind me of Dorothy's shoes in the Wizard of Oz!
Bake Aware is a fundraiser supported by foodie celebrities such as Yotam Ottolenghi and former Masterchef runner up Tim Kinnaird.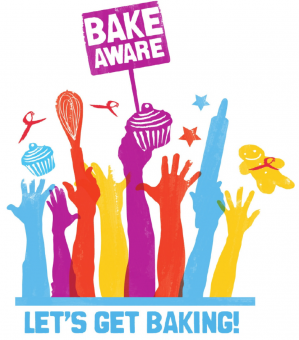 You can hold a Bake Aware fundraiser at any time during the year although World AIDS Day is a good opportunity to make lots of red ribbon adorned bakes so everyone can see why you're doing it. Get your fundraising pack from NAT's HIV Aware website.
Recipe: Red Ribbon Cookies for World AIDS Day

Ingredients:

One batch cookie dough, chilled and ready to roll (see my halloween cookies recipe post)*
extra flour for rolling (use cocoa for chocolate cookie dough)
200g red royal icing
extra icing sugar for icing consistency
edible red glitter

Equipment:
ribbon cookie cutter (like this one at Cakes Cookies and Crafts)
2 piping bags, one each with no2 and no3 Tala tips
cocktail stick

*for chocolate cookies subsitute 40g flour for cocoa powder

Makes around 32 cookies.

1. Preheat the oven to 180c / Gas mark 4.
2. Roll out the dough to 5mm thick, dusting the surface with a little extra flour if necessary. Cut out ribbon shapes.
3. Bake for around 10 minutes. Allow to cool slightly before transferring to a wire rack then leave to cool completely.
4. Meanwhile split your royal icing into two batches; one quarter at "soft peak" or writing consistency the remainder at flooding consistency**. Use extra drops of water to make runnier; extra icing sugar to make thicker.
5. Fill one piping bag with no2 tip with the soft peak icing and the other with a no3 tip with some flood icing. Don't over fill the flood icing bag, it's better to add more when you need it.
6. Pipe outlines on the ribbon cookies with the no2 tip and writing icing; immediately flood the centres with the wetter icing. Use a cocktail stick to coax the wet icing to the border. Piping 1 or 2 at once is best so they don't dry before you've finished.
7. Dust with edible red glitter. Allow to dry hard before storing but you can eat when touch dry.

**flood consistency icing should spread easily but not drip, writing icing should be firm and stand in soft peaks.