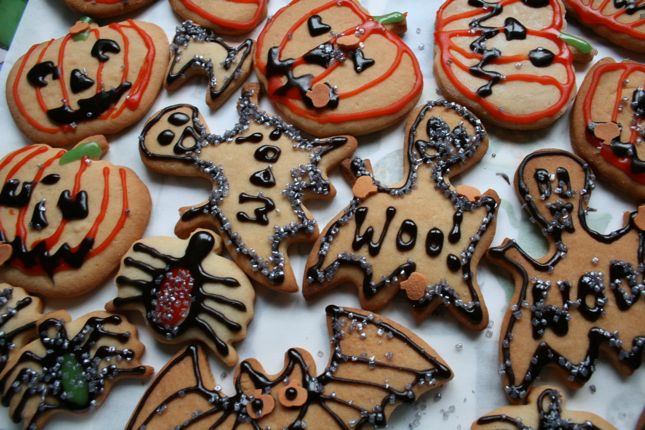 A tray of Halloween cookies is guaranteed to delight trick or treaters who have visited house after house dishing out fun-size chocolate bars.
Compiling this post has taken longer than expected…. in between uploading pictures and typing up the Halloween cookies recipe I have had THE busiest Halloween Trick or Treat evening since moving to this house six years ago.
Walthamstow Village is full of young families and each year well behaved little bands of ghosts and witches troop the streets accompanied by parents. Armed with buckets they collect sweets, chocolates and from my house, halloween cookies. I know there are horror stories (no pun intended) about trick or treat hi-jinx but my experience has been a totally positive one.
The unspoken rule in my neighbourhood is that there's a pumpkin displayed then you're joining in.  In previous years I've only had knocks from neighbours who knew us but this year we have our pumpkin proudly displayed and it's been a busy night!
Next year I will be dressing Ted up and taking him out but this year we have been greeting everyone with pumpkin cupcakes and iced Halloween cookies.  At the time of writing, we've had a dozen knocks at the door and all the halloween cookies and cupcakes have been devoured! Now we've moved onto popcorn, marshmallows and Maltesers.  It's a good job I am a baking blogger with cupboards stuffed with suitable offerings!
Baking Halloween cookies with children
Ted loves helping in the kitchen now and he got very excited about these halloween cookies. As you will see by the various costume changes in these pictures the halloween cookies were made in several sittings – first the dough, which was made before our holiday in Montenegro and frozen until we came back, secondly the baking and lastly the cookie decorating.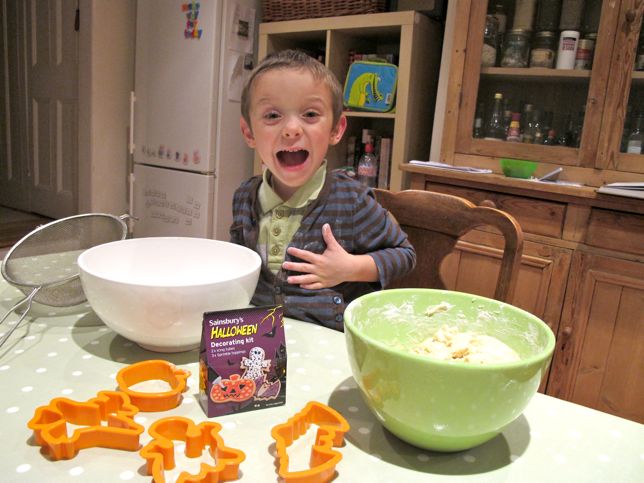 He even did a very appropriate "Scream Mask" style face for me.
The halloween cookies were made using a basic vanilla cookie recipe. The decorations were made with a Sainsbury's Halloween cookies decorating kit comprising orange and black squeezy tubes of gel icing, purple sugar crystals, pumpkin and ghost shaped sprinkles.  I made around twenty large halloween cookies using just half of the dough – the other half is still frozen and waiting for Christmas.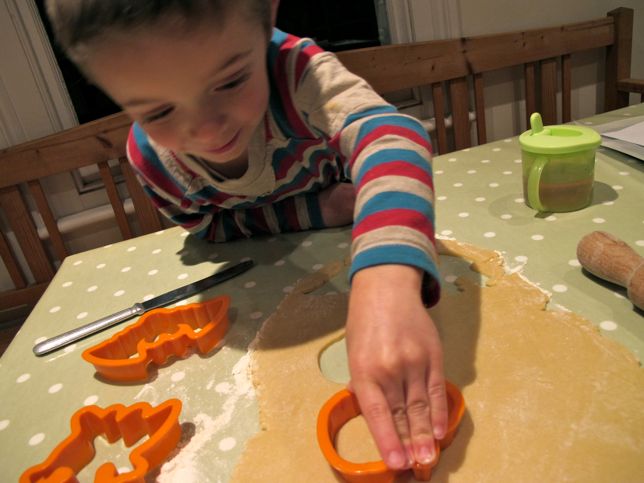 My large plastic orange Halloween cookie cutters came from Lakeland. The shapes are: witch, pumpkin, ghost and bat. They were ideal for Ted. I also had a set of small aluminium Halloween cookie cutters from Lakeland. The ones used here were spider and cat. I found the skeleton ones tore too easily.
Ted has been fascinated by Halloween today, he supervised my husband cutting the pumpkin (shown below) and has escorted each of us to the door with the tray of halloween cookies each time a group of trick or treaters arrived. I am definitely regretting not dressing him up now… next year I shall send him and my husband out to do it properly. Meanwhile, I dread to think what will happen later with all the sugar he's eaten this evening. Something tells me to brace myself for what usually happens if he has a Slush Puppy… wide awake and singing at 2am. Oh dear.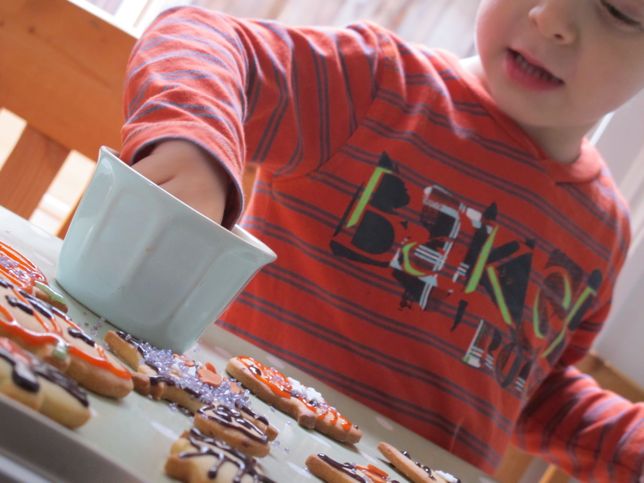 Halloween cookies recipe for trick or treat
Author:
Prep time:
Cook time:
Total time:
Serves:
20-30 Halloween cookies per half batch of dough (40-60 in total)
Ingredients
175g (6oz) soft unsalted butter
200g (7oz) caster sugar
2 large eggs (US extra large), beaten
1 tsp vanilla extract
1 tsp baking powder
1 tsp salt
500g (1lb 1.5oz) plain (all purpose) flour plus extra for rolling out
Instructions
Cream the butter and sugar together until pale, then beat in the eggs and vanilla. In another bowl combine the flour, baking powder and salt. Add the dry ingredients to the creamed mixture and mix gently. Be wary of adding too much flour at this stage as you will add more when you roll the biscuits out and you don't want it to be too dry.
Halve the dough and form fat discs. Wrap with cling film and refridgerate for at least one hour. The dough freezes very well if you want to save half for another occasion.
Whilst the dough is in the fridge, preheat the oven to 180C/350F/Gas 4.
Sprinkle your work surface with flour, place a disc of dough on it, and sprinkle a little more flour on top. Roll out to a thickness of about 5mm. Cut out your shapes and space well apart on the baking sheets.
Bake for 8-12 minutes, by which time the Halloween cookies will be lightly golden around the edges. Cool on a rack and continue with the rest of the dough. Small biscuits will cook quicker so use this time as a guide.
Decorate! Today I used a kit of ready made icing gels and sprinkles but you can make your own royal or glace icing.
Serving size:
1-2 cookies per person
Notes
You will also need one or more baking sheets lined with parchment paper.