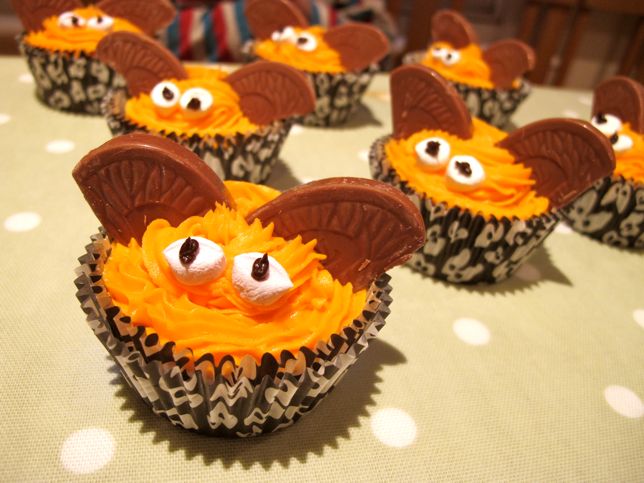 One of my favourite cakes is the Nigella Lawson Store Cupboard Chocolate Orange cake which I did a variation of in the Turkish Delight Cake. Granted, you can keep all the ingredients in the store cupboard but I don't think that's a unique feature.
However, as I've raved before, I love this cake as you can mix all the batter in a double boiler adding all the ingredients to the melted butter and chocolate. I don't have a dishwasher unless you count the one I'm married to, so anything that stops him complaining about mess is good by me.
I have been wondering how well the Store Cupboard cake would translate into cupcake bases, Nigella's sticky gingerbread cake worked beautifully when used as cupcake bases in this post.
Another adaptation I have recently made with this cake mix is to use gluten free flour. I made two small gluten free store cupboard chocolate and orange cakes last month using 5 inch springform tins. It works very well with a simple substitution, this cake is brownie like in texture and as such works very well with gluten free flour. I used Dove's Farm gluten free blended flour which is available in most supermarket chains.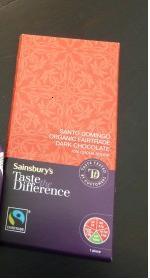 Sainsbury's had recently sent me three bars of their Taste the Difference Chocolate and I planned to melt one of these. We'd eaten the Swiss Milk Chocolate one the other day, to use the chocolate and orange one would be pointless with all the marmalade I'd be using which left this Santa Domingo Organic Fair Trade Chocolate.
Tearing open the packet, I spied lofty claims that this chocolate had red berry and wine flavours… surely even a Marabou and Milka loving chocolate heathen like me wouldn't melt this stuff down into cake? I'm rarely a fan of dark chocolate but immediately conceded this bar was too good to make cake with. I'd like to savour it square by square with a glass of red wine in the evenings but the reality is that it will get wolfed down quicker than that. It's still in the cupboard, for now at least.
Instead, melting a plain bar from Morrison's did the trick. As well as chocolate, Sainsbury's had sent me goodies from their revamped home baking range and I made use of their Taste the Difference Valencian Orange Extract in this buttercream. I was surprised how much of it I needed – a generous 1.5 teaspoonsful. Still, it's better to be cautious with these things as it's easier to add more and cope with too much.
The bats were my husband's innovation. I like how the veins on the orange segment imprint look like the furry part of the ears. I know bats are not orange but I cannot bring myself to eat black icing whatever the festival! Cutesy is best in my book.
Finally, this post is my entry to English Mum's Great Big Autumn Bake Off. I'm thinking I should have claimed Ted made these then he might have won the kid's section?! Alas I am too honest.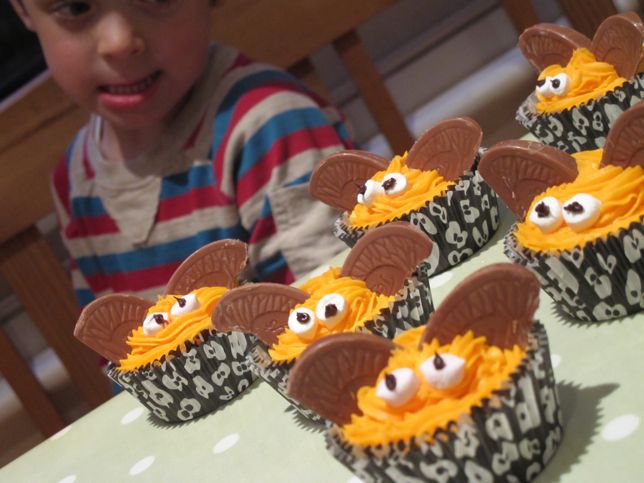 Chocolate Orange Cupcakes with Gluten Free option
Based on Nigella Lawson's Store Cupboard Chocolate Orange Cake, How to Be a Domestic Goddess.
Makes 12 large cupcakes or 18 standard bun sized ones

Ingredients
For the cake bases
125g unsalted butter
100g dark chocolate, broken into pieces
300g marmalade (shredless is best for children)
150g caster sugar
pinch of salt
2 large eggs, beaten
150g self-raising flour or gluten free flour

For the orange buttercream icing
500g icing sugar
150g unsalted butter, softened
50-70ml milk
1.5 tsp orange flavouring
Yellow and red gel food colouring (or orange if you have it)

For the Hallowe'en bat decoration
Terry's Chocolate Orange slices, cut in half vertically (for the ears)
Mini Marshmallows, cut in half horizontally (for the eyes)
A tube of chocolate or dark icing with a fine nozzle (for the pupils)

You will need 2 x 12 hole bun tins and paper cases.

Method
1. Preheat the oven to 170c or gas mark 3. Line the bun tins with paper cases.
2. Using a double boiler, melt the butter over a low heat and then stir in the chocolate pieces until both combined and smooth.
3. Turn off the heat and using a wooden spoon, stir in the marmalade, sugar, salt and eggs. When just about combined, beat in the flour a little at a time.
4. Spoon the batter into the paper cases and bake for around 25 minutes. Normally I would say bake until a cocktail stick comes out clean but these bases are more brownie like and sponge so so long as the stick is not really wet after this time you should be ok. Cool in the tin for 10 minutes before lifting out onto a wire rack.
5. Meanwhile, blend the softened butter and icing sugar in the food processor until it resembles sand. Pour the milk and flavouring through the funnel until it become soft icing.
6. Using a cocktail stick, add spots of yellow and red gel colourings and pulse the food processor until a satisfactory orange colour is obtained.
7. Spread the icing on the cake bases using either a small palette knife or pipe it on. Decorate by piping tiny pupils with the dark icing onto the marshmallow pieces and press carefully into the buttercream. Push each half of a chocolate orange segment into the buttercream to make bat's ears. Alternatively you can just use a tube of usual sprinkles like I have in these cakes below left.