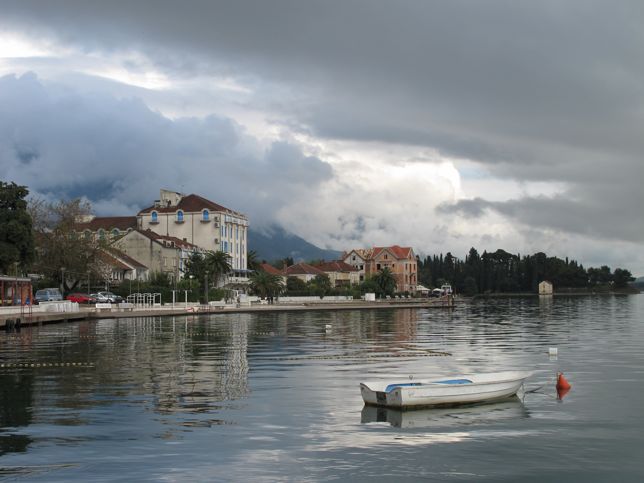 Two weeks ago I returned from a very wet week in Montenegro.
Long term readers (although admittedly I only had about 30 subscribers then) may recall this is not the first of my holidays in Montenegro as I went there 12 months ago.  Last year we had glorious sunshine and 30c temperatures in early October.  This time we went just one week later and suffered torrential rain on six days out of seven.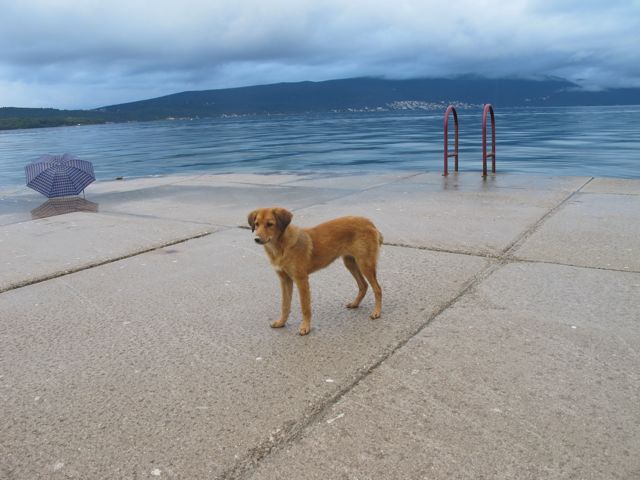 My in-laws have a holiday home in a new complex of apartments in Herceg Novi, a town just over the Montenegrin border around 40 minutes from Dubrovnik, Croatia.  My father in law is actually from Serbia but picked the Montenegro coast for his retirement holiday home due to its excellent weather; it's cooler than inland during summer and milder during winter.  The sheet rain that plagued us throughout our stay bemused them as they'd never seen rain so relentless during their visits over the past 3 years.
These pictures were taken on a day trip to the nearby town of Tivat. Like Herceg Novi, Tivat sits on the Bay of Kotor, a fiord like inlet with stunning mountain scenery against the calm pool water. Tivat has its own airport but is only reachable from the UK via Serbia's capital Belgrade.  Tivat lies across the bay from Herceg Novi but is easily reached via a ferry which crosses the bay.
The easiest way to travel to Montenegro is currently via Dubrovnik which lies around 20 minutes drive from the border and is accessible via daily flights from British Airways and summer flights with Easyjet. Montenegro Airlines flies direct from the UK to Podgorica, which lies inland. The language spoken is Serbo-Croatian although there is a move to establish the Montenegrin dialect as a language in it's own right.
The whole country has a population of around 670,000 and is about half way in size between Northern Ireland and Wales. Serbia and Montenegro were separated after a narrow majority in a 2006 Montenegrin referendum led to its independence from Serbia. Although not in the EU, Montenegro has adopted the Euro as its currency. Tourism drives the economy and the country has lately been described in the New York Times and the National Geographic Traveller as a "must see" destination.  Certainly the scenery in the Bay of Kotor, when visible in clear weather, justifies this.
I find it a strange country, Mediterranean (it was briefly occupied by Mussolini's Italy in the Second World War) yet Eastern European too. You don't get horses and carts blocking the road as commonly happens in the provinces of Serbia but there is a "make do and mend" hangover from the Tito and Milosevic regimes. Domestic buildings often look unfinished – it's not uncommon for people to build their own houses a storey at a time and finishing it off when they can afford it. Most architecture seems to have stood still in around 1988 but looks more like 1978 with a sudden burst of builidng activity since independence from Serbia.  You find occasional contemporary bars and restaurants like these two above but largely cafes and restaurants are very simple and dated.
Tivat was eerily quiet on the day we visited, this is set to change with the creation of Porto Montenegro, a complex featuring a luxury hotel, shops and a marina for the super rich to moor 650 yachts (including 150 moorings for 150 super yachts) to be serviced by nearby shipyard at Bijela. The coastline is popular with ex-pat Yugoslavs and Russian millionaires.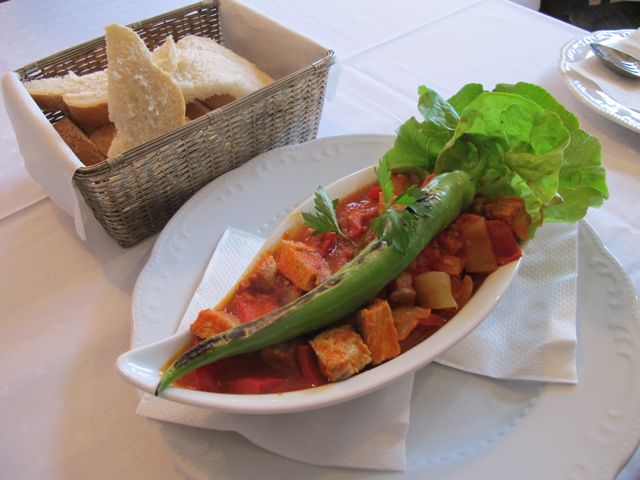 With a limited choice of venues still open, we took our lunch in the strangely grand Primavera Hotel. The meals were simple although presented with great care that the style of food didn't really live up to.  My husband ordered pork stew (above) which arrived with a giant green chargrilled chilli pepper.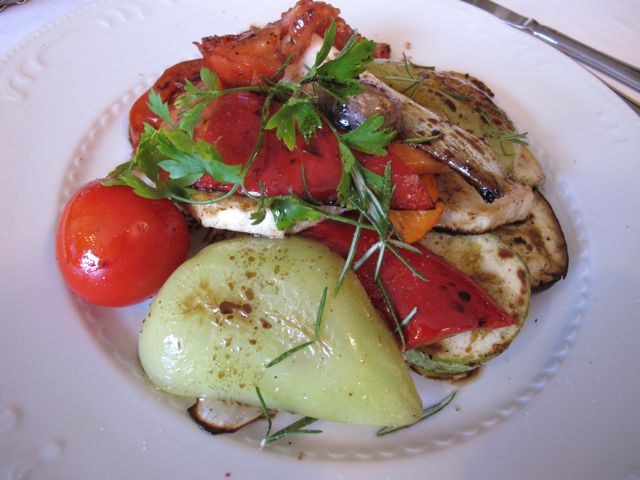 My mother in law is vegetarian and generally survives, when out of the house, on a side dish of grilled vegetables. Fortunately these tend to be substantial as you can see here.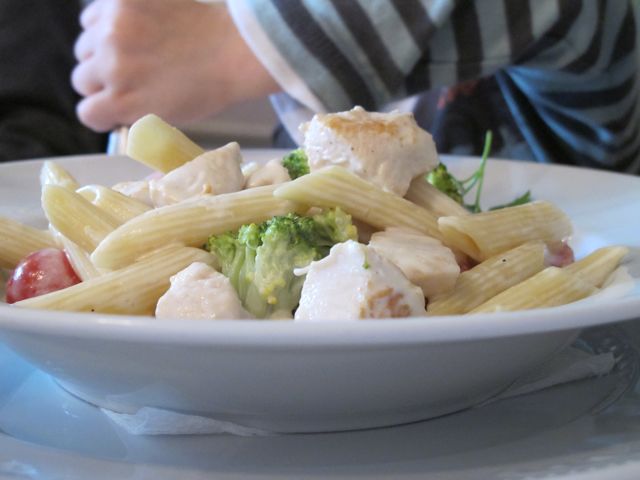 Ted got the best deal with a generous portion of house special pasta with creamy sauce and succulent chicken.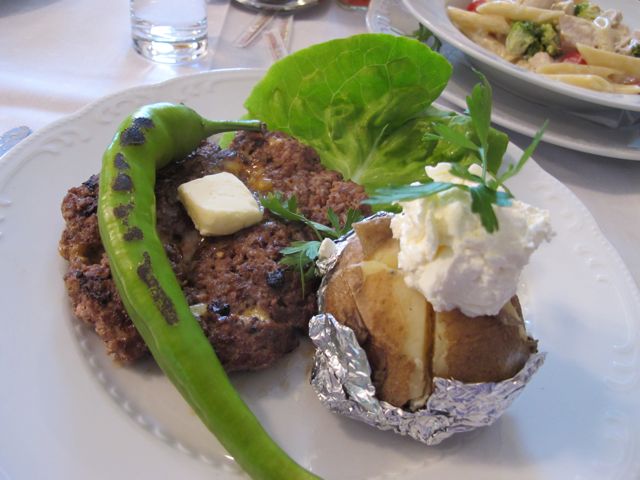 My father in law and I both had a rissole type burger of lamb, cheese and onion served with the ubiquitous pepper and a potato topped with soft white cheese and served in foil… Why do places do this?!  Prices, given the grand surroundings, were reasonable, around £7 per head.  We sat underneath an imposing giant portrait of Peter the Great next to a television with Cyrillic subtitles.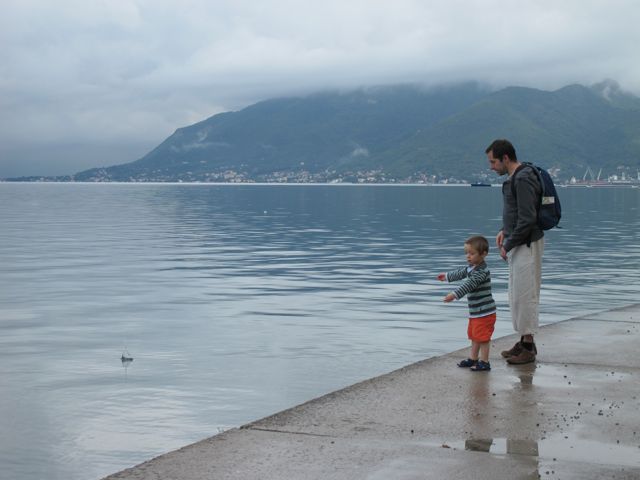 Back outside there was time for a spot of stone throwing across the calm water.
Before another storm arrived. You can see it coming in this picture. When it rains in Montenegro, pavements turn into rivers within minutes.  They must have good drainage though as it seems to subside quickly.  Until the next time…