A few bits and pieces we've tried this month
This is a somewhat shorter than usual bitesize bits – most of November was taken up with looking after invalids for one reason or another but here are some of the yummy things that took our minds off things!
The offer of feeling "Perkier" was very tempting this month. Perkier already sell a range of gluten free breakfast cereals but have added to their range these gluten free rocky road and tiffin bites available in individually wrapped or bitesize tub form. Both are wonderfully chunky and satisfying and I hope we start seeing them stocked widely, for the time being they're being sold in many supermarkets and also available to order online. Say hi to Perkier on Twitter @perkierfoods.
Pink fizz has always been my drink of choice and thanks to Bottlegreen's new pomegranate and elderflower tonic water I can get that pink fizz feeling without indulging in alcohol. It looks pretty in a wine glass and although you can use it as a mixer in cocktails, I've enjoyed drinking it straight out the bottle. Say hi to Bottlegreen on Twitter @bottlegreen
In our latest passion for trash TV we've discovered Meet the Russians, a docu-soap about insanely wealthy Russians living in London. It's an in-joke in our house that my husband's parents hang out with Russian billionaires whenever they're residing at their holiday home in Montenegro because many of their neighbours there are Russian and you can see a gigantic Russian billionaire's residential compound carved out into the forest hillside on the shore of the bay of Kotor opposite their apartment. We spy at it James Bond style with binoculars because it's five miles away across the water. My parents in law will be much amused therefore when I serve them these Zillionaires Puds by Gu which had golden honeycomb on top of layers of chocolate dessert and a biscuit base. They beg a citation of "Monsieur you are really spoiling us," whilst we pretend we are zillionaires eating them. Say hi to Gu on Twitter @gupuds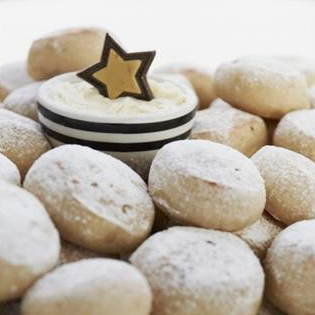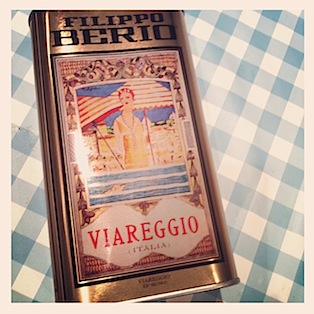 Also to note, we're excited by this seasonal version of our beloved Pizza Express dough balls, the snowball dough ball sprinkled with icing sugar. Available in branches this month. I think it's rather clever how Pizza Express have been reinventing their dough balls – we've previously scoffed the Nutella ones too. Say hi to Pizza Express on Twitter @pizzaexpress
We were delighted to be sent this limited edition 1 litre Filippo Berrio Viareggio Limited Edition Olive Oil tin. A winter taste of Italy, Viareggio is a beach resort in Tuscany not far from where my Italian friends mentioned in the recent mushroom tagliatelle post have a summer house. The illustration on the tin evoke's Viareggio's hay day during the art nouveau period – the resort retains much architecture from this time. This supply of Filippo Berio will keep Ted happy snacking on his favourite pre-dinner appetiser of crusty bread dipped in olive oil and balsamic vinegar. He's that smitten with the stuff I could easily give him the heart shaped olive oil dish featured in my Christmas gift guide and he'd think nothing of it. Say hi to Filippo Berio on Twitter @filippoberio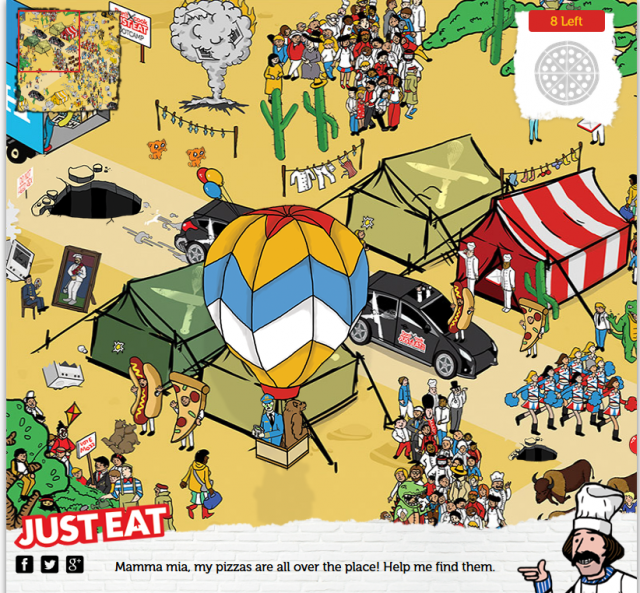 And finally Ted, who thinks everything in life appears after you click a button on the internet (well it does, doesn't it?) was much entertained by online takeaway ordering site Just-Eat.co.uk's new Where is the Mozz? game. In the manner of Where's Wally, players visiting the Just-Eat site have to hunt for eight missing pizza boxes and everyone completing the challenge goes into a draw to win £50 to spend using Just-Eat, a year's Netflicks subscription and a vital sofa snuggling onesie. Let's hope you're just not too embarassed to be seen wearing it when the delivery man shows up. We reviewed Just-Eat earlier in the year and have been avid fans of Ginger Indian Takeaway in Walthamstow ever since. Play "Where is the Mozz?" yourself at www.just-eat.co.uk/whereisthemozz/
With thanks to Bottlegreen, Filippo Berio, Gu, Just-Eat and Perkier for samples.