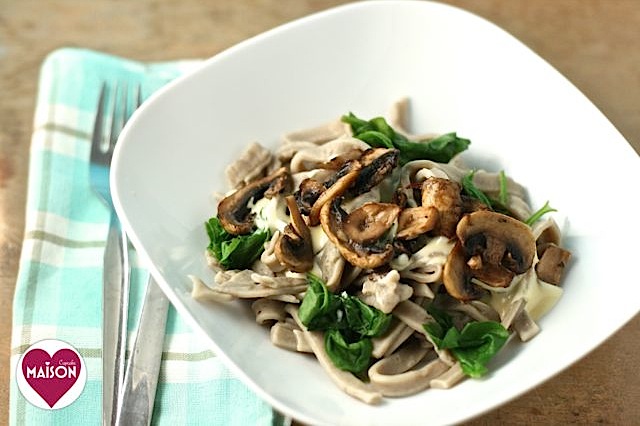 Should you ever have the opportunity to share your home with Italians, I urge you to take it.
My husband and I shared our two bedroom flat with an Italian couple for nearly two years when we were in our mid twenties.
Despite living on top of each other we all got on incredibly well. I put this down to our having had a large kitchen and two of us working unsocial hours so we weren't all fighting for the kitchen and bathroom.
Anastasia and Marco were keen to enjoy English things as much as possible so surprisingly I cannot say I used our time together to pick up pizza twirling skills nor indeed pasta making. We had lots of dinner parties together though, I remember it being a very happy time.
Our biggest difficulty was four people drying laundry indoors and boy do Italians create a lot of laundry!
It was a tearful day when they moved back to Italy but we have stayed in touch and attended each others' weddings, cuddled each others' children.
Technology is making it easier to stay in touch and the first thing I did once cutting out this pasta was to Instagram a picture to Marco and post a copy on Whats App to Anastasia. "I wish I were there to eat it with you" she said.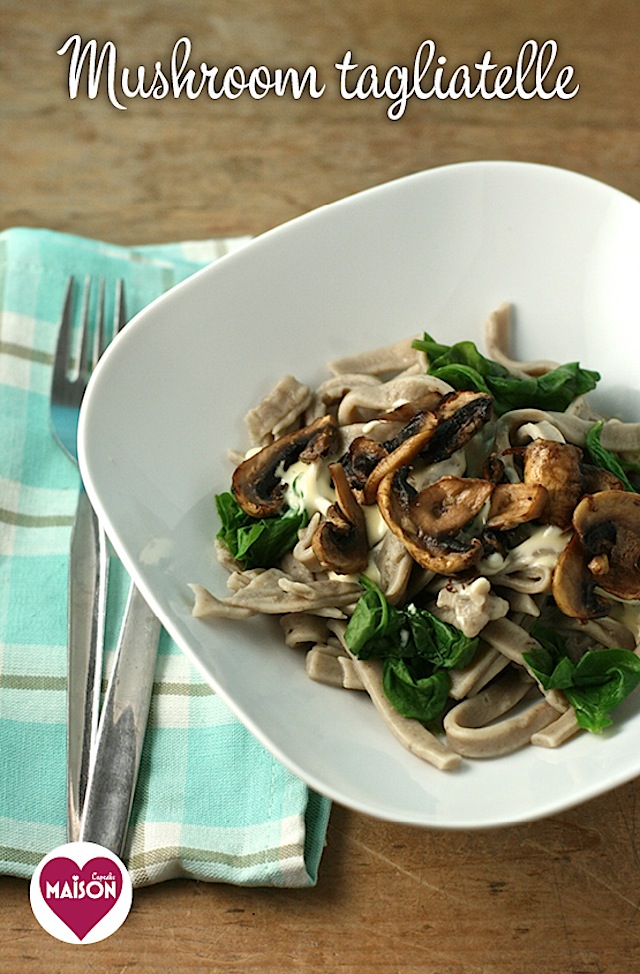 Fast forward 15 years and despite best intentions, I'd still never made my own pasta.
I'm not one for kneading dough and the prospect of mixing raw eggs into flour with fingers has never appealed. Then it occurred to me I might try mixing my pasta dough in the bread maker and decided to give it a bash.
This is a work in progress, I think like pastry pasta making is something you need some practise at. Anastasia and Marco always used to buy their pasta (Buitoni was their favoured dried brand at the time) rather than make it and whereas it's a skill Italians learn, it's not something to be done every day.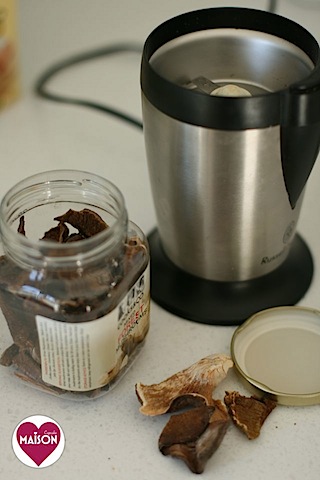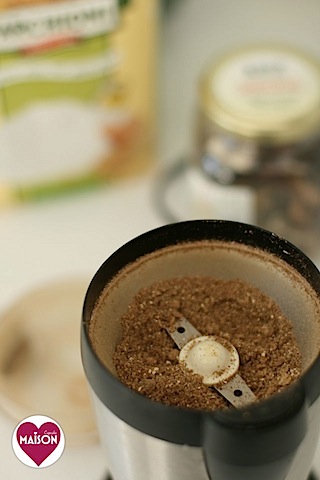 Of course I can't be straightforward with my first foray into pasta making, I decided to grind dried mushrooms into it.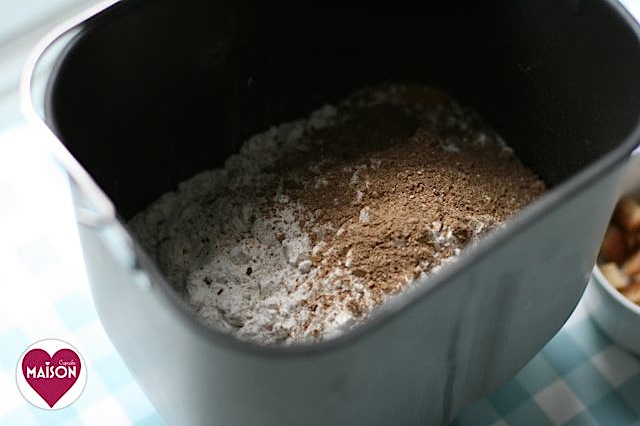 All the ingredients into the bread maker. I gave them a poke around the edges with a spatula but otherwise the bread maker did fabulous job of kneading the dough for me and the mushroom aroma was most noticeable.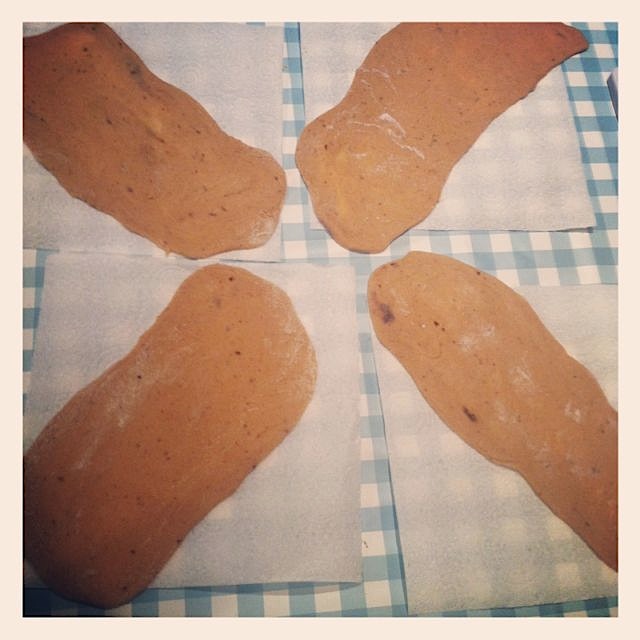 Annoyingly at this point I forgot to take a photo of the ball of mushroom pasta dough but here are some paddles drying out.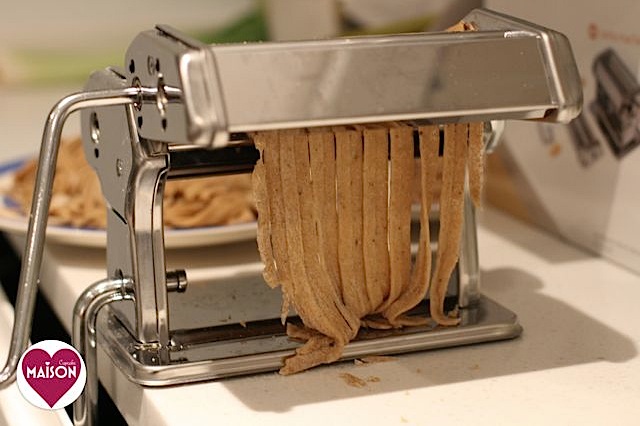 And my ribbons of tagliatelle being cut with the pasta roller.
The pasta roller screws to the worktop and is very sturdy. They're not hugely expensive, this one would be just over £20.
The dough is very forgiving, if you mess it up you can squeeze back into a ball and try again.
It needs to be just the right consistency to ease through the machine without sticking, a light dusting of fine Italian "00" flour smooths things along.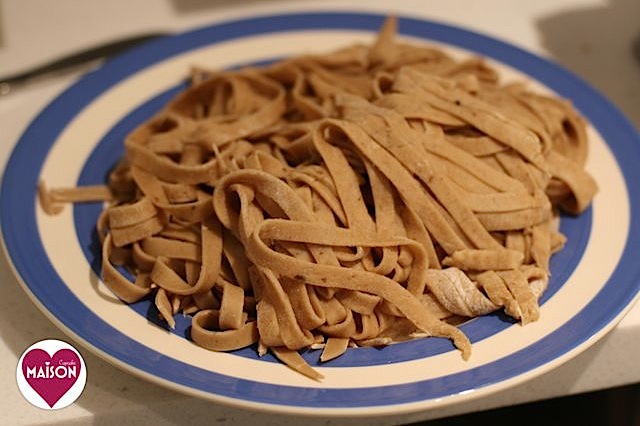 After a shaky start I had a plate of ribbons.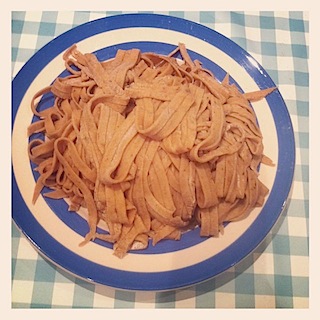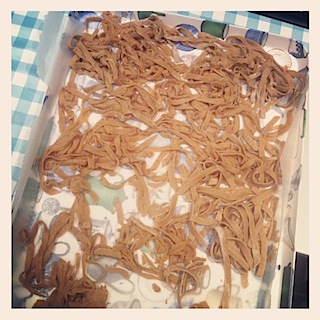 The ribbons do stick together again quickly so I spread them out on a tray dusted with flour.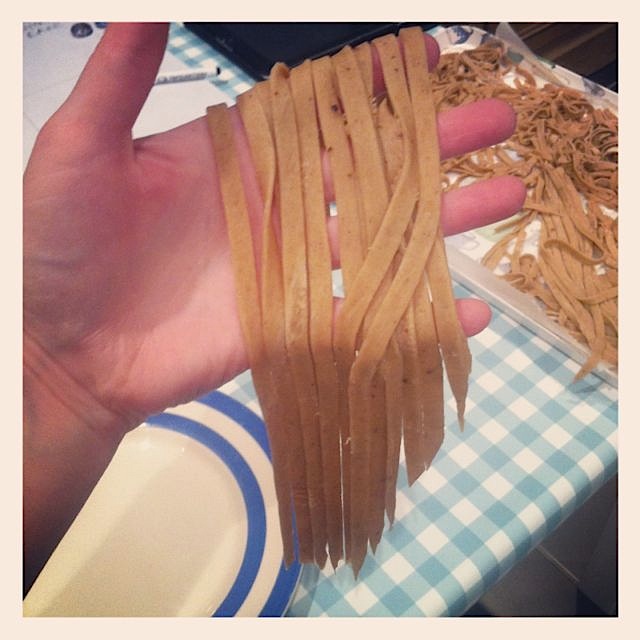 There's definitely something therapeutic about making your own pasta. I will be sure to get some more practice in and share the results with you again.
But for a first bash this wasn't bad at all.
One thing I will avoid next time is drying the pasta out for too long – it was too late to cook it that night once I'd finished and the next day it had gone quite hard. No fear I thought, this is just "dried pasta". Probably my dried pasta was rather thick and it did take an eternity to cook (around 25 minutes anyway).
It was worth the wait though!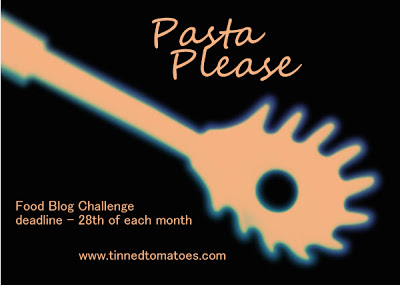 I am sending this pasta dish to Pasta Please this month hosted by Jac.
Have you ever made your own pasta?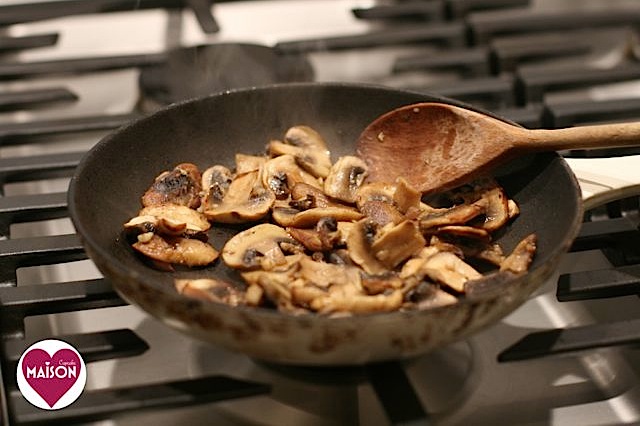 Mushroom Tagliatelle Ribbon Pasta
Serves 4 generous portions

Ingredients:
400g "00" pasta flour plus extra for rolling
4 large eggs
1 tbsp olive oil
1 tbsp dried mushrooms

Equipment:
Small grinder i.e. for coffee but designated for non-coffee ingredients
Breadmaker or standmixer
Pasta roller with ribbon cutting attachment.

Directions:

1. Break up the dried mushrooms into small pieces and grind to a powder in a small electric grinder.

2. Break the eggs into the bread maker chamber then add the oil, flour and dried mushroom powder.

3. Mix into a dough using the "dough" setting, likely to last around 30 minutes. You should end up with a grapefruit sized ball of dough.

4. Clamp your pasta roller to the worktop and turn to lowest setting (i.e. the thickest). Tear off egg sized balls to feed into the pasta roller yielding a small pitta bread sized pancake of dough. Adjust the roller to a higher number (and thinner setting) and repeat this process several times until you are happy with the thickness.

5. Allow the sheets of pasta to dry slightly on kitchen towel. Rub a little flour over them to coat before feeding through the ribbon cutter on the pasta roller.

6. Coil the pasta ribbons on a tray to dry out.

7. When you are ready to cook, plunge the pasta ribbons into a saucepan of boiling water until cooked. Drain and toss in oil before serving. On this occasion we served ours with garlic oil, spinach and thick mushroom slices fried in butter.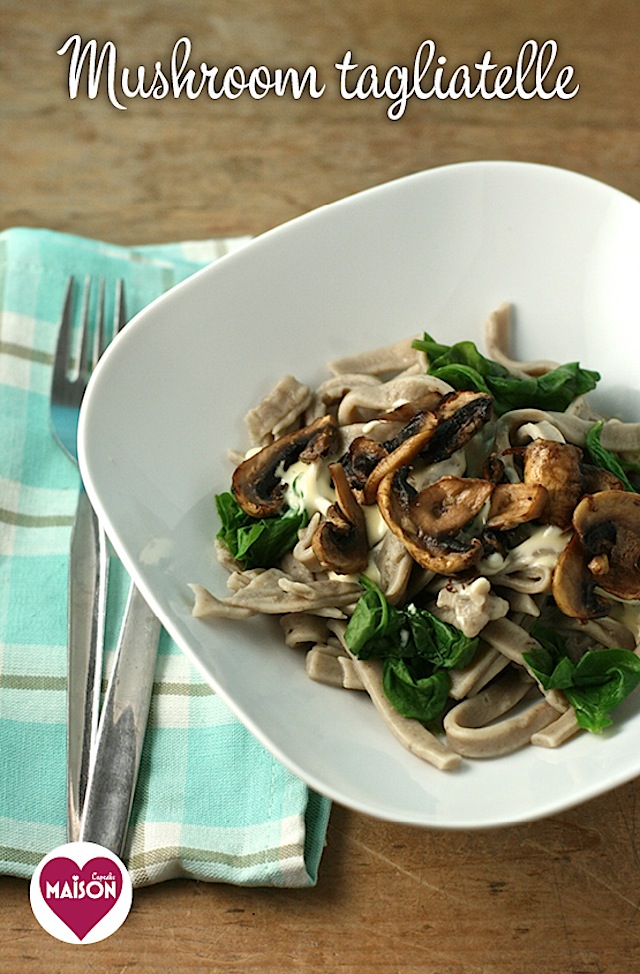 Items in the Lakeland pasta range include:
Pasta Machine £22.99 at Lakeland
Gnocchi paddle and pin £4.99 at Lakeland
Square ravioli stamp £5.79 at Lakeland
Farfalle (butterfly) cutter £8.99 at Lakeland
Collapsible pasta drying rack £14.99 at Lakeland
Mezzaluna £9.99 at Lakeland
With thanks to Lakeland for providing sample pasta maker. Affiliate links used.