I am a member of the Collective Bias® Social Fabric® Community. The shopping in this post has been compensated as part of a social shopper insights study for Collective Bias and their client.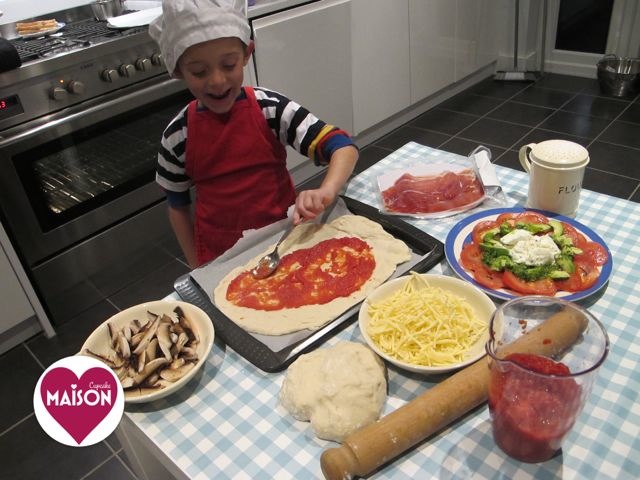 Making your own pizza from scratch might not mean beating supermarket prices but certainly you get more dough for your dough if you get what I mean. Plus making pizza with kids is lots of fun and always feels like a special occasion whereas opening a cardboard box cannot give that effect.
We were recently invited to make a special occasion of a family night in with Collective Bias® and picked a Pizza Express style theme doing all of our shopping at Tesco, specifically trying out items from their revamped Tesco Finest range.
Now I'll be frank. Tesco, until recently was not at the top of my list where to shop  – outside of price, the following influence where I shop:
a) how easy it is to drive there
b) ease of parking (preferably for free)
c) light modern, clean and well presented store
d) quieter store that doesn't require a battle
e) trolleys in good condition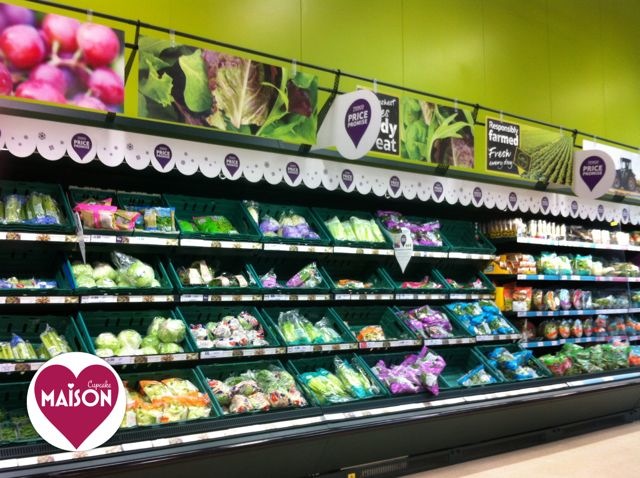 My other three obvious Tesco branches didn't appeal much. Baker's Arms branch is scruffy, small and busy; Leytonstone is larger more pleasant store but much higher likelihood of knackered trolleys and getting stuck in a traffic jam. Tesco Extra on the North Circular near IKEA was good for occasional "cash and carry" style mega shops but has a car park which seemingly induces road rage in other drivers and high frequency of undesirables hassling shoppers for the pound out of their trolley as they load their cars.
More convenient for me is Waitrose in South Woodford or for bigger shopping trips, the gigantic Sainsbury's by the old Walthamstow dog track on North Circular.
(Ironically Asda in Walthamstow is by far the nearest but the one way system makes the journey there twice as long with a carpark charge to boot.)
So that's why I didn't go to Tesco so often. Until…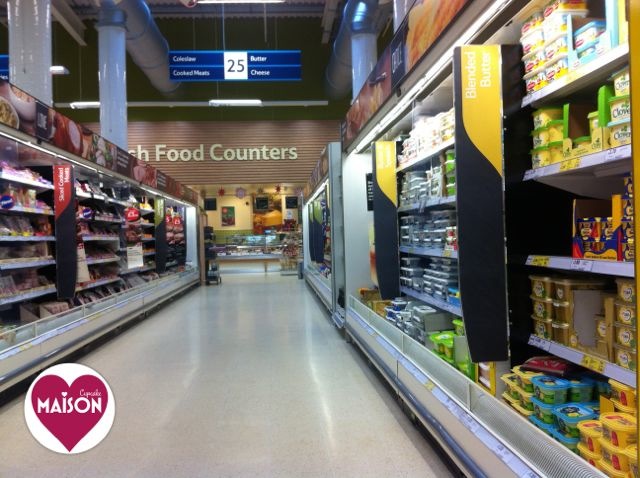 Six weeks ago, I happened upon a shiny new branch of Tesco which opened last year in Higham's Park, Waltham Forest.
None of my friends had ever talked about it and apart from remembering protests about impact on small businesses before it opened, I hadn't heard anything at all since.
Now I doubt Tesco are as pleased by this, but it's very quiet there. Even on a Friday afternoon or a Saturday morning I can breeze in and out without any crowds or queues.
And unlike their branch at Leytonstone, I don't have to play musical trollies until I find one that hasn't got a wonky wheel.
The car park is under cover (with the branch upstairs) so I won't get wet if it's pouring with rain. There are decent loos and a branch of Costa Coffee in store (although actually I have discovered a marvellous Algerian cafe outside that does fantastic chicken shawarma flatbreads for £2.50 whilst you watch the trains go past).
The aisles are wide, the displays not claustrophobically high (nor in the way on ends of aisles). The checkouts are designed with conveyors in a "funnel" shape so you can have your trolley sideways to unpack without being in the adjacent customer's way.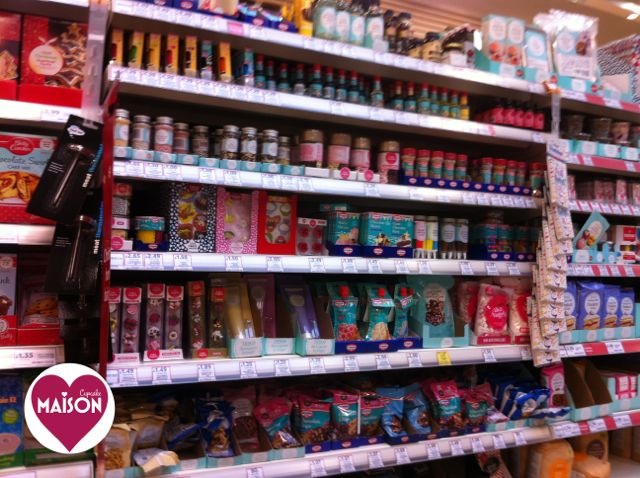 The branch is not too big or too small. It's not a pain in the bum to go back to fetch stuff you've forgotten.
So I've surprised myself – I've discovered somewhere that's convenient, modern, quiet and stocks nice stuff.
It's not perfect, some of the ranges aren't as broad as I'm used to but on the whole I'm finding the experience preferable to elsewhere. Plus I've been hanging out in Higham's Park more than I ever did before, I can see an argument that a big store threatens smaller businesses (indeed many units locally are closed with new units under Tesco still vacant a year after opening) but prior to this shop with free parking opening, I'd not have been going there at all and more likely to now.
But possibly what's tipped the balance into my going back there is the revamped Finest range, mesmerisingly dangled in front of me during its sponsorship of Downton Abbey.  I featured the posh fish fingers on Dinner With Crayons recently but here are the products I bought for our Pizza Express style family night in…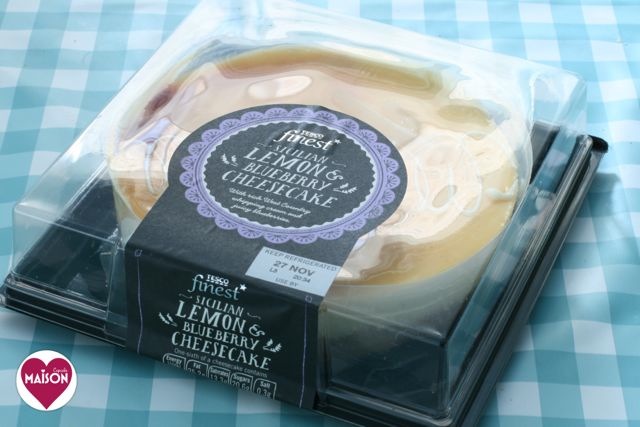 This Finest range Sicilian Lemon & Blueberry Cheesecake is exactly the style dessert they'd serve in Pizza Express. It has a plastic collar (not a fiddly plastic shell) which made it easier to serve. The purple blueberry crush in the centre looks pretty when you slice it.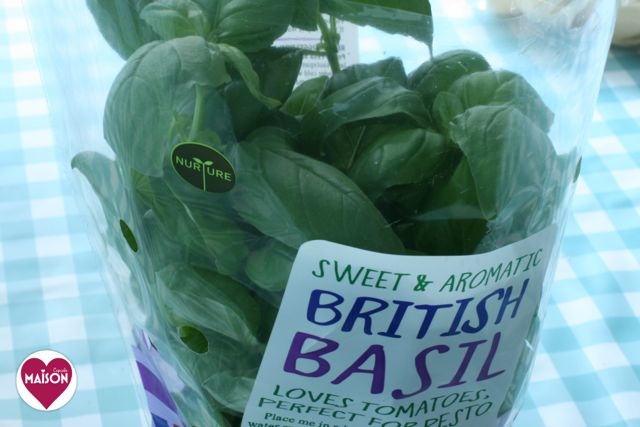 Pizza Express always has basil plants on the counter – we made fresh basil salad dressing.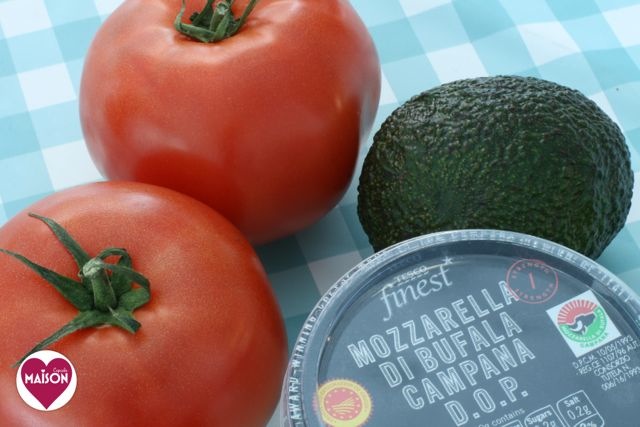 Ingredients for traditional tomato, avocado and mozzarella salad. Tesco Finest mozzarella was more expensive than my usual basics one in a plastic bag but I'll return to that later.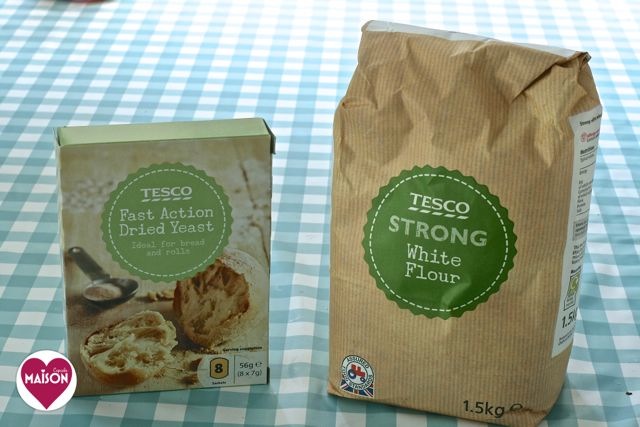 Dried yeast and strong white flour for homemade pizza bases.
Tesco do sell actual Pizza Express brand pizzas but I thought this would be cheating!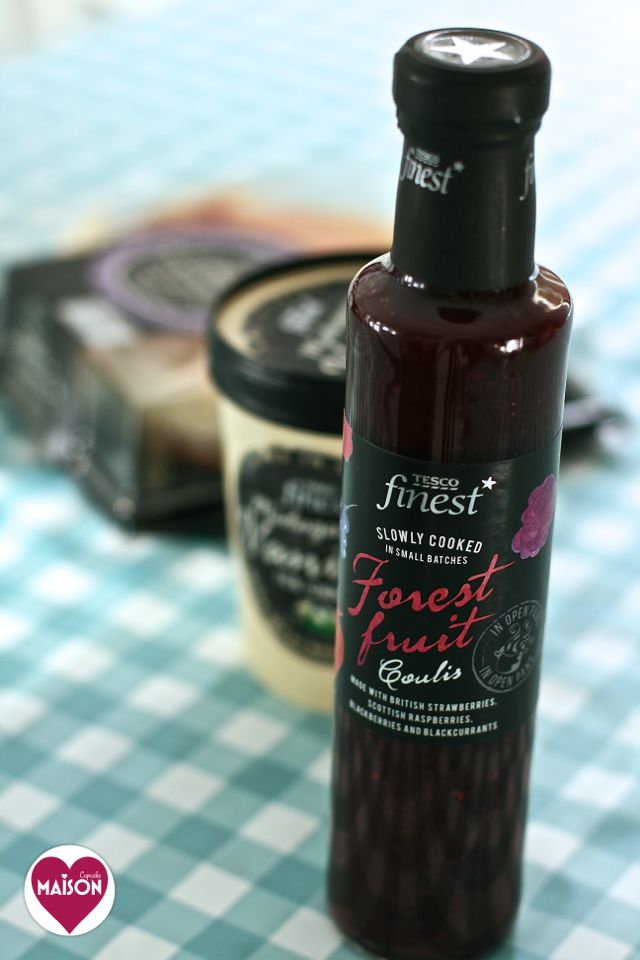 To accompany dessert, Tesco Finest forest fruits coulis and Madagascan vanilla ice cream.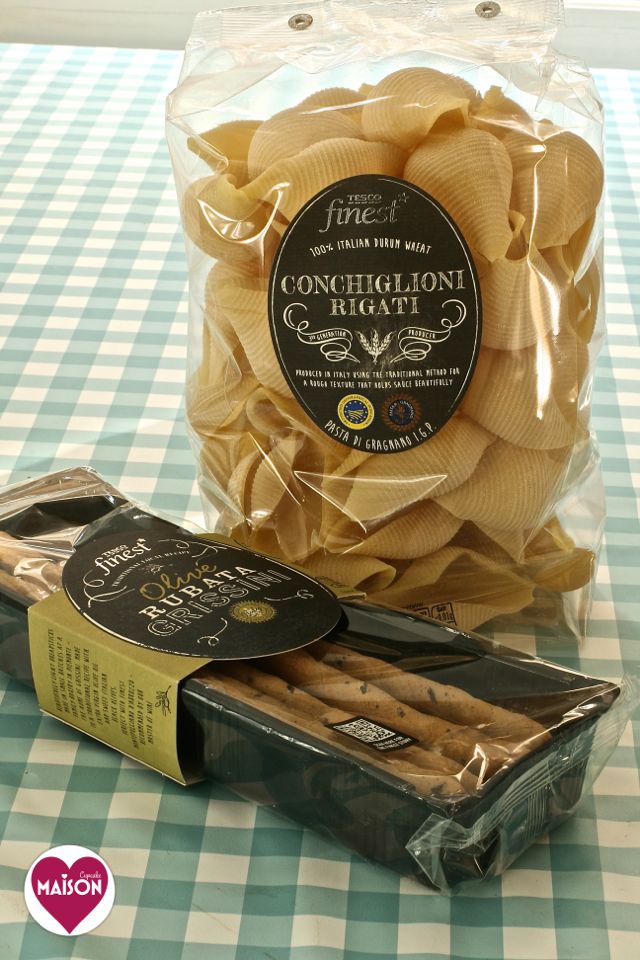 As an appetiser, Finest olive grissini. I also loved these giant conchiglioni pasta shells for another occasion – just like Carluccio's!
Finest Serrano ham. For authenticity, it should be Finest Italian Antipasti meat selection but Serrano had less fat.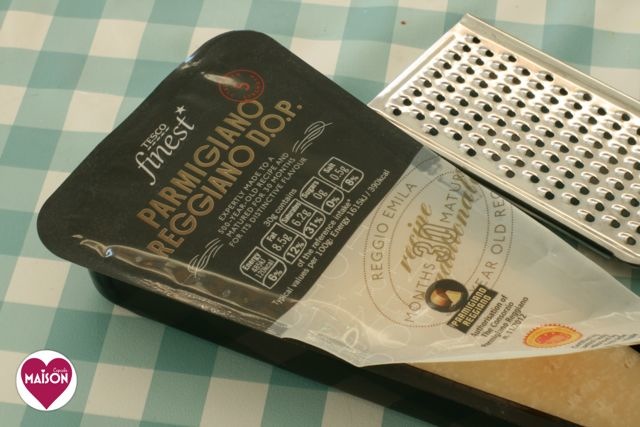 Finest Parmigiano Reggiano D.O.P  – I am loving the vintage Italian style font on this packaging.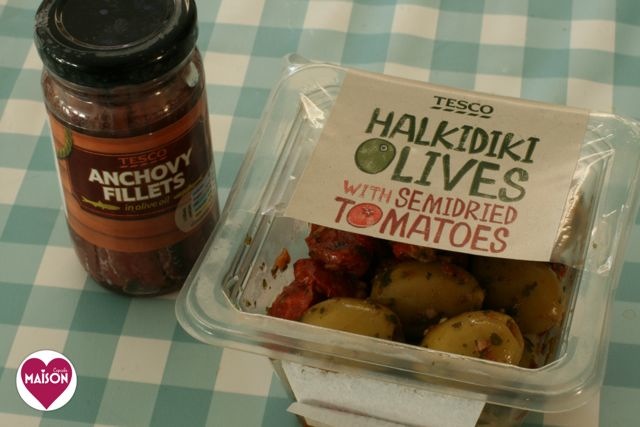 There weren't any Finest range olives, these are from a Greek style mezze range. Originally I'd planned anchovies on one pizza but stuck to ham and mushroom on the night.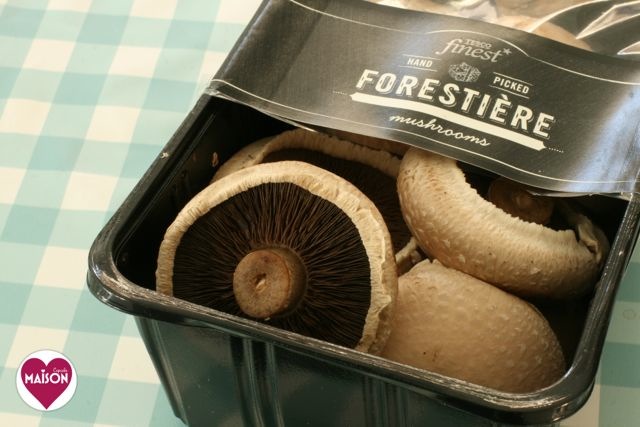 Finest "Forestiere" mushrooms – happily marked down to 40p. They were much tastier than button mushrooms I normally buy and substantial enough to be a standout ingredient wherever you use them.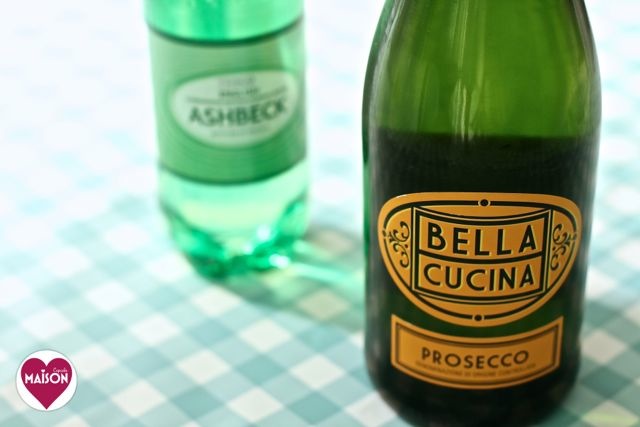 Drinks: my favourite fizz, Italian prosecco with more gorgeous typography. Ted's fizz is mineral water.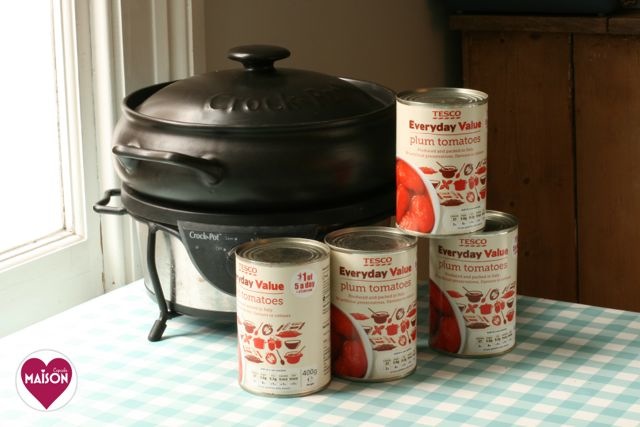 Preparation started early; pizza sauce made in the Crockpot simply by cooking down four cans of Tesco Everyday Value plum tomatoes with the lid off. You scoop pools of tomato juice off until it thickens. (Around 4 hours with occasional stirring and scooping).
We prepared pizza dough in the bread machine which takes 50 minutes.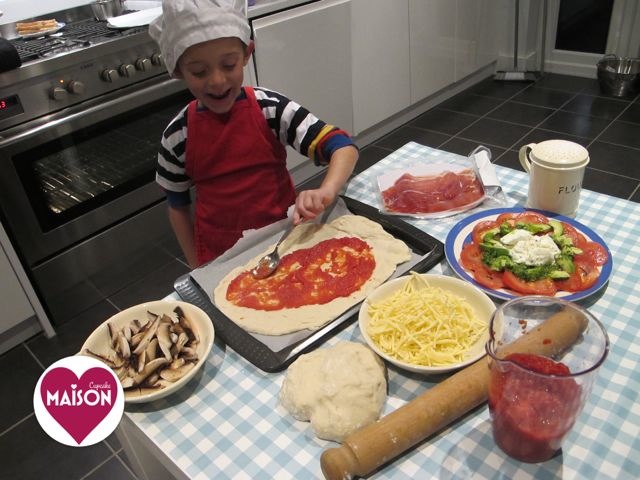 Ted is wearing his "Pizza Express" style outfit of gondolier's striped t-shirt (from our trip to Venice), red apron and chef's hat.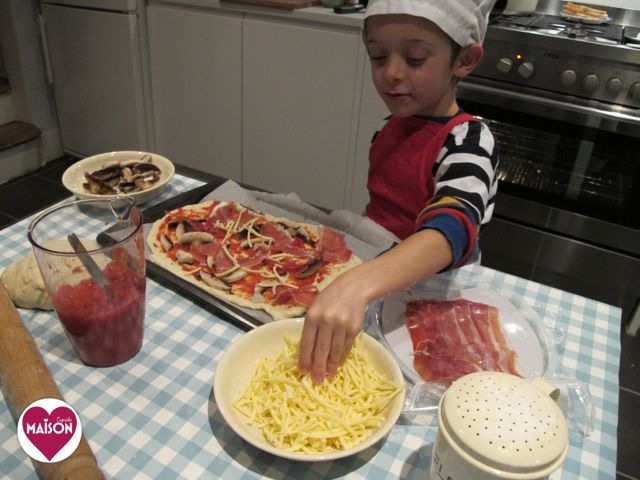 Set up with his work station, Ted got stuck in arranging toppings.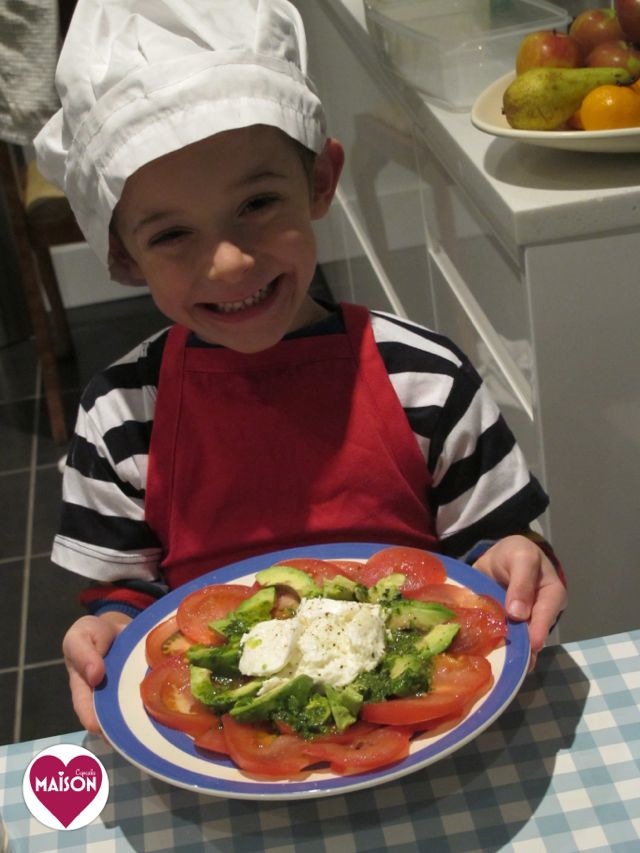 Family size sharing salad looking pretty on the plate.
Back to the mozzarella. I forgot I needed one ball for the salad and another ball to melt on the pizza so bought another cheaper one locally. The difference between the two was obvious.
The Tesco Finest mozzarella has a much softer, wetter texture and comes apart in blobs rather than string. You could almost eat it with a spoon. Then disaster struck – the cheaper second ball had fermented and had to be thrown away.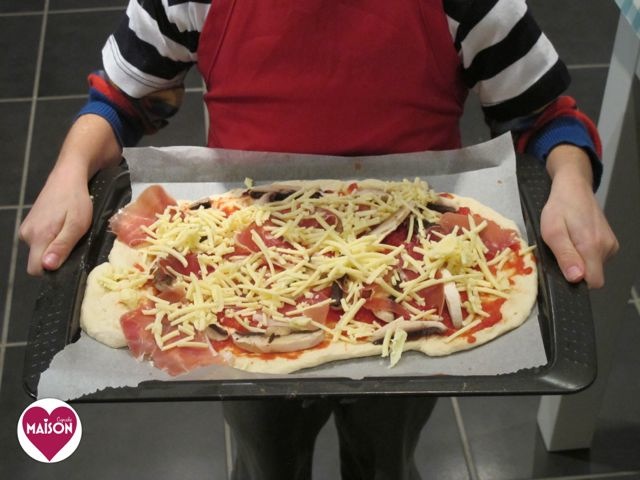 So we used grated cheddar on the pizza instead.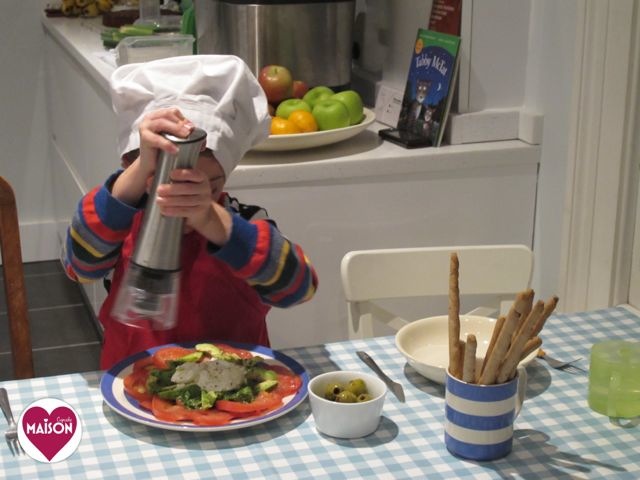 Ted on electronic pepper grinding duty. Appetisers of grissini and olives ready too.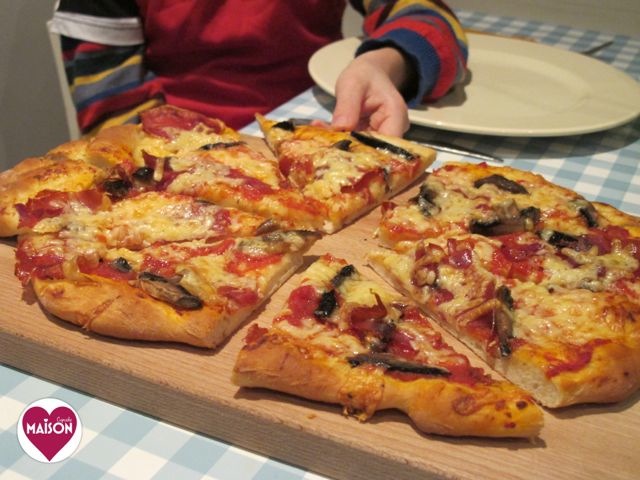 Pizza after 20 minutes in a hot oven 210c / Gas 7. Homemade pizza dough puffs up so much – even when you aim for thin crust!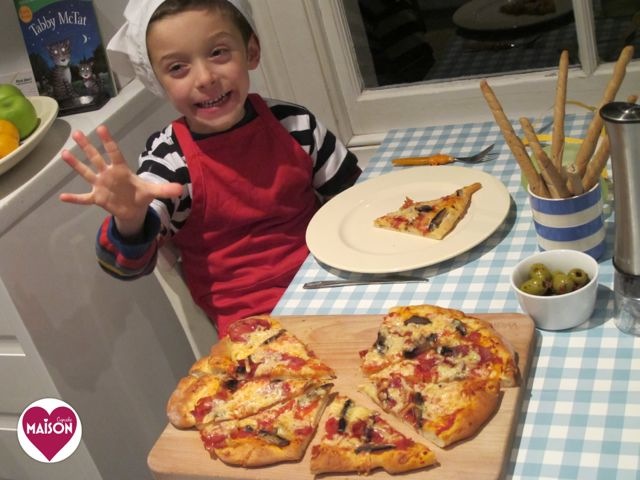 I'll have five slices please.
Afterwards our family night in continued with a Nintendo Wii Just Dance game.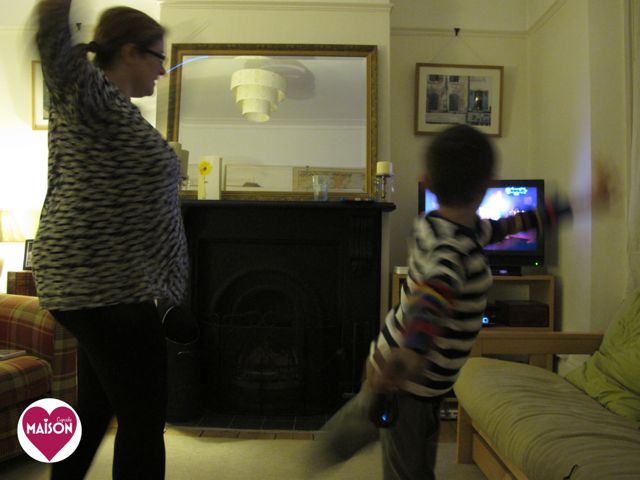 I've not yet mentioned my husband was covered in a blanket on the sofa with flu and Ted was also off school with a hideous cough. So despite my loving attention to detail, both of them passed on Pizza Express style dessert.
Ted still managed a dance and I snook myself a slice of cheesecake once he'd gone to bed. Bracing myself for a night of administering cough medicine and Calpol….
Happy families!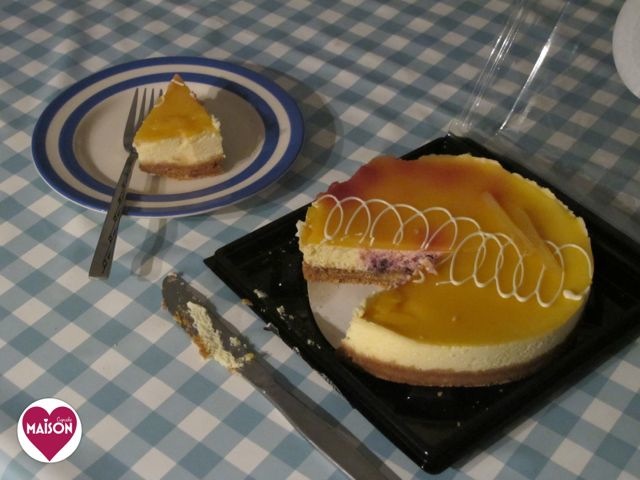 I received a fee for writing this post for Collective Bias® Social Fabric® Community but the content and words are entirely my own.