Marian Keyes' new baking book has the wit we expect from her chick lit with creative recipes as gorgeous as the Cath Kidston fabrics in the pictures. Watch out Rachel Allen – there's a new Irish baker in town!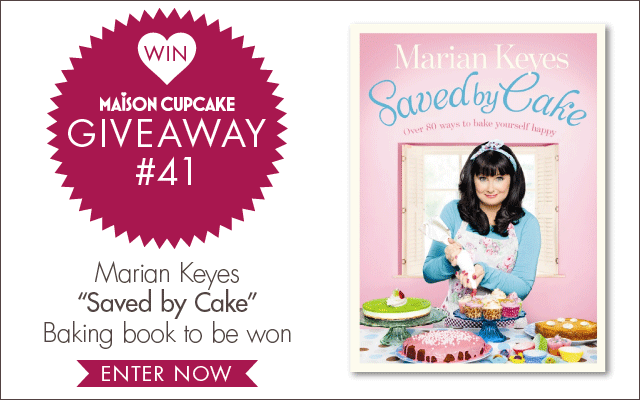 Does cake make you happy? I've certainly noticed peoples eyes' light up when I tell them what I do, the discussion of home made cakes, cookies and biscuits would appear to be a universally accepted topic of conversation akin to the weather or X Factor.
Now Marian Keyes you may be more familiar with as the writer of chunky page turning novels like Sushi for Beginners and Rachel's Holiday. If you've read her autobiographical short writings in Under the Duvet, you'll also know that she's a lady who's met a few demons in her life.
Saved by Cake is a treatise to baking yourself happier with whisks and spatulas and the warm glow from the oven. Whilst no-one is claiming any scientific evidence for baking conquering mental illness, focussing on a short term creative project is a kind of therapy most of us can relate to.
This is a stunningly pretty book featuring 80 baking recipes. Chapters include classics, cupcakes, pastry, chocolate, meringue and macaroons all introduced in Marian's familiar chatty style. Expertly styled, stamped with personality graphics and stuffed with recipes like Fridge Set Honeycomb Cheesecake, Slightly Sinister Star Anise Cupcakes (!) and Puff Pastry Pineapple "Tarte Tatin".
Marian's publisher has been kind enough to let me share with you one of her divine cheesecake recipes which I will share with you in the next week along with a more detailed review.
Giveaway #41: Win a copy of Marian Keyes' baking book Saved by Cake

HOW TO ENTER

Complete the Rafflecopter form below to confirm your entries made via blog comments, Twitter, Facebook etc.
This giveaway is set to run until Wednesday March 28th 2012.
Do read the rules below. If you comment with nonsense like "Oh what a fabulous prize" you aren't fulfilling the entry criteria and thus wasting your time. Oh yes and I can tell whether you've really tweeted or Facebooked when you say you have so please don't waste your time thinking I can't verify entries.
Winners are announced on the Rafflecopter form after claiming prizes.

No form showing? Hit refresh and it should appear
Complete the form – or your entries will not go into the draw
Mandatory entries to be completed first; i.e. leave a blog comment
Want more chances to win? Come back daily to confirm bonus entries via Twitter
Viewing this by email? You need to click through to enter.

Good luck!

RULES:

1. Open to UK residents over the age of 18.

2. The prize is a copy of Marian Keyes' baking book "Saved by Cake".

3. Instructions form part of the terms and conditions.

4. No fibs: each winner's tweet entries and subscriptions etc are cross checked, cheats will have ALL entries disqualified.

5. This giveaway is hosted on behalf of prize sponsor Michael Joseph publishers represented by FMcM PR who will deliver the prize(s) following confirmation of winners' contact details.

6. The prize sponsor's decision is final and binding on entrants; no further correspondence will be entered into.

7. There is no cash or alternative to the prize stated.

8. The prize is selected in good faith, however the prize sponsor may substitute with one similar value/type if original one is unavailable.

9.Winners are picked by Rafflecopter using random.org and the site owner contacts them by the email.

10. Failure to claim prizes within 7 days will result in a replacement winner being chosen.