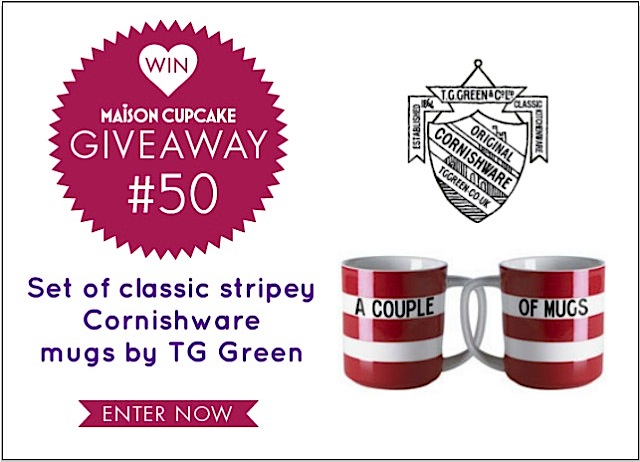 Classic Cornishware blue and white crockery always makes me think of… childhood holidays in St Ives… blocks of vanilla ice cream sandwiched between rectangular wafers… canary yellow custard and apple pie… an English breakfast with bacon and eggs…. what about you?
I have quite a collection of this stripey stuff now – my Grandma had a few pieces which I loved using as a child but I bought my own first few plates and mugs in a sale in Heals back in 1995. I am still using the same mugs today and they look as good as new.
Ten years ago, vintage Cornishware was becoming collectable and expensive so my eBay purchases were fairly limited – I picked up a jug and a vinegar dropper bottle. As the range started to be restocked more widely in places like John Lewis I added a pestle and mortar and utensil jar to my collection.
My favourite piece of Cornishware however is a slightly tatty and indeed cracked jar labelled "biscuits". I paid £5 for it in Portobello Road market but had it been in better condition its value might easily have been £60.
With the popularity of scare vintage pieces, TG Green have more recently expanded the Cornishware range beyond the familiar blue and white stripes to pastel sets of mugs and versions in green or red as you see above.
I'm delighted today to share some of my favourite crockery with a reader.  These "couple of mugs" pair of stripey mugs can each be inscribed with up to 12 characters – you can put the names of your nearest and dearest on them or else pick your favourite showbiz couple… Brad and Angelina anyone?!
Giveaway #50: Win "A Couple of Mugs" by TG Green

HOW TO ENTER

Complete the Rafflecopter form below to confirm your entries made via blog comments, Twitter, Facebook etc.
This giveaway is currently set to run until 15th July 2012 however it may close early or be extended without notice.
Read the rules below. Entries are verified so please no fibbing.
Winners are announced on the Rafflecopter form after they have claimed their prizes.

No form showing? Hit refresh and it should appear
Complete the form – or your entries will not go into the draw
Mandatory entries to be completed first; i.e. leave a blog comment
Want more chances to win? Bookmark https://maisoncupcake.com/giveaway and come back daily to register your bonus entries!
Viewing this by email? You need to click through to enter.

Good luck!

RULES:

1. Open to UK residents over the age of 18.

2. The prize is a pair of TG Green Cornishware mugs.

3. Instructions form part of the terms and conditions.

4. No fibs: each winner's tweet entries and subscriptions etc are cross checked, cheats will have ALL entries disqualified.

5. This giveaway is hosted on behalf of prize sponsor TG Green who will deliver the prize(s) following confirmation of winners' contact details.

6. The prize sponsor's decision is final and binding on entrants; no further correspondence will be entered into.

7. There is no cash or alternative to the prize stated.

8. The prize is selected in good faith, however the prize sponsor may substitute with one similar value/type if original one is unavailable.

9.Winners are picked by Rafflecopter using random.org and the site owner contacts them by the email.

10. Failure to claim prizes within 7 days will result in a replacement winner being chosen.
With thanks to TG Green for the sample products.