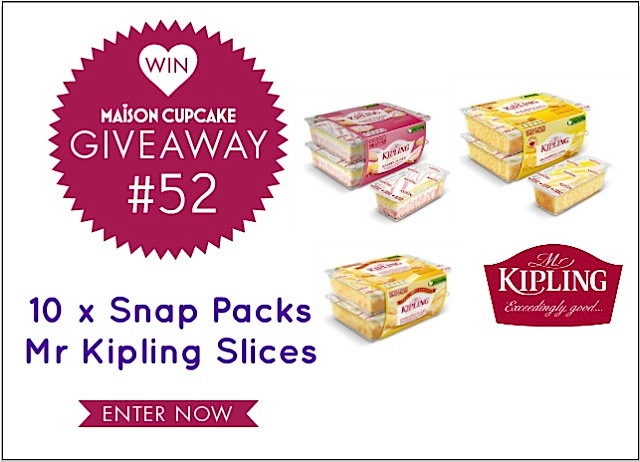 I have a soft spot for Mr Kipling's exceedingly good cakes so I was delighted to see recently that they had an ad campaign on tv that conjured up all the nostalgia I had the for the brand.
I love this advert. It looks like it was filmed in 1978, a time when I would have been at a children's party just like this.
These Mr Kipling Slices snap packs come in packs of 4. They're great because you can both pop one in a lunchbox and it's stays fresh and also because you don't feel like you've opened the whole packet and have the remaining slices niggling away at you begging to be eaten.
Whilst Britain goes caking mad, I think it's entirely justified that Mr Kipling reclaim the crown as top boxed cake brand. Yes yes I know there's nothing to beat home made cake but when it comes to caramel slices, I think I'd go for Mr Kipling above the effort required in the kitchen. My personal favourite is the Cherry Bakewell, the Mr K exceedingly good version far outweighing supermarket equivalents – what about you?
Giveaway #52: Win 10 x Mr Kipling Slices Snap Packs

HOW TO ENTER

Complete the Rafflecopter form below to confirm your entries made via blog comments, Twitter, Facebook etc.
This giveaway is currently set to run until 15th July 2012 however it may close early or be extended without notice.
Read the rules below. Entries are verified so please no fibbing.
Winners are announced on the Rafflecopter form after they have claimed their prizes.

No form showing? Hit refresh and it should appear
Complete the form – or your entries will not go into the draw
Mandatory entries to be completed first; i.e. leave a blog comment
Want more chances to win? Bookmark https://maisoncupcake.com/giveaway and come back daily to register your bonus entries!
Viewing this by email? You need to click through to enter.

Good luck!

RULES:

1. Open to UK residents over the age of 18.

2. The prize is a selection of ten Mr Kipling snap packs in a mix of the varieties shown above.

3. Instructions form part of the terms and conditions.

4. No fibs: each winner's tweet entries and subscriptions etc are cross checked, cheats will have ALL entries disqualified.

5. This giveaway is hosted on behalf of prize sponsor Mr Kipling who will deliver the prize(s) following confirmation of winners' contact details.

6. The prize sponsor's decision is final and binding on entrants; no further correspondence will be entered into.

7. There is no cash or alternative to the prize stated.

8. The prize is selected in good faith, however the prize sponsor may substitute with one similar value/type if original one is unavailable.

9.Winners are picked by Rafflecopter using random.org and the site owner contacts them by the email.

10. Failure to claim prizes within 7 days will result in a replacement winner being chosen.
With thanks to Mr Kipling for the exceedingly good day out and cakes