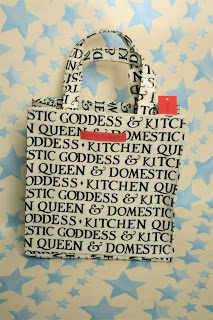 Denial about the proximity of Christmas will need to end soon. The cards are unwritten, the tree standing bare in the living room waiting for my son to attack it and I haven't found any presents yet.  With one exception.  I have a gift ready for one lucky Maison Cupcake reader, this lovely little oil cloth bag from Emma Bridgewater emblazoned "Domestic Goddess and Kitchen Queen" in the classic Black Toast type we know and love from her plates.  It measures approximately 25 x 25 x 12 cm.
To have a chance to win, all you need to do is leave a comment at the bottom of this post telling me what your bag, were you to have one custom designed, would say about you.
For instance, mine might say, "Twitter Addict and Chocolate Eater".
I am happy to post this item internationally although please bear in mind you will not receive it until after Christmas if you are outside the UK.
Make sure you are logged in with an email address I can contact you with and also pop me an email at sarah AT maisoncupcake DOT com so that I definitely have your email address and I can check noone has slipped through the net.
You might also declare yourself a Google Follower in the top right corner of this sight so that if you win the bag I will have a lovely picture of you to remind me who you were. I would like that very much.
Deadline for responses is 00.00 hrs GMT on Friday December 11th.
A winner will be chosen at random – hopefully by using random.org if I can get it to work – remember this is my first giveaway so I may end up resorting to bits of paper out of hats.
The winner will be notified by 12.00 hrs GMT on Friday December 11th.
The winner will need to respond by 18.00 hrs GMT on Sunday December 13th otherwise a second winner will be chosen. 
The prize will be despatched by Royal Mail on Monday December 14th (assuming original winner has replied over weekend).
The winner will be announced on this site sometime during the week commencing Monday December 14th.
Good luck!