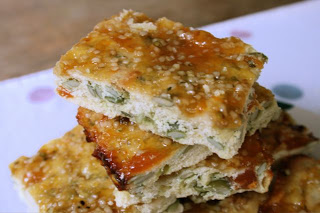 Given that I've been ill in the past week courtesy of the H1N1 virus, it seems appropriate that my first foray back into the kitchen be to make something healthy.
I have a confession. I am a dietary schizophrenic. The outcome of which is that I have intermittent Gillian-McKeith-come-Gwyneth-Paltrow-esque spells of healthy eating sandwiched between my more socially acceptable binges of Ginster's pasties and Wispa Gold. (By the way – I have drafted a guilty food pleasures post from my sick bed for a future occasion.)
Zen love affairs with miso soup: check. Juicing own fruit and vegetables: check. Sprouting own pulses and seeds: check. Raw food of every colour: check.  It all gets a bit much for my husband who is more of a chicken tikka masala man; the compromise ends up being that I cook pulse based Anjum Anand curries for several nights in a row whilst daytime sees him taking sandwiches to work and I am free to crunch my way though an entire grated beetroot smothered in homemade tahini sauce in privacy.  By the weekend I'm normally snapped out of this orthorexia by a trip to Gourmet Burger Kitchen armed with an internet coupon from the Martin Lewis site. Monday I'm back on the Wispas.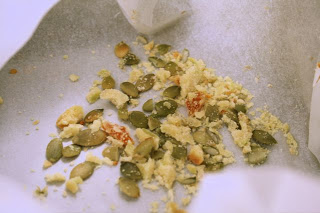 Terry Wogan used to affectionately refer to Dallas' Charlene Tilton as "the poison dwarf".  With foresight into the Noughties he would have been better served to save this derogatory description for Gillian McKeith who at barely five feet tall savages her victims with trestle tables laiden heavy with their apparent food consumption of the previous seven days. The sadist in me used to love her shows. I also find her colourful books a useful reference for nutritional information (backed up with Patrick Holford books I add). Channel 4's You Are What You Eat now looks tame and caring even; early shock-doc TV where they used six weeks ingestion of hemp seeds and millet flakes to cure your ills rather than botox injections and forced rhinoplasty.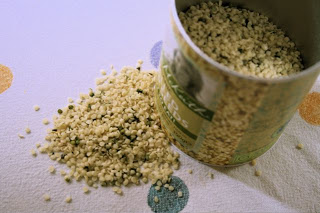 Gillian McKeith Hemp Seeds
Which brings me to the hemp seeds.  Although McKeith has been embarassed into dropping her "doctor" title, she does have a natty range of healthy food stuffs in the shops. Organic tinned beans. Spelt and hemp pasta. Amaranth cereal flakes for breakfast.  I used to keep a tub of her hemp seeds inside the fridge door as if the vision of her face in there would steer me away from forbidden sugary fatty food. Sadly, being older and wiser means I'm assertive enough to ignore her – hence my fondness for cakes and biscuits and failure to lose that stone that's been following me around since having my son.
Today therefore, I bring you a happy medium.  Geeky enough to be eaten wearing sandals, gratifyingly cheeky enough to snack on between meals when you're in full blown pseudo-macro-biotic Tracy Anderson Method mode: Hemp and Pumpkin Seed Bars.
Hemp seeds, according to Gillian's site, are one of the few foods that contain Omega 6 in a form that is easily absorbed by the body. Hemp seeds may be beneficial to people with eczema or PMS type symptoms.  I'm also trying to compose a sentence to put across that they won't get you high like cannabis.  But whatever I type makes it sound like I have personal experience of this. Which I don't.  Although it does kill your memory so maybe I wouldn't remember if I'd taken it anyway.
Pumpkin seeds – I refuse to call them "Pepitas" having once had a frightening YSL jacket-wearing college lecturer of the same name – are apparently high in zinc and may have anti-inflammatory properties.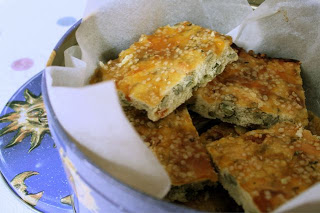 So there's the science bit, now for the recipe.  I started off making a version of these published in an Australian Women's Weekly book of
Simple Slices
although this featured wheat flour instead of rice flour.  Since these bars are so flat and there's no expectation for them to rise, I opted for some of my rice flour which is still in the cupboard since making my Harry Eastwood
Red Velvet Chocolate Heartache
recipes.  The mix seemed very doughy and stiff so I added an extra egg to moisten it at bit.  The texture remains fairly pastry-like and these bars are not sweet –
remember they're healthy
.  The original recipe also used sesame seeds rather than hemp so you could go for that instead if you wanted. The dried apricots are my own addition and I slathered on nearly double the quantity of jam stated in the original recipe, it was a struggle to get the original amount to spread across the mix and you really need the sticky sweetness to counteract what on it's own would be a too cloying base.  Don't expect these to be cakes, they're more like a shortcrust pastry stuffed with seeds and fruit topped with jam.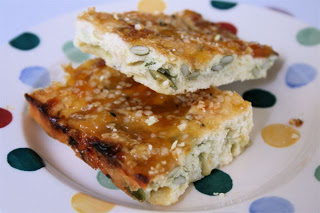 Hemp and Pumpkin Seed Bars – makes 12 gluten free bars.
You will need a 23cm square tin.
Ingredients:
90g butter
1 teaspoon grated lemon rind
2 tbsp caster sugar
2 eggs
180g rice flour
80g pumpkin seeds
6 chopped up dried apricots
120g apricot jam
2 tbsp shelled hemp seeds
Method:
1. Preheat oven to 200c. Line your tin with baking parchment that is longer on two sides so you can lift the cooked mix out of the tin easily.
2. Beat the butter, lemon rind, sugar and eggs in a bowl with an electric mixer until fluffy.  Stir in the flour, pumpkin seeds and chopped apricot.  Press the mix into your pan.  It will be too thick to pour so use clean fingers to spread it gently to the corners with an even surface.  Slather jam on the top, enough to give a thin layer but not so it lies in pools. Generously sprinkle over the hemp seeds.
3. Bake for barely 20 minutes.  The jam should be just starting to caramelise around the edge but will not yet have started to burn.  Leave in the tin for ten minutes then lift out holding the paper.  Allow to cool on a baking rack.  Cut into fat finger shaped bars.
They will keep in a tin for a week – if they last that long.