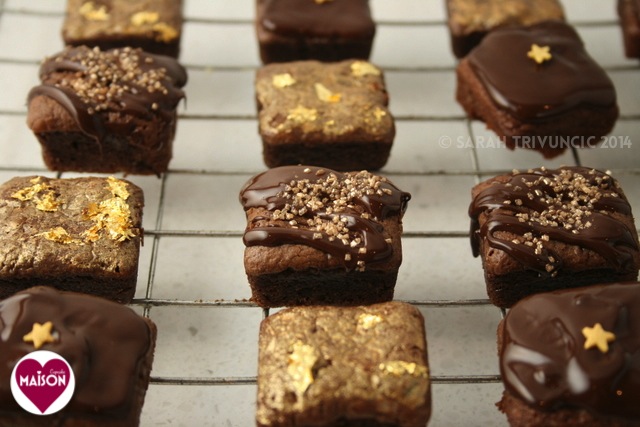 There's gold in them thar brownies, there is.
Readers above a certain age may remember when Nigella wrote the food column in Vogue. I used to buy Vogue on a regular basis when I was a fashion student (happily forgotten past life) and only carried on buying it afterwards because I loved Nigella's monthly Vogue food column so much.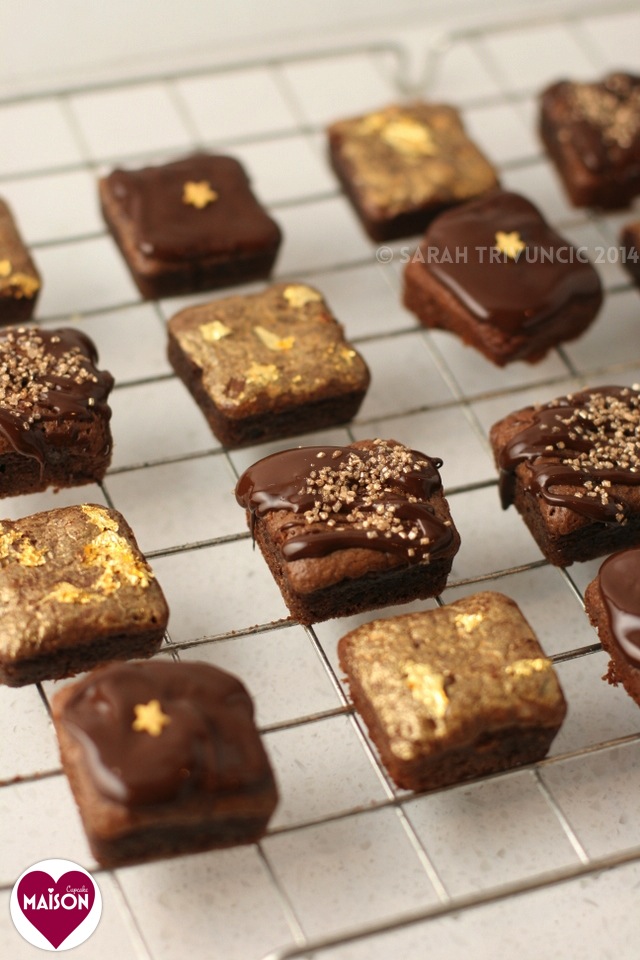 When moving out from some flat or another I tore out Nigella's food columns, kept only these pages and threw the magazines away.  I still have these clippings and one of the ones I loved the most was a Christmas column with baked goods decorated with edible gold leaf.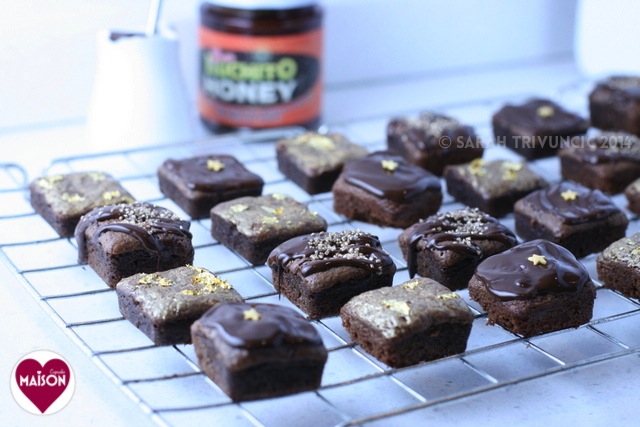 Bearing in mind at the time, pre-celebrity-stardom-era Nigella lived a hop and a skip and a jump from me in Shepherds Bush. I was reading this thinking, where the hell does someone buy edible gold leaf. (I can vouch Nigella didn't find it in the local branch of Safeway).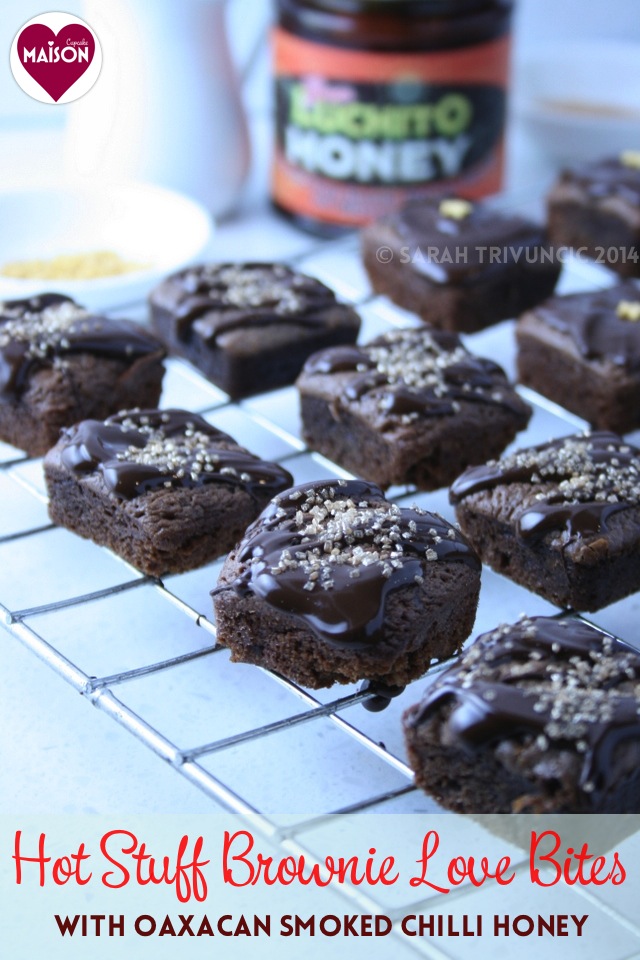 Naturally these days I'd hop on the internet and look for it. But these were the dark days of the mid to late 1990s when merely visiting The (what constituted then as "viral") Blair Witch Project website could grind your bleeping computer to a halt.
So harking back to the carefree halcyon days when I lived in the same neighbourhood as Nigella, as Daniel Craig, as Ant & Dec (ok we'll forget that one), I call to mind my pre-child days when my husband and I actually went out for Valentines.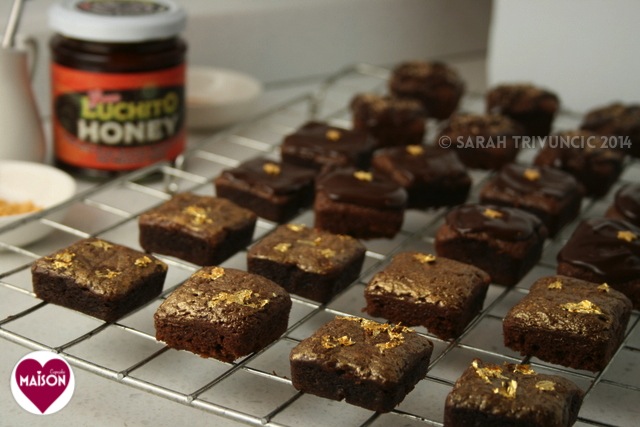 When my husband and I first got together, and these were very naive days indeed, neither of us appeared to previously have been dating anyone during February. Needless to say, with everywhere fully booked, we ended up in the curry house and I used this fact to tease him thereafter and he never dared not book a restaurant table for Valentine's ever again.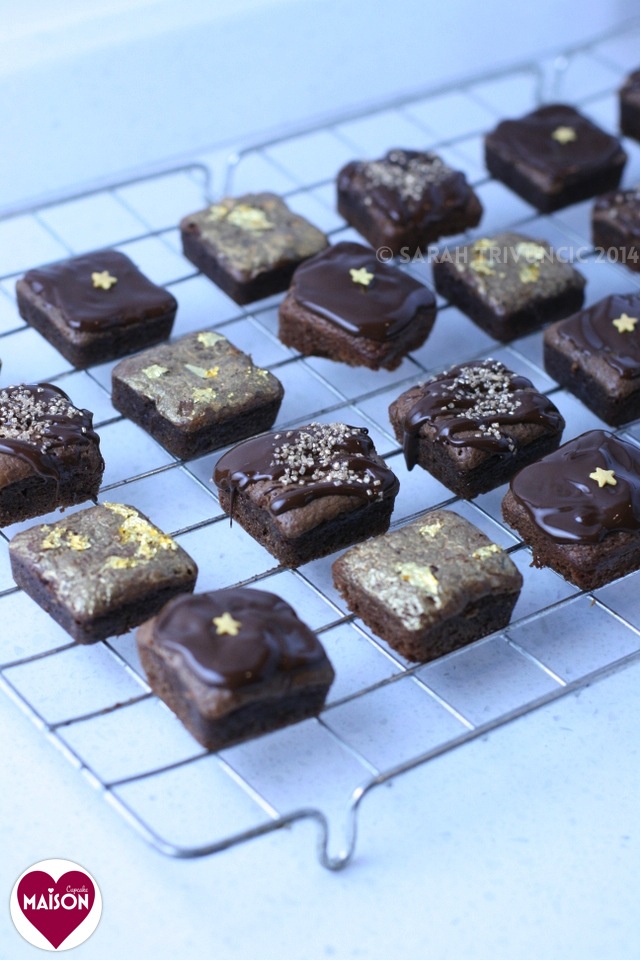 But times change and after moving into our "grown up" house and having our son, going out for Valentine's isn't especially practical. Neither in these commercially driven times is it even desirable – I would rather go out the weekend before or after rather than suffer an overpriced fixed menu.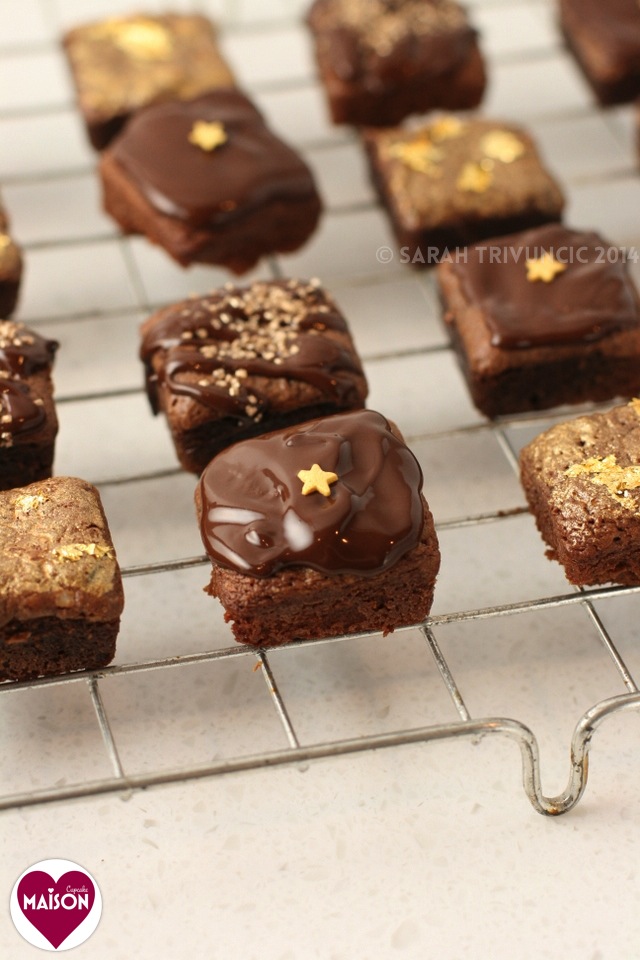 So these days, I might not get my Valentine's night out but I can have my Nigella style gold leaf dessert. And I might also quip to my husband "How come one year you gave me some jewellery from Tiffany but it has never happened again?"
Then he'll jest that the most memorable meal I ever made him was the first one and it's all been downhill ever since.
Touché.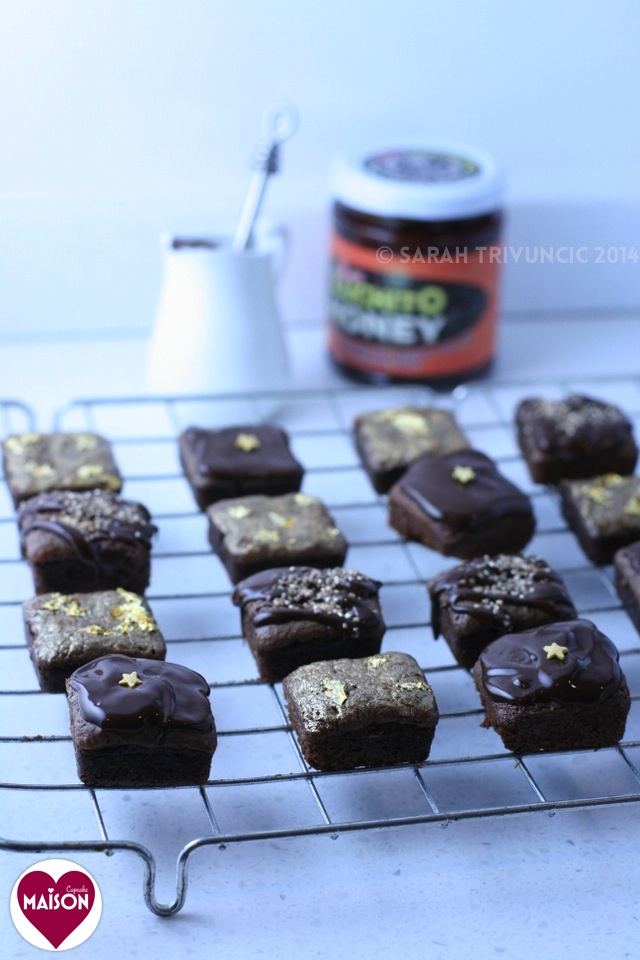 I have completely forgotten to mention that these brownies are gluten free. Pretty much any brownie recipe can be made with gluten free or non gluten free flour so feel free to substitute if gluten free is or isn't your thing.
A few final tips before I give you the recipe: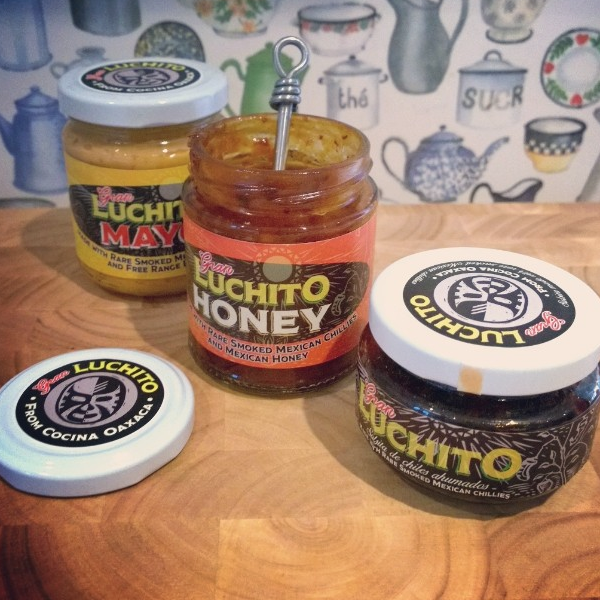 The spicy kick in these brownies comes courtesy of Gran Luchito who are behind this selection of hot products featuring Oaxacan smoked Mexican chilli. The range includes mayonnaise ("like crack" according to my friend Katie), honey and a paste.
The honey is fab on toast, used in marinades or glazes on meat or fish. The mayo is incredible in sandwiches or my personal favourite, a warm potato salad.  I have also featured it on my family food site Dinner With Crayons in these heuvos rancheros and stuffed peppers with blackeye beans.
Apart from M&S, Gran Luchito is so far mostly sold by places like Fortnums, Harvey Nick's and Wholefoods – however my local (award winning no less) branch of Spar in Walthamstow Village also stocks it just around the corner from me. And yes, I'll get around one day to blogging about the awe inspiring odyssey that is Walthamstow Village branch of Spar.
If the big smoke is some distance away and you're less blessed in the Arkwright style small local convenience store stakes click through to Amazon's Gran Luchito range.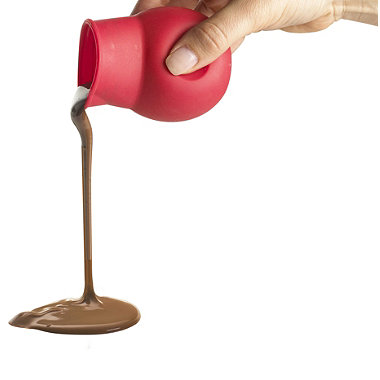 To melt cooking chocolate I use a
Lakeland chocolate melting pot
  like this one above. For quantities under 100g, microwaving in 2 consecutive 45 second spells (my microwave is 800w) should be about right but experiment with shorter bursts in your own machine to avoid scorching the chocolate.
The pot comes with a lid and is very easy to clean. Once solidified once more, the chocolate peels right off the silicone (a sneaky cook's snack!)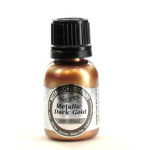 I used a Mich Turner Silverspoon range gold lustre paint to coat the tops of the brownies which is sadly no longer manufactured. You could find similar elsewhere such as this
Rainbow Dust edible pearlescent food paint
at Hobbycraft.
The edible gold leaf was by Squires Kitchen but purchased in Waitrose baking aisle. A tiny pot costs around £5 but a little goes a very long way, I only used a tenth of the contents to put gold flecks on 8 brownies.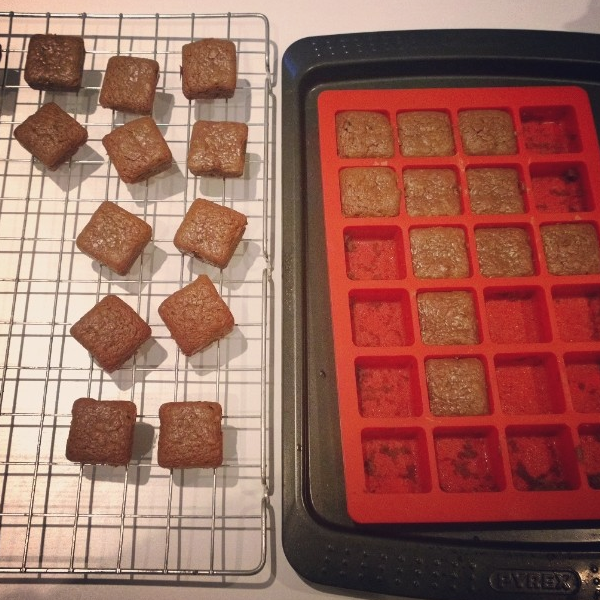 The mini bitesize brownies mould is by Lékué who specialise in silicone bakeware. I am currently road testing a selection of their products and will expand on these in a future post. This Lékué mould is available from Amazon (currently £15.50).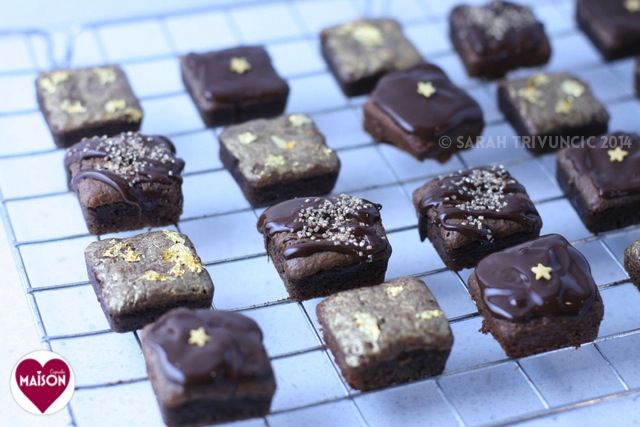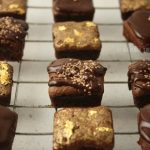 Print Recipe
Gluten free brownies with chilli
A luxurious and decadent sweet bitesize bake suitable for Valentines' dessert or dessert party canape. May also be baked as a tray bake.
Ingredients
125

g

butter

140

g

dark chocolate

broken into squares

2

large eggs

150

g

light brown sugar

100

g

gluten free plain flour

1

generous tbsp <em> Gran Luchito</em> Oaxacan smoked chilli honey

25

g

dessicated coconut

<p>

<em>For the decoration </em>

75

g

dark cooking chocolate

gold coloured sprinkles

edible gold lustre paste

edible gold leaf
Instructions
Preheat the oven to 180c / Gas mark 4.

Using a double boiler or a heatproof bowl over simmering water, melt the butter and chocolate together. Once combined, turn off the heat and leave to cool slightly.

Meanwhile in a medium size bowl, beat the eggs, sugar and smoked honey together until smooth.

Beat the chocolate mixture into the egg mixture and then sieve over the gluten free flour and finally the dessicated coconut. Stir until combined.

Decant brownie batter into the moulds/tins and bake for around 12 minutes. The tops should crust over and raise slightly.

Allow to cool for a few minutes before pushing out of the moulds and cooling completely on a wire rack.

When the brownie bites are cooled, melt the dark cooking chocolate.

Decorate the brownies by streaking with molten chocolate and scattering with sprinkles; by topping with a single gold star; or paint with gold lustre edible paste and fleck with edible gold leaf.
Notes
Oaxan smoked chilli honey could be substituted with normal runny honey and a teaspoon of chilli paste.
For extra kick you can also add a bonus teaspoon of Oaxacan smoked chilli paste as well as the honey.
You will need a mini baking mould/tin to make a bitesize version - I used Lekue's silicone mini brownie mould but if you don't have one of these either mini muffin cases or a tray bake version could be used.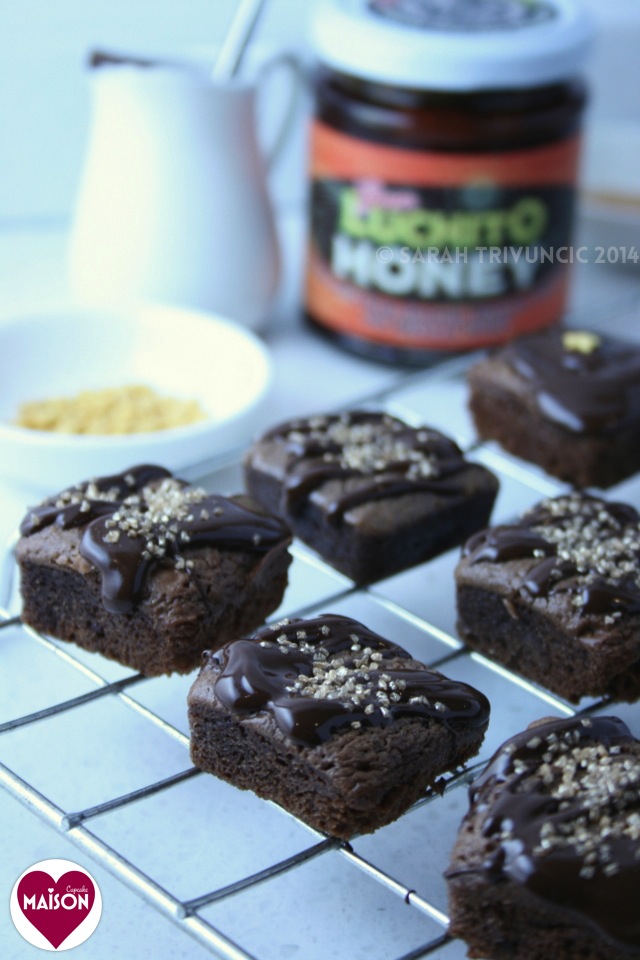 More Gran Luchito recipes
If these chilli brownie bites have inspired you to cook with Gran Luchito Oaxacan smoked Mexican chilli products then take a look at what some of my friends have been making:
Ren's Baked Camembert with Smoked Chilli Honey
Laura's Spiced, Honey Roast Squash, Chorizo, Prawn and Feta Salad
Jac's Smoked Chilli Bean Burgers
Michelle's Salmon with Gran Luchito Honey Glaze or Trout with Gran Luchito Mayo
Nazima's Braised Poussin with Chilli, Lime and Herb Broth
Helen's Chilli Honey Marshmallows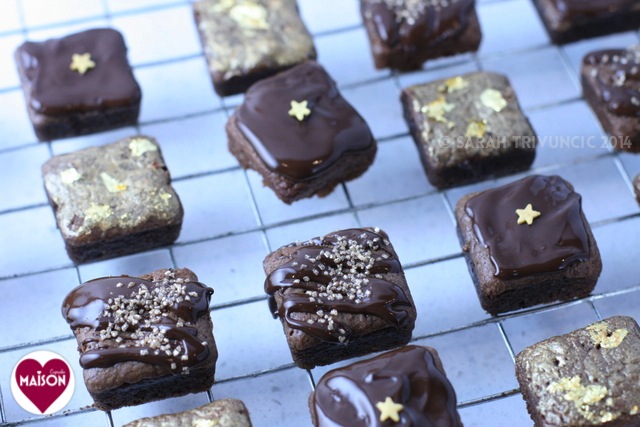 Recipe post commissioned by Gran Luchito for a fee. Brownie mould supplied by Lékué.