Sponsored post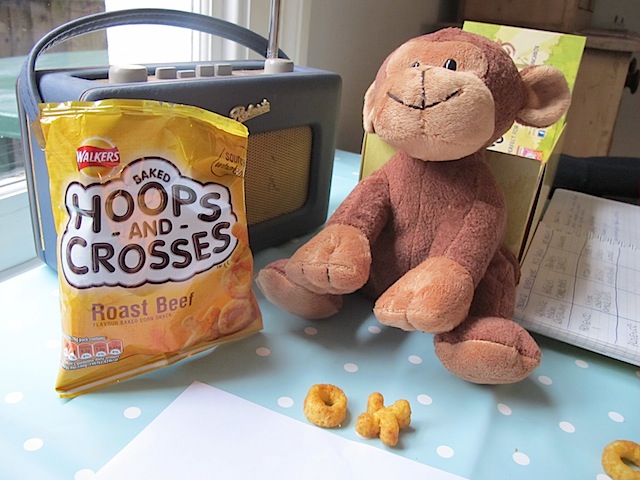 Like most mums I find my kid is hankering after a snack to plug the gap between school finishing and tea being ready. Generally this involves biscuits or bananas but until now not crisps or baked wholegrain corn snack thingies.
I was however asked to try out a bag of brand new Walkers Hoops and Crosses and share what I thought of them.
The unique selling points of Walkers' Hoops and Crosses are that:
They're baked not fried so lower in fat than most other types of crisps
They're only 85 calories per bag so I might nick them instead of eating my usual Walkers' Sunbites
They help kids eat more whole grains – each pack is 56% wholegrain
They come in three flavours; salt and vinegar, prawn cocktail or roast beef.
You can play a game with them…. (instructions below)
Not a unique selling point but my own reflections:
They're a bit like Monster Munch but less monstrous
They're good as an after school snack
There are only 18g worth in the bag unlike the standard 25g in most other bagged snacks. I can't decide whether this is a way of controlling kids' calorie intake or selling us products at the same price with less product in them. I'll let you draw your own conclusions.
If they're 56% wholegrain and only weigh 18g I estimate they're just over 9g wholegrain. What proportion of a child's daily intake this is I'm not sure off hand but it's safe to say you won't be off the hook from getting them to much further wholegrain in other foods.
You can only thread them on your fingers like Hula Hoops if you're a five year old with tiny fingers (I was deprived of this pleasure).
The stuffed monkey is wonderful and has been admitted to Ted's elite stuffed animal posse known in our household generically as "Animals" (admission to this privileged group involves lots of cuddles, being carried around the house in pyjamas and thrown up in the air whilst shouting "ANIMALS" in an excited voice).
But on with the serious business of the Hoops and Crosses tournament: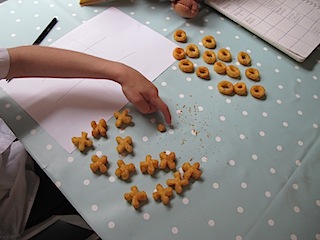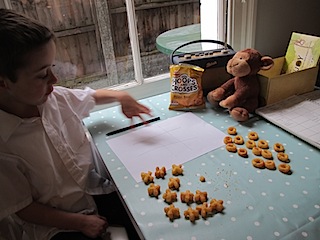 First tip out the baked wholegrain corn snacks on to the table. Divide them into hoops and crosses. A quick glance indicated that the hoops person can eat a few without disadvantaging themselves.
Then draw a noughts (or hoops) and crosses grid on a sheet of paper. Find someone to play against, in Ted's case this was the adorable cute monkey who arrived in the box with the crisps – sorry – baked wholegrain corn snacks.
Third, resist temptation to do Johnny Vegas impressions saying "Monkeh" then you're ready to go.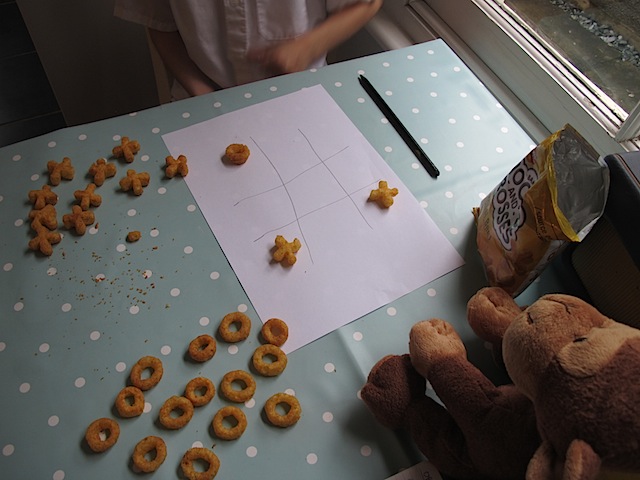 Ted goes first. He is crosses and Monkey is hoops.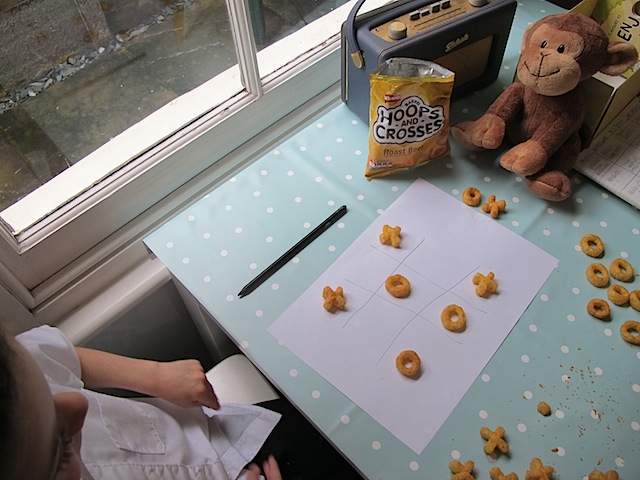 Hmm Ted could have won this but he's given Monkey the advantage.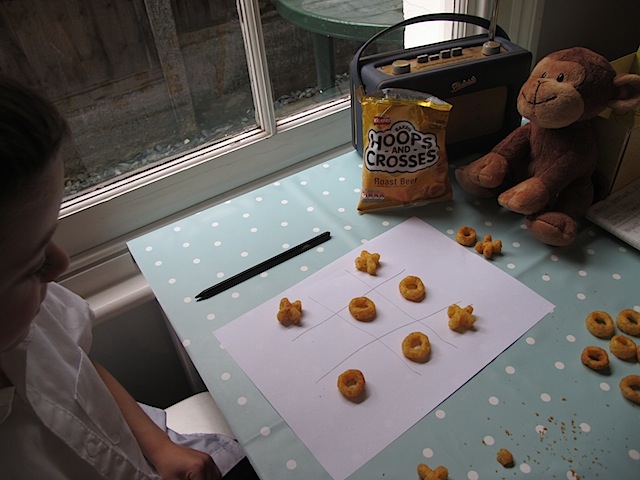 Gah! Monkey could have won but missed the opportunity. I think Ted is just filling the board so he gets more snacks if he wins.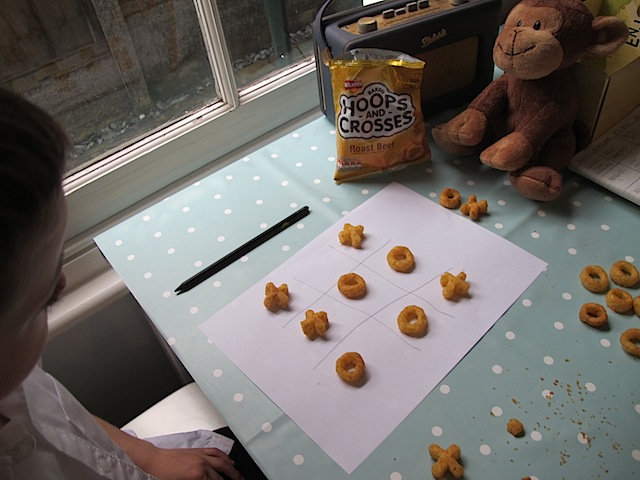 This is incredible! Ted should easily have won that but he's left the field wide open for Monkey to romp home as the winner.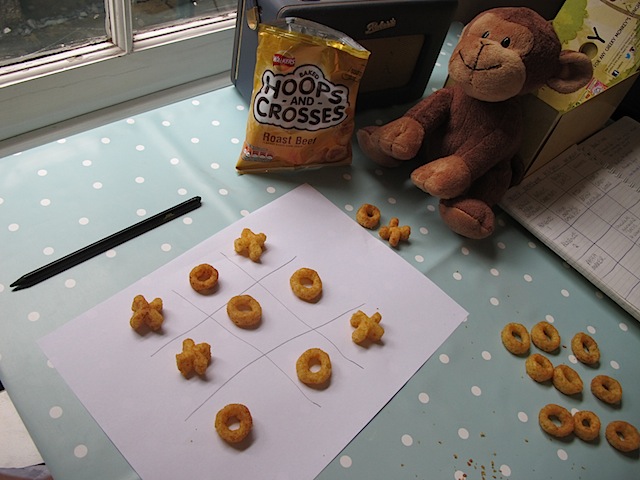 Oh darn it, the monkey has won!
But since Monkeys can't eat bagged snacks, Ted gets to eat them anyway so it all ends happily – until mummy nicks the next lot to eat with her lunch.
Would I buy them again? Yes if they were on offer. I'm fickle like that…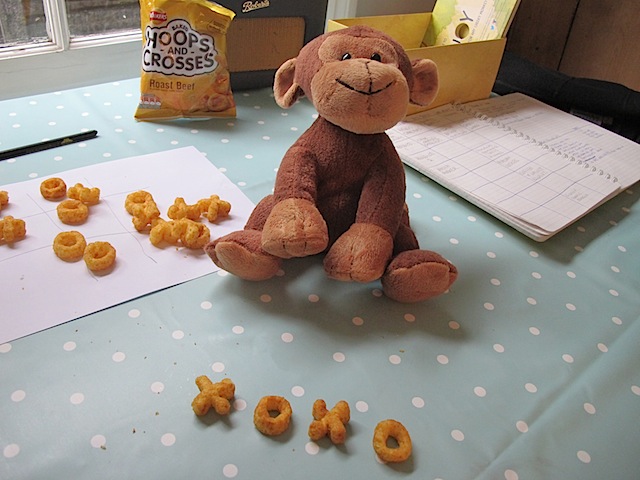 Post sponsored by Walkers, all words and opinions my own.