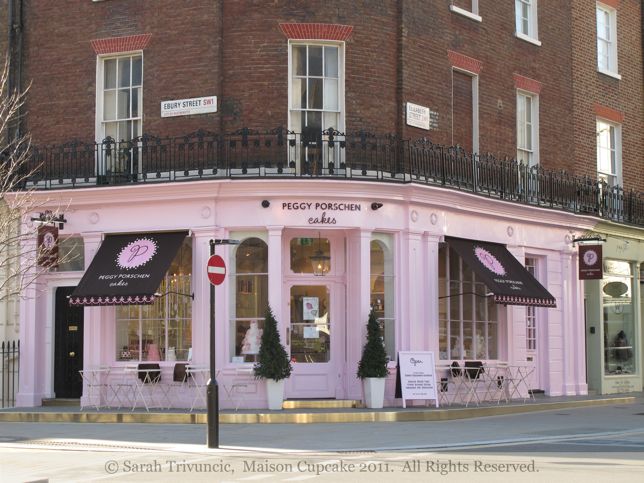 I hereby declare that this is officially Peggy Porschen week on Maison Cupcake.
I am excited to present, for your sugary gorgeous delight, a whole line up of Peggy related posts between now and Friday.

Images: Peggy Porschen
I was spinning cartwheels when I was invited to attend a two day cake masterclass at the Peggy Porschen Academy.
Really me? You mean that gorgeous place where people learn to make incredibly amazing cookies and cakes like these above? With Peggy herself?
You could have knocked me down with a pink feather.
In fact, I need a cup of tea to revive myself.
What better place to fan myself than Peggy's parlour cafe?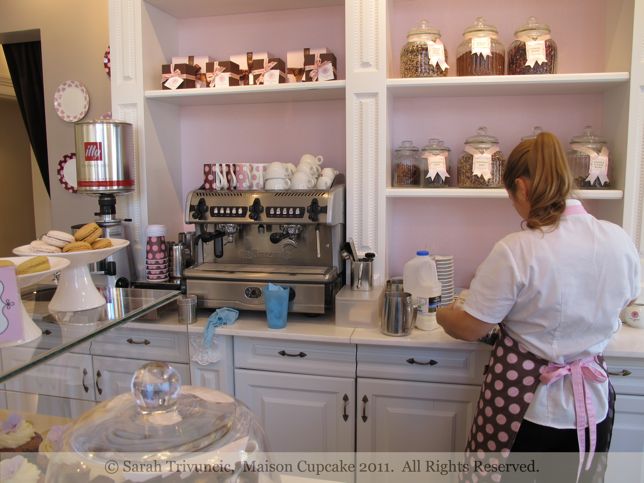 The Peggy Porschen Parlour opened in autumn 2010 and sits on the corner of an extremely well to do street in Belgravia.
The shop is pretty and feminine with pink chairs and tables outside. I often recognise its exterior softly focused in the background of fashion spreads.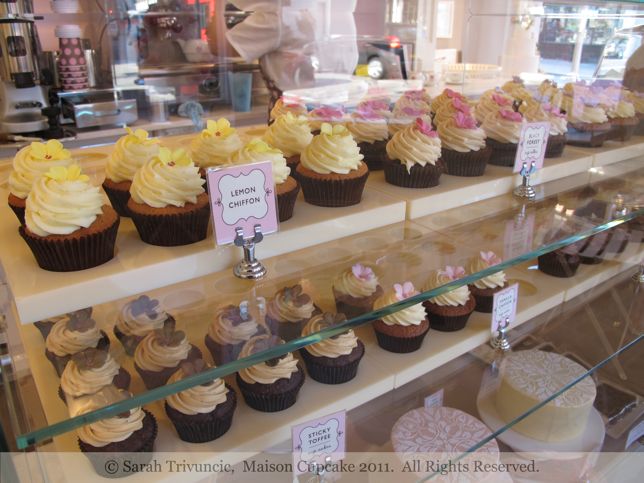 Rubbing noses with premises for William Curley, Erickson Beamon, Philip Treacy, a glance at the locale clientele tells you this is a seriously exclusive neighbourhood with prices to match.
Business is especially brisk after the 4×4 school run and on weekends. It's only a little place so you may not manage to get a seat at these times.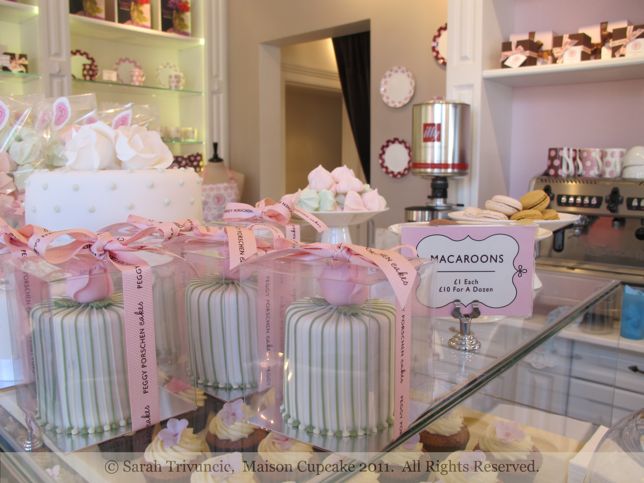 It's full on sugar fest in here, this isn't the place to come for a sandwich or a cheese scone. Instead you can treat yourself to a beautifully piped miniature cake, cupcakes, muffins and cookies all in Peggy's distinctive romantic style.
For those unwilling to submit to potential waistline expansion, Peggy also serves a muffin with fewer than 100 calories. I'm told it's extremely popular with local mums.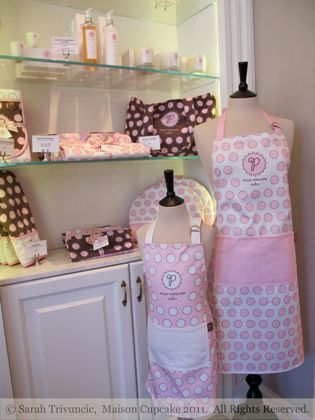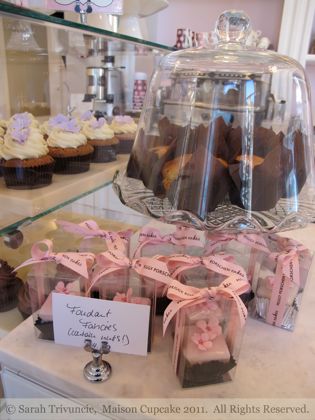 You can also take home some Peggy branded soaps, body lotions and aprons.
Ah well, if you can't bring yourself to eat the cakes with more than 100 calories then you can wear Peggy's wares instead.
Above right you can see some of Peggy's signature pink fondant fancies as seen on the cover of her book "Cake Chic".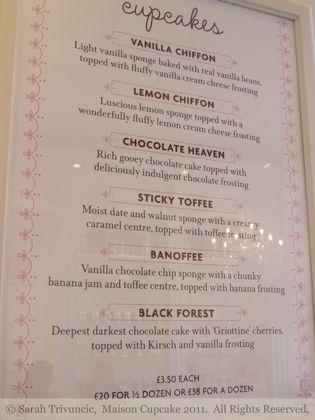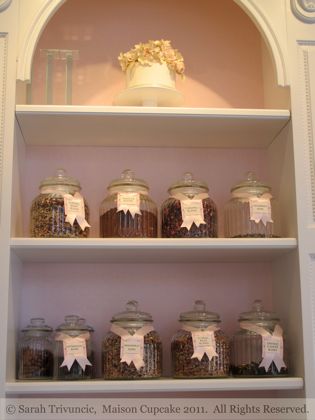 Peggy is German but has been living in the UK for over twelve years. She trained at Le Cordon Bleu, Marylebone and was previously a cake decorator at Konditor & Cook.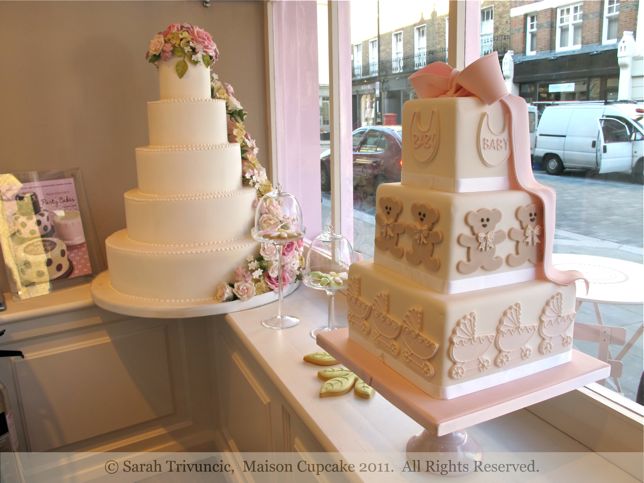 Of course the good thing about somewhere so intimate, is that you get a fantastic close up view of all the big cakes on display.
I especially liked this square tiered cake with applique fondant bibs, bears and prams for a baby shower.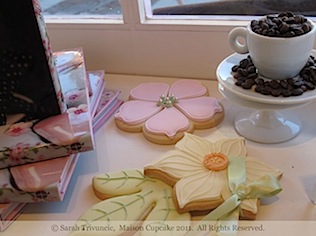 Being stuffed with cupcakes from the break during my decorating class, I'm sorry to say I didn't have anything more exciting than a spicy gingerbread tea and a mini macaron in the cafe!
I was sat very close to these flower cookies on display in the window. So simple but gorgeous.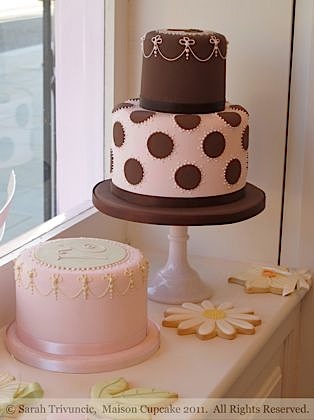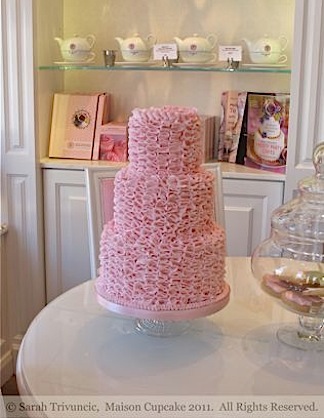 This pink and brown spotty cake is one of Peggy's signature designs, very similar to one seen on the cover of her "Romantic Cakes" book. The pink ruffled one had just been used in a photo shoot for a bridal magazine.
Come back tomorrow to see how I got on decorating a two tier wedding cake for the first time under Peggy's expert eye!
Later this week, I'll also be reviewing and giving away three copies of Peggy's latest book "Peggy's Favourite Cakes and Cookies".
With thanks to Peggy Porschen
Peggy Porschen Parlour
116 Ebury Street
Belgravia, London SW1W 9QQ
Tel +44 (0) 20 7730 1316
Peggy's Favourite Cakes & Cookies by Peggy Porschen is published by Quadrille from June 6th 2011.
Until 12th June 2011 I also have three copies of Peggy's Favourite Cakes and Cookies to giveaway. Click here to enter.