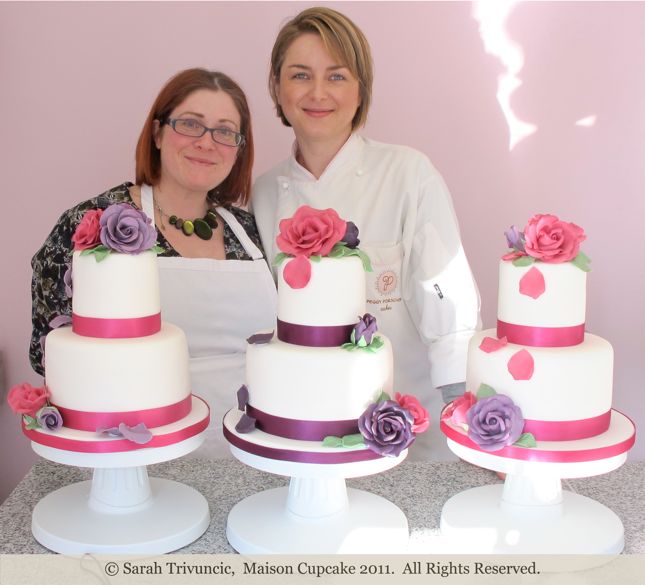 Welcome back to day two of my series of Peggy Porschen posts this week.
Here I am above with Peggy and three cakes – which one was her's and which one was mine? Read on to find out!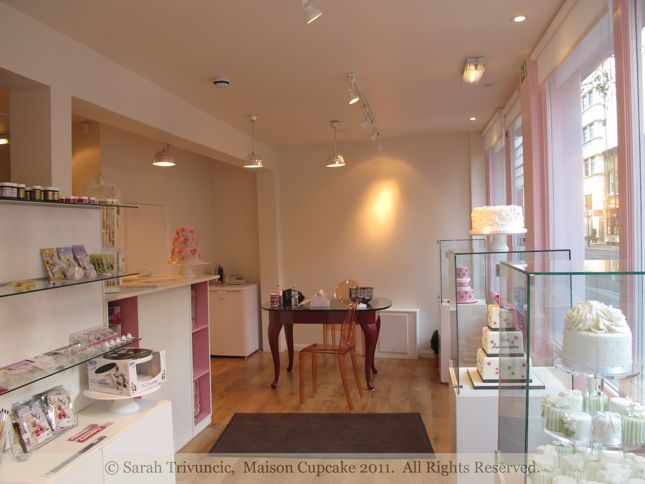 The Peggy Porschen Academy lies adjacent to the Peggy Porschen Parlour in a Belgravia side street.
Downstairs there are various cakes from previous classes on display as well as a shop selling sugarcraft equipment.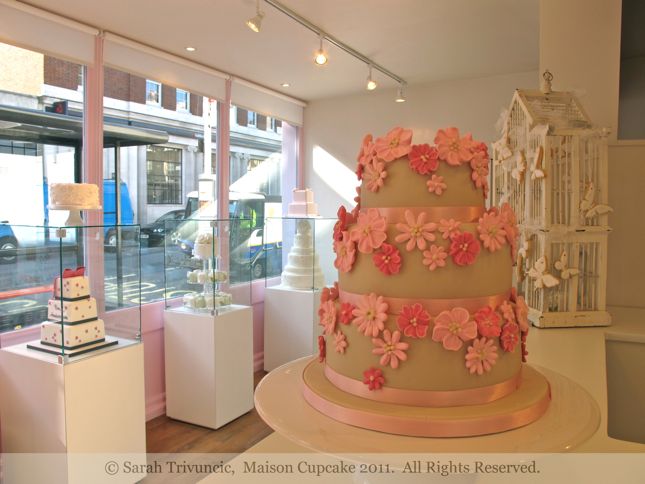 It's very exciting to walk in and see the cakes close up – and to think you are about to make something similar.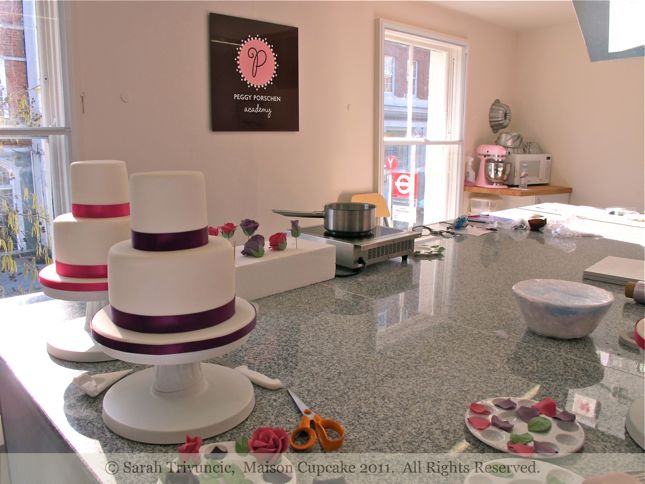 Upstairs there is a bright studio with a huge marble topped workbench catering for up to eight students at once.
I was joining a personal masterclass with one other student who had travelled from Switzerland (more than once) especially to receive training from Peggy.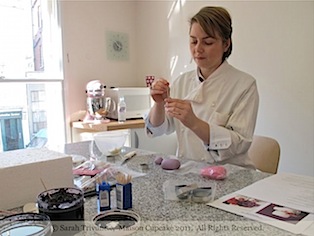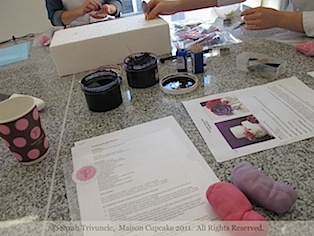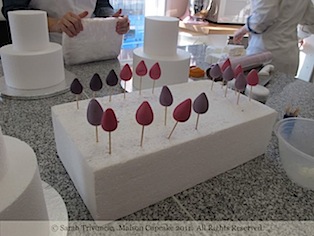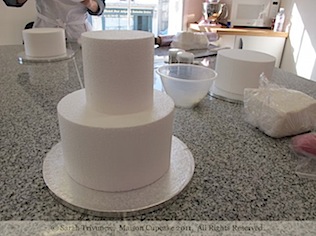 We were to make a two tiered fondant covered wedding cake decorated with flower paste roses that would take twenty four hours to make.
First we tinted some flower paste pink and mauve, then we formed these Barba Papa shapes on cocktail sticks. These form an inner cone to build the roses around.
The flower paste dries much harder than fondant. Made from sugar it is in theory edible but best not try incase you break a tooth in the process!
The "cake" as you see above, was a dummy made from polystyrene. We needed to smooth its edges with a scalpel and knead a large ball of fondant paste to cover it.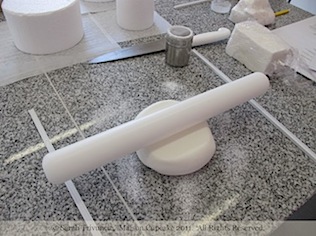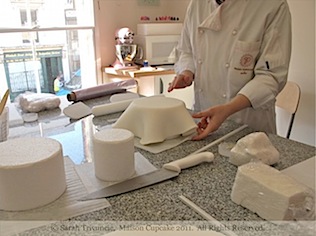 We were using special sugarcraft rollers, metal guides placed in parallel to prevent you from rolling the fondant paste too thin. I quickly realised how having the right equipment makes sugarcraft so much easier.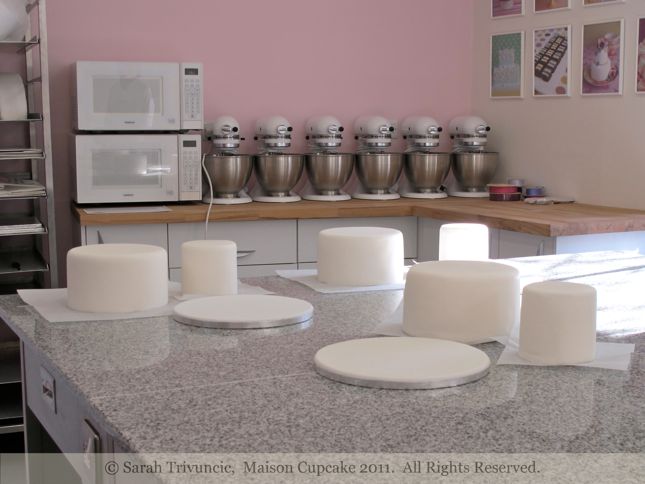 Our various pieces of "cake" and boards finished after lots of smoothing and shining – but waiting to be assembled on day two.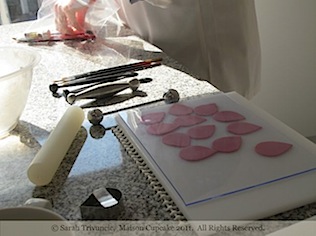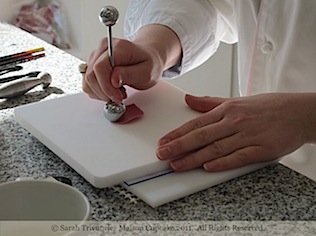 Next we cut out petal shapes from the flower paste and rolled these with a silver balled tool to make them thinner.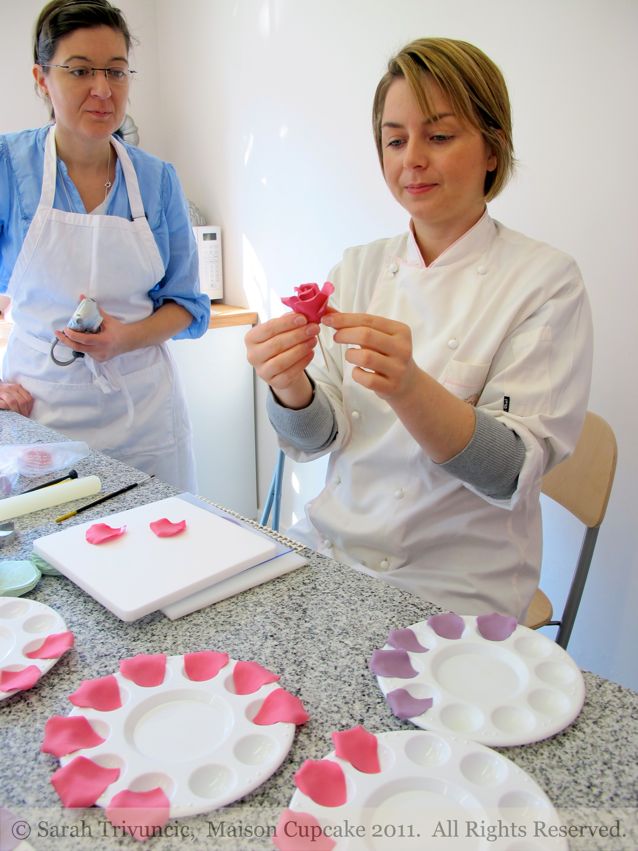 Peggy artfully demonstrates assembling the petals around the cone. She makes between 100-200 of these roses every week. I would go insane if I had to do this… I am clearly not the patient delicate type!
I also noticed how Peggy is clearly familiar with the structure of real flowers whereas they're not something I've spent a lot of time looking at. Just like an artist draws, so the sugarcrafter needs to study their subject intensely to create such a perfect likeness.
Probably my roses would have looked a lot clumsier if Peggy hadn't given them the occasional fiddle to help them along!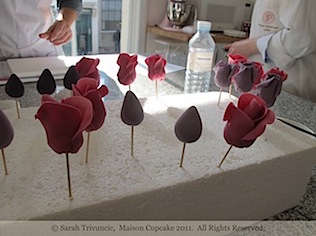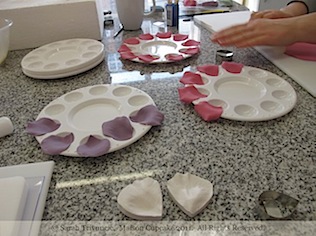 You have to work quickly with the flower paste as it dries out quickly. Some of these petals on the white trays were deliberately being allowed to dry out to use as decoration on their own.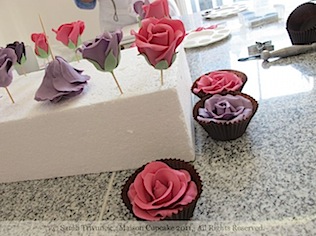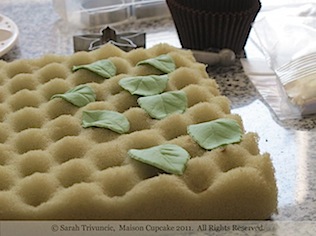 Assembled roses were sat in cupcake cases to cushion them or on sticks in the polystyrene block.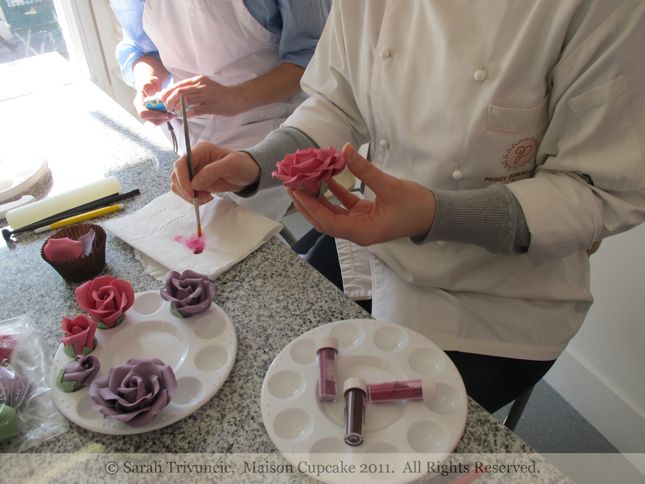 Once formed, some delicate brushing with food colouring powder gives the edges of the petals a realistic tint.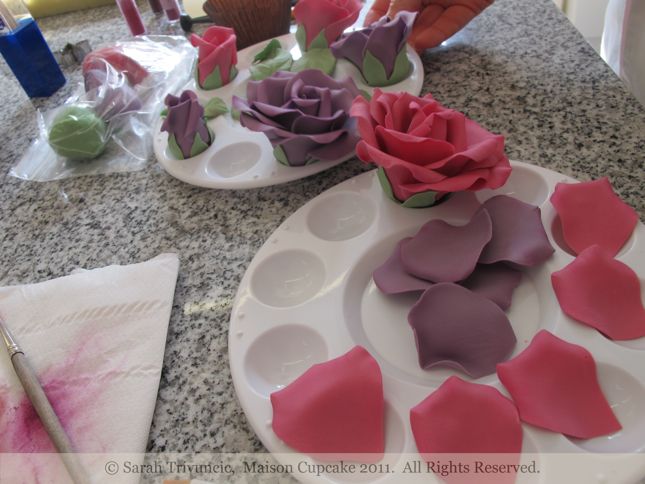 They look finished now but there's still one more final touch….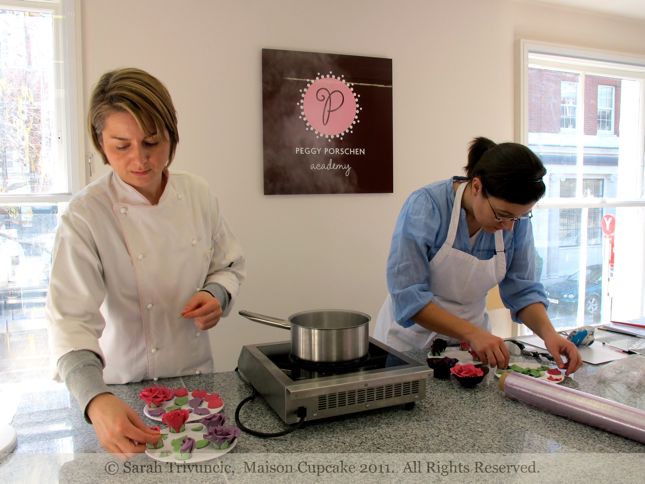 A swift two or three second hover above some steam makes the flower paste wilt ever slightly giving that final natural effect.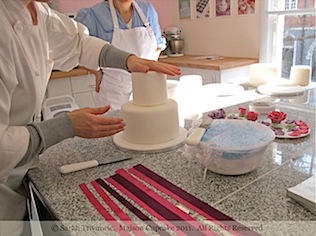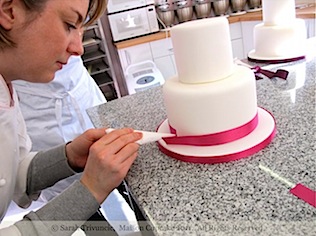 The final stages of assembling the cake happen very quickly – 75% of the work we did in two days was probably one those few roses, they're that labour intensive (to the beginner at least).
Royal icing is used to sandwich the layers together – these were dummies but the technique would be the same with real cake.
"Every cake has an ugly side" Peggy jokes. Mine usually have several! Having decided which will be the back of the cake, ribbons are sealed down with a blob of piped royal icing.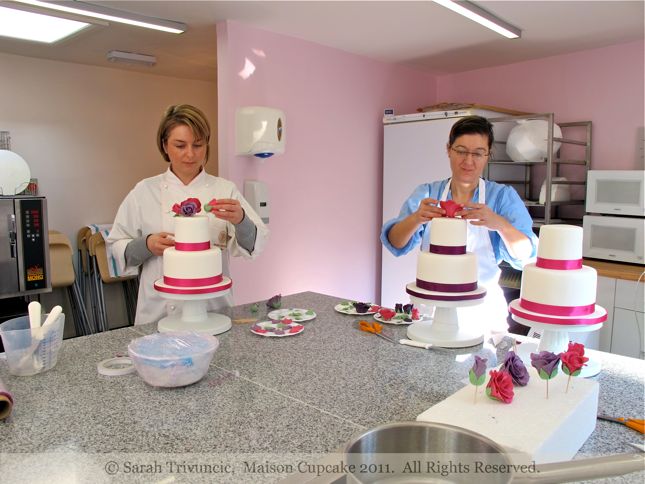 Then for the fun part – arranging the roses and petals. We put bigger ones on the top, buds near the bottom and petals dotted down the side. It's very satisfying seeing it all come together.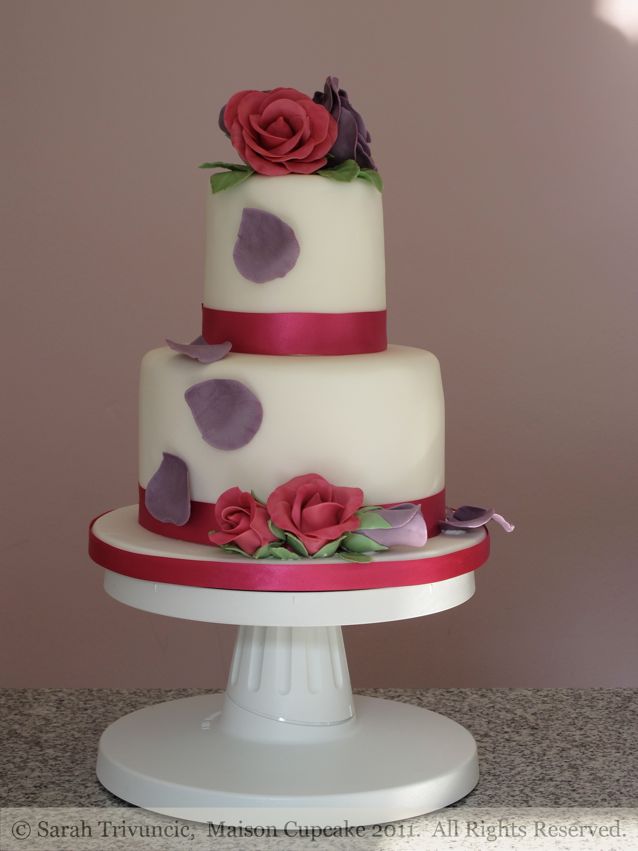 This one is mine. I can't believe I made this. Although yes, the ribbon is marginally wonky.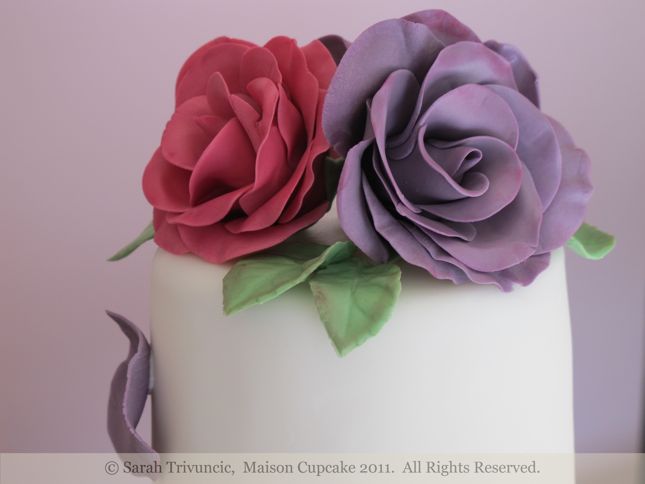 Close up of my roses.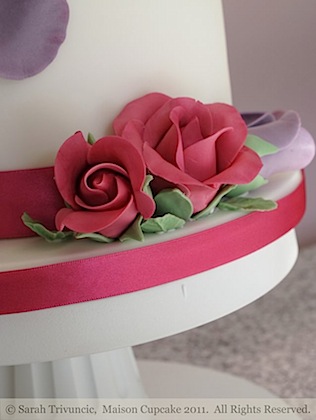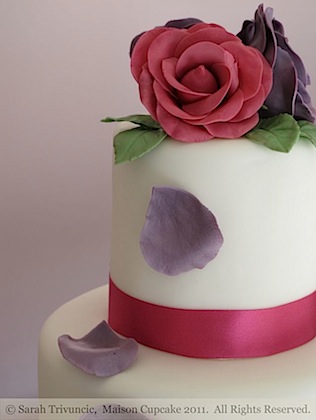 So can you guess which one is mine? Actually I'm not going to tell you now. I'll let you decide below and I'll tell you later in the week!
Why not pop back to the Peggy Porschen Parlour in yesterday's post if you've not visited already?
Peggy's Favourite Cakes & Cookies by Peggy Porschen is published by Quadrille from June 6th 2011.
Until 12th June 2011 I also have three copies of Peggy's Favourite Cakes and Cookies to giveaway. Click here to enter.
With thanks to Peggy Porschen.