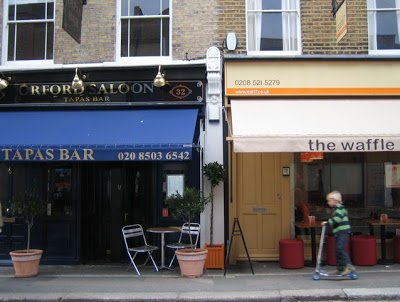 The eagle-eyed amongst you may have spotted that I omitted my Saturday Postcard last weekend. Since I was up until 3am working on the Arsenal birthday cake and baby shower cupcakes, I am posting this retrospectively at the same time as the Saturday Postcard for February 6th.
The above shot was taken in Orford Road, Walthamstow Village, a street which is almost unrecognisable since I moved here just over five years ago. One day I hope to do a full post with before and after pictures of my local shopping parade so you can see how much it has changed.
Back in late 2004, the above units were a run down Afro-Caribbean hair salon and a dusty shop selling old fireplaces and occasional bits of furniture. I bought a rather nice wooden dresser in the fireplace shop but it obviously wasn't going to be the sort of place I used very much.  Fast forward five years and there is a successful tapas bar and the Eat 17 Bar and Restaurant, which at the time this picture was taken was known as The Waffle House.
This photograph featured in the Walthamstow Village 2008 calendar which my husband and I compiled on behalf of the Walthamstow Village Residents Association that year.