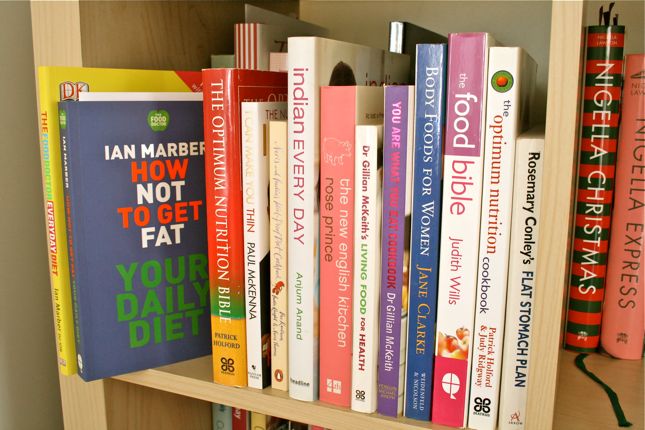 In January, my bookshelf, influenced by my resolutions, often sees some old favourites resurface. Many of these books I have come back to again and again for as much as twenty years. I've summarised the most useful ones below:
The Optimum Nutrition Bible by Patrick Holford; comprehensive nutrition reference guide that's like a maths or science text book in its approach. Holford's standpoint is that good quality vitamins do not get flushed down the loo, in fact he recommends an intake of vitamin levels frequently many many times greater than the government's guidelines advise. Partners well with his recipe book The Optimum Nutrition Cookbook.
Rosemary Conley's Flat Stomach Plan, published in the early nineties, this 28 day diet and exercise guide offers such nutritional gems as "drink two cans of diet cola before meals to make you feel full before you eat". The food suggestions here are best ignored but as a gentle re-introduction to exercise, this book is very useful, giving short gradually increasing daily workouts you can do in your bedroom – provided you can put up with her grinning at you in the photos.
Neris and India's Idiot Proof Diet Cookbook by India Knight, Neris Thomas and Bee Rawlinson. No pictures but stuffed with low carb recipes inspired by the Idiot Proof Diet. My favourite quote is "Remember, you are not the bin."
Living Food for Health and You Are What You Eat Cookbook by Gillian McKeith. Yes, the poo poking Scottish dwarf. When trying to lose weight I keep a tub of her hemp seeds in my fridge so I can imagine being told off by her if I eat something unhealthy. She writes about a lot of what many would find whacky dull health foods such as quinoa, millet sprouts, sprouts (not the brussels kind) and bee polllen. Say what you like about her on screen persona and strange behaviour in the jungle but I feel a heck of a lot better when I eat this stuff.
Indian Every Day by Anjum Anand. My passion for curry rarely features on this blog and when I cook my regular Friday night spice fix, it's invariably from Anjum's first book. I have her two subsequent books but neither hit the spot quite like her first. Anjum's currys are made with healthy light foods and omit traditional fatty ingredients like ghee. Some weeks I take the advice to eat Indian Every Day quite literally. Fortunately my husband is crazy about the stuff. Ted has yet to be convinced!
The New English Kitchen by Rose Prince. Not a diet book but healthy living from the angle of buying better quality foods and making best use of them in a family menu. It is always one of my January resolutions to cook more like this and I hope soon to read her new volume, Kitchenella.
Review: Ian Marber "How Not To Get Fat: Your Daily Diet"

A new addition to my January reading is Ian Marber's "How Not To Get Fat: Your Daily Diet" which I was recently sent to review.

Probably Marber's eighth or ninth book on healthy eating and weight loss, alongside Gillian McKeith, he's a regular January bookshop table presence.

His books advocate sensible eating plans that re-educate you to eat healthily and prevent weight gain. You won't find suggestions of bizarre seaweed milkshakes in here, Marber is more likely to tell you to snack on a couple of oatcakes with a small amount of cheese and to take nuts and dried fruit to the office instead of falling foul of the nearest vending machine.

The eating plans here follow on from his previous book, "How Not To Get Fat" in which Marber showed how to eat in a way that helps you manage your weight, enjoy your food and keep up your energy for longer and reduce hunger pangs. This new volume starts with the science-y bit about burning food as fuel and goes on to give essential information on 50 healthy foods and ten different meal planners focussing on different ages and lifestyles.

That there is only a recipe on every second or third page is a good thing here, in between there is also nutritional information about different foods with advice about how to cook or prepare them. You get ways to turn them into easy meals, snacks or more detailed recipes that you can eat on a daily basis without gaining weight.

Since my last post was talking about yogurt, the theme of this month's Breakfast Club I'll use this section to give you a flavour of how the 50 healthy foods section is laid out:

Nutritional information about yogurt
Three simple cooking techniques; dip, curry sauce and marinade or dressing
Five meal suggestions using yogurt – my personal favourite being tandoori chicken served with a vegetable curry and salad.
Four snack suggestions – my personal favourite being "a spoonful of brown or puy lentils mixed with a little natural unsweetened yogurt and feta cheese dressing, some sliced olives and chopped tomatoes in half a wholewheat pitta."
What to look for – features of types of yogurt
Ways to cook or serve – this is a bullet point list giving examples in addition to the "three simple cooking techniques" previously mentioned
Simple ways to flavour – varied list of ingredients to flavour yogurt
Recipe – Yogurt, avocado and cucumber dip.

This is an attractively laid out, technically useful book. Marber's meal plans feature both morning and afternoon snacks, I would say his key message is to eat smaller quantities of nutritionally better food that sustains you throughout the day.

One of the ten case studies is a lady who has dropped 4 dress sizes drinking diet milkshakes. The description of how she exists on diet yogurts on a daily basis to maintain her new weight is soul destroying. By steering clear of low fat, low sugar, low anything diet food products and following Marber's guidelines to eat 5-6 small meals a day she should be able to escape the trap of yo-yo dieting once and for all.

With thanks to Quadrille books.
Review: Slendertone System-Abs
At the opposite end of the sensibleness scale I have been trialling one of these: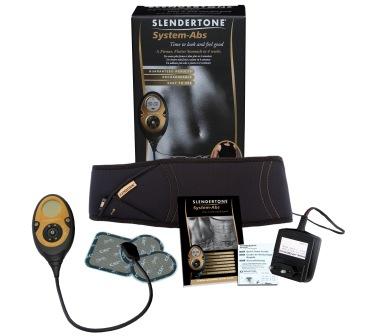 A Slendertone abs system. Remember those 80s style adverts where it looked like very skinny tanned people in gym gear had stuck jam jar lids attached to wires to their tummies? It all looked like a delicate balancing act to stop bits and pieces falling off and lacked credibility whether it would work.
The modern version arrives in this fairly macho packing and features a wide velcro tabbed belt with a remote control attached to crank up the power to the level of your choosing – anything from slight tickle to pulsating strong waves. The claim, tested by independent clinical trials, is that your abs will be visibly toned after 30 days. It retails at around £99.
Setting the belt up for the first time requires positioning sticky pads in position on some metal rivets. The unit requires regular recharging, maybe 2-3 times per week if using daily.
You can manipulate both the speed and strength of the electric pulse. The instruction booklet comes with a 30 day program to gradually increase intensity.
Pros:

Attractive looking product.

Can walk around using it. Or sit and watch the telly (as I did).

Comfortable to use once it's on.

Easy to operate the controls, unit responds quickly.

Results likely if used on top of diet and exercise regime. Could realistically boost the effectiveness of an abs exercise program you are doing at the same time. A slim gym loving friend has one and swears by it.

Cons:

Having to remove and replace the covers on the sticky pads is a complete pain.

Sticky pads have a short lifespan, probably only a month if used daily. They get progressively less sticky and you're picking bits off them.

Pads feel horribly cold on your body when sticking them down.

£100 is a lot of money for a gadget. I think it's £50 over priced.

If you're over a size 16 the belt won't fit.
Verdict:
If you're a size 14 or less and just need to tone up for a few weeks then you probably will notice some difference. If you've still got a couple of stones to lose any muscle improvement is going to be less visible. This plainly isn't a device to magic away a wobbly tummy by itself, like any other kind of exercise/diet regime you've got to work at it with several modes of attack. Personally I think this gadget is overpriced and should instead retail around £50-60.
Meanwhile I'll go back to my miso soup and resolve to be influenced by the photograph of Gillian McKeith inside my fridge.