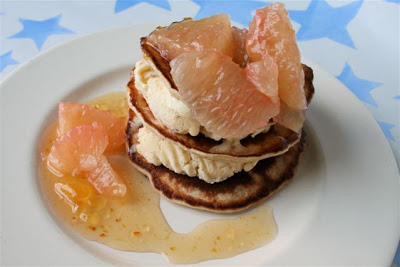 Whilst flying around this week making charity cupcakes for Cake A Difference and panicking that I've not yet done my Mactweets Macarons or any Valentine's desserts either, I can at least relax in the knowledge that I have two more pancake recipes ready to share.


This Scotch pancake and ice cream stack was another one of my entries to the Morrison's Seasonal Pancake challenge along with those seen in last week's two recipes, Crepe Style Pancakes with Hot Maple Fudge Sauce and Pancake Rolls with Sweet Spicy Pork and Rhubarb.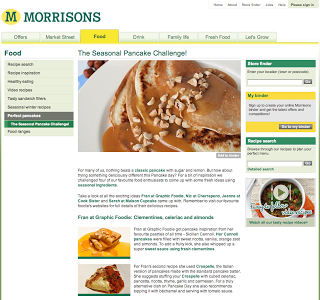 My Hot Maple Fudge Sauce pancakes with hazelnuts on the Morrison's website. You can click the image above to visit other bloggers' submissions to the pancake challenge.
Scotch pancakes are smaller than crepes, they include a raising agent and some sugar. They are easier to flip over than crepes so if you lack confidence tossing your pancakes they are a good place to start. I even managed to make them with one hand whilst filming with my digital camera.  Watch my short clip here:


So there's my cookery vid debut! I'm not sure how long it will be until I manage another one. I would like to say I'm going to start churning them out like My Daddy Cooks but I only have the rudimentary filming facilities on my mobile phone and Canon Ixus digital camera to work with.  My dream of a Nigella Lawson style kitchen set up like film studio will have to remain a fantasy for the time being.  And hell I'm not recording myself with Bree Van Der Kamp hair and spotty apron until I've lost at least another stone (13lb now since New Year and counting). 


If you like pancake recipes you may also enjoy:
Polish potato pancakes (Coffee and Vanilla)
Pancakes with Cinnamon Sugar (Greedy Gourmet)
Emperor's Pancakes (Cooksister)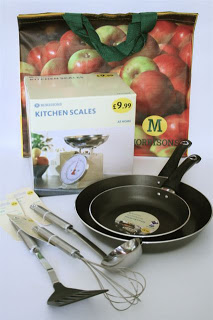 GIVEAWAY WINNER ANNOUNCEMENT


I am delighted to announce the winner of last week's pancake giveaway:


Heavenly Housewife from Donuts to Delirium is the lucky winner of a box of Morrison's kitchenware including two frying pans to toss lots of pancakes.


Look out for another Maison Cupcake giveaway and my fourth, final Morrison's Seasonal Pancake Challenge dish soon. Now I can leave you with today's recipe.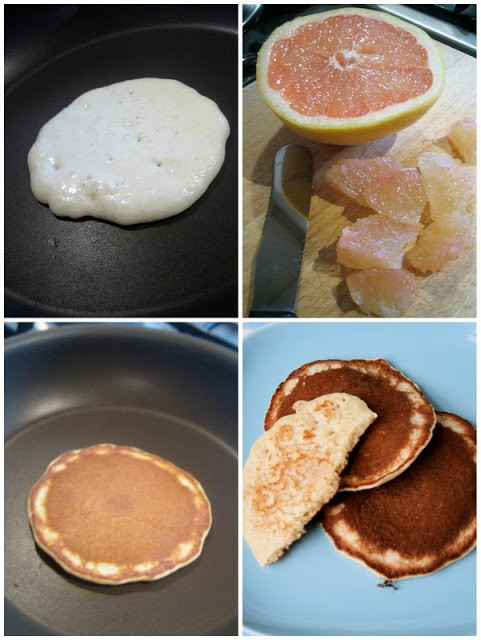 Basic Scotch Pancake Recipe
Makes 12-15 Scotch pancakes
1 level tbsp baking powder
½ tsp bicarbonate of soda
250ml semi-skimmed or full fat milk
1. Sift the flour, baking powder, bicarbonate of soda, salt and sugar into a bowl. I sift mine directly onto the scales to save on washing up.
2. Pour the milk into a hand blender beaker. Beat in the egg. Melt the butter in a small saucepan, pour this into the milk and egg mixture and stir quickly to stop butter solidifying in the cold milk.  Scrape in the dry ingredients and beat in with a fork.
3. Make the batter smoother by giving it a quick whisk with the hand blender. Decant the mixture into a plastic jug for ease of pouring onto your frying pan.
4. Melt a small knob of butter onto a non-stick frying pan over a moderate to high heat. Use a silicon brush to wipe the butter all over the surface of the pan.  When the pan is hot and covered in the melted butter, pour over some batter, around the same amount equivalent to the diameter of a satsuma. Do not swirl the batter around the pan, leave it in a round blob.
5. Allow to cook for 30-45 seconds.  Ease a silicon spatula under the edge of the pancake and gradually as it cooks, ease the spatula all the way underneath to check it is loose enough to turn over. 
6. It should take 60-90 seconds before you can flip the pancake over with the spatula. The surface should be golden brown all over with a lighter almost lacy pattern around the edge. Allow the pancake to cook on the other side for around 60 seconds. You can peep underneath to see how brown it is, aim for a speckled effect akin to leopard's spots.
7. Scotch pancakes are best served immediately although you can keep them in the fridge for 2-3 days and reheat in the microwave.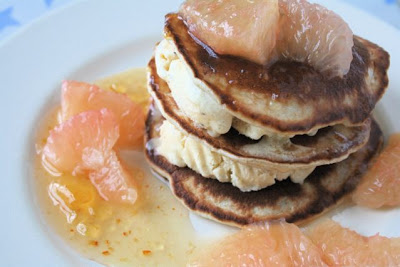 Scotch Pancake Stack with Ice Cream and Pink Grapefruit in Whisky Marmalade Sauce
Spending a few minutes with a sharp knife to remove the skins from the grapefruit segments will infinitely improve your enjoyment of this dish.
You can make the sauce without whisky if you do not wish to include alcohol. Just compensate with a little extra water.
The segments of 1 pink grapefruit, skins, seeds and pith removed
50g Morrisons "The Best" Marmalade
Scotch Pancakes – 3 per person , see recipe above.
1. Over a low to medium heat, melt the marmalade with the water and whisky. It should melt down to a thick orange syrup. Do not boil as the water will quickly boil away leaving you with marmalade once more. Leave on a low heat. Add more liquid (whisky or water!) if it gets too thick by the time you use it.
2. Make your Scotch pancakes if you haven't already, using the recipe above.
3. To serve, stack alternative layers of Scotch pancake and vanilla ice cream.
Allow 3 pancakes and 2 layers of ice cream per person. Squash down gently with your hand before topping with pink grapefruit segments and drizzling with the marmalade sauce.
Serve immediately.