Today's post is from my regular series of weekend non-recipe mini blog posts, "Postcard from…"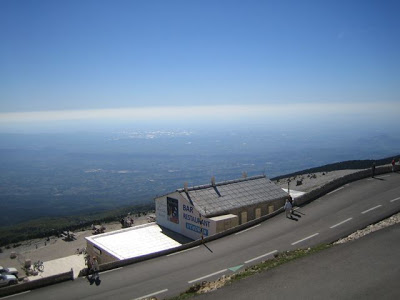 Mont Ventoux
is the highest point in Provence and quite possibly the highest place, bar a skiing trip to Meribel, that I have been. Situated 20km north east of Carpentras in the Vaucluse département, it was a little way off from our usual stamping grounds of
St-Remy-de-Provence
and The Camargue and it took six or seven trips to the area before we visited.
1

912 metres at the peak,

Mistral

wind speeds of 200mph have been recorded there, hence the name Ventoux which means "windy" in French.  Locally nicknamed "The Bald Mountain", the bare terrain is a memorable stage in the annual Tour de France cycle race.  A website showing daily webcam conditions of the area is called "

Cycling on the moon

".
We cheated and drove up there. Although a very pleasant September day, it was very cold at the top and during winter would often be covered in snow. Mont Ventoux is geologically part of the Alps but has no similar size peaks around it and stands alone. The view, it goes without saying, is breathtaking.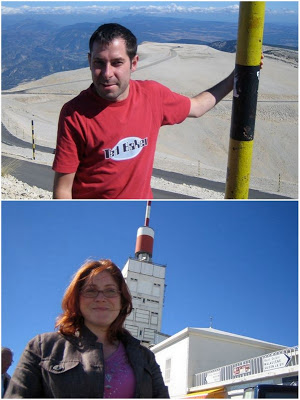 TOP 20 WIKIO.CO.UK RANKING!


I am feeling high as a kite myself having been nominated for web awards by 3 different bloggers, details of the first of these can be seen below. I have also just found out that this month Maison Cupcake has rocketed 54 places up to Number 17 in the
Wikio.co.uk
Gastronomy
February Top 20 UK Food Blogs (site no longer available)
. Since I have been blogging my little socks off in January, I am delighted about this but at the same time nervous it's a mistake meaning someone will email me, "sorry we transposed the figures and you are actually still number 71 like last month". It also comes with the pressure knowing that unless I sustain my recent level of activity that I will slide quickly back down again. But until either of these things happen I will continue to do my happy dance around the kitchen. If I get feet with my macaroons this month, some serious damage may be done to the ceiling. 
I had better go now. It is the calm before the storm. From Wednesday to Friday this week I am running 3 cupcake sales and taking umpteen cupcake orders for Cake A Difference, a fundraising week for Bliss, the premature baby charity. If I go a bit quiet this week, this is why!