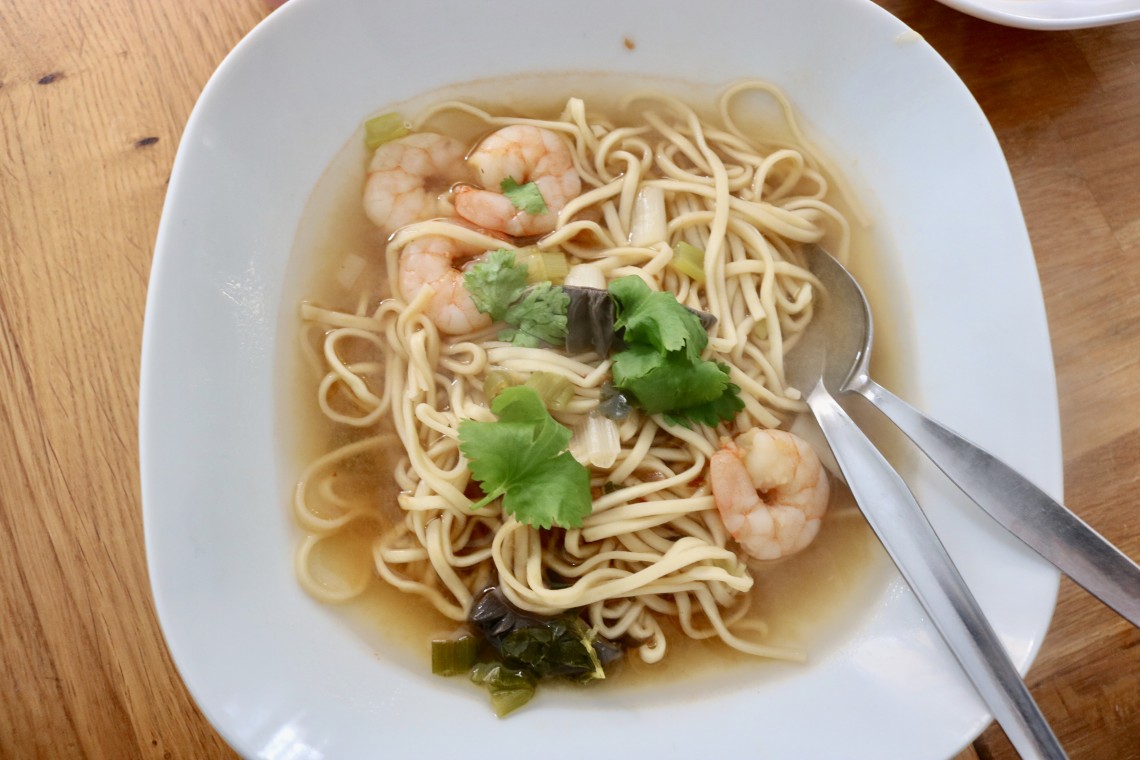 Tom Yum Prawn Noodle Soup
Serves 3-4, takes around 10 minutes
Ingredients
1 litre vegetable stock – I used Marigold bouillion powder
1 heaped tsp tom yum paste
Juice of half a lime
Glug of fish sauce
2 birds eye chillies, chopped
1 tsp sugar
Several mushrooms – either 2 portobellos or half a dozen normal  ones would do
1 bag frozen king prawns (approx 300g)
Several spring onions
Small bunch of coriander
Dried egg noodles – enough for however many people you are serving/how greedy you feel
Method
Heat the stock in a large saucepan with the tom yum paste, lime juice, fish sauce, birds eye chillies and sugar.
When it comes to the boil add the mushrooms, prawns and spring onions and simmer until the prawns are done.
Finally add the noodles and leave on a low heat for a few minutes until they've softened. Serve in bowls sprinkled with coriander.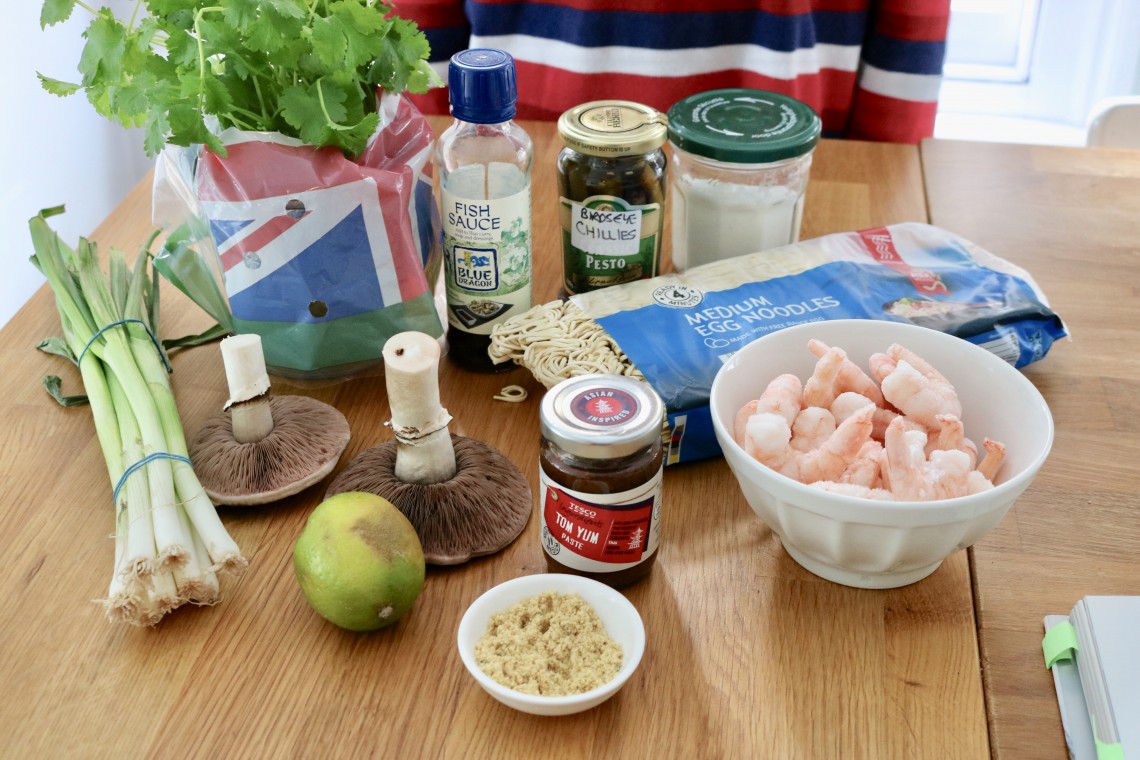 Ted has long been a fan of Wagamama and familiar with their noodle soups. Normally one evening per week I might make a home made tribute with the stock from that week's chicken carcass, it's a very quick meal into which I chuck whichever vegetables are left in the fridge and fast to cut up and cook.
During lockdown Ted has had a few remote cookery challenges set and this particular week the class were researching Asian cuisine albeit in a very introductory manner. He was asked to make ramen or any other Asian dish. I had had a small jar of tom yum paste in the cupboard for ages and remembered enjoying a Nigella Lawson "Hot and Sour Soup" in her early Nigella Bites book accompanying her first TV series. We used her ingredients list as inspiration but added dried egg noodles to make it into a main course.
To be truly educational I ought to have chosen a recipe by an Asian writer; one I've made from scratch often ever since meeting him at an Activia event is Gok Wan's take on green Thai curry. But the reality is that earlier in lockdown and our home schooling journey I opted for something I could teach Ted to make fast to meet his lesson deadline, that we already had the ingredients in the house and was suitable for the three of us to immediately eat for lunch.
It might not be authentic but it's quick and easy to make. The mushrooms were the final two from our homegrown mushroom kit that I'd let grow really big. The cookery teacher didn't say a lot about Ted's efforts that week but feel free to leave some of your own feedback below and I will pass it on!