As I grapple with the technology overload that comes when you foolishly acquire a new computer, blogging platform and iPhone in quick succession, you may have noticed there's not been a hell of a lot on the recipe post front lately. Not to say I've haven't cooked anything, I mean a girl has to eat and all that. Last week as you may have heard me saying on Twitter, I was flat out baking 100 wedding cupcakes and a wedding cake which I will share with you shortly but it does feel a while since I took part in any recipe blogging events.
Whilst I find my feet again, I should take this opportunity to share with you a couple of interesting baking events that are taking place in London in the next few weeks; Cupcake Camp London and The Great Brownie Bake Off.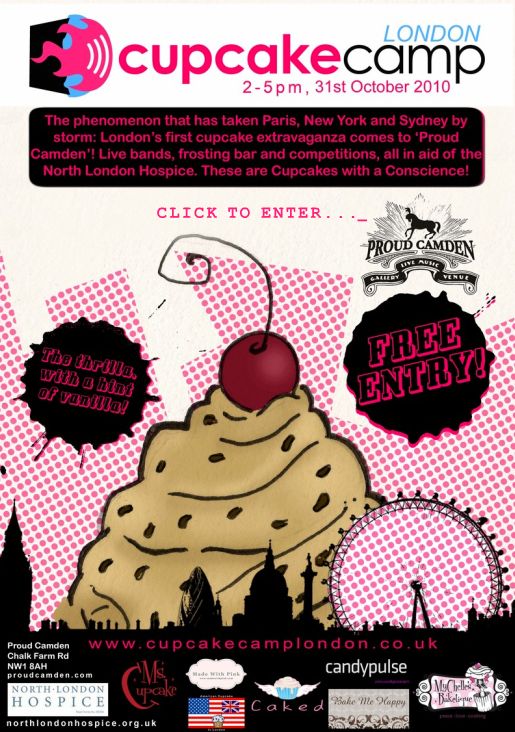 Cupcake Camp London is a volunteer-run baking event that has already taken place in Paris, New York and Sydney. A popular means of raising money for charity, previous Cupcake Camps have attracted up to 1,000 participants and thousands of pounds for good causes. Cupcake Camp London, London's first cupcake extravaganza, hits town on 31st October, 2010 and will be raising money for the North London Hospice.
Hosted at Camden's stylish Proud Galleries, Cupcake Camp London will be a mass-gathering of people who love to indulge in the darling of the baking world – the cupcake. Supported by live bands, competitions, prizes, a Create-Your-Own Cupcake Art room and a frosting bar; the focus of the day will be the delicious cupcakes donated by England's wonderful baking community. It's going to be a day for professional cake bakers, an enthusiastic amateurs and sweet-toothed cupcake eaters alike.
Bakers are encouraged to bring along their best creations to be judged by a fabulous panel, including Martha Swift and Lisa Thomas of Primrose Bakery, and vegan baker Ms. Cupcake. An army of non-bakers will also be needed to help raise money by eating the best cupcakes our capital city has to offer. Cake Credits will be available around the venue to buy cupcakes and frosting shots.
For more details how to get involved check out the Cupcake Camp London website or email organiser Daisy Coole at cupcakecamplondon@gmail.com. You can also follow Cupcake Camp London on Twitter.
If you are still mourning the end of the Great British Bake Off (see my previous post), then I have news of a new baking challenge, The Great Brownie Bake Off organised by chocolate event organiser The Chocolate Consultancy, baking enterprise The Cake Nest and new Old Street cycle cafe, Look Mum No Hands (pictured above). It's not on the telly but the good news is that anyone can take part, and I mean ANYONE because you don't even need to be able to get to London, you can even post your entry!
Taking place 12-6 on Saturday 9 October 2010 at Look Mum No Hands, the event will be a celebration of brownies.  A panel of brownie-experts will decide what makes the perfect brownie and the winner's recipe will be used by Derbyshire cake company, The Cake Nest, as their exclusive brownie recipe, to be incorporated into their A Piece of Cake range. The winner will also receive a six-month supply of chocolate, kindly donated by Divine Chocolates.
You'll have to be quick though as the closing date to enter your recipe is October 2nd. If interested in taking part you should contact Louise Thomas by emailing louise@thechocolateconsultancy.com or book through Paypal or Eventbrite – ticket type: Brownie Entry Fee.
As well as the judging, The Great Brownie Bake Off will also be celebrating all things baking with demonstrations through out the day, including a baking demonstration from Edd Kimber, contestant on BBC2's The Great British Bake Off and writer of www.he-eats.com, as well as an introduction to fine chocolate tasting from The Chocolate Consultancy.
Baking enthusiasts will also have the opportunity to sell their home baked goods on the day, with 10% of the profits to be donated to Wheels for Wellbeing, a charity who support people with disabilities to cycle in London.
For further details about The Great Brownie Bake Off, please visit The Chocolate Consultant.
A duff brownie is a terrible disappointment! I like mine fudgy and moist and preferably not the size of a paving slab. I rather like the gluten free ones from Cafe Nero but obviously my favourites are my own. The worst ones I have eaten recently were from the otherwise excellent Daisy's Cafe on Walthamstow's Hoe Street. (Two separate occasions. Both awfully dry.)
Hopefully the judging panel will agree! (That fudgy moist brownies are best, not that mine are… I haven't decided whether to enter yet).
How do you like your brownies? Do you have any best or worst brownie memories? Or is it just me who is obsessed?