There are now several burger restaurants in Walthamstow, Leyton and North East London. Last week we visited Uptown Burger Co on Leyton High Road.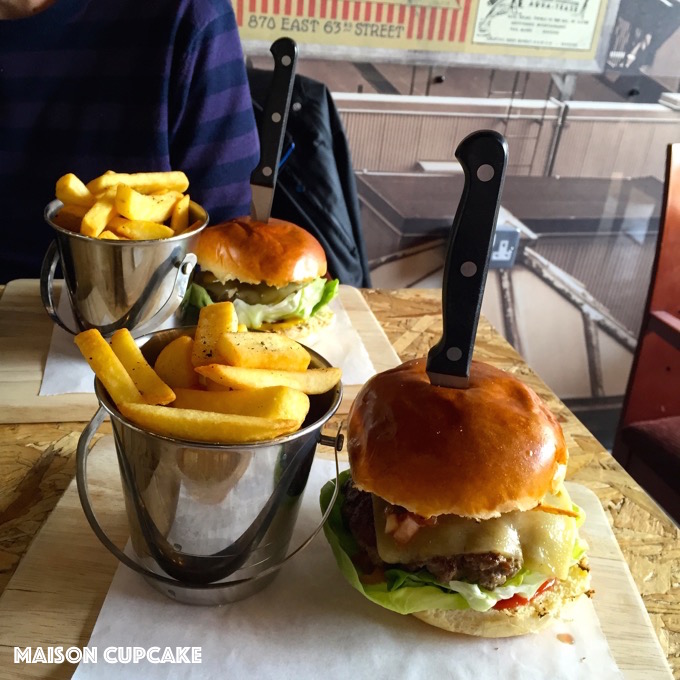 There were slim pickings of restaurants in Leyton and Walthamstow when I moved here from Shepherds Bush over ten years ago. Post Olympics, Waltham Forest feels less of an opposite to West London and more its equal in terms of places to go out, eat and be entertained.
Leyton High Road is over a mile and a half long and Uptown Burger Co sits equidistant from Leyton tube station on the Central line and Bakers' Arms shopping district on Lea Bridge Road. The cricket ground across the road gives a village feel and the nearest railway station is Leyton Midland Road on the Overground, around 5 minutes' walk away.
On the edge of the flourishing Francis Road neighbourhood, Uptown Burger Co is one of several new intriguing Leyton destinations that have popped up since 2012. A friend rented a house here in 2002 and after she babysat my cat for six weeks (long story) our own property search focussed here too. Back then Leyton still felt scruffy and devoid of much to do and so we opted to relocate up the road in Walthamstow.
East London has changed a huge amount in that time. There's always something new to investigate and our weekends are often spent trekking everywhere from Hoxton to Hackney and Clapton to Chingford.
Last Saturday our route took us from Walthamstow Village to Francis Road, along Leyton High Road and back up Grove Green Road towards Leytonstone. This was our lunch break at Uptown Burger Co, a diner style burger restaurant that serving burgers with patties made from halal beef and chicken.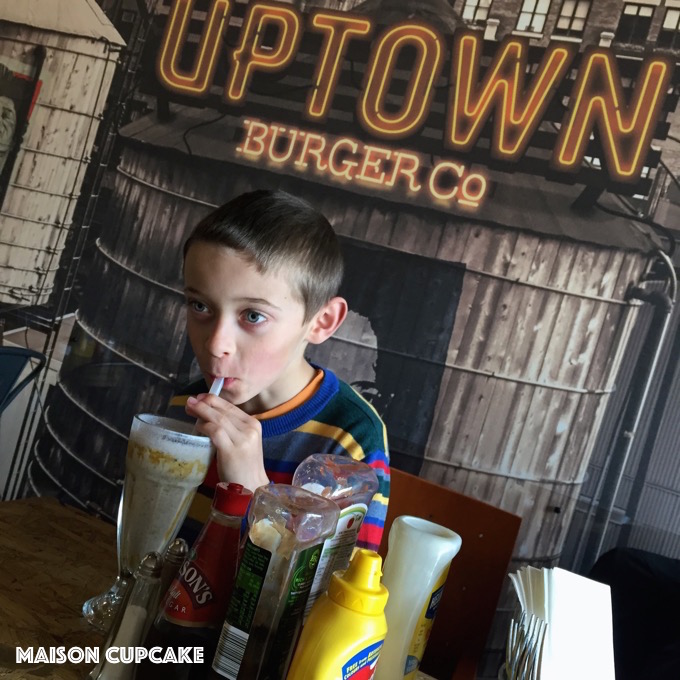 Ted had an Oreo milkshake which was as good as any served in Gourmet Burger Kitchen. Served in a traditional sundae glass with a drizzle of syrup around the edge.
My husband and I ordered fizzy drinks (Diet Coke and Sprite) which were served in old fashioned half pint chunky pub beer glasses with handles. This amused us greatly since you don't see these glasses that often now and Uptown Burger Co doesn't serve alcohol.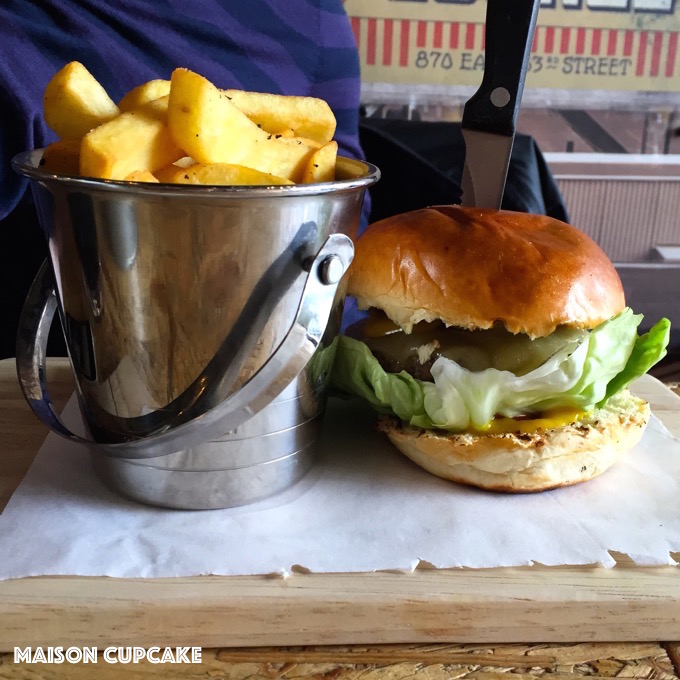 So the knives speared through them are a bit scary. Personally I'm a bit icky about wooden skewers being left in my burgers so a whacking great steak knife is freaking me out slightly. My "Mexican" burger complete with tortilla chips and salsa was indecently drippy causing a river of liquid on our chipboard table that took several paper napkins to mop up. Although neither my son or husband had this problem so maybe I was unlucky. I like some juiciness to leak out of my burger but this was a bit crazy. The bun is glossy like brioche but normal bread not brioche. The burger itself was large with chunky meat and cooked medium just as we'd asked.
Burgers on their own are priced around £6-8 however two of us were taking advantage of the very generous lunch deal which offers a classic beef or chicken burger with chips and a drink for the insanely good value of six pounds. So it feels churlish to say this wasn't my favourite burger ever but at this price it was flipping marvellous.
I would say the chips are most likely bought in frozen rather than hand cut on the premises. You get a generous amount of them ready sprinkled with black pepper in a stainless steel bucket.
Sides of olives, chicken wings and salads are offered. We didn't take these as clearly we had enough on our plates (or boards should I say).
Uptown Burger Co was extremely quiet i.e. empty when we arrived at around 12.30 on a Saturday although some more people came in when we left. It's not the best location for casual passers by and maybe suffers from being beyond the main drag of shops in either direction. But Uptown Burger Co is a quirky addition to Leyton High Road and I hope they get enough trade to succeed.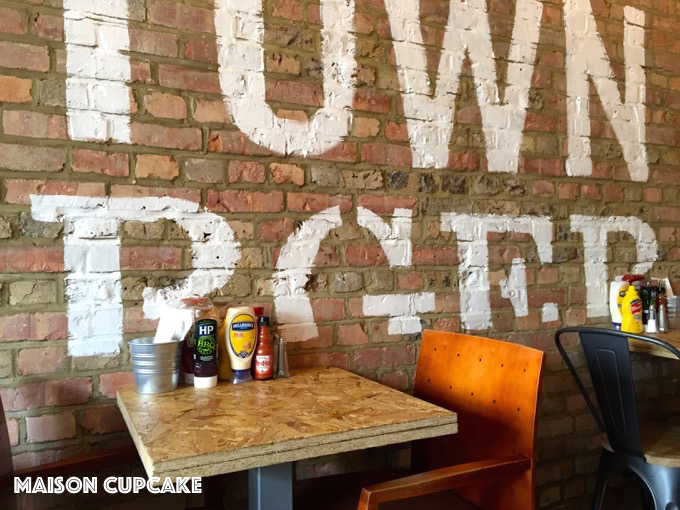 Uptown Burger Co review in summary
Food – considering the price of a lunchtime meal deal at £6 including burger, drink and chips, this is phenomenally good value. It's not the greatest burger I ever had but they had a damn good go and I cannot argue with this for £6. I don't know how the chicken burgers compare.
Ambiance – We love the vintage Americana cityscape mural. Uptown Burger Co has a great interior – that probably didn't cost much to achieve.
Service – friendly and efficient.
Loo – there's one out back and it's fine but was extremely chilly in there on May Day weekend.
Would we recommend? Definitely for lunch, yes.
Would we go again? If we're passing by and we're hungry, absolutely. But there are a fair few options springing up near by to choose from too.
Kid friendly? No kids menu but our 7 year old wolfed three quarters of his grown up size burger. For that reason I'd say it's best for junior school aged children upwards. For teens it would be perfect.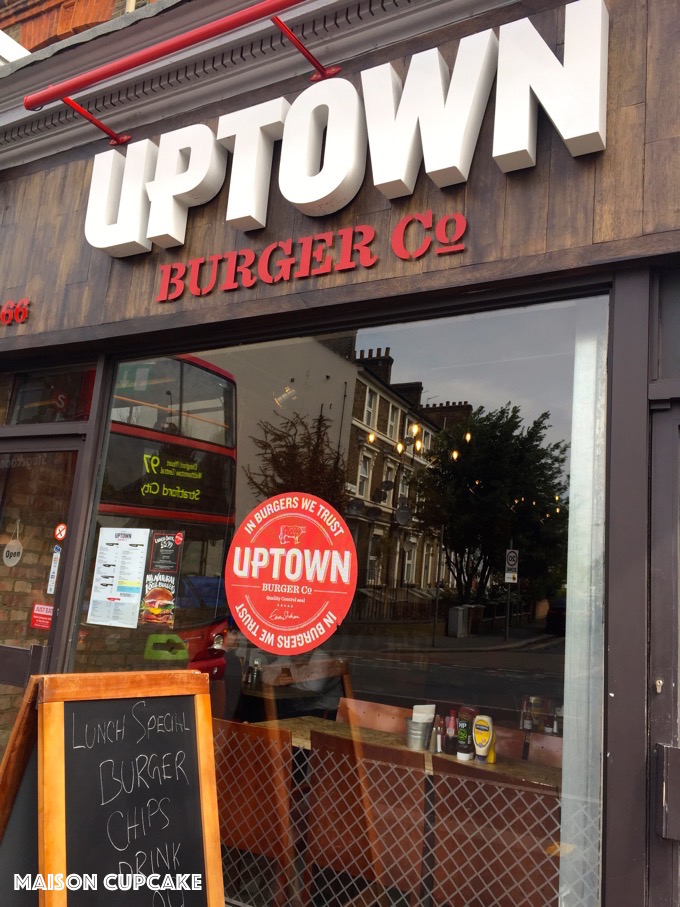 Other burger recommendations around Walthamstow and Leyton:
Eat 17, 28-30 Orford Road, Walthamstow Village
The home of Eat 17 Bacon Jam, the brioche bun burgers predictably include bacon jam and are served on tiles with dinky deep fat fryer baskets of chunky hand cut chips. They're easily as good as Meat Mission and the benchmark by which I judge other burgers. Why would I bother going to Shake Shack when I have something this good on the doorstep from my house? The downside to Eat 17 is that it can be impossible to get table at weekends if you've not booked in advance. A second branch of Eat 17 has opened in Chatsworth Road market, Hackney which I'm yet to visit but Grace Dent raved about. Eat17.co.uk
Grillstock, The Scene, 198 Hoe Street
Grillstock has recently opened in Walthamstow's The Scene cinema and restaurant development on Hoe Street and there will be a big Grillstock festival taking place in Walthamstow this summer. I haven't been yet and reviews by locals of the third branch of this fledgling chain are mixed. I will report back when I've had chance to go. There's a no booking policy so if it's good I might have to queue. Grillstock.co.uk
Proper Burgers, 706 Lea Bridge Road
A local independent burger restaurant distinguished by its cool wall of 1980s cassettes. I have not been here yet either but hearing great things and intend to go so as soon as I have chance and will update this list. Watch this space. Properburgerslondon.com
The Castle, 15 Grosvenor Rise East, Walthamstow Village
Whether The Castle really merits the term "gastro pub" is possibly a moot point amongst locals. When I first moved to Walthamstow Village, The Castle looked so intimidating that my husband and I refused to go in until we had two hardy friends not put off by dives to join us. As it happened, The Castle was quickly refurbished – initially leaving the glorious original curved seating arrangements intact and then less sympathetically with All Bar One Style leather sofas and wooden floors. Nevertheless, this is a popular local pub serving good food that's better than you'd expect when pubs only sold scampi and chips. I enjoyed a great big burger with stilton in here and whilst not as amazing as an Eat 17 one, at least with The Castle you don't need to book several Fridays in advance. Thecastlee17.com
Can you recommend anywhere else to eat burgers in and around Walthamstow?
If I've missed your favourite burgers in Waltham Forest or you'd like to comment on your local burger experiences feel free to share your thoughts below and I will add to this list if I experience any new ones myself!