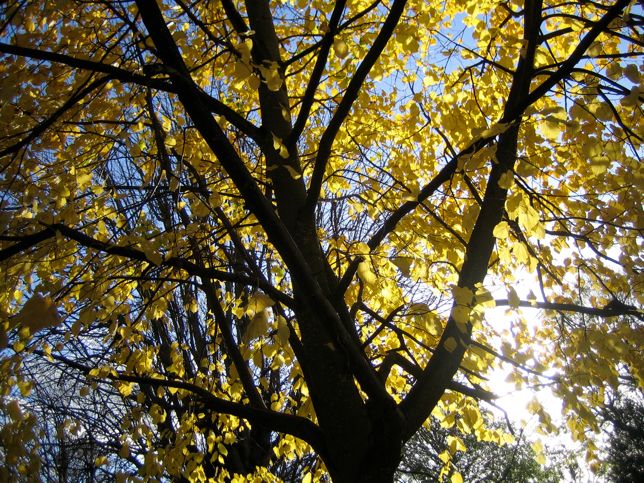 Walthamstow Village may be short on green space but it's not short of trees and this is never more obvious than in autumn.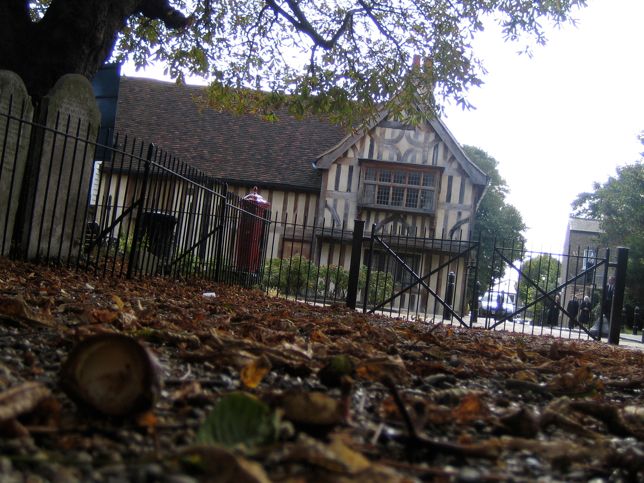 It's time to take Ted conker spotting once more, an easy half hour's free entertainment spotting fresh glossy balls lying on the ground. One of the best places to do this in Walthamstow Village is in the area in front of the Ancient House and St Mary's Church.
We've been kicking a few autumn leaves around, Ted is very excited by the crunchy noise they make. I do mourn though the dilution of Bonfire Night which is all but lost amongst the commercial frenzy of Hallowe'en and other firework opportunities throughout the year. When I was a child, Birmingham City Council used to run bonfires that were the size of a semi detatched house, I remember standing behind the barriers some 20 feet away feeling the heat on my face.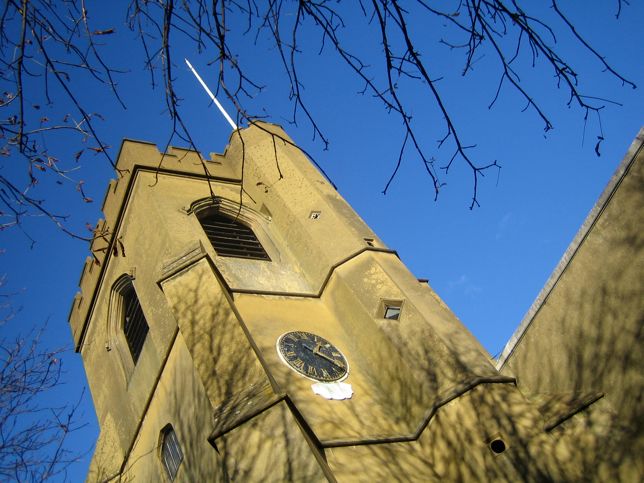 I think Hallowe'en has overtaken Bonfire Night since people are now discouraged from running their own bonfires and firework displays – were this not the case you can bet that supermarkets would be selling us fire wood, penny for the guys in celebrity outfits and jacket potatoes already in foil.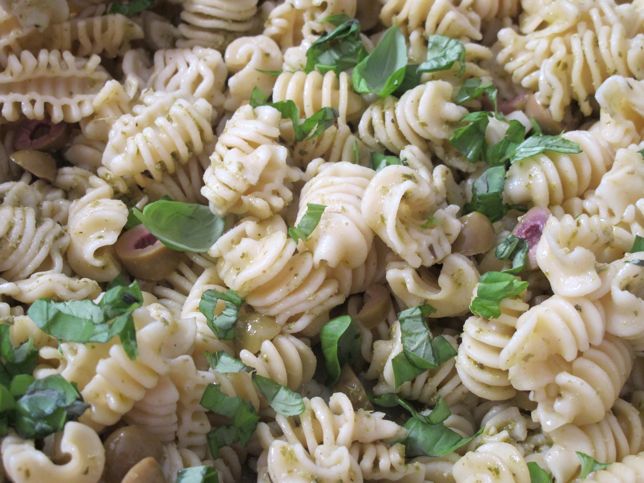 Today's dish of pesto pasta salad can be served warm or cold, it is ideal for making in bulk at parties, indeed it is my usual savoury contribution to short notice gatherings. If you make it with jarred pesto and keep a vacuum pack of olives in the cupboard and toss in some frozen peas you can make it entirely with store cupboard ingredients.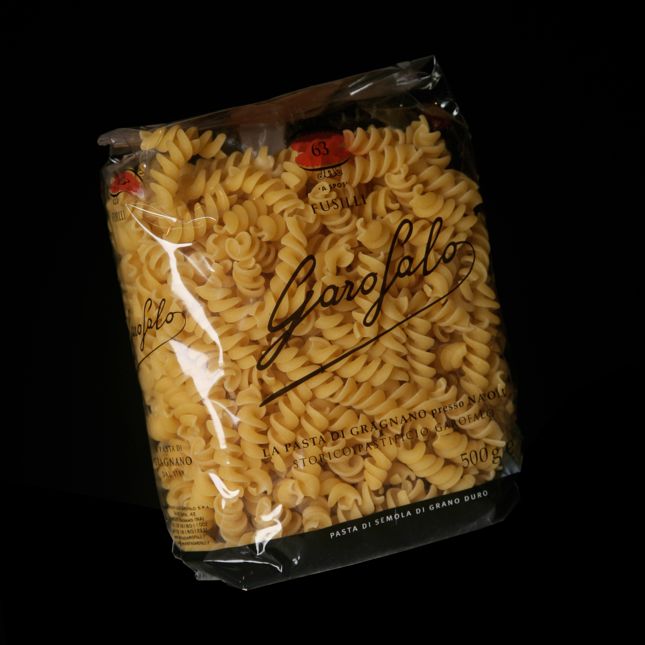 Today I am making it with Garofalo pasta. I received a bag of this pasta in my Cybermummy goodie bag back in July and used it in it's entirety to do a pesto pasta salad for Ted's baptism party. Everyone made a point of commenting on the pasta, it is seriously good pasta with taste and texture that elevates it above the supermarket own brand pasta. I contacted Garofalo to see if they'd send me another pack in order that I might repeat the recipe for my readers.  Above you see fusili but I used raddiatore below.  Garofalo seems to pop up in strange locations – I even saw it in Montenegro – but you may or not have seen in in the UK. Other than independent delis, your best chance of spotting it is Ocado.
Should you wish to make your own pesto, why not try an alternative to the usual pine nuts? I made mine today with cobnuts which are widely available in supermarkets during the autumn. They taste like smooth creamy hazelnuts and although they're a bit fiddly to prepare the flavour is well worth the effort.  I wish I could claim I'd picked these in Walthamstow Village but they came from Waitrose at Canary Wharf!
I am submitting this recipe to Presto Pasta Nights which is being hosted this week by Helen at Fuss Free Flavours.  These autumn photos are also my entry to this week's The Gallery no.34 at Tara's Sticky Fingers.
Cobnut Pesto Pasta




Serves 3-4 as main course, 8 as a side dish at a party

Ingredients:
100g cobnuts in the shells
Large bunch of fresh basil (save some for scattering)
3 cloves of fresh garlic
100g freshly grated parmesan cheese*
100ml olive oil
250g pasta – penne, raddiatore or fusili are best
75g olives (green or black according to preference)
75g frozen peas or fresh green beans

You will also need a food processor for the pesto

Directions:

1. Preheat the oven to 170c / gas mark 3.

2. Remove the husks from the cobnuts if you haven't already done so. Score the shells with a sharp knive and bake in the oven for around 15-20 minutes.

3. Allow to cool slightly then carefully remove the shells. I found some came off very easily, others were a total pain. The nuts are quite fragile but they'll get blitzed in the recipe anyway.

4. Put the shelled cobnuts, garlic cloves, cheese and half of the olive oil in the food processor and blitz. Drizzle in the remaining olive oil until you are happy with the consistency.

5. Can be used immediately or keeps several days in the fridge. Can also be frozen.

6. If using the pesto in pasta salad, cook your pasta, drain and dress with a little olive oil. Prepare the other ingredients you are adding i.e. cook your frozen peas, slice your olives and toss into the still warm pasta. Scatter over some torn basil leaves.

*Please note as parmesan contains animal rennet, to make this dish vegetarian you'll need to replace parmesan cheese with a vegetarian hard cheese alternative.