A weekend in Barcelona is not enough, we crammed in a lot but need to go back! Trip made as a guest of Travel Supermarket.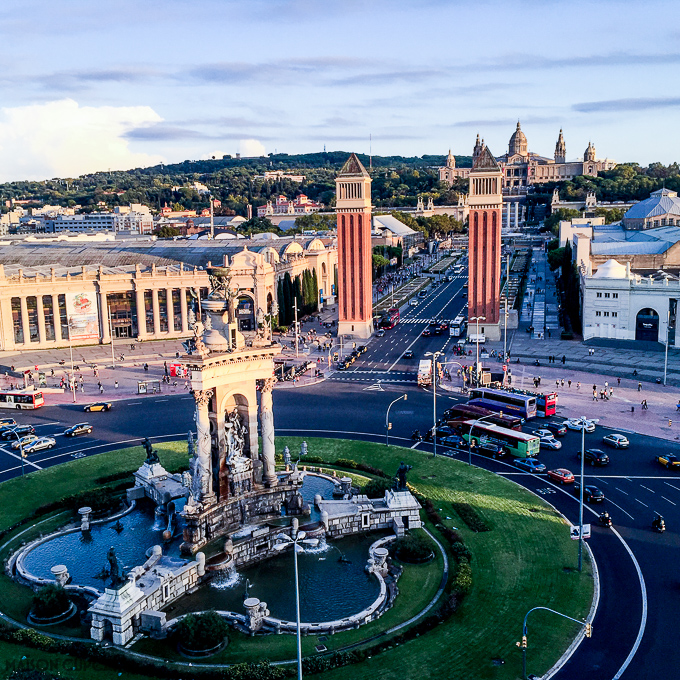 It's so easy to get to Barcelona it makes the perfect weekend getaway. It's so easy and affordable you even hear stories of people commuting from Barcelona to the UK because living costs are less there than London.
Several airlines and UK airports run numerous daily flights to Barcelona; we took a Ryanair flight from Stansted airport.
After two hours' flight, airport connections to Barcelona city are 30 minutes by Aerobus operating out of both terminals. Return tickets cost around 10 euros from vending machines or online.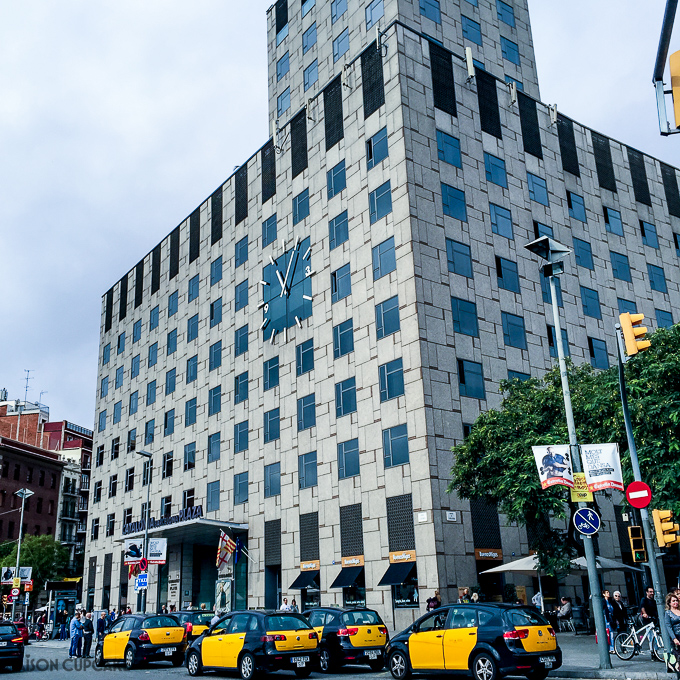 Our accommodation was at Catalonia Barcelona Plaza Hotel to the west of the city. The hotel overlooks the Font Màgica de Montjuïc and Olympic park district and has excellent transport connections for buses, Barcelona's metro and affordable taxis.
Barcelona is the capital of Catalonia, an autonomous community in northeastern Spain. The language spoken and used on signage is overwhelmingly and proudly Catalan, the area's native language which was banned as recently as Franco's era in the 1970s. Whilst Spanish will also be understood (as often so will English), locals will appreciate you attempting their language rather than Spanish.
That said, in 48 hours, apart from expressing holà (hello) and gràcies (thank you) we got by pointing at menus, using vending machines for tickets, beaming smiles and phonetically hoping for the best.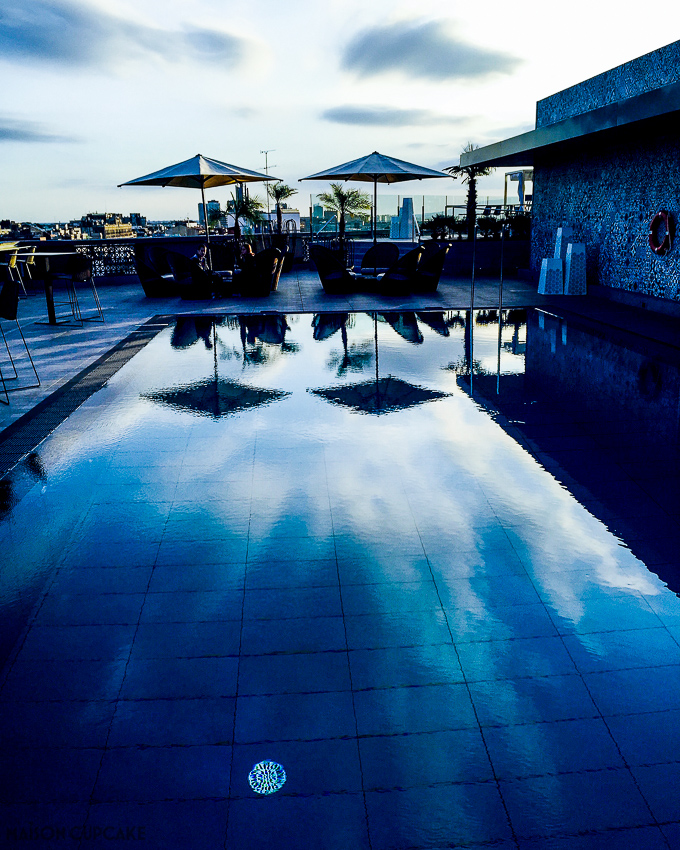 Catalonia Hotels have branches chiefly in mainland Spain but also Brussels, Berlin and Majorca.
This branch had a rooftop terrace with poolside bar overlooking the view in the top photo above. A complimentary drink of cava at sunset upon arrival was the perfect way to start our weekend.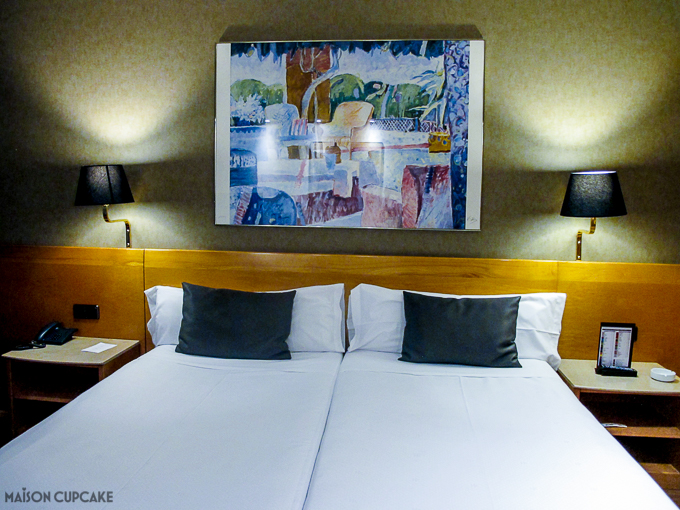 Our standard double rooms were spacious and comfortable with good quality furniture and textiles. We were on the first floor directly above the busy traffic roundabout however soundproofing was excellent. The bathroom was smart and well lit with plenty of towels and toiletries.
Rooms of this type are sold at around 125 euros per night which would represent excellent value for a touristic city even without the benefit of a stunning rooftop pool with a bar upstairs!
The hotel location, whilst further from central Barcelona than I might otherwise have picked, felt safe and was well lit at night. It was in an authentic Barcelona neighbourhood rather than a tourist trap.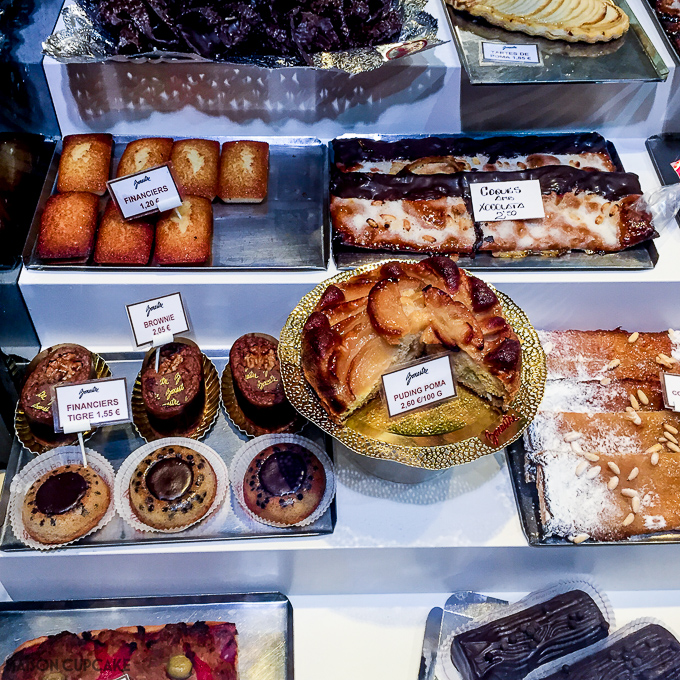 On our first night we took a walk through the Sant Antoni market district towards the Ciutat Vella El Ravel area.
It was dark already but we had plenty to look at. The streets of Barcelona are lined with tall apartment buildings with wrought iron balconies and plenty of trees. It reminded me of both Paris and Marseille.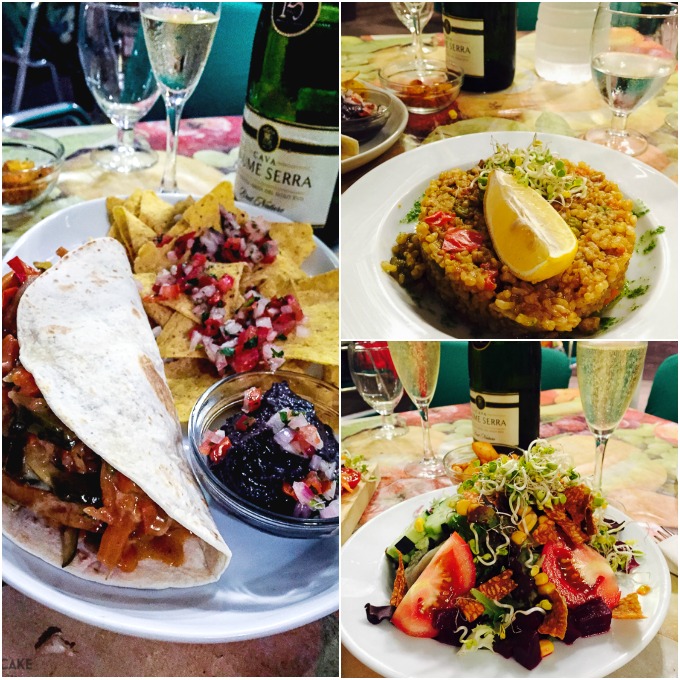 My travel companion Jac from Tinned Tomatoes is vegetarian so we sought out a Spanish vegetarian restaurant called Vegetalia who have three branches in Barcelona.
Food was served in the square outside and our waiter even turned out to be British. There are a surprising number of vegetarian restaurants in this part of Barcelona, possibly because it's home to the university student population. We were impressed with the presentation of dishes  and value for money. A two course meal with bottle of cava cost around 35 euros.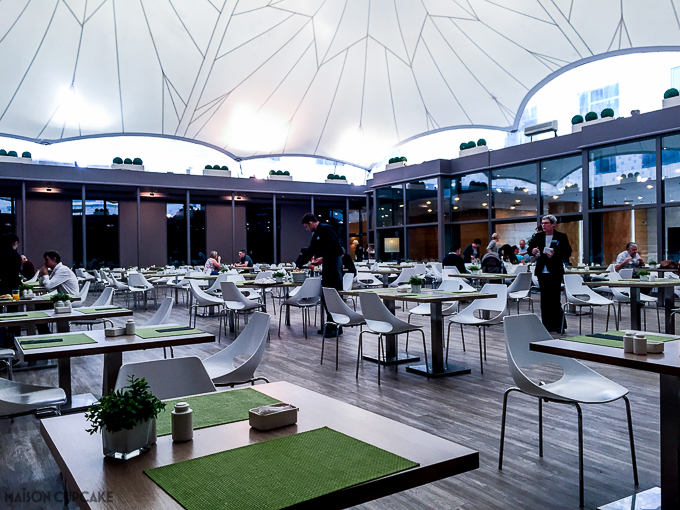 Saturday being our only full day, we made an early start.
The breakfast hall at the hotel was vast airy space with an entire wall dedicated to the buffet selection.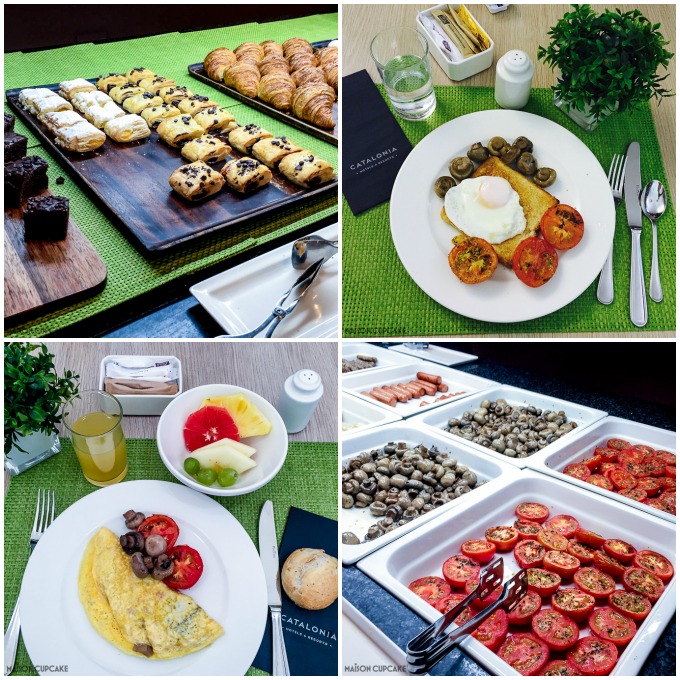 You could have omelettes made to order or pick and choose from pastries, cereals and a cooked breakfast offering.
The standard and breadth of choice was very good although we found the hot food was virtually cold apart from the freshly cooked omelettes or self serve toast.
Our schedule for Saturday morning was dedicated to a coach tour via Castle Experience who picked us up from Plaça Catalunya for a tour of a local abbey and winery high up in the Monserrat hills 30 miles outside of Barcelona.
The tour was in English and attracted a party of mostly 60+ Americans and Australians on their respective grand European tours. They were most envious to hear that Brits can get to Barcelona in two hours and pop over just for a weekend!
On a clear day from there you can see Majorca but unfortunately the weather was not kind to us. What would have been stunning scenery was covered in sheet mist with visibility at around 50 metres. Several members of the party ended up getting separated in the fog – including myself left behind after taking photos – thank goodness for mobile phones else I'd still be there now!
Our tour guide Xavi was very knowledgeable and entertaining about the history of Barcelona and Monserrat. Santa Maria de Montserrat is a busy pilgrim destination notable for its black virgin statue and decorative lamps.
We were not here long but in better weather there is more to see outside with a funicular railway and museum.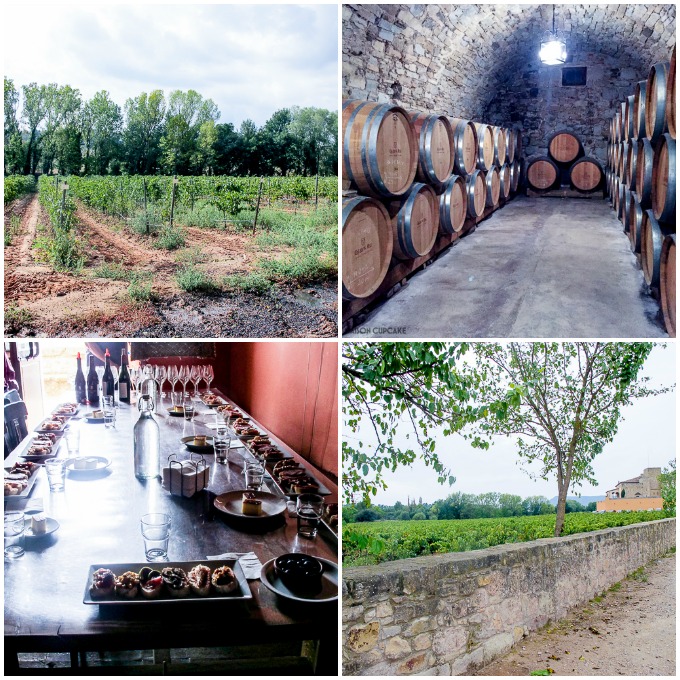 Down the mountain where the mist had cleared, we moved on to Oller del Mas Cellar winery.
Overseeing the vineyards, production room and cellar we learned about the geographical and scientific considerations of wine making before tasting some wines over a light tapas lunch.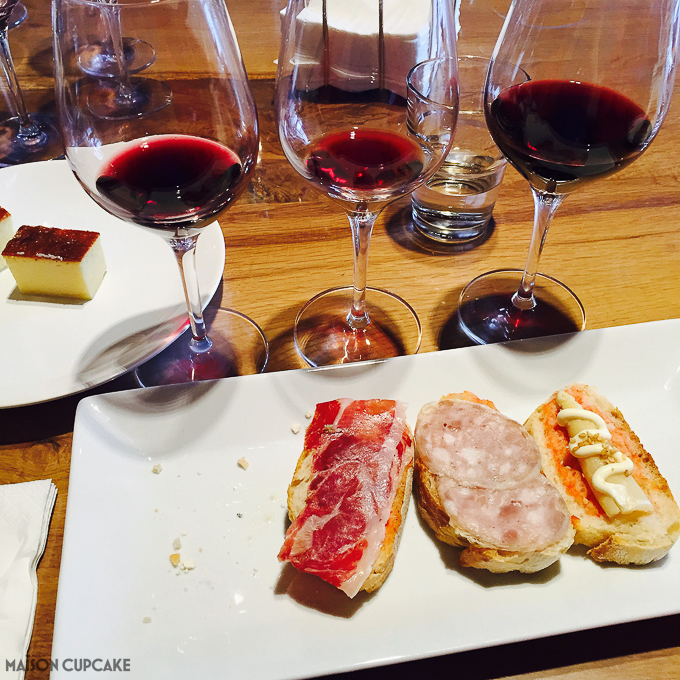 Now you know my general rule is "pink or fizzy, preferably both" so I won't pretend to be any kind of wine buff.
However what might have been basic to more experienced wine fiends was genuinely interesting and clearly explained by Xavi.
Using our eyes, senses of smell and taste we learned about ways to judge the age, alcohol content and taste profile of three Oller des Mas wines of varying age, techniques and price levels. It turns out most peoples' favourite was the most expensive one!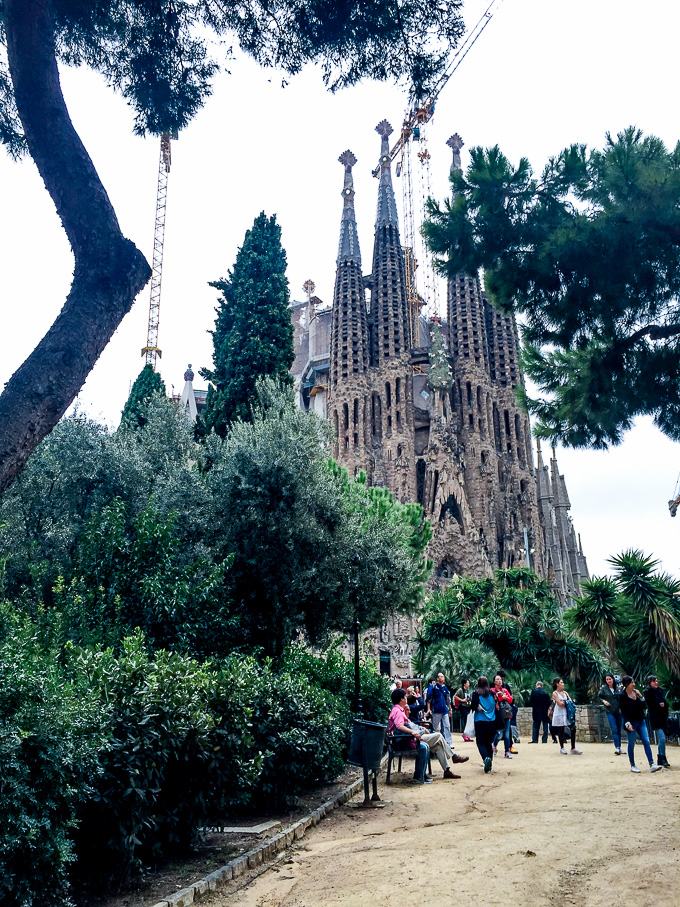 Returning to central Barcelona by mid afternoon we headed to the city's most famous building site. The gothic basilica Sagrada Familia, despite being incomplete, is a UNESCO heritage site.
Barcelona is famous for Antoni Gaudi's architecture yet our whistle stop weekend had only time for our to see his unfinished masterpiece. Having worked on the cathedral for over forty years, Gaudi was killed by a passing tram in 1926 before even a quarter of the project was finished.
The interruption of the Spanish Civil War and Franco's anti-Catalan era combined with lack of funds meant work to properly finish Gaudi's magnum opus has been intermittent. Completion is due in 2026, the centenary of Gaudi's death.

Tickets to enter the Sagrada Familia have to be booked online or outside with a wait of several hours. We managed to gain entry after 6pm.
Having no prior knowledge about Sagrada Familia I was bemused how my native Midlands had managed to build a brand new Coventry Cathedral inside twenty years after the old one's destruction in World War II. What on earth was taking these Barcelona builders so long?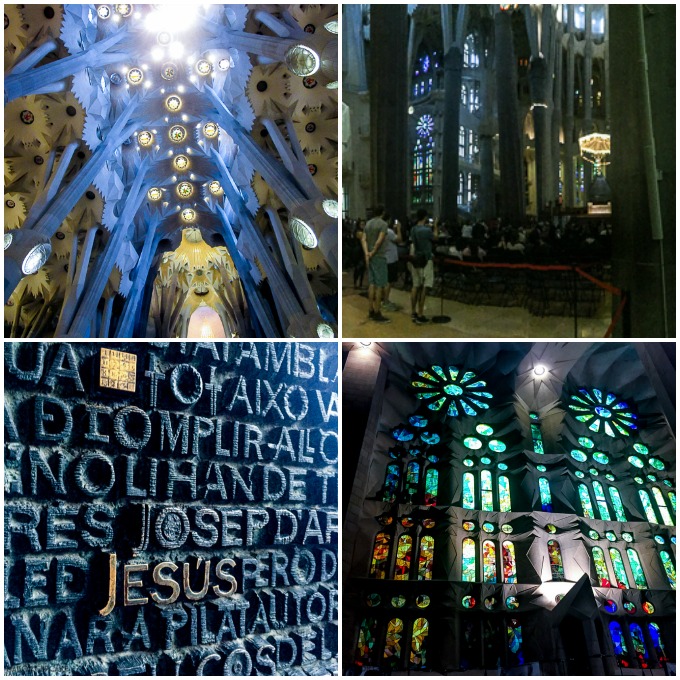 Inside my breath was genuinely taken away. It was like no church I'd seen before. The ceiling vaults and architectural details were truly beautiful. An hour wasn't really long enough before being spirited out at closing time.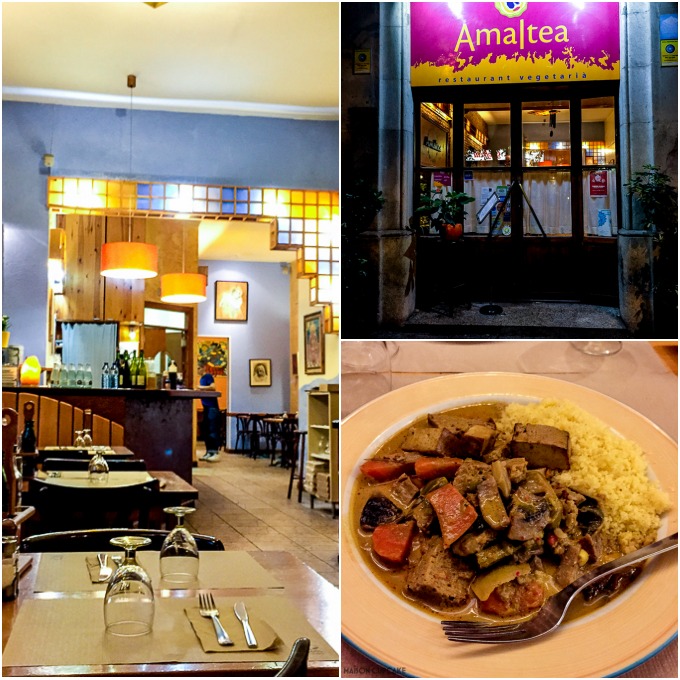 The efficient Barcelona metro system took us to another vegetarian restaurant en route towards our hotel; Amaltea was fairly functional and more hippy-ish than Vegetalia but the homely food was tasty and satisfying. Above you can see my tofu curry.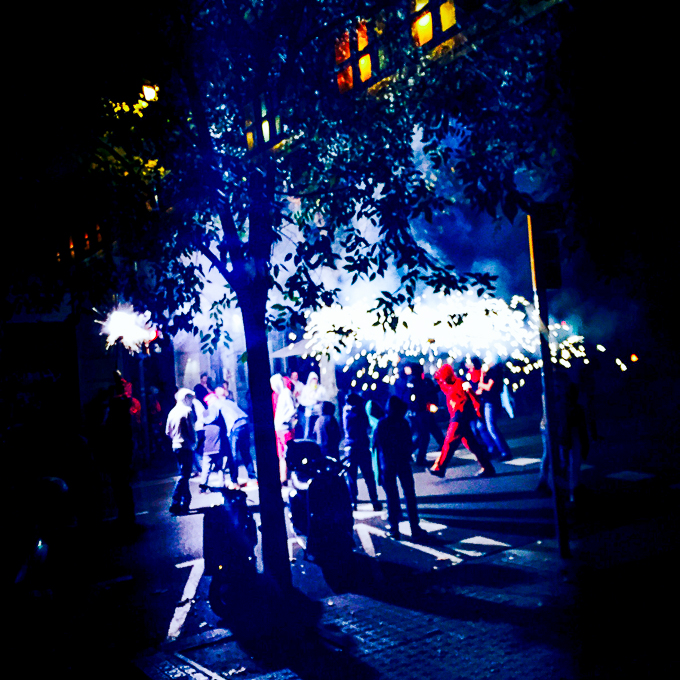 Outside we had our first taste of Barcelona night life hotting up with a procession of locals coming past with noisy fireworks. It all seemed very friendly and good spirited.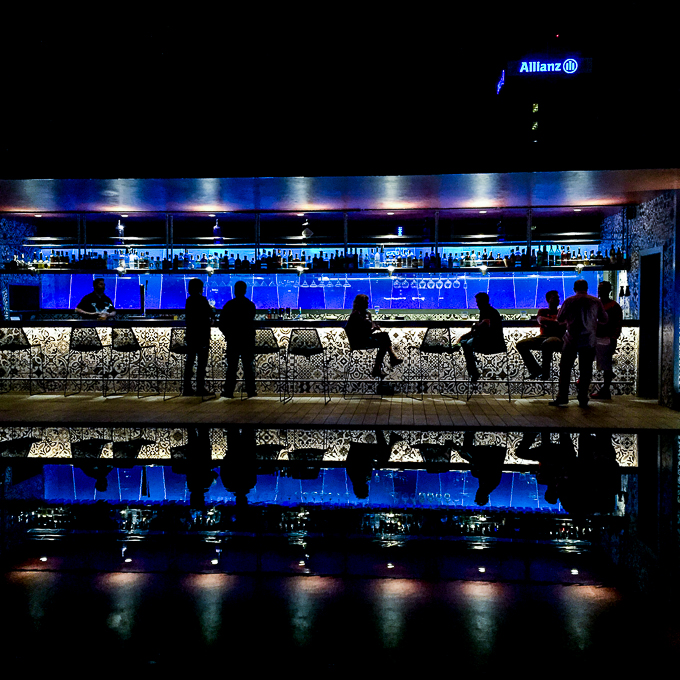 Now we had intended to see out our still balmy evening on the poolside terrace drinking more cava.
Only to our horror, after we'd only bought one drink, the bar closed at 11pm. Presumably out of consideration for those sleeping in the rooms in the tower wing above.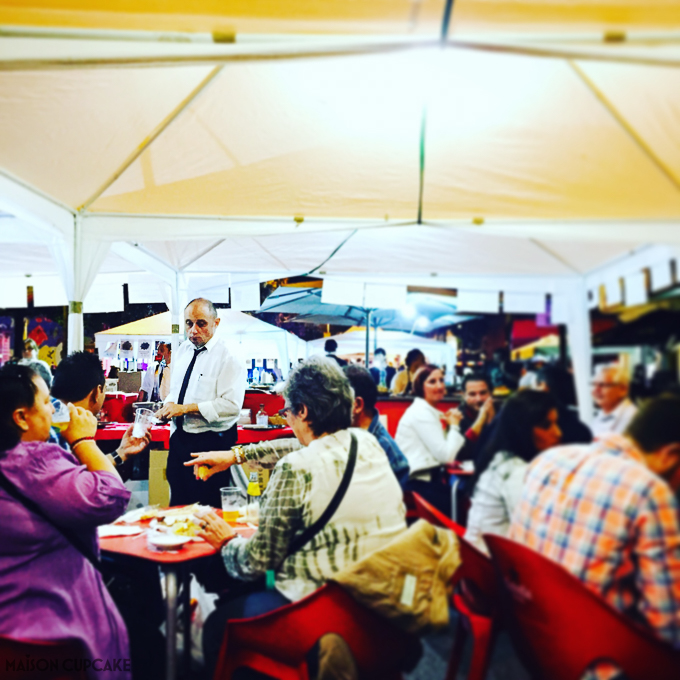 Fortunately we could hear a party going on down the street so went out again to investigate.
The locals were having a fiesta. A street had been closed off and filled with gazebo covered pop up bars, market stalls and a sound system.
Our plans to get up early and explore parts of central Barcelona we'd not yet seen were usurped by drinking jugs of sangria amongst the locales. Which we decided was an equally effective, if not preferable way to get to know a city.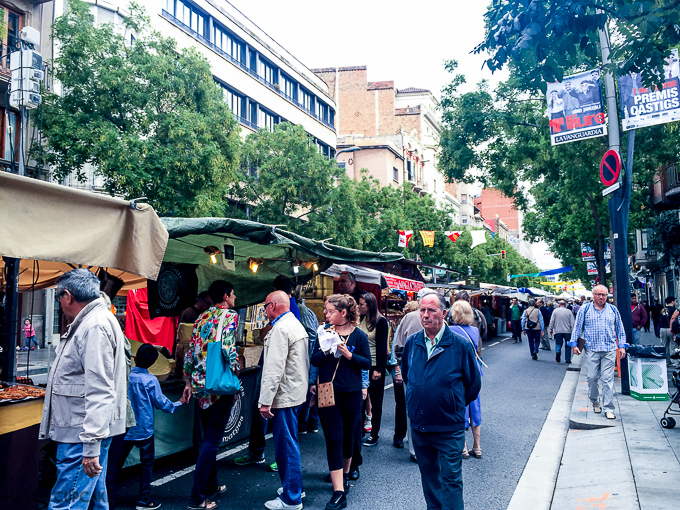 So after partying in the streets (and even dancing) until 2am we had a relative lie in on Sunday.
Before heading back to our early afternoon flight we took a walk down the street by our hotel where the fiesta had been taking place.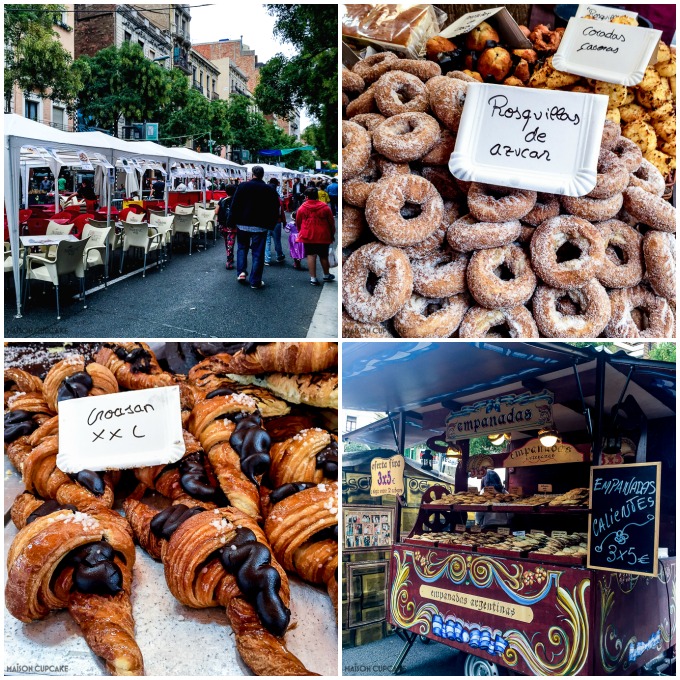 In the daylight we could admire stalls selling doughnuts, pastries and this vintage empanadas stand.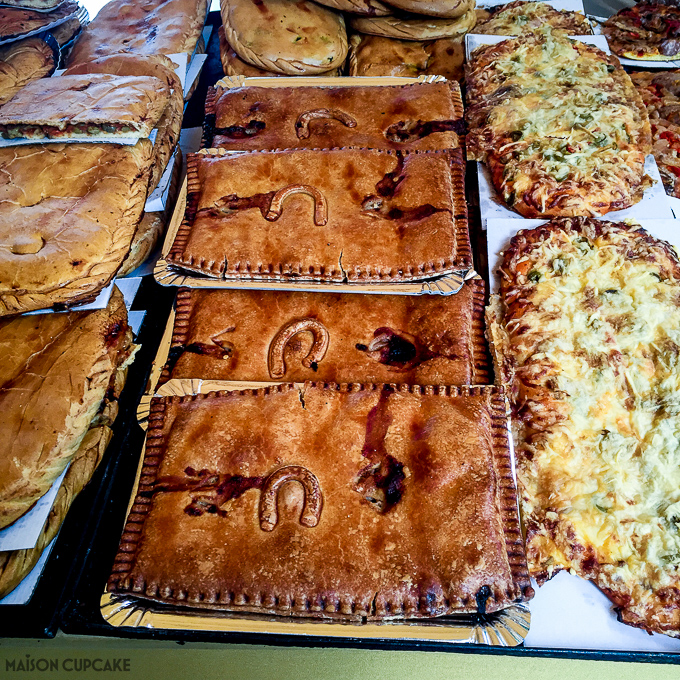 A closer look at some of the pastries on sale – I liked the look of this one decked with a horseshoe but have no idea what was inside. Hopefully not horse meat!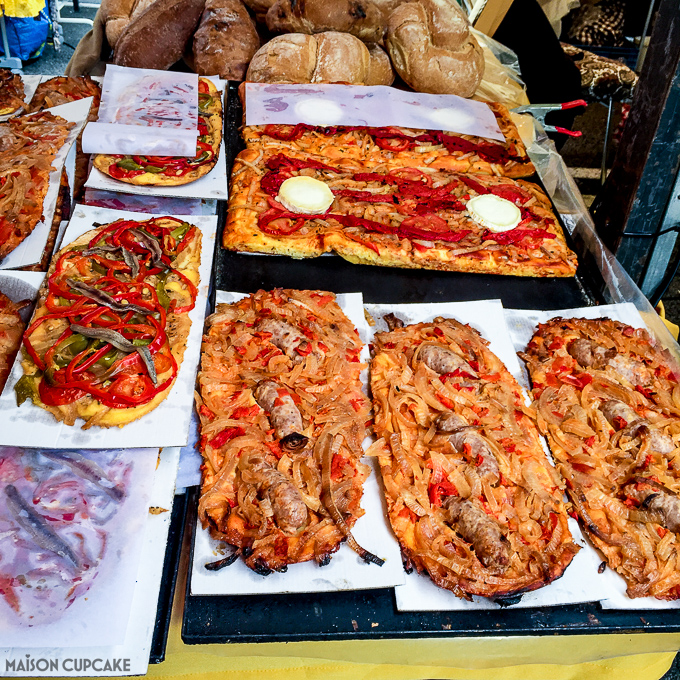 Luckily we'd had a good breakfast again else I might have been tempted by these big pizza pastry things!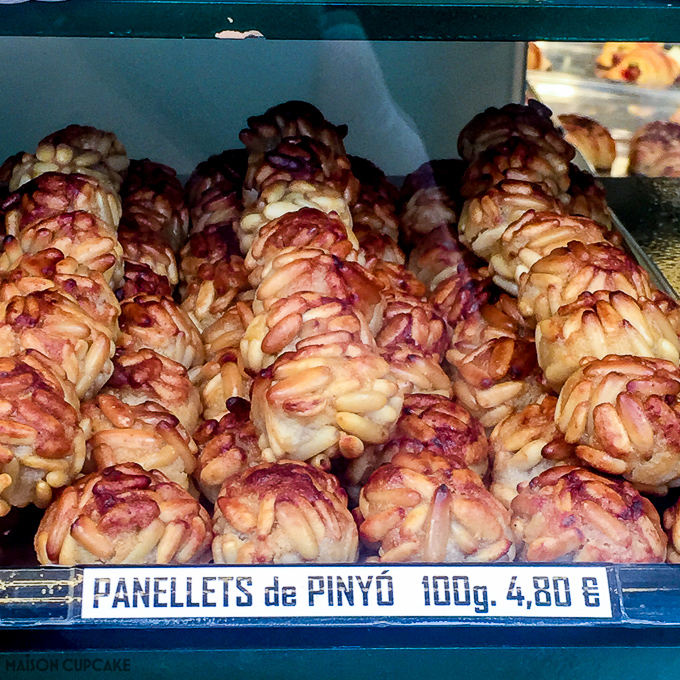 And so after the briefest exploration of Catalan life during our weekend in Barcelona, it was sadly time to return to the airport on that convenient Aerobus right outside the hotel.
I will definitely be returning to Barcelona as soon as I can and very probably I'd come back to this hotel.
Have you visited Barcelona? What did you like most?
See also Jac's review Barcelona for Vegetarians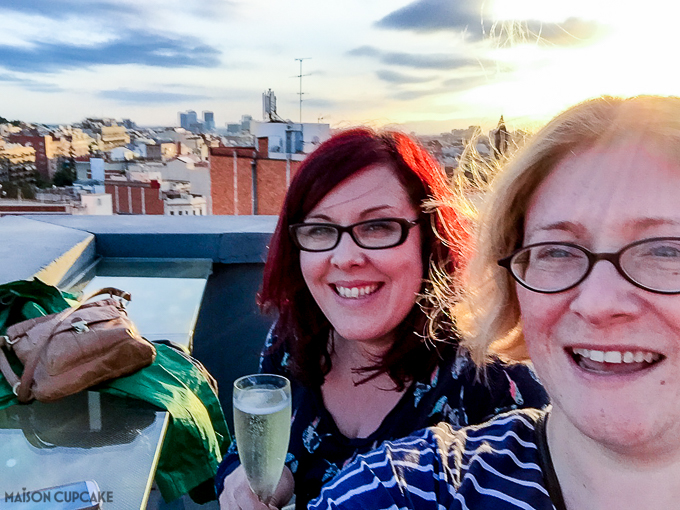 With thanks to Travel Supermarket who organised and funded our #SuperCityBreaks weekend in Barcelona comprising Ryanair flights, accommodation with Catalonia Hotels and Castle Experiences coach tour.