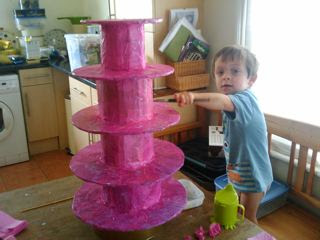 Things are hotting up today.  Having scattered various trays of cupcakes around the kitchen it is becoming obvious that I need a stand to put them on otherwise I will take over the table at tomorrow's Big Lunch.  I do not as yet own a cake stand so I decide to make one.  My own wedding cake (I will do a separate post about this soon) was presented on a hand made stand made from polystyrene painted with chocolate.  This smelled good but had the disadvantage that you could not use it again.  Also I do not have any polystrene sheets.  Instead I have the cardboard box that my son's car seat arrived in.  I draw around various trays and plates and get my husband to cut them out.  To create tiers there are rectangles of cardboard coiled into circles.  When it is done I bring it indoors to cover it with pink tissue paper and PVA glue (a technique I have not used since my days as a foundation art student).  My son is understandably fascinated by the new cake stand and determined to help as you can see above.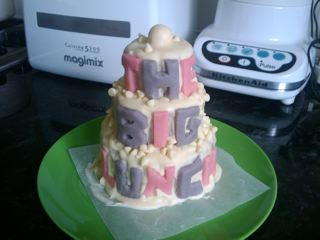 Now although I could probably fill the entire stand purely with cupcakes, I decided it would be nice to have something different on the top.  This cake stand is not going to go unnoticed in bright pink towering above everything else on the table so I had better put something worthy on the top.  It is an opportunity to use my new shaped cake mould that I bought on my birthday from Lakeland.
I use the same fairy cake mix to fill one of the moulds plus a half dozen more cupcake cases (I reckon if I doubled the recipe I could fill three of these shaped cakes with the same mixture).
This is a deep cake so it takes nearly an hour to cook.  The top has risen up in a dome but that's ok because I shall slice it off and turn it upside down (I really wish I'd done pictures of this but I didn't think at the time).
After it has cooled down I melt white chocolate and paint this all over the cake making sure it is well covered.  I sprinkle some white chocolate drops on the surface and balance a white chocolate malteser on the very top.  The lettering is made from marzipan.  I do not own any letter cutters yet so these have been made by simply cutting my own letters with a knife.
It is 11.30pm by the time I go to bed.  Busy day tomorrow.