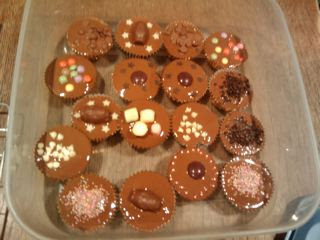 More Big Lunch cupcakes.
You cannot see the chocolate base so take my word for it that it is there.  I really liked working with melted chocolate – and since I have acquired a microwave since my last occasion melting chocolate I didn't even have to mess about with the double boiler.  Having said that, I didn't bargain for the microwave nuking a 2 inch patch in the middle of the bowl of chocolate causing my father and husband to call into the kitchen, "what's that smell?" I have used ordinary milk chocolate from Sainsburys even though I know it's not really for covering cakes as I figured any discolouration would be covered with the decorations and it's cheaper for practising.
Toppings used here are:
Pink sprinkles (which nearly sank beneath the still molten chocolate – in future I must be patient)
Kinder chocolate bears (the big fat things) surrounded by Dr Oetker white chocolate stars
Chocolate minstrel and pink silver balls arranged in circle
Chocolate minstrel surrounded by Dr Oetker milk chocolate stars
Cadbury's Mini chocolate buttons (which also sank but I just piled more on top and that's good here)
Mini marshmallows
White chocolate drops (from the shaker canister thing with 4 types sprinkles in that I cannot remember where they are from)
Dark chocolate sprinkles (ditto)
Dr Oetker Chocolate beans
The good thing about melting chocolate to put on cakes is that you know it will be the right consistency so no need to panic that it will be too runny or thick. You do not, however, get as flat a surface.
What am I going to do with all these tops lopped off cupcakes?  Make trifle?!