It's easy to entertain children in Paris. Here are some fun ideas for things to do in Paris with kids.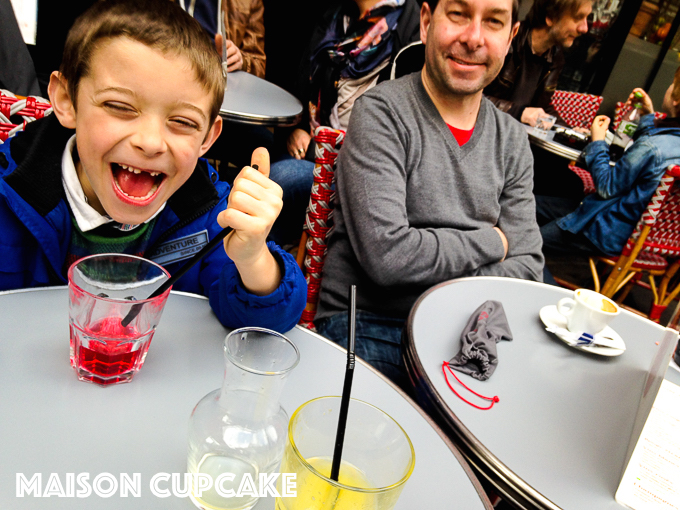 We finally made it to Paris with Ted and he had a whale of a time. Everything is exciting in a new city for a seven year old but we had to start with the most obvious sight…
1. The Eiffel Tower
The long queues to climb the Eiffel Tower are not much fun for kids but it's still worth going for them to get a close up look. There's a playground near the bottom and the Champ du Mars is a great big green space to let off steam in. We arrived at 10am on Easter Sunday which was admittedly very busy nevertheless we were told the queue would take three hours. Time for an alternative… Eiffel Tower  Metro: Bir Hakeim, RER: Champ du Mars-Tour Eiffel.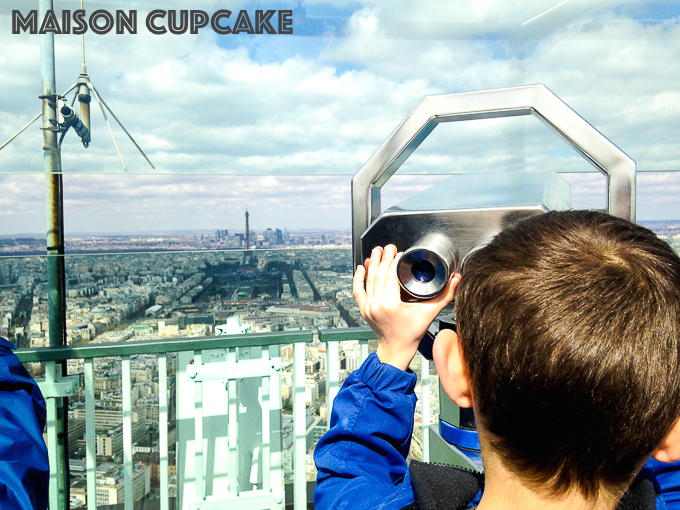 2. The Tour de Montparnasse
The Tour de Montparnasse gives an enviable 360 degree view of Paris from the south. It's similarly priced to the Eiffel Tower only without the queues. We were admitted to the lift to the top within ten minutes which seemed much more civilised than the scrum at the Eiffel Tower. 47 floors up and you can view Paris alongside some interactive displays or go up on the roof where there's a helipad and a champagne bar. Tour de Montparnasse  Metro: Montparnasse-Bienvenue.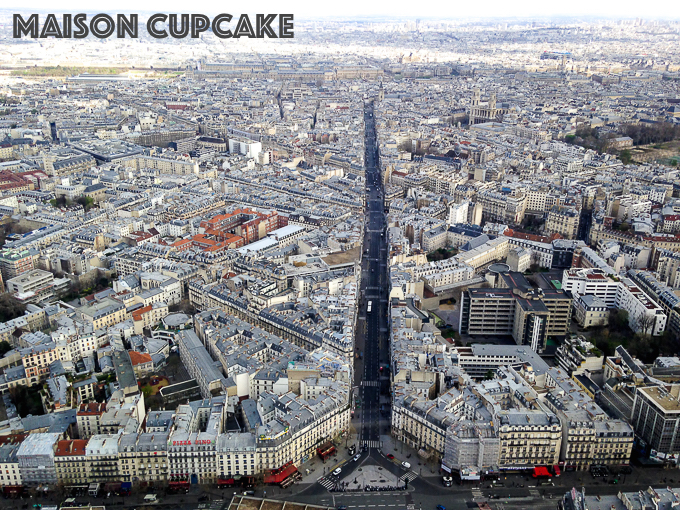 3. Walking and more walking
We did a ridiculous amount of walking in Paris. I would avoid Paris until your children are old enough to walk independently rather than in buggies. That said, we did spend an awful lot of time on The Metro…
4. The Metro
Kids love trains at the best of times but Ted was especially captivated by the Metro. We bought zones 1-3 day tickets which were valid beyond the Boulevard Peripherique to our hotel near Stade de France. These cost around £12 for two adults and one child. The barriers aren't as child friendly as the London tube; there aren't always disability barriers to walk through with your child and there's often a Parisian trying to jump their fare right up your bum as you leave the gates. We took a day or so to get used to it and we're tube savvy Londoners. Line 14 is the newest line with driverless trains so kids can sit at the front and pretend they're driving the train.  Paris Metro with ticketing information.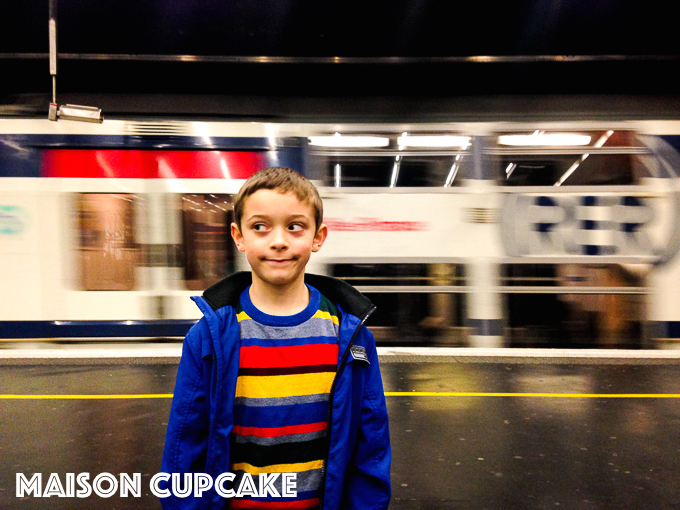 5. Double Decker Trains
Some of RER trains which cross Paris from the suburbs (their equivalent of London's new Crossrail only they built theirs twenty years ago) are double deckers. These were an even bigger hit than the metro trains. The RER double decker trains take you to La Defense…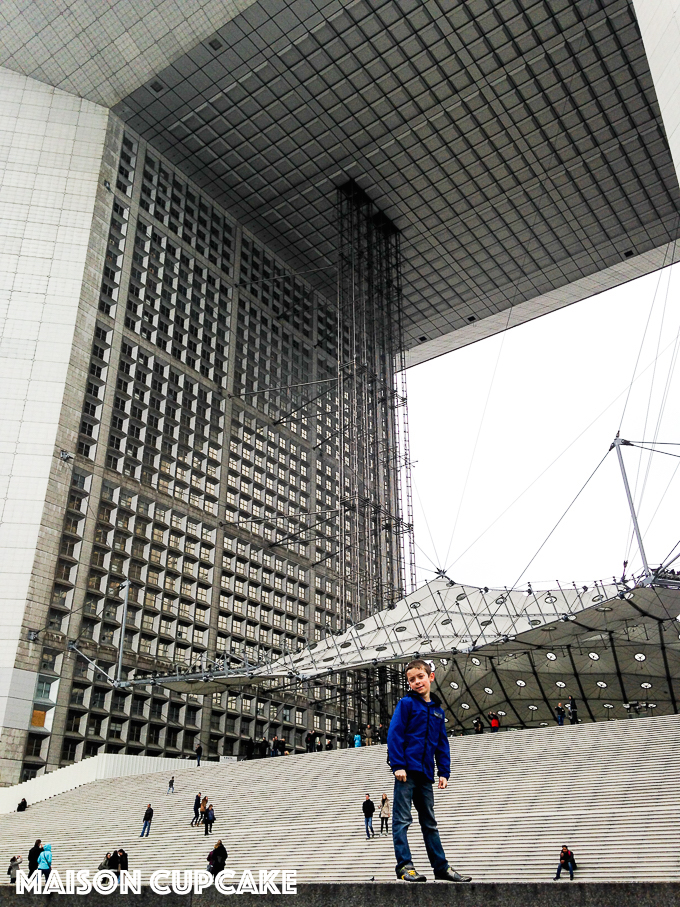 6. Grand Arche – La Defense
Ted was incredibly excited by the prospect of a big square building with a hole in it. Le Grand Arche is the most notable building in Paris's La Defense business district and intended to be a modern version of the Arc du Triomphe and indeed on a clear day you see how it lines up perfectly with its counterpart. But La Defense is looking a little shabby these days, it's no Monaco style Canary Wharf.  RER / Metro: La Defense. 
7. Macdonalds at La Defense
This is a very sensible place for a loo break. It's one of the branches with a cafe selling pastries. Ted had a fresh fruit smoothie made in a power blender right before our very eyes. So don't dismiss a trip in here. RER / Metro: La Defense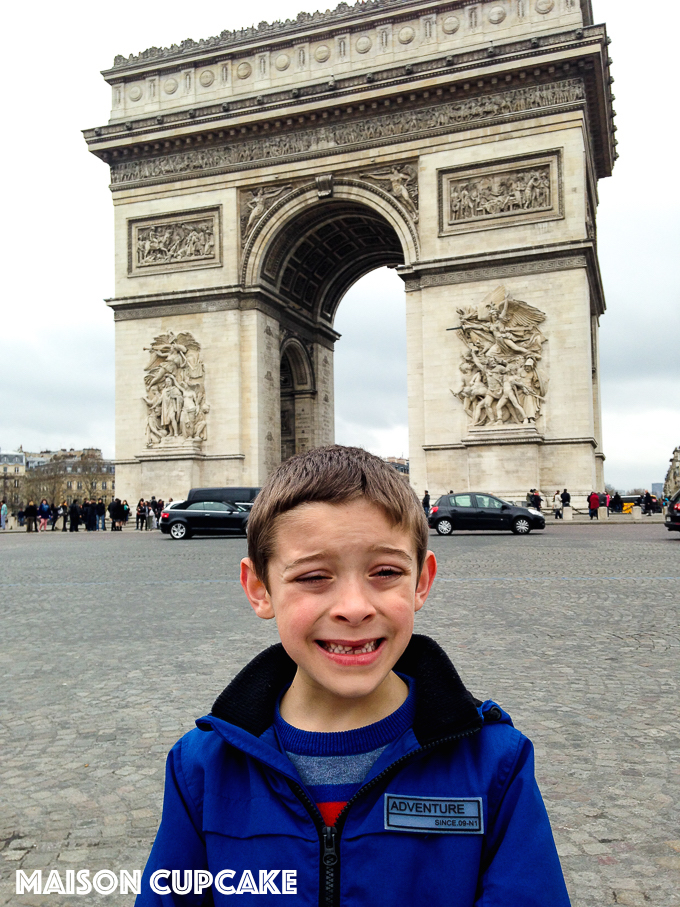 8. Arc du Triomphe
It makes sense to come here after La Defense as there's a direct rail connection. The exit from the Metro is awash with tourists taking selfies. If you brave the roundabout, the monument itself has a visitor's gallery on the top. Arc du Triomphe visitor information in English. Metro: Charles de Gaulle-Etoile. 
9. Champs Elysees
This is a cross between London's Piccadilly and Leicester Square. Around a three quarters of a mile long, fiercely busy and packed with flagship stores for luxury fashion, jewellery and car brands. This isn't somewhere to hang out, more a place to walk through to reach Place Concorde and the Jardin du Tuileries. "Not terrible" near Champs Elysees by Paris by Mouth.  Metros: Charles de Gaulle-Etoile, Franklin D Roosevelt, George V.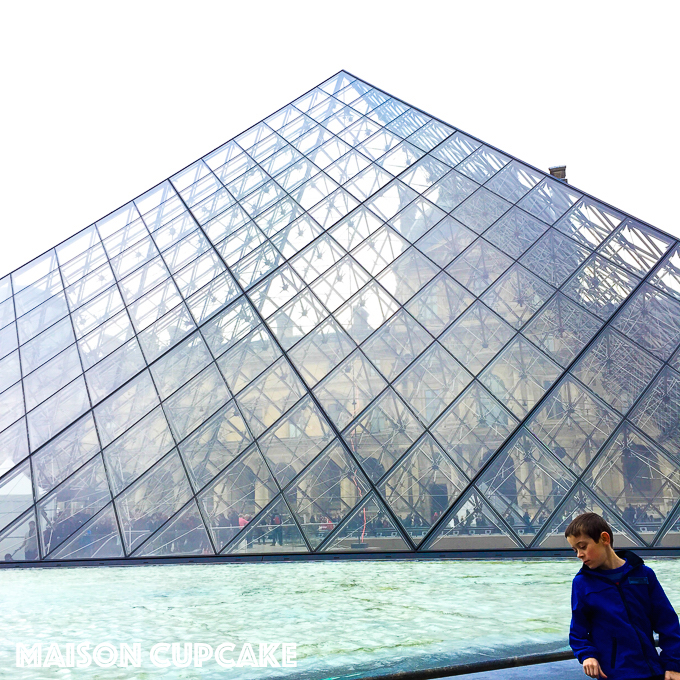 9. Jardin du Tuileries
This reminds me of Kensington Gardens or Hyde Park, these grand gardens with tidy lines of trees and a traditional carousel are an oasis from the traffic clogged streets. I recommend buying take-aways of the world famous hot chocolates from Angelina and bringing them here. Tuileries garden and carousel on Louvre website. Metro: Concorde or Tuileries. (Angelina is near Tuileries).
10. Pyramid du Louvre
Practically speaking, trawling the Louvre is not most kids' idea of fun but the pyramids up top are well worth a visit. Explore the Pyramid du Louvre on Google Streetview. Metro: Louvre-Rivioli.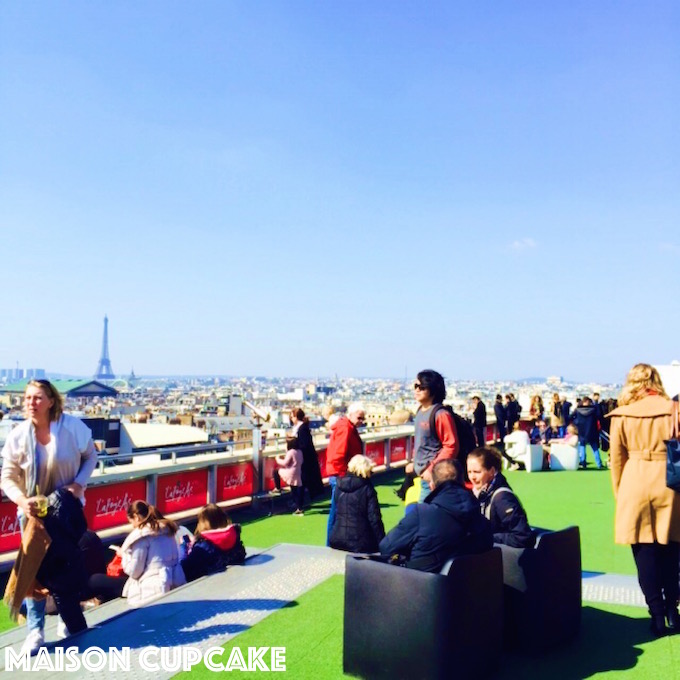 11. Galeries Lafayette
Eight floors up and monumental department store Galeries Lafayette has a free roof top viewing deck with astro turf. The panaroma is obscured by the Paris Opera House but you can still see the Eiffel Tower and Montmarte. Galeries Lafayette is also a useful loo break. The homeware branch across the road has a branch of Pret a Manger. Read about the rooftop terrace at Galeries Lafayette. Metro: Chausee d'Antin-Lafayette.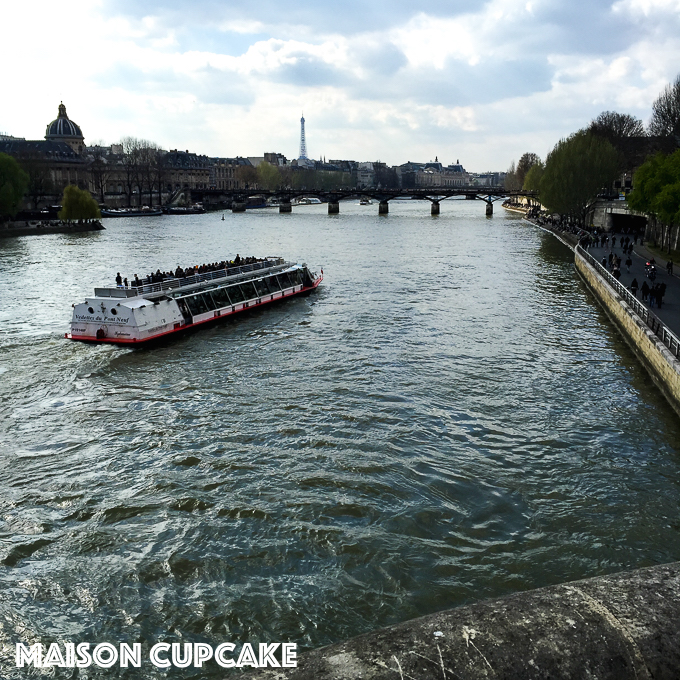 12. The Seine
Dotted along the Seine are artists, market stalls and antiques dealers. Some of it is expensive tat but if you want a 1960s copy of Paris Match with Catherine Deneuve on the cover you've come to the right place. Metros: Bir Hakeim, Pont Neuf and others. 
13. Pont des Arts
What was once a delicate pretty iron bridge has now been defaced by thousands of brass padlocks left by misguided lovers who throw the keys into the river. They're putting the bridge at risk of collapse from their sheer weight. Ted was nevertheless fascinated and said it looked "like a lock shop".  Metro: Pont Neuf or St Germain-de-Pres.
14. Pont Neuf
The next bridge at the foot of the Ile de la Cite is Pont Neuf as featured in one of my favourite films, Les Amants du Pont Neuf starring Juliette Binoche and a memorable night time jet ski down the Seine. There's a little park with benches for a sit down accessible from the middle of the bridge as well as the departure point for Les Vedettes du Pont Neuf riverboat tours.  Metro: Pont Neuf.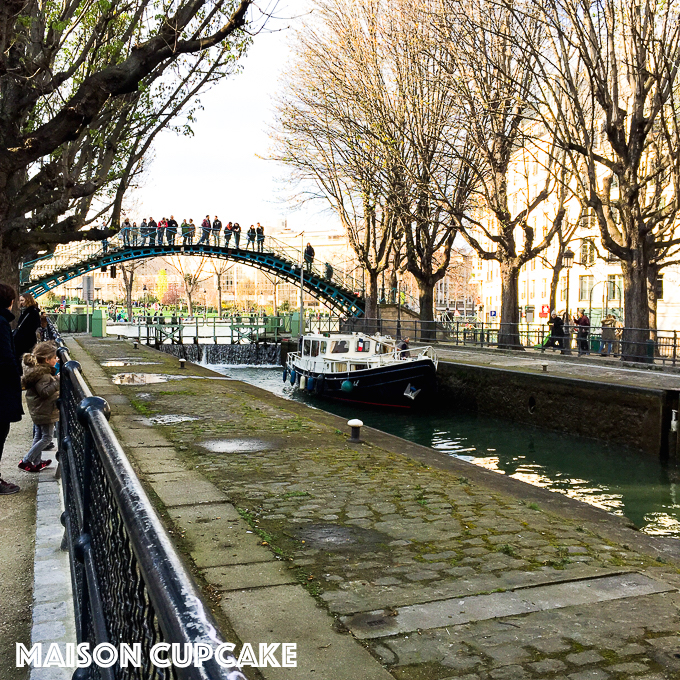 15. Canal St Martin
The Canal St Martin cuts through the east of Paris and a now chic neighbourhood with an air of Little Venice. Watch boats navigate through the locks. There are some small play areas alongside too.  Metro: Jacques Bonsergent, Goncourt or Republique. 
16. Montmartre
Montmarte is very busy but an essential cafe pitstop. We had crepes as featured in my previous post about the Paris of Amelie Poulain. Metro: Anvers or Abbesses
17. Sacre Coeur
Definitely a landmark to be photographed in front of. There is a carousel here too. Sacre Coeur  Metro: Anvers or Abbesses
18. Funicular railway
If you cannot face the steps, the short funicular railway up to the top of Montmartre and Sacre Coeur is a must. Children always like novelty forms of transport. Funiculaire Montmartre  Metro: Anvers or Abbesses 
19. Centre Pompidou
France's equivalent of Tate Modern with its curious escalators on the outside. There's an area for kids inside although we preferred admiring the exterior. It is possible to board the escalators to the top and enjoy the view from the sixth floor. Centre Pompidou.  Metro: Rambuteau, Chatelet or RER Chatelet-les-Halles. 
20. Parc Buttes-Chaumont
A little further out in north eastern Paris beyond Gare du Nord. Away from the main tourist trail this is a lovely park to visit with children. Parc Buttes-Chaumont. Metro: Buttes-Chaumont.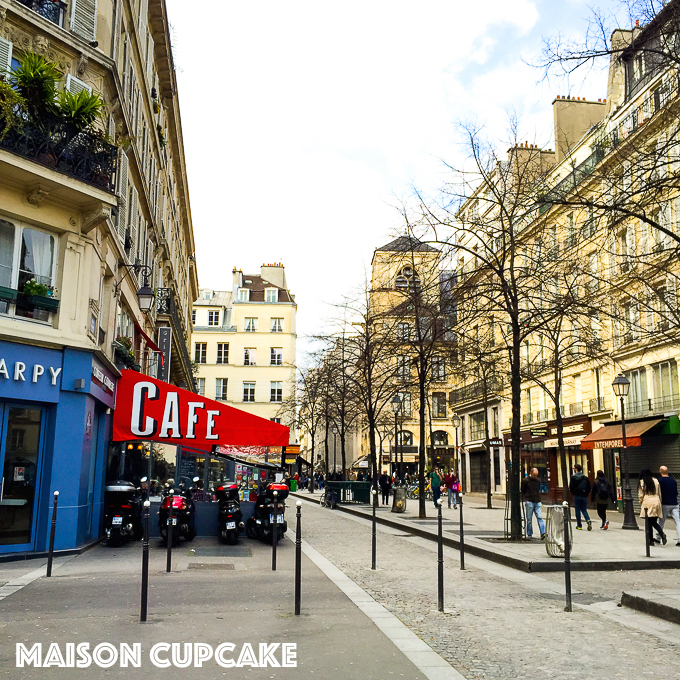 21. Cafe stops in the Marais
The Marais district reminds me of London's Covent Garden with quirky shops and plenty of traditional cafes. On the northern side of the Seine, it's around twenty minutes' walk from Pont Neuf and the Louvre.
If you get chance to explore the shops, do visit BHV Marais which is owned by same group as Galeries Lafayettes. It's kind of a cross between Peter Jones and Harvey Nichols. And it has an all important loo stop opportunity on the top floor with fabulous views of the roof tops of Paris!  BHV Marais  Metro: Hotel de Ville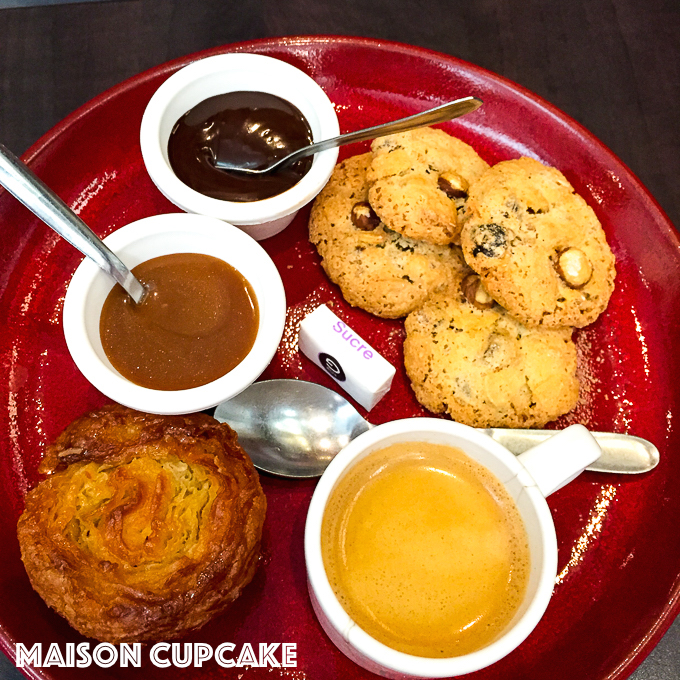 Goodness me, rather like our trip to Paris, there's so much more we could do… I haven't even mentioned Versailles, Jardins du Luxembourg, Disneyland Paris, Notre Dame… and never mind all the things that cake loving grown ups might want to see. Those will have to wait for another post or another visit.
Have you taken your children to Paris? What do you recommend as good things to do in Paris with kids?