Make this fast easy soda bread recipe in under 30 minutes. No kneading, no proving required. Perfect for dipping with winter vegetable soups. Post commissioned by Glorious Soup.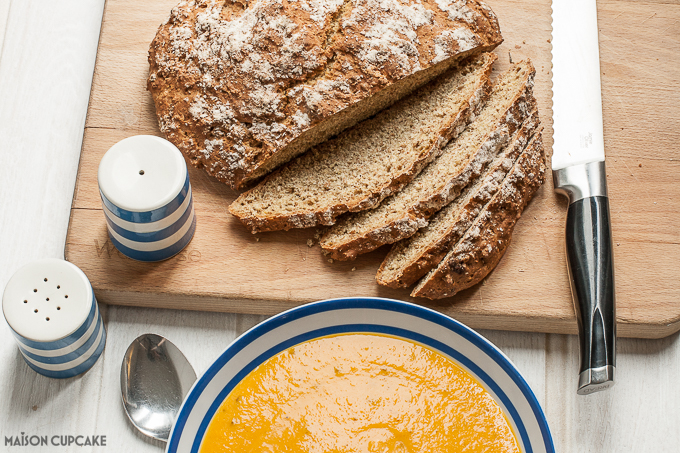 Have you ever tried soda bread? It's a dense wholemeal loaf that's high on flavour and texture but low on effort.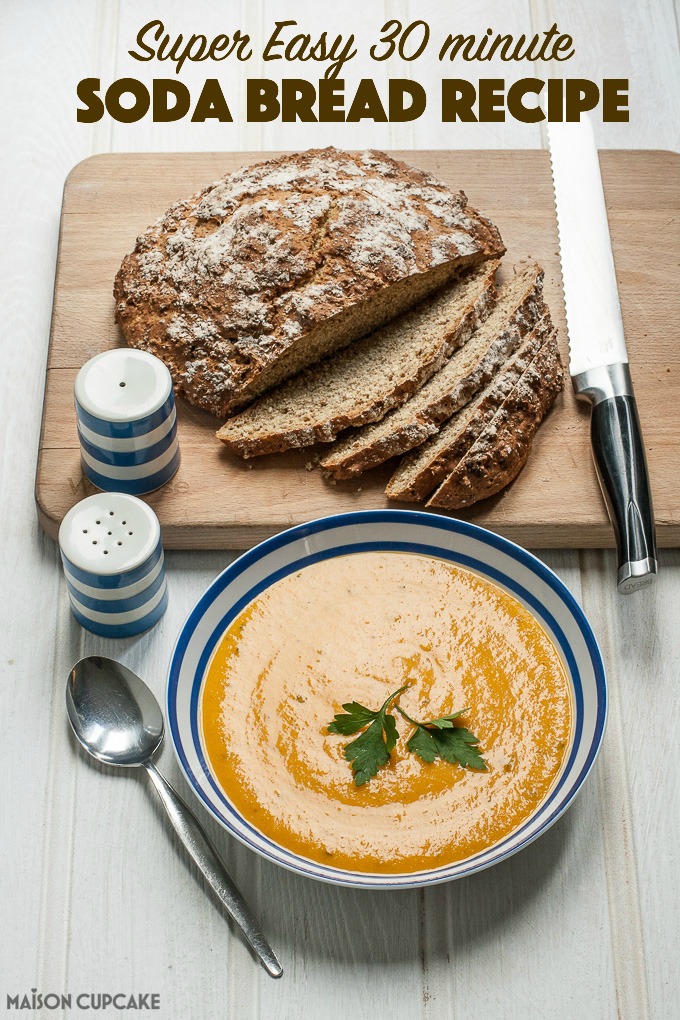 If ever you find yourself without bread in the house this fast easy soda bread is your saviour.
As easy as mixing in one go – I used an electric stand mixer but you could just as well do it by hand – and tipping onto a sheet of greaseproof parchment paper to bake.
I have come across some easy bread recipes before but this one is fast to boot – just thirty minutes from start to finish.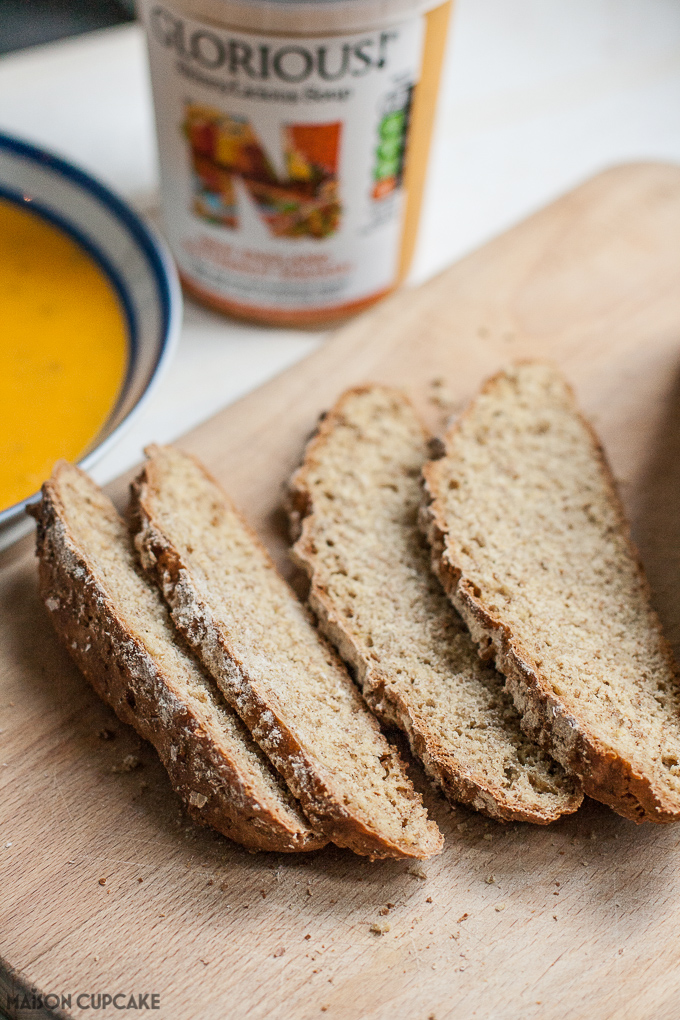 And see what a super texture it has when you slice it up.
My 30 minute soda bread served with Glorious Butternut Squash Soup is taking me on a virtual journey to the East coast of America to New England. I have long wished to visit this part of America, famous for its fall displays of red and orange foliage.
Soda bread is originally an Irish style of bread and New England, specifically Boston attracted many Irish settlers. So it makes sense to pair this New England Butternut Squash soup with an Irish soda bread.
Soda bread is wonderful thickly spread with butter although for those of you watching saturated fats and calorie intake, it's interesting enough on its own. Especially toasted!
I've not yet managed to travel to New England but I knew my good friend Jeanne had so here are a couple of her pictures and you can see two of the posts she wrote about her trip at Cooksister.com here and here.
Below you will find today's recipe how to make soda bread but first find out how to win your own #GloriousAdventure to Mumbai.
Glorious Blogger Competition
Write your own blog post around one of the Glorious soups and you could win a to Mumbai. The prize includes staying at the Sun n Sand hotel and including a tasting tour with a local guide and six fellow foodie travellers. The closing date is 30th November and you can read the full guidelines and terms and conditions at the Glorious website.

The other soup flavours representing further global destinations include:
Sicily: Tomato & Balsamic
Bangalore: Lentil Daal
Cuba: Creamed Corn
Tuscany: Chicken & Orzo
Thailand: Fragrant Carrot
Mexico: Tomato & Fire Roasted Pepper
Morocco: Spiced Chicken
Mumbai: Lentil & Chickpea
You could write your own post about any of these destinations or those represented by other Glorious soup flavours.
Get some further inspiration for #GloriousAdventures at this Pinterest board curated with some of my fellow Glorious virtual travellers: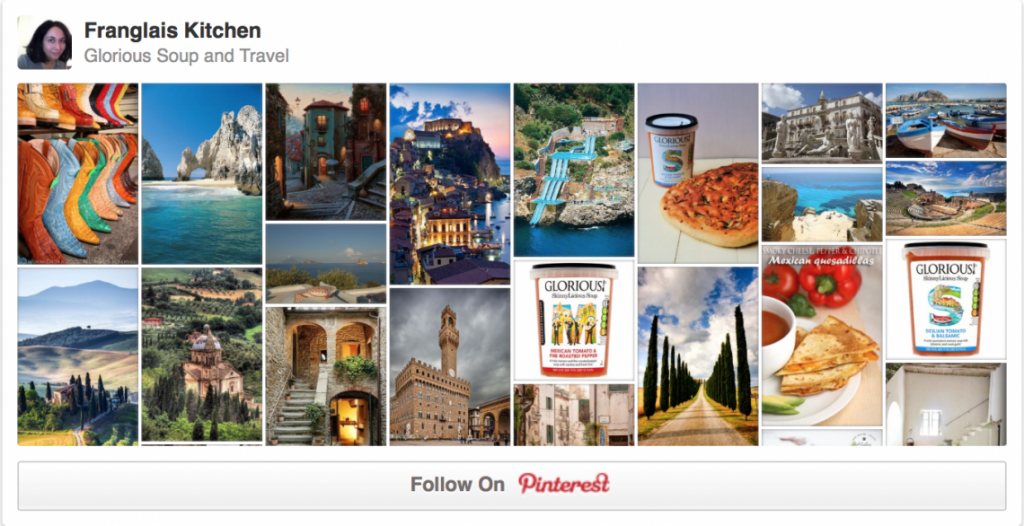 And read these recipe posts showcasing Glorious too:
Where would your Glorious Adventure take you?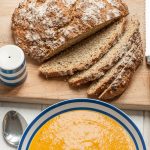 Print Recipe
30 Minute Soda Bread Recipe
Ingredients
250

ml

whole milk

15

ml

lemon juice

170

g

plain flour plus a little extra for dusting top surface

170

g

self raising wholemeal flour

1

tsp

bicarbonate of soda

1/2

tsp

salt
Instructions
Preheat the oven to 200c / gas 6.

Pour the lemon juice into the milk and allow to curdle.

Sieve the flours, bicarbonate of soda and salt together in a large mixing bowl.

Pour over the liquid and mix thoroughly.

Knead into a round and tip onto a baking sheet lined with greaseproof baking paper. Dust the top surface with a little flour.

Bake for 25 minutes.
30 minute soda bread recipe post commissioned by Glorious as part of their #GloriousAdventures competition campaign.