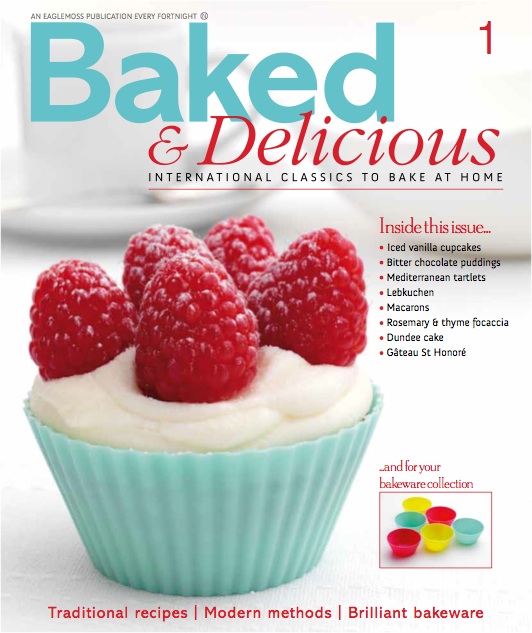 Part work, Baked and Delicious magazine has been a big hit on Facebook with 14,000 people who "like" it, several thousand of whom declared their love before copies were on sale.
The first issue costs 99p, the second £2.99 and subsequent issues are £4.99. It claims to be "packed with international classics and traditional favourites" and that it "brings the very best of baking to today's cooks." As a further sweetener, each issue comes with a piece of colourful silicone bakeware. Subscribers also get "free" gifts such as electronic kitchen scales, cake tins, cake slices and the all important binder.
I've been amazed how many people have raved about this magazine in other blog reviews, to the point I'm wondering if they haven't given it much thought or feel uncomfortable calling it a dud.
We call spades spades here. My impression after reviewing issue one of Baked and Delicious was that it is:
Flimsy at fewer than 30 pages per issue
Cheap with pound shop quality bakeware gifts
Overpriced for such a short magazine even bearing in mind the "free" gift
Dated with 1980s yellow tinged photography
Dreary with graphics that look like they were created in MS Word
Unsophisticated with uninspiring food styling
Badly edited with inconsistent layout and typos
On the plus side, the Gateaux St Honore recipe was the most useful but you'd do better to spend your cash on some generic baking books instead of doggedly committing to this week after week. For around £7.99 you can easily pick up little hardback baking books in the supermarket and discount book stores. You can add to your bakeware collection as necessary.
(For a highly informative post on the pros and cons of silicone bakeware, check out my friend Ozoz Kitchen Butterfly's excellent post here)
Baked and Delicious has been out a while now but new subscribers get to buy back copies. Sixty issues are planned. If you want to back out, I'm informed you can cancel subscriptions at any time.